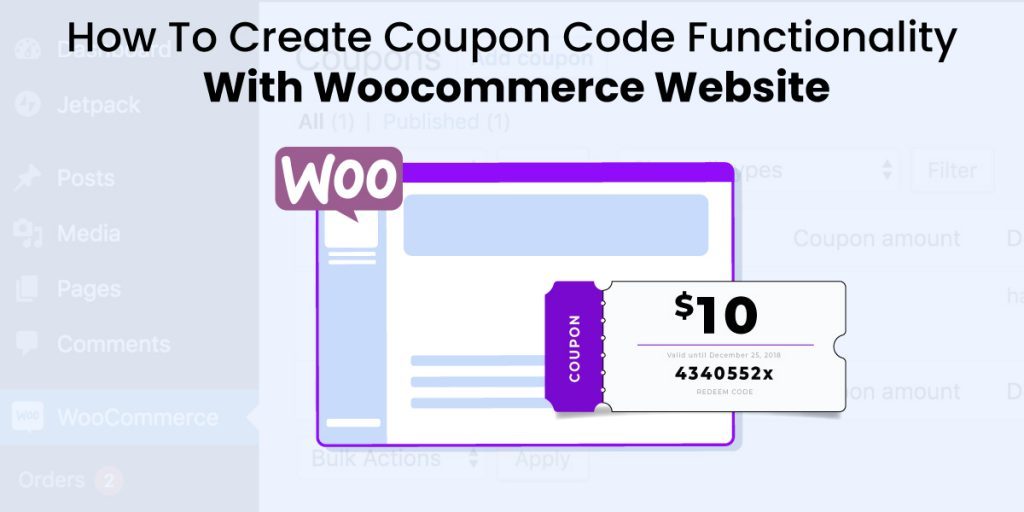 How to create coupon code functionality with woocommerce website
Last updated on August 6th, 2021 at 11:16 am
WooCommerce +Coupons
Introduction:
A coupon is a way where you can attract customers. It provides the great functionality that adjusts most of the stores, meaning in a few clicks you can start offering the coupon code with e-commerce. Customers love cheaper products & care & if you get successful in it to provide, then for a long term relationship you succeed with developing a connection. The coupons of woo commerce have restrictions as well limits based on a minimum cart total, email, etc.
One fortunate thing in woo commerce is it's very soft & has loads of discount coupons like free & promo code coupons & premium discount coupons. That can help you to increase your sales as well as more customers.
It is quite easy actually to provide discounts or enable the discounts through your store of Woo-commerce, you just have to download a plugin & follow the steps.
Woo-commerce Coupons Basic:
Coupons Creating
Coupons Adding
Two basic requirements you need to create coupons in the Woo-commerce
* Woo-commerce install
* Products have must in your store
The first step you choose I.e. Coupon section of Woo-commerce then click on <Add Coupon> next create a code (Alphanumeric) & add a statement for that coupon. Eg, QUADFRIDAY20 is a very great coupon code which is providing you with a 20% discount on Friday. Most stores use the code style like Quadlayers+Friday+20 because it makes it easier to identify.
In the section of woo commerce coupons, more options you will see in the options of configuration:
Discount types:
For selected products "%age discount''
For the entire cart "discount on fixed cart''
For selected products "discount on fixed product''

How to set up Woo-commerce coupon in steps:
If you already know about woo-commerce coupons, then go to the plug-in of woo commerce directly. But if you are a beginner or starting the first time, then you have to learn first how to set up coupons, So let's start step by step:
Step1: Coupon Enabling: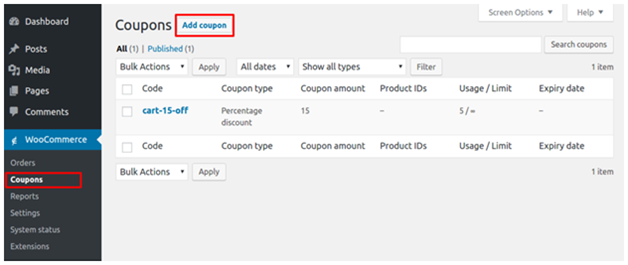 To add a coupon (new) Select woo-commerce >> Coupons >> & then click on Add coupon >>. Description & coupon code will show you the opening screen.
Step2: Enter discount & coupon data:
1. Coupon code Enter
Using the generator of woo commerce coupon code, enter a code (unique) or set your personal coupon code.
2. Description coupon:
Write description coupon for reference
3. Discount type select:
The given method involves which type of discount you need to give for a coupon (particular)along with the amount of coupon.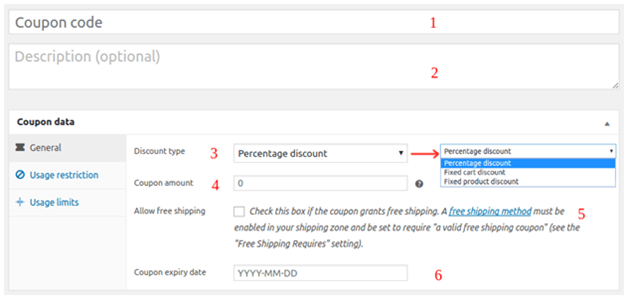 There are 3 discount types available:
Discount on percentage: The entire cart order percentage discount.
Discount on fixed cart: Discount on the entire cart order.
Discount on Fixed product: Discount on specific products only.
E.g., 3pairing of shoes selling at $50 each, the total amount for the 3 pairings is $150, a fixed discount on cart $20 gives the user 20 dollar discount on the total price or you can say total cart.
On the next side, the fixed discount of the product would translate to the discount total of $60 for the 3 pairs i.e. $20 for each.
For the discount on percentage, the price in this case for each pair would be $45, when the discount coupon %age is 10%.
1. Coupon(Amount)
Enter discount or fixed the value of price
2. Free Shipping allow
Click on the checkbox if your product is eligible for shipping free.
3. The expiry date of Coupon
Set a date of expiry for your coupon
Step3: Usage Restrictions set:
The coupons of Woo-commerce have restrictions to avoid misuse of likelihood by customers.
For a particular coupon, you can set a maximum of Nine (9) restrictions. There is a following list it's up to you which one you are going to set for your coupon.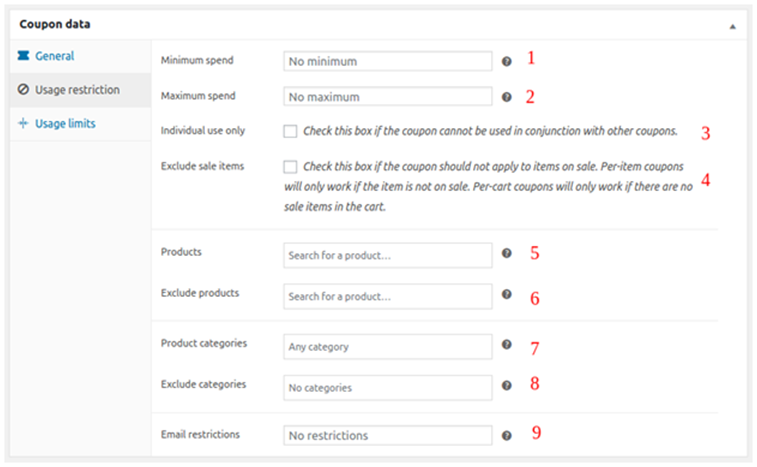 1. Minimum spend
The customer's order should be at least this much (price) where coupons may get applied.
2. Maximum spend
Beyond this amount, the coupon should not get applied.
Set the great range of amounts between the coupons which you are going to apply.
3. Individual use only
Just enable the checkbox if you are individually using coupons & not with the next coupons.
4. Exclude sale items
If you won't add coupon select the given option
5. Products
On some products, only this will permit you to add coupons.
6. Exclude products
If you don't want to provide a discount on a few products just set this option.
7. Product categories
On specific categories of the product, this will permit you to add a coupon.
8. Exclude categories
On some categories of products if you won't provide a discount, then set this option.
9. Email restrictions
Only enter those emails which can use the coupon. If you want to add more emails then with a comma (,) separate them.
Step:4 Set Usage Limits

1. Usage limit per coupon
Coupon can be used a number of times before it is going to invalid.
2. Limit usage to x items
The number of maximum individual products applies the coupons to.
3. Usage limit per user
The coupon can be used many times by a user (individual).
Step: 5 Publish and verify
1. Publish
Cross-check it once again if everything is alright, then click on (Publish)
2. Test
Now <<Go to your store>> Add products & apply code & check if the discount is applied to the bag.
Pros & cons of online coupon codes:
After purchasing products, how great you feel when you are leaving the store & the cashier hands you a coupon code online to redeem the second time when you make a purchase. It's the reason where the strategy of coupons in the market is. Increased sales is another benefit of this. Coupons have proved that it's quite useful for spreading business. Most people have used online coupons.
Pros:
Build loyalty:
On the existing base coupons can create brand loyalty.
Allow for a fast infusion of cash, coupons will be very helpful to attract more new buyers.
Provide edge of competitive
Always customers are looking for the best deal & way is the coupon only which makes you very close to the competition.
Cons:
It can be bit costly
Without understanding your margins of profit you can increase the risk of loss, so just do the math & don't consider the material cost only but the production cost & expenses overhead too.
Value of offerings may got lessen
Offering discounts may affect the negative role of the products or services as well as the quality you are offering to the customers.
Top woo-commerce coupon plugin
If you are a user of woo commerce then, I am sure you already know about plugins of woo-commerce & why we need them. It offers a wide range of features & products & also customizes your store even if you are not a well-known developer. Woo-commerce is the best e-commerce plug-in of word press. Here are the great collections of coupons, I hope after this information you can get the perfect coupon plugin. So let's start:
1. Smart coupons: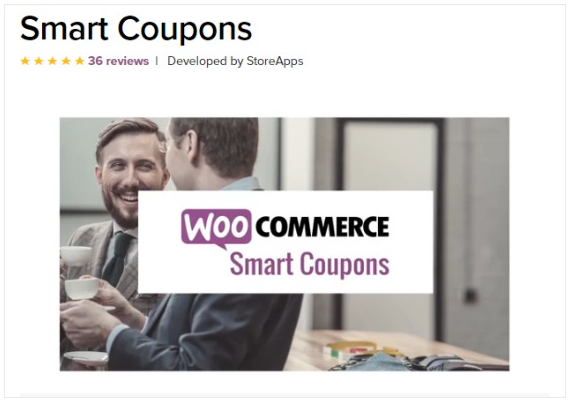 If you are not using coupons on your store of woo commerce, you start with this Plugin. Because it's one of the greatest discount plugins in the world for woo commerce. With this smart coupon thousand of coupons, you can generate & can add them to a shop of woo commerce online. The cost of woo commerce smart coupon starts from $95.
2. Trust pulse: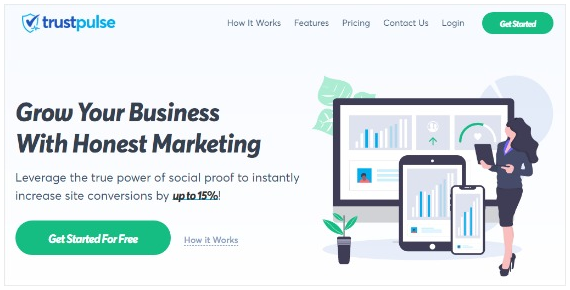 For some people, it's very scary to make an online purchase. By using this plugin build a trust with site visitors. Technically trust pulse is not a plugin, it's a very important tool for the owners of online stores. Paid plans pricing starts from $4 per month "billed annually"
3.Yith Woocommerce Wishlist:

For an e-commerce store, it is one of the best & very useful plugins. The customers can save the products in the wish list & later they can purchase it. As well as customers can share the wishlist to their friends & family if they prefer. The Yith woo-commerce wishlist plugin is compatible 100% with WPML. For guest users it is allowing you to disable features of wishlist, Multiple wishlists can create the user here. The cost of the Yith woocommerce wishlist starting from $89.99 for paid plans.
4.Woocommerce order Tracker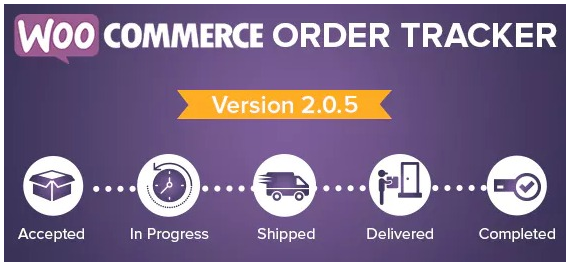 Interactively the customers can track orders with FedEx, Canada post & USPS. On the basis of order tracker, the customer doesn't have to worry about where the order is or when it arrives. As well as your own custom order statuses you can create. The cost of woo-commerce order starts from $29.
5. woocommerce bookings: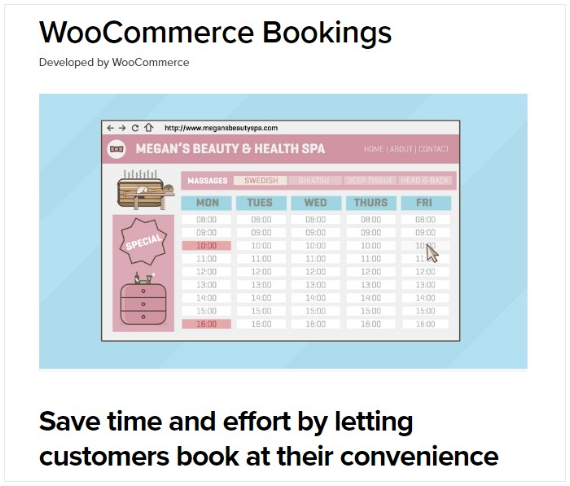 If you are making appointments on phone, email or text. Woocommerce bookings is a very powerful plugin option for adding your appointments to your store. If you are providing the services like reservations of restaurants, accommodations, you can change website visitors into customers paying by digital bookings. The cost of woocommerce booking starts from $249.
Conclusion
choose the best word press coupon plugin in the above list & start fulfilling your visitors with best offers & deals.
This will definitely support you to boost your sales. If you are marketing some products or services then promoting service/products via Coupons is best for you because it's very helpful for customers to save money.
If you are using smart coupons already please let's know what makes you attractive most. If you are not a user of smart coupons yet, do not give it a next thought. Get smart coupons now and increase your sales & repeat customers