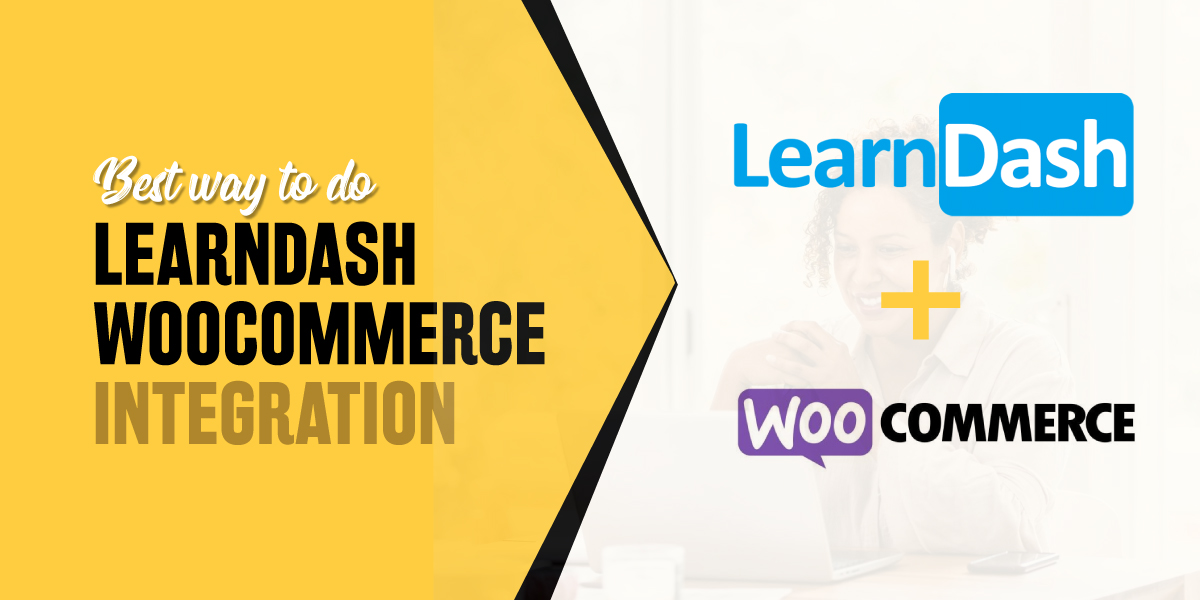 Best way to do LearnDash WooCommerce integration
Have plans to sell the LearnDash course?
But do you know that you have to set up an efficient shopping cart for your visitors? Well, it helps in the smooth process of the payment process. Not only that, in any case, you missed the streamlined process of checkout.
Mark this, it can also hamper the image of your brand. With LearnDash WooCommerce integration, you can boost up the checkout pages and professional-looking sites.
But ensure to use a robust and scalable eCommerce engine to make the sale of your LearnDash courses.
About
This plugin can assist you to manage, selling, and developing online courses. In terms of functionality, it has its own in-built functionality.
This assists you to charge the users who are taking your courses. You can either provide a subscription or one-off access to the courses.
There is unlikely any person in the business world who have not heard about WooCommerce. All for good reasons!! WooCommerce is the prominent shopping cart that is available in the market today.
You just need to install this plugin to the WordPress website and do the configuration of the payment gateway. You are set to sell your products- both digitally and physically. WooCommerce provides numerous benefits for your online website.
Why should you use WooCommerce?
WooCommerce has the prominent plugin of WordPress. It has more than five million installs. This platform is highly flexible and therefore assists the users to have a store and its content ownership.
This is an agile platform that is perfect to sell only courses. It is a great LMS that can host your courses. They have a team that invests continually in research and development. This can roll all the new updates that the makers require.
Presently, LearnDash can integrate well with checkout, Smart Cart, Easy Digital Downloads, etc. But none of such platforms offers the affordability and flexibility that WooCommerce provides
Now, let us check some of the pointers on why you should do LearnDash WooCommerce integration.
Robust Engine for eCommerce: It is developed for the collection of payments. This engine allows you to provide choices to your potential prospects.
Plugin's Ecosystem: LearnDash WooCommerce integration has the plugins ecosystem developed on top of it. You can think of subscriptions and memberships for digital products. Hence, you can manage everything from here.
Flexible: You can do the customization of the checkout flow. One can easily develop dedicated sales funnels and global checkouts on top of WooCommerce.
Customization of Discount Coupon Codes: With LearnDash WooCommerce integration, you can build custom discount codes and desirable offers. This makes things irresistible.
Improvises AOV: One can earn more profits with each transaction. But ensure to add one-click Upsells and order bumps.
Automated Campaigns: It assists in setting up automated email notifications. All you have to do is integrate WooCommerce with prominent CRMs.
How can LearnDash help you to modify a WordPress website?
Firstly, do the installation of the LearnDash plugin to the WordPress site. You can see numerous products getting added to your website. These incorporate:-
User roles. It incorporates Group Leader and Administrator
Menu items
Taxonomies for courses, topics, quizzes, and lessons
Custom post type of courses
New tables of databases, shortcodes, and widgets
Advantages of LearnDash WooCommerce integration
Streamlined options for payment
WooCommerce platform has many payment options. It will assist you to integrate Square, Stripe, Paypal, etc. These payment gateways can seamlessly work with LeanDash.
eLearning e-Commerce System
LearnDash, the leading e-Learning platform is known in the market for its robust nature. WooCommerce is a solid eCommerce platform that is accessible on WordPress. A combination of these two platforms is a smart choice because both blend with each other well.
LearnDash WooCommerce integration means that you can maximize your economies scale.
Plenty of extensions of WooCommerce
There is simply no dearth when it comes to the extensions of WooCommerce. One can easily use it to add the features of e-Commerce to their e-learning website.
There are many extensions that are related to social media, automation marketing, shipping, etc.
Plenty of paths to boost the sales and course marketing
Now that you have understood that WooCommerce has plenty of extensions related to sales and marketing. One can employ these extensions to boost their marketing for their e-Commerce websites in many ways.
LearnDash WooCommerce integration assists one to sell bundles and individual courses. Through the LearnDash or WooCommerce extension, you can develop bundles.
Sell physical items with the digital courses
WooCommerce is mostly loved by businesses because it allows them to sell any type of product. One can even sell physical products with their courses through LearnDash WooCommerce integration.
For instance, you can sell your merchandise or t-shirts alongside branding the university/ online school. As a result, you can build your own community and market yourself in a cost-effective way.
Similarly, if you have plans to teach technical skills, you can even sell the tools for the practice of those skill sets.
Automation of enrollments after making payments
The process of enrollment becomes quite easy with LearnDash WooCommerce integration. WooCommerce allows you to enrol the students automatically in courses. How?
Once the students register themselves to your website and make the payment, the process is complete. You do not have to check anything manually to know about the payment status.
Subscription-based payment modules
With LearnDash, you can also sell the courses with a subscription-based model alongside a one-time fee-based model.
Now, the extensions that are required to enable the functionalities are very well bound and compatible with WooCommerce.
WooCommerce has an amazing system to track cart abandonment. You can couple these systems with numerous tools for email automation.
One can use this tool to enroll the users who have plans but at the last minute abandoned the cart. You can shoot emails or notify them so that they can enrol in your course via LearnDash WooCommerce integration.
Provides discounts and offers
With WooCommerce, you can easily provide coupons and discounts to your potential clients.
To add a coupon click "WooCommerce". Check for the "Coupon area" on the dashboard of WordPress. The plugins can offer you more features, flexibility, and control to run numerous types of coupons and discounts.
Requirements to do LearnDash WooCommerce integration
WooCommerce: Make sure you go for version 3.0 or above
LearnDash- Go for the 3.0 version or Legacy
Installation of the WooCommerce for the Add-on of LearnDash
1. On the dashboard of WordPress. Tap "LearnDash LMS". Look for "Add-ons" and click it.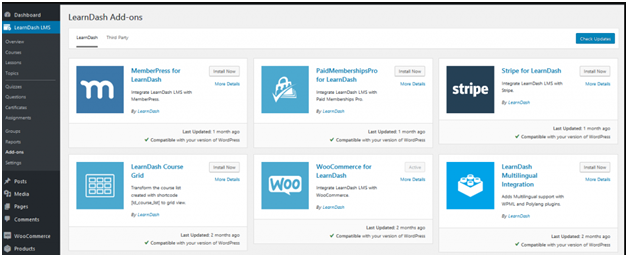 2. Navigate to the add-on "/locate 'WooCommerce for LearnDash".
3. Go for the button "Install Now", Click it.
4. Next, you need to activate the plugin. For this, tap the button "Activate Plugin".
Manually adding the file of the plugin
Login to the LearnDash accounts to download the file manually.
Once you download the plugin, visit "Plugins" and tap the option "Add New".
Tap the button "Upload Plugin".
Look for the .zip file you have downloaded.
Tap the button "Install Now".
Next, you need to click the "Activate Plugin" for the activation.
Stop Direct Payments after LearnDash WooCommerce integration
Once you are done developing the product, you need to do similar changes in the LearnDash course as well. To do this:-
Visit "LearnDash LMS" and click the button "Courses".
You need to choose courses that are similar to your WooCommerce product.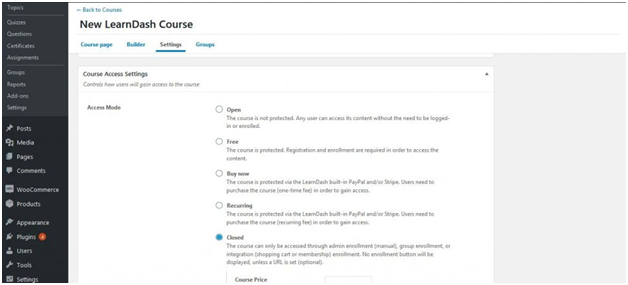 Visit "Settings" and click "Course Access Settings". Next, search for the option "Access Mode", Click it.
Make sure to set the access mode as "Closed" for LearnDash WooCommerce integration.
In the field of 'Button URL', paste the WooCommerce's product page URL.
When you do these settings, the visitors of the course page will be redirected to the product page of WooCommerce. For this, they need to click the button "Take This Course".
Assign the courses to the products of WooCommerce
You must have a LearnDash course to create WooCommerce products. If you do not have one, make sure to build a new course.
Steps to build the products of WooCommerce
In the tab of WooCommerce, tap the option "Products" and then click "Add New".
Next, you need to add the details regarding the product.

Drop down the options under the section "Product Data". Click on the option "Simple Product" and tap the tab "Course".
On the option "LearDash Courses", you need to add the specific courses that you want to add as your product.

In the field "Related Courses", you must choose the courses that you plan to associate your product with.
In a single product of WooCommerce, you can even add multiple courses. Update and publish your product page.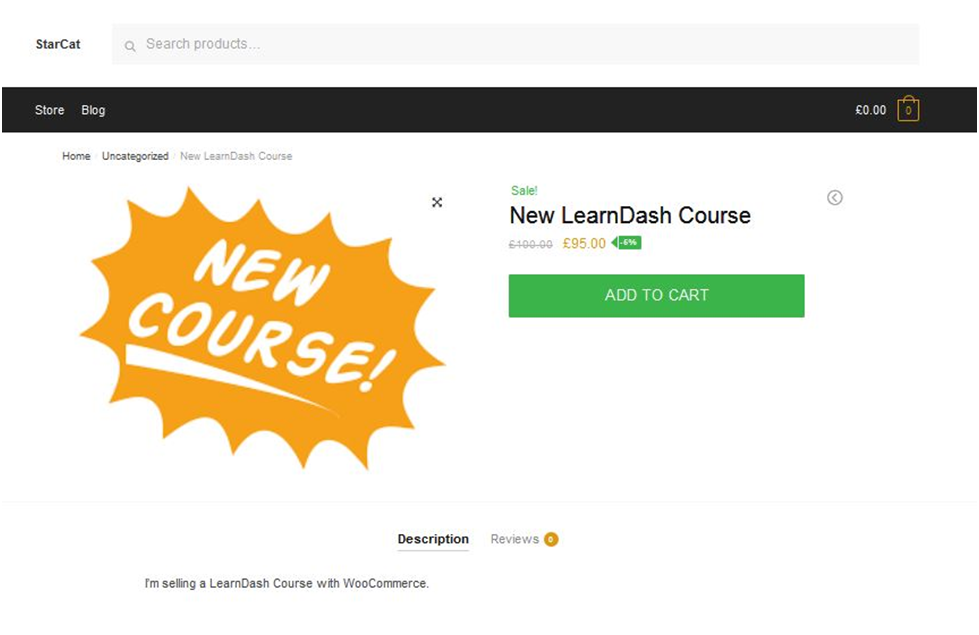 Do the magic with LearnDash WooCommerce integration
Apart from receiving the payments from WooCommerce, you must do more with the add-on of LearnDash.
You need to add the Purchase Note. For this, you must choose an in-built section in WooCommerce. In this section, you can give steps or instructions that must be followed for the course.
You must employ numerous types of products. This includes Variable Products.
You must enable the redirects of post-purchase for sending the learners directly to the course page.
Sell the subscriptions to the courses with LearnDash WooCommerce integration.
WordPress is the fastest and most popular growing platform. We extend the WordPress development services and WordPress hacking support for all industry verticals.
As a prominent WordPress development company, 24×7 WP Support can help you to optimize, build, and support services. We can lend you support for LearnDash WooCommerce integration