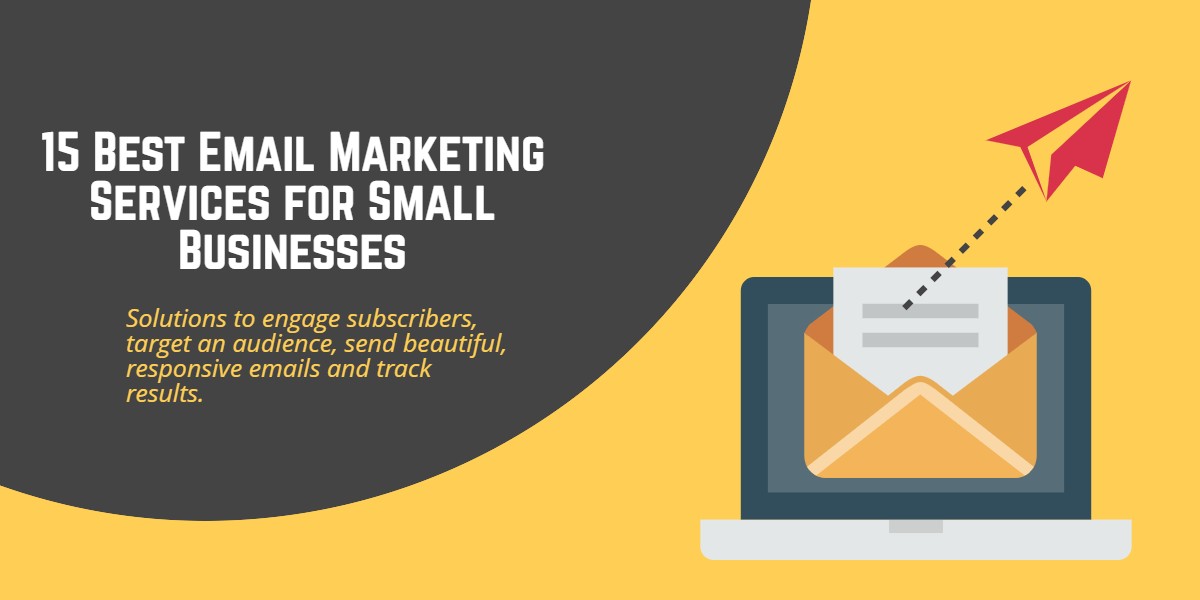 15 Best Email Marketing Services for Small Businesses in 2021
Last updated on September 24th, 2021 at 01:20 pm
Regardless of the type or size of a business, a number of factors influence its growth. One of these is email marketing.
Email marketing offers many benefits to businesses, which includes automating marketing workflows, creating customized emails for the target audience, building a lasting relationship with current, former and potential customers, and more.
That is why it's imperative for all businesses, including start ups and small businesses, to use email marketing solutions.
While most email marketing services are similar in terms of features and pricing, finding a service that can fulfill your company's specific requirements can be the difference between a successful promotional campaign and others.
When it comes to the best email marketing services, you have many options. In this article, we will discuss the best email marketing services that small businesses can use.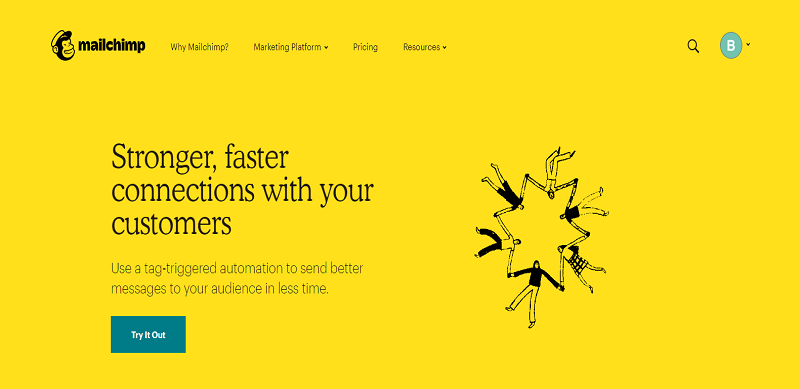 This is easily one of the most popular email marketing platforms today. MailChimp's easy-to-use drag-and-drop interface makes it ideal for small businesses. It supports a robust campaign builder, thereby allowing users to craft customized email campaigns.
The reason behind MailChimp's popularity is its vast range of unique features, including in-suite apps, email templates, integration to e-commerce platforms, and more. Furthermore, MailChimp offers deep analytic tools, which offer interesting insights into how people view your company's emails. These features help users understand the browsing behavior of customers and optimize their marketing techniques.
MailChimp's free plan enables users to interact with 2,000 subscribers through up to 12,000 emails per month. The free plan is no way short on features and offers automation, data insight, campaign creation, built-in signup forms, and reports.
It also has two different paid plans for its users, namely the Growing Business plan ($10/month) and the Pro Marketer Plan ($199/month). The first plan allows users to send unlimited emails, according to their time zones, along with predicted demographics, and email and chat support. The second plan is for high-volume senders and has many enterprise-level features.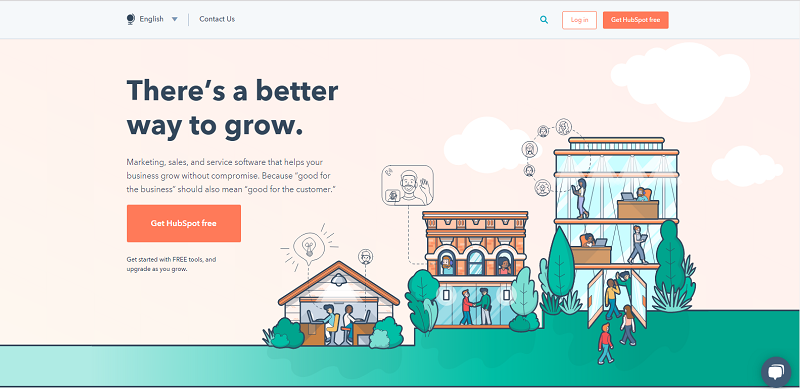 HubSpot Marketing is another popular email marketing software designed to streamline the process of organizing, tracking, and nurturing leads for promotional campaigns. The application has various features available, and some of them even go beyond the scope of email marketing.
HubSpot is a favorable choice among small businesses because it offers certain features that are only available in the paid version of other products. For instance, the application comes with a contact management system, which lets users segment their leads, according to different criteria.
Furthermore, users can schedule and queue email delivery to prospects in a personalized sequence. Lastly, it allows users to track the performance of their campaigns and optimize the time taken to send repetitive emails.
HubSpot Marketing's free plan boasts various special features, including contact database creation, traffic and conversion analytics, contact form creation, and lead capture pop-up forms. Moreover, users get the option to integrate the software with their CMS, form tools, and email.
The paid plan for HubSpot Marketing starts at $50 per month. However, it has three other packages. These include Basic ($200/month), Pro ($800/month), and Enterprise ($2400/month). The paid version features automated campaigns, intuitive email builder, A/B testing on email campaigns, and more.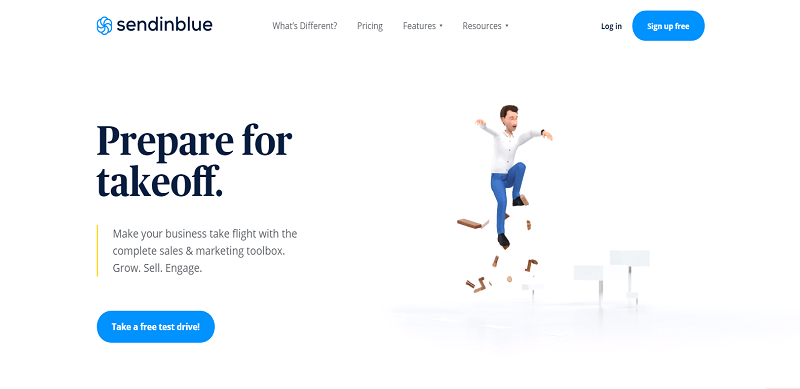 You can manage your small business' marketing campaigns and transactional emails easily via SendinBlue. You can also benefit from its email builder that has drag-and-drop navigation. Such features allow users to create attractive and mobile-friendly email without having to code.
SendinBlue provides several options for auto-responder and transactional emails. In addition, users can also take advantage of its responsive design templates, which can be customized for different purposes.
The platform also offers features like email scheduling, campaign creation contact management, and tracking. Furthermore, SendinBlue Email's API functionalities allow users to integrate it with their existing systems or third-party applications. As a result, users can configure the application, according to their changing needs.
With the software's free plan, users can save unlimited contacts and send up to 9,000 emails per month (300 emails per day). The package includes a mobile-friendly email template library, email designer, and SMS and email personalization.
On the other hand, SendinBlue Email has three monthly plans, which includes Lite ($20.85/month), Essential ($31.82/month), and Premium ($53.77/month). SendinBlue has an Enterprise plan as well, but the company discloses its prices through quotes only. The company dedicates an account manager for this high-value plan.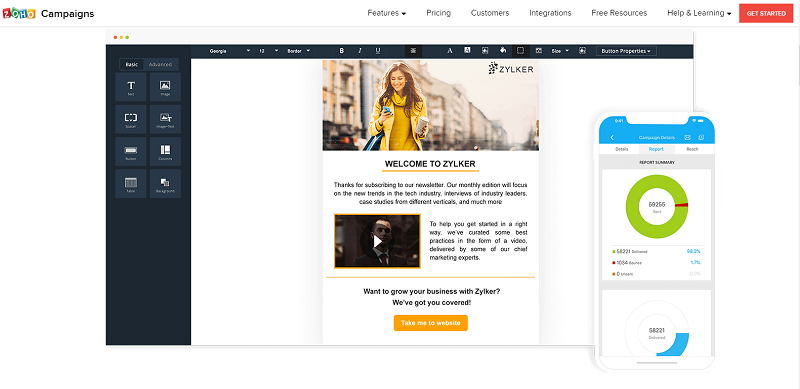 Zoho Campaigns is an email marketing extension of Zoho business applications. The platform is suitable for small to medium-sized business, and business owners can use it to create, send, and track email campaigns. Moreover, it enables users to automate email marketing through personalized campaigns and permission-based access.
Zoho specializes in the creation of email campaigns by offering powerful tools, along with a wide range of features. For instance, the platform has a recipient activity-tracking tool, which measures the engagement of your customers to your sent messages. Besides that, it has built-in A/B testing functionalities that can determine the effectiveness of a campaign even before you start working on it.
The platform's free plan lets users send up to 12,000 emails per month to 2000 subscribers. Furthermore, users won't miss out on any of the exciting features that Zoho Campaigns provides.
Currently, Zoho Campaigns has two kinds of paid plans; monthly subscription and the Pay-As-You-Use plan. Through the subscription plan, small businesses can use the service according to the number of subscribers.
They can buy monthly subscriptions from $5 per month (1 to 500 subscribers) to $350 a month (50,001 to 100,000 subscribers). On the other hand, the paid plan allows users to buy email credits anywhere from $6 for 250 email credits to $750 for 100,000 email credits.
Wix ShoutOut is an easy-to-use email marketing platform designed for small businesses. The platform simplifies the process of creating and sharing email newsletters with the help of its designer-made templates, email marketing tools, and intuitive builder.
As a result, users can customize email design through varying text fonts, colors, and backgrounds. Since the emails generated through this tool are responsive, your customers wouldn't have any problems viewing them on any device. Furthermore, Wix ShoutOut offers a powerful mailing list management tool, which enables users to segment their contacts and design-targeted email marketing campaigns.
Since the platform is an extension of the famous Wix website builder, it suits the websites developed through the same platform. It has exciting features like social media tools and contact integration. Users can also track stats related to their campaign's open, view, and click rates.
The Wix ShoutOut free plan is ideal for growing start-ups and small businesses, and you can utilize almost all the features the product has to offer. Therefore, you can send up to 5,000 emails every month, which reset on the first day of each month.
There are three different categories of paid plans, the Basic plan ($4.90/month), the Business Essential package ($12.90/month), and the Pro Unlimited plan ($44.90/month). Each of these plans differs according to the number of contacts a user needs to reach.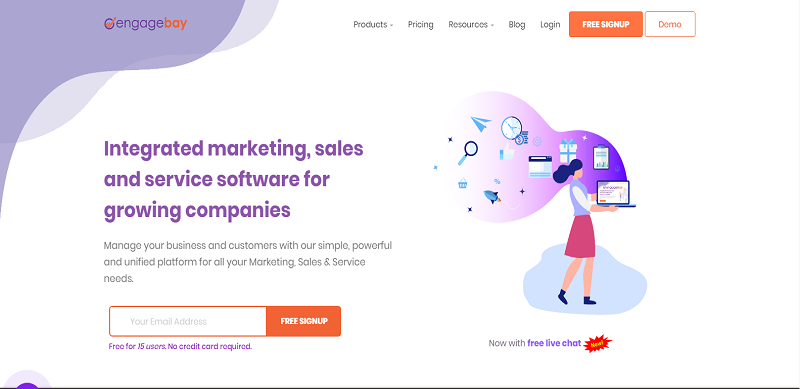 EngageBay is a CRM platform that integrates sales, marketing, and service solutions under one intuitive dashboard. It works best for small to medium businesses and provides extensive marketing solutions.
It enables users to design their marketing workflow through the CRM interface. As a result, users can oversee the emailing process and even automate email sequences to focus on tasks that are more urgent.
The platform's marketing system calculates a score for each lead, based on the behavior of customers visiting your website or checking emails. All potential leads are then forwarded to the sales system for generating an appropriate pitch.
EngageBay has an exciting free trial plan, which offers various features without any cost. On the other hand, the paid plans vary from $8.99 per month to $47.99 per month. Each consequent plan has a higher limit cap for storage space, contacts, and branding emails. Users can even access advanced CRM features, such as custom domains, web, and proposal analytics call records, and role management capabilities through the Growth and Pro plans.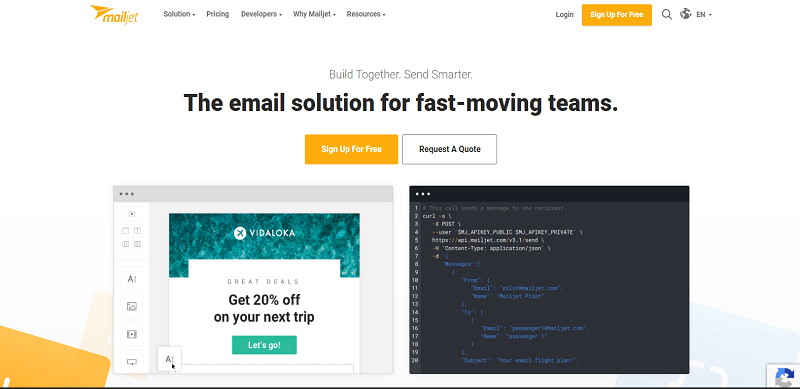 MailJet is used for marketing and transactional purposes. The platform has an intuitive drag-and-drop editor that lets business owners create custom email campaigns through its free and responsive email newsletter templates.
MailJet leverages REST and SMTP servers to ensure that your email stays out of the spam folder. It also offers plenty of analytics tools, and you can design new campaigns based on the success of your previous campaigns. It gauges how your customers engage with your emails and perform future performance forecasts for each new campaign.
MailJet's free plan offers up to 200 emails per day (or 6,000 emails each month). This offer includes full access to its API, unlimited contacts, advanced statistics, and an advanced email editor.
The platform's paid plan is one of the most cost-effective email-marketing plans on the market. The basic Bronze plan starts at $7.49/month and offers premium features while giving you the option to send 30,000 emails each month. On the other hand, the Crystal plan provides 60,000 emails, expert deliverability support, and premium features at $21.95/month.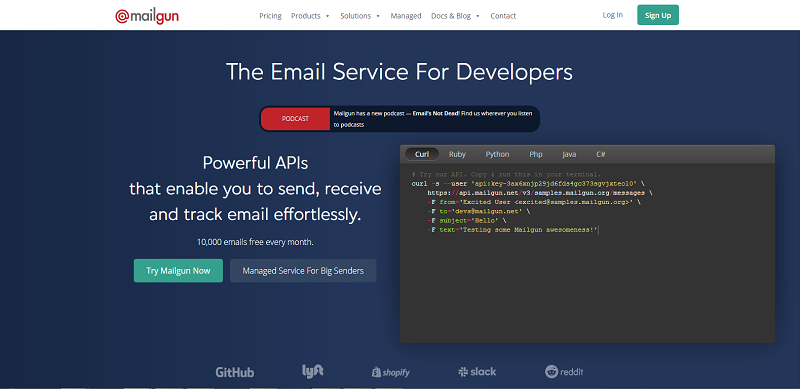 Mailgun is an email automation program built for people who know how to code. Unlike other email marketing tools, it doesn't have drag-and-drop navigation, so it's better suited for people with minimal technical know-how. However, it still doesn't give you the complete flexibility to configure entire campaigns by yourself.
However, its API-first architecture is extremely reliable and supports a robust sending infrastructure with advanced email validation. Mailgun's analytics and tracking tools allow users to gain access to searchable logs and updates regarding their email campaigns. Moreover, they can mark the data to pull information for A/B testing in the later stages.
Through Mailgun's free plan, you can deliver 10,000 emails each month. There is no separate paid plan, and the platform starts charging its users after they have exceeded the limit of 10,000 emails per month. For each of the next 500,000 emails, users will have to give $0.0005. The following 1,000,000 emails, after the previous limit, cost $0.00035. After that, the following 5,000,000 emails will be charged at $0.00015. Lastly, users would have to pay only $0.00010 for each email in the last 5,000,000-email limit.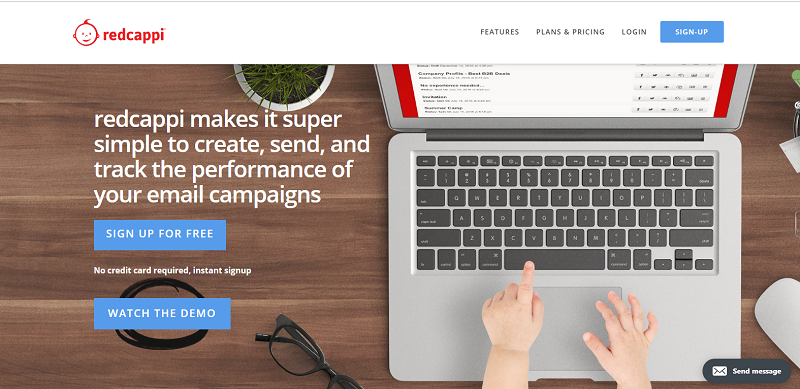 RedCappi is another award-winning email marketing tool. The tool is available for free, which makes it ideal for small businesses that run on a tight budget. It comes with a variety of tools, including email schedule automation, drag-and-drop email editor, custom email campaign creators, and contact management.
It allows users to benefit from real-time analytics on email marketing data. Aside from optimizing workflow, it also leverages social networks to generate more leads. Although RedCappi does offer its services for free, it only supports 100 contacts. However, you can use all of its extensive email marketing features, including API functionalities and analytics.
Therefore, RedCappi has designed its price plan based on how many people you want to reach out to. The platform's cost can range from $10/month to $1398/month that support 101 contacts to 500,000 contacts. Companies that require over 100,000 contacts must ask for a quote.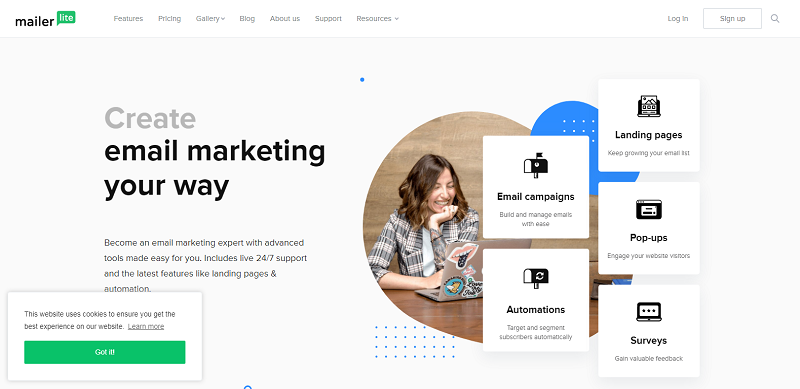 MailerLite is another promising email marketing solution. The platform has a drag-and-drop editor, custom HTML editor, built-in photo editing feature, and plenty of other useful features. These features help businesses automate their email campaigns.
Like all good email marketing tools, the platform provides email statistics features that help users gauge essential aspects of customer engagement.
MailerLite also supports an API, which allows developers to scale the platform, depending on their current requirements. Furthermore, the platform gives you the option to deploy it on-premise or via the cloud. On top of all this, the platform offers users limited access to product features, along with 12,000 emails per month for 1000 subscribers.
User can customize their subscription plan according to the number of subscribers they have. The price for these subscription plans varies from $10/month for 1000 additional subscribers to $50/month for 10,000 additional subscribers.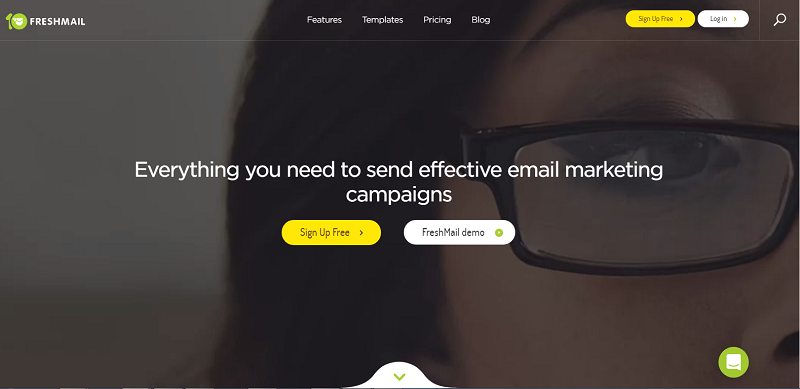 FreshMail offers a cloud-based email marketing platform, which is suitable for small and medium-sized businesses. Users can benefit from an intuitive template editor, which lets them create email newsletters through drag-and-drop navigation or HTML.
Features like real-time email tracking can help them understand how successful their campaign has been. It also has many industry-specific templates and robust automation options, which make campaign creation more efficient.
Autoresponders respond to customers automatically, according to how they interact with messages. Moreover, its spam test feature ensures that your email isn't marked spam.
FreshMail has an all-inclusive free plan, but it limits it to only 200 emails monthly for 500 subscribers. You can change the price of your paid plan, depending on the number of subscribers you have or choose pay-as-you-go plans for email credits.
Prices for unlimited range packages start from $14 per month for 1000 subscribers to $405 per month for 100,000 subscribers. On the other hand, the latter costs anywhere between $30 for 5000 credits and $1300 for 1,000,000 credits.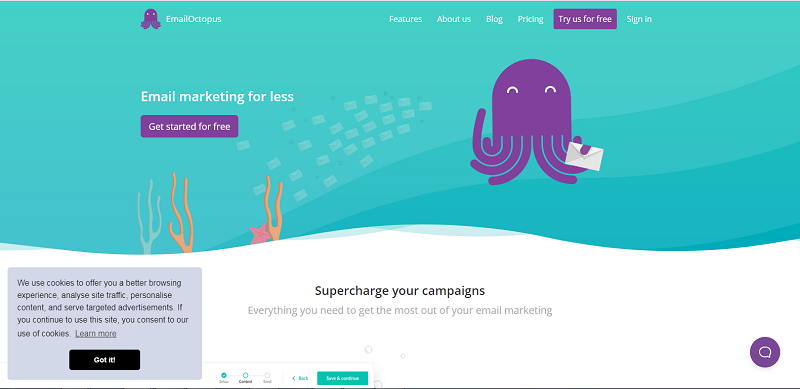 Email Octopus is another innovative email marketing tool. It leverages the Amazon Simple Email Service (SES) to send emails to users. It supports custom email campaigns powered by responsive HTML emails.
Moreover, the software solution employs advanced deliverability management to escape the spam folder. Other notable features include autoresponders, template management, analytics, and an extensive image library. Last but not least, it has a useful developer API and is fully compliant with the GDPR.
Email Octopus offers a basic plan, completely free of charge, but limits the total subscribers to 2500. The plan provides campaign creation tools and basic functionalities while giving the option to store analytics information for 90 days.
You can get advanced features and a higher number of subscribers by selecting other plans. Its list of paid plans includes Tuna ($19/month) , Stingray ($39/month) , Shark ($59/month), and Whale ($109/month). These plans come with priority email support and the option to store analytics information as long as you need them.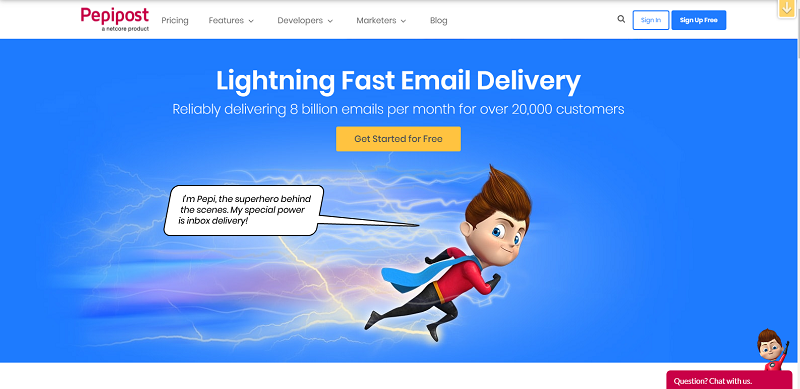 Pepipost is a cost-effective email marketing solution that offers many exclusive features. It is ideal for freelancers and small businesses as it enables them to use fast SMTP APIs, AI-powered email delivery, bounce prevention, and email tracking options.
Pepipost also has powerful security features that help users protect their information from hackers. Furthermore, the platform provides a scalable architecture, so users don't need to maintain in-house servers.
Pepipost has an incredible free plan that can support up to 25,000 emails a month with a daily cap of 5000 emails. Besides that, users can benefit from features like live reporting tools, single sending domains, email APIs, webhooks, and SMTP. Pepipost pricing packages are also extremely cost-efficient as they only charge $0.20 per 1000 emails.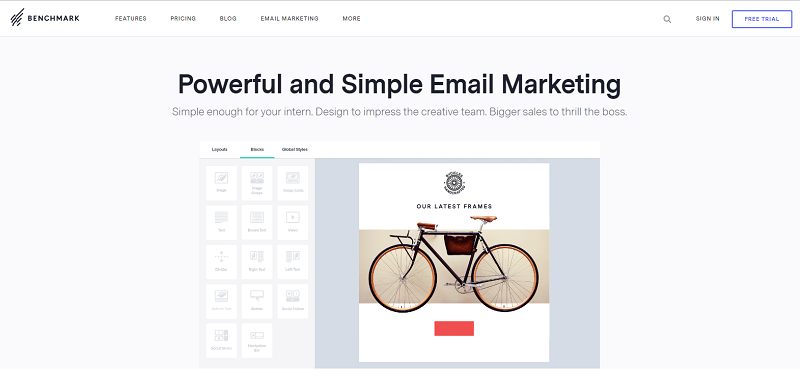 Benchmark is best known for its powerful WYSIWYG email designer, which users can navigate through a drag-and-drop tool. The platform helps marketers create visually stunning and responsive emails without spending too much time on them. It allows users to edit photos and add extra effects on the go.
Moreover, users can optimize the creation of auto-responses, polls & surveys, and preview work through either a desktop or mobile. Marketers can also leverage from analytics to track the success of campaigns.
Benchmark provides an incredible free plan with up to 14,000 emails for 2,000 subscribers per month. The plan includes features like Google Analytics tracking, drag-and-drop editor, signup forms, responsive templates, and basic drip campaigns.
Paid plans differ, based on how many subscribers you can cater to and the number of emails you can send. Other than unlocking advanced features, premium plans give access to Benchmark's Automation Pro feature. Users can choose any plan from Medium ($21.99/month), Large ($346.99/month) , Extra Large ($758.99/month), and Massive ($4,800.00/month).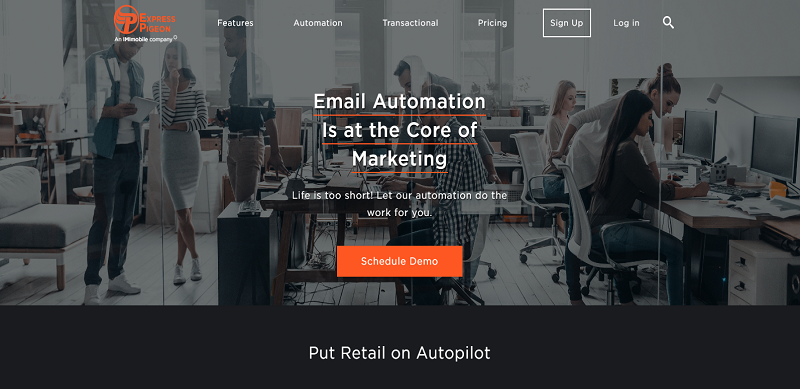 Express Pigeon is an email marketing tool optimized for usability and flexibility. It allows users to create a responsive editor with limited technical knowledge. The platform has various templates and includes robust tools like email scheduling, contact segmentation, and A/B testing.
You can evaluate your marketing efforts through its campaign reporting analytics tool. Moreover, it provides a powerful API, which can beintegrated with other systems of a company.
Express Pigeon offers an all-inclusive free plan. However, it limits the plan to only 500 subscribers, and you can only send 1000 emails each month. The email marketing tool has three different types of paid plans, depending on the number of subscribers and emails a business wants to send on a monthly basis. The price for these plans can range from $9.99 a month to $19.99/month while supporting as much as 2500 subscribers.
| Email Marketing Tool | Customization Options | API | Analytics | Automation | Advanced Deliverability | Extra Features | All-inclusive Free Plan |
| --- | --- | --- | --- | --- | --- | --- | --- |
| MailChimp | Yes | Yes | Yes | Yes | Yes | Yes | Yes |
| HubSpot Marketing | Yes | Yes | Yes | Yes | No | Yes | No |
| SendInBlue | Yes | Yes | No | Yes | No | Yes | No |
| Zoho Campaigns | Yes | No | Yes | Yes | No | Yes | Yes |
| Wix ShoutOut | Yes | Yes | Yes | Yes | No | Yes | Yes |
| Engage Bay | Yes | No | Yes | Yes | No | Yes | Yes |
| Mailgun | Yes | Yes | Yes | Yes | Yes | Yes | Yes |
| MailJet | Yes | Yes | Yes | Yes | Yes | Yes | Yes |
| RedCappi | Yes | Yes | Yes | Yes | No | Yes | Yes |
| MailerLite | Yes | Yes | Yes | Yes | No | Yes | No |
| FreshMail | Yes | No | Yes | Yes | Yes | Yes | No |
| Email Octopus | No | Yes | Yes | Yes | Yes | Yes | No |
| Pepipost | No | Yes | Yes | Yes | Yes | No | Yes |
| Benchmark | Yes | Yes | Yes | Yes | No | Yes | No |
| Express Pigeon | Yes | Yes | Yes | Yes | No | Yes | No |
Bottom Line
To sum it up, all email marketing providers offer similar services. However, when choosing the right tool for your business, you have to consider your budget and marketing needs. Each package has a limited number of subscriber or emails. Furthermore, each platform offers a variety of tools, which makes it ideal for specific cases.
Whatever service you decide to choose in the end, you can change your service according to your business needs. Most email marketing providers give users the option to export and import leads and change to a different provider if the need arises. However, do not waste any more time because the longer you wait in choosing an email marketing provider, the more customers you're losing. Live chat with us