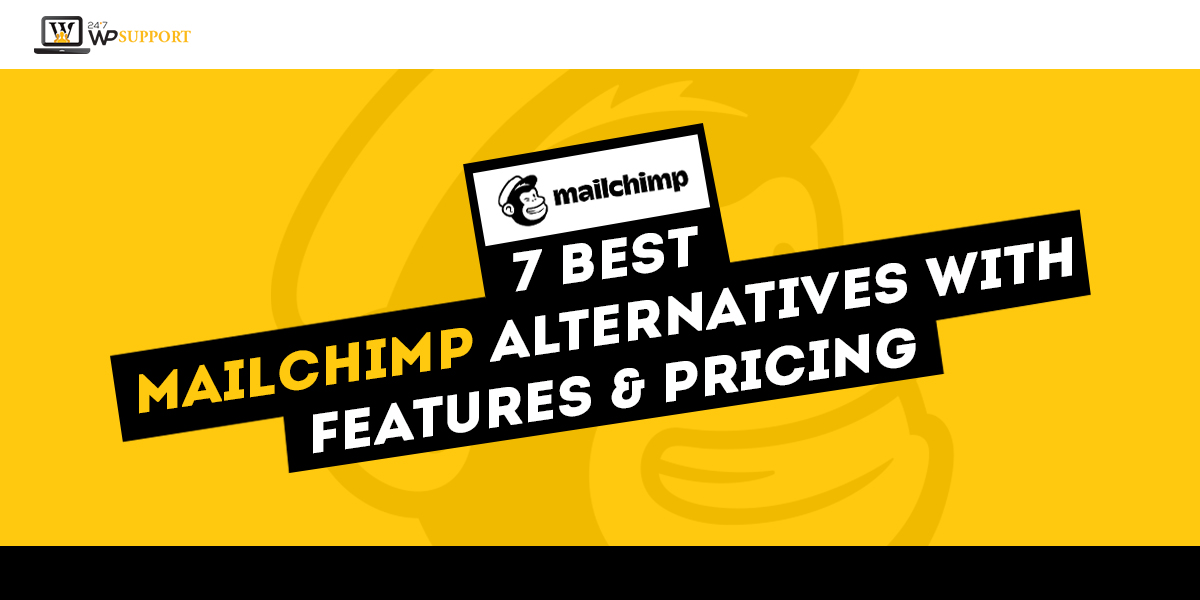 Best Mailchimp Alternatives with Features & Pricing
Last updated on June 24th, 2022 at 06:14 am
Marketers in this complete world use MailChimp. Mailchimp is used for email marketing throughout the world full stop it is the most famous tool for email marketing many e-business profile company use MailChimp. Here you are looking for an alternative of MailChimp than you are reading the correct article please read this article carefully we are providing you with the best male cheap alternative with features and pricing. Mailchimp is a long time player for generating email newsletter space. 
But it is told not to change according to the modernization of the world however, due to some low-quality recent changes have been shown by the MailChimp these are in as MailChimp pricing, quality, etc. Mailchimp providing now a very low-quality service to all users that's why everyone wants to switch from MailChimp and want a good platform after replacing it. 
In today's era, the good news is that there are a lot of great and good email marketing services tools or companies that provide the best features and services at less price as compared to MailChimp. In this article, we are going to discuss the good alternative of email marketing services as compared to MailChimp which is given below.
Why are people switching away from MailChimp?
Here we are going to discuss what is the reason that people are continuously switching to different email marketing services and not choosing MailChimp. in earlier days MailChimp is the world's most famous email marketing service.
Mailchimp received popularity due to its features and plants such as "forever free plan".  As we know that it's developed and changing into its features is necessary according to change with time but MailChimp not able to do this thing.
Best MailChimp alternatives
as we know that there are a lot of email marketing services in the market. but we are providing you with our handpicked and tested email marketing service to you. Read this email marketing service carefully which is given below.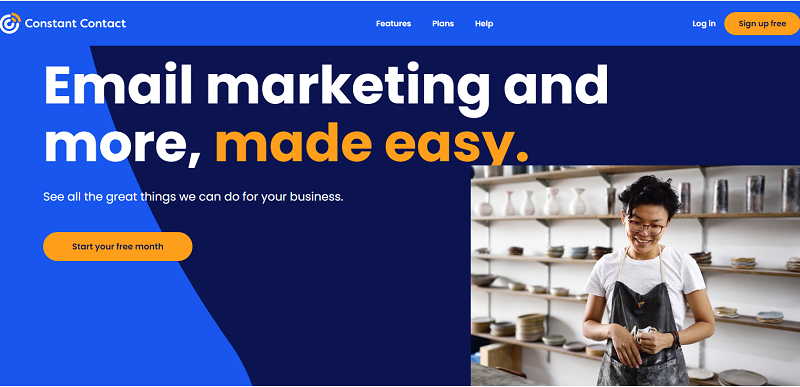 Any user who is at the starting of their business and there the business is running in nonprofit then this is the best email marketing service. Constant contact providing such a great feature that it has it on the editor which helps to create a professional email newsletter with drag and drop editor in a short time period.
Users will get such a great feature to manage all email lists, track all emails, check the status of all emails. Constant contact also helps to send a welcome message to new subscribers. 
The best path with constant contact is they provide full support to any user in the form of chat, phone calls emails, community support, etc. Through this support user never stuck in any difficulties. this is a paid email marketing service if any user wants to buy this email marketing service then the user must spend a certain amount of money to buy constant contact with an active license. Users can buy constant contact with active licenses by paying charges on the basis of the month.
Pricing:
It provides two options that are flexible. You can adjust as per your business requirement. Even though there is no free plan.
But this MailChimp alternative gives you a 60-day free trial plan. You can cancel your subscription plan anytime.
The payment structure depends upon the contact numbers you have. You need to pay $20/month. You can send unlimited emails every day with Constant Contact.
Features:
Landing Page builder
Social media scheduling
Social media advertisements
Email templates
Email campaigns
Automated series of email
Abandoned cart email reminder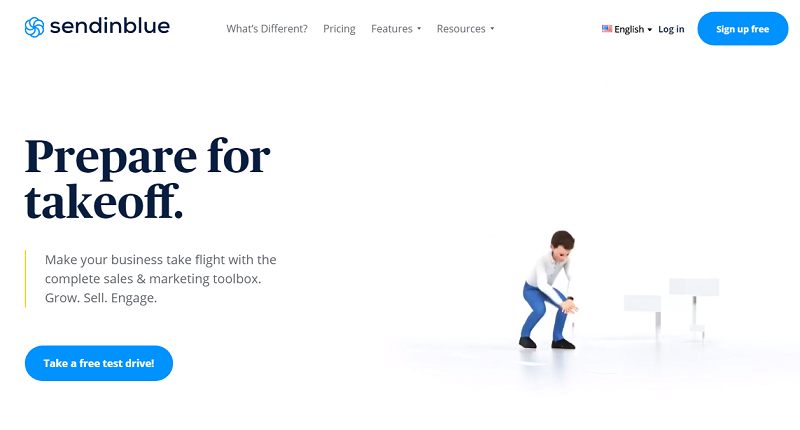 Sendinblue is the topmost and powerful email marketing as well as an SMS marketing service. Sendinblue contains a lot of powerful tools such as email newsletter, email marketing automatic, SMS campaigning, landing pages, Facebook ads, live chat, and many more options. It also sends emails automatically to the targeted audience. Sendinblue release with a free design template that is easy to use and its email deliverability is very high which helps to boost any market campaigning.
 Sendinblue is an excellent alternate for MailChimp but it contains an additional feature that is SMS marketing and lives chat software. 
Pricing:
You can use the free plan and it covers all the basic features. This MailChimp alternative is best for small businesses.
If you just have the requirements of 10,000 emails per month then definitely go for Sendinblue. To send unlimited emails you need to purchase its paid plan.
Features:
Live chat
Unlimited subscribers
Email marketing automation
On-page triggers activity
Email API
SMS marketing
Email marketing
A/ B testing
Advanced Analytics, and many more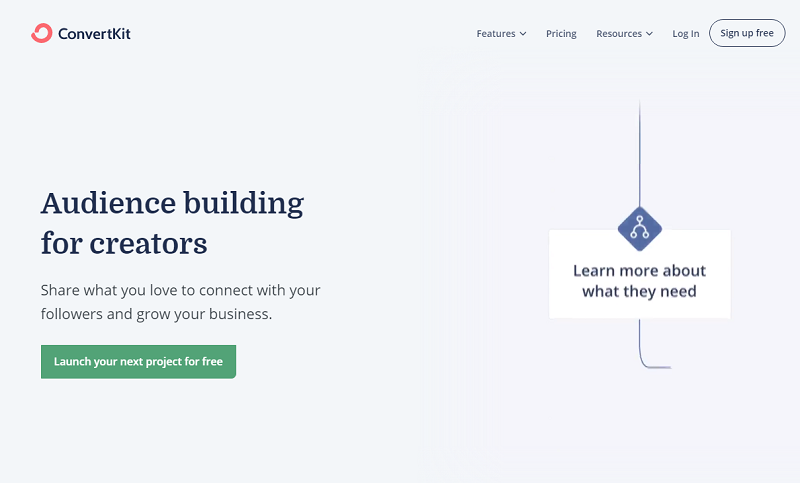 ConvertKit is also the most popular email marketing software. This email marketing software mostly used for bloggers, authors, and creators. Convertkit is famous for its slogan that is "power of infusionsoft with the easy of MailChimp". It contains its own drag and drops sequence builder with the help of this it will provide easy automation features. With the help of this feature users can automated emails which totally based on user behavior. Users can also tag to there contacts and get a response to how they interact with their emails. Free design attractive and creative landing page with the fully customizable option is present there which helps to grow their email list. 
This email marketing software is moreover popular with third-party software such as CRM software and most famous lead generation tool like  E-Commerce platforms are commerce and Shopify. 
Pricing:
$29 – $179 per month. It depends on the contact numbers in the list. For instance, you need to pay $29/Month for 1000 subscribers, $119/Month for 10,000 and likewise.
You can use features other than done-for-you concierge migration. This migration is only available for plans above 5,000 subscribers.
You can check this MailChimp alternative in a 30-day free trial.
Features:
Advanced automation workflows
Great Interface
A/ B testing
Simpler tracking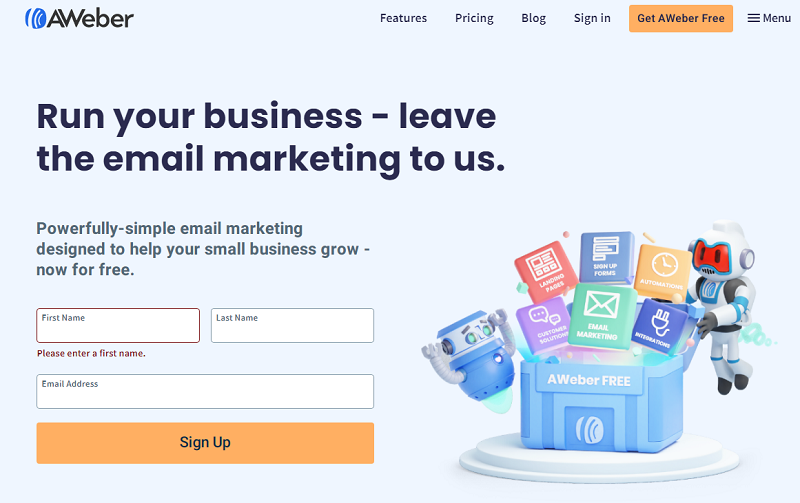 AWeber is also widely used in the email marketing service provider tool. The main purpose of using this tool is to accelerate and growth of business pages because it connects many users with it. It contains a lot of features such as auto fat article, creates automated blog newsletter emails, free design email template with email analytics and automation tools. This is the most popular A/B split testing feature, autoresponders, list management, etc. It is the direct alternative of MailChimp and as compare at price also with MailChimp it is so cheap. 
Pricing:
Even though AWeber has a free plan but it is restrictive. You can only send 300 emails per month. Lastly, it only allows up to 500 subscribers.
It gets charged by the subscribers. This means you can attain the access to complete feature list as a paid user. You have to make a payment of $20 each month for 500 subscribers.
AWeber also provides annual and quarterly billing options. You can reach their customer support to change the billing plan down the line.
Features:
Stock Photos
Analytics
WordPress plugin
RSS to email
Signup forms
Newsletter
Behavioural automation
Sales tracking
Drag and drop editor
Basic segmentation
Autoresponders
Landing pages
Purchase tagging, and many more
Drip is developed or created in such a way that it is only beneficial for an eCommerce store. Drip is also the most popular e-marketing service tool. This tool having the best feature of creating engagement on social media accounts.  With the help of drip, the user can also create a user based management system which has to interact with the customer on your website. Users can also grab customer data and which is stored in tags, events, and custom fields. Users can also create custom coupon codes and discount codes with the help of personalizing this tool using client data. If any user wants to build their email marketing service in the e-commerce field like woocommerce, big commerce, and Shopify then the trip is the best MailChimp alternative which boosts up user sales. 
Pricing:
Drip does not provide any email marketing service in the basic mode. If you want to use the complete feature then you need to pay. In the premium plan, you will get an active licence and complete features.
Features:
Tight integration with Facebook
Visual Builder
Advanced automation
This GetResponse is developed or created in such a way that small businesses can use email marketing software. This software is also similar to other  email marketing thing software. This email marketing software also provides email marketing services, automation landing page,s and many more things such as other providers.
This software also releases with powerful integration such as it also connects user's favorite Applications like wordpress, Magento, slack, etc.
Pricing:
This MailChimp alternative gives a free plan. For advanced features, you can choose from the three paid options. They are:-
Monthly plan- $15/month
Yearly plan- $12.20/month
Biannual plan- $10.40/month
Features:
Integration of payment gateways like Square, Paypal, and Stripe
CMS Integration like Joomla, Drupal, and WordPress
e-commerce integration
Email analytics
Marketing automation workflows
Segmentation
A/ B testing
Webinars
Marketing Funnels
Email templates
Email Builder
Landing Page Builder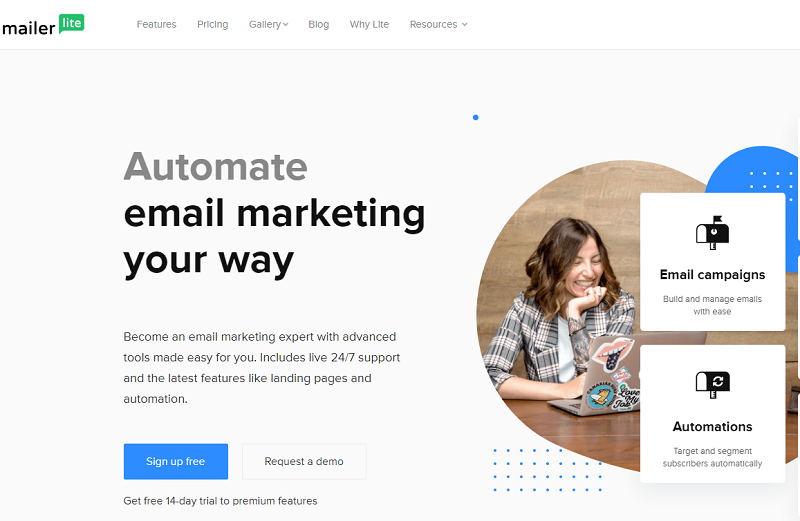 MailerLite is the other most famous and most usable email marketing service provider software. This is the best and great alternative to MailChimp. It also contains a free design email template, beginner-friendly email editor which helps in different campaigning. The basic fundamental of the software to create leads is the user can use its landing page and popup for embedded signup forms. 
It also contains powerful email automation, segmentation, and personalization feature these features are going to help the user to target the right audience at the right time. 
Pricing:
MailerLite is the best MailChimp alternative. It provides many features at a low price.
The free plan of MailerLite is very much similar to MailChimp.
Please note:-
You will not get customer support in the free plan. You can send 12,000 emails per month to up to 1,000 subscribers.
For paid plan, you need to pay $10/month. It is one of the best tools to send bulk email campaigns. At a low price, MailChimp offers decent email deliverability.
Features:
Delivery by Time Zone
Personalization
Segmentation
Email builder
eCommerce integration
Multi-user account
Behavioural targeting
Surveys
Landing page builder
Click Maps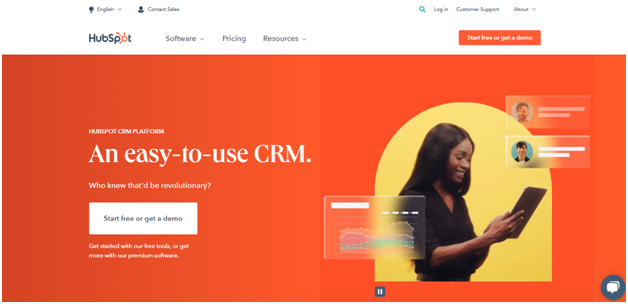 HubSpot is similar to MailChimp. It is an all-in-one platform for marketing. It provides plenty of advanced functionality.
This platform is highly sought by enterprise, small, and medium-scale industries. It is because this marketing platform has:-
Sales tools
Automation workflows
Email marketing
CRM
Operation hub
Website builder, and many more
It uses personalization data and marketing automation using its advanced CRM. HubSpot allows you to deliver a personalized experience. It will boost conversions and sales.
This email platform is enclosed with all the features such as A/B testing, autoresponders, etc.
Apart from that, you can use features such as contact forms, live chat, pop-ups, etc. It can integrate seamlessly with Magneto, WordPress, and other eCommerce platforms. You can use HubSpot to integrate with webinar platforms and social media.
It is an excellent alternative to Mailchimp because it is an all-include marketing platform.
Pricing:-
It is available for free you have to pay to use advanced features. HubSpot will cost you $25 per month. The price may vary based on your subscriber count.
You can use a span of marketing tools in HubSpot's free plan. This includes social media, forms, email marketing, etc. You can send 2,000 emails each month.
Features:
A/B Testing
Email analytics
Email Builder
Email comparison reporting
Marketing Automation Workflows
Personalization
List segmentation
Email templates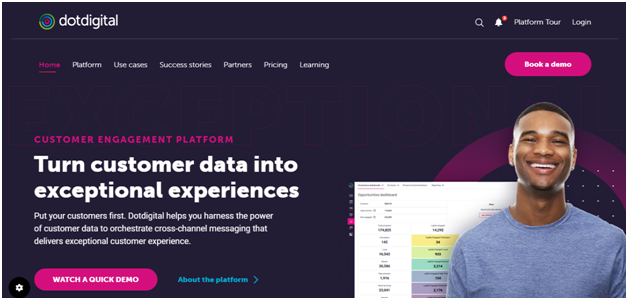 One of the popular platforms mentioned on this list. It gives advanced automation features. DotDigital is innovative.
This plugin engages in crafting the best marketing emails. It is a cloud-based engagement platform that can integrate with basic platforms. You can send automated messages to your users and entice & engage them with your product/ services.
It has easy to use automation builder. You can generate an alluring email newsletter that can capture the attention of the users.
Pricing:-
You can use a 14-days free trial. No doubt! This platform promises to retain and create a long-term relationship with the customers.
There is no concise or clear pricing plan for DotDigital. You can get in touch with its customer support to request the quote.
Features:
Real-time APIs
Real-time integration
Communication tools
Segmentation tools
Email marketing tools
Automation tools
Drag-and-drop email builder
Even though Moosend is a little pricey, it has got the nerve to get you covered. You need to pay less for features in comparison to MailChimp.
You will encounter a drag and drop email builder in it. You can easily pier up your sales funnel for your online business. For this, you need to use an audience management tool.
The visual automation builder is reliable and faster. It will help you to preview the workflows.
Moosend is a sophisticated and cost-effective choice. It is a simple option for those who are running on a tight budget. This MailChimp alternative has a free email newsletter that you can use for any occasion. It has strong segmentation and great customer service.
Pricing
You can purchase paid plans for $9/month. With this, you can run unlimited email campaigns. You will get access to the landing page editor, form builder, etc.
You can even opt for a custom pay-as-you-go option. In this, you need to pay when you send emails.
If you have 1000 subscribers then you can opt for its free plan. You can create forms, send unlimited emails, and get automation workflows. Its customer support team gets back in a flash for any queries.
Features
Personalization
Email Builder
Email Analytics
Email Builder
eCommerce integration
Landing page builder
Weather-based recommendation
Marketing automation workflows