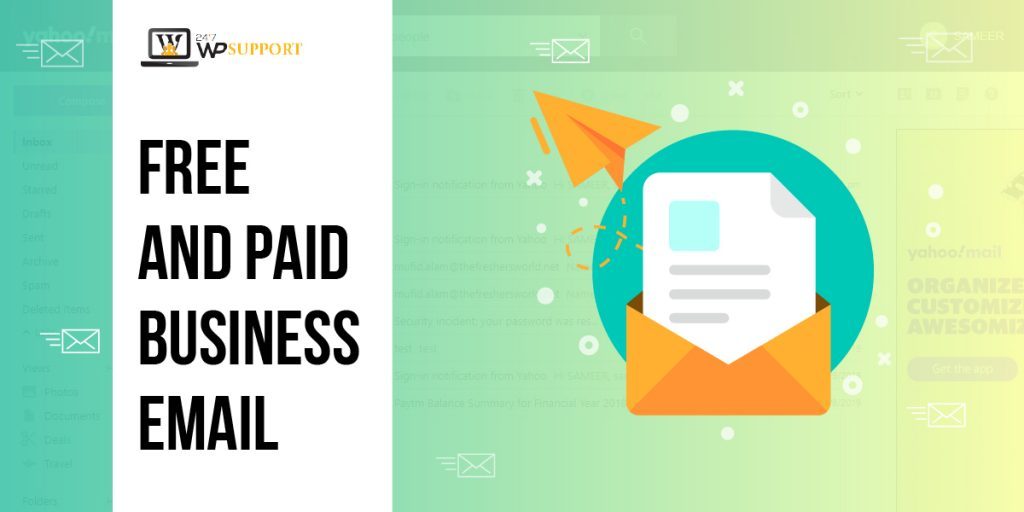 How to Get Free and Paid Business Email
Last updated on August 6th, 2021 at 11:31 am
Free Business Emails
So let's start what I mean by free email. In today's life it's very easy to get a free business email. Here are the providers where you can register such as Gmail, outlook, yahoo etc. mean a small business owner can start up the business & use their services easily and get an email address free . Almost nothing is for free on the internet, you pay it in one way or another. For instance, using Gmail means that Google can look at your email and target advertisements to you based on the emails you receive and send. Not much wrong with that if you are a private person.
Other providers make their money in similar ways. The problem is only you can create the email but they did not allow you to to create an email with your own domain. It may be an issue because it may look unprofessional, like you have a business email like name@myowncompany.com. This looks much more professional than name@gmail.com..? Right?? Most people using personal emails for their businesses like Gmail or Yahoo, but they are not looking professional. If we talk about business email addresses it looks very amazing & professional & totally easy to remember for customers & if you want to take them seriously then you have the need of an email address which seems attractive as well as professional.
Paid Business Email
These are the providers where you have to pay some amount of money to host your email, usually you get this with your hosting provider or you can go with another party to host it like, Gmail for Business, Office 365.
Branding:
The most important thing of your company is how your customers can reach you. This can be done by visiting your website, by phone or send an email. My feeling with a company that uses a free email address gives themselves not much credit how they brand themselves to the outside world. When I can choose between 2 small businesses that have similar qualifications and one has a paid email address and the other a free one, I will choose the paid one because they probably have better values for themselves
Privacy:
When you use a free email provider, privacy is usually the first thing that will be sacrificed. Most users don't know this because they don't read the agreements before signing up for the account. To know what you are giving to the provider you can read the license agreement or you can take a guess on how the company is making their money. For Google, this is advertisements. For Microsoft, this is selling licenses and products.
Costs:
The costs of an email address can just be cash or with your privacy. When you choose for a paid email provider the cost can be from a few Dollars/r Month to around 10 Dollars depending on the provider or options of the email provider.
Most domain providers give you access to basic email facilities. You can choose to host it on Office 365 and there you have Office 365 Exchange Plan 1 for $3,40 per month. A basic Gmail for business costs $5, per month.
Accessibility:
Nowadays we have at least two devices if not more where we check our email on. This can give challenges to some of the hosting companies because they have their own system and synching that to your phone, tablet and computer can sometimes be a challenging task. When you use Gmail for business, Office 365, Outllook.com or Gmail this is as simple as entering your email address and password on those devices. Some have their own apps like the Outlook application.
Compatibility:
Not everyone thinks about this one, because email is email, right.? Well Email part is not the problem here, but when you run a business you also make appointments & invite other people for those appointments. When you are on Gmail.com and invite a partner that is not on Gmail.com they get a strangely formatted email with an extra attachment. When you do the same from outlook or Office 365 it uses the de-facto standard ICS format. Using your provider's email, you might not have an option to send an invite to other people.
Method to setup email service providers:
1st Method: Creating a free business email address
The method is very easy & also available to almost every person having a website. It is allowing you to create a free email address for business.
During creating a website for small business, first thing you need to sign up for domain & web hosting.
Many word press hosting companies offer email features free most users don't know about.
Simply a domain costs 14.98/ year & 7.98/month web hosting starts. If you are using paid email services then you can add $5/ account (Email).
Bluehost is one of the largest company for hosting in the world.
Here is the instruction step by step how to create email address free,
Step 1)
Business address (Domain name) setup:
First of all you visit the website of Bluehost & then click on the green button.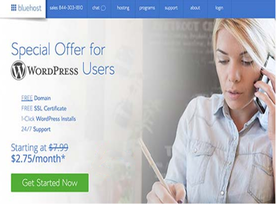 That will take you on the pricing page where you click on the button (Get started now) the plans are just getting started there are basic as well as plus plans.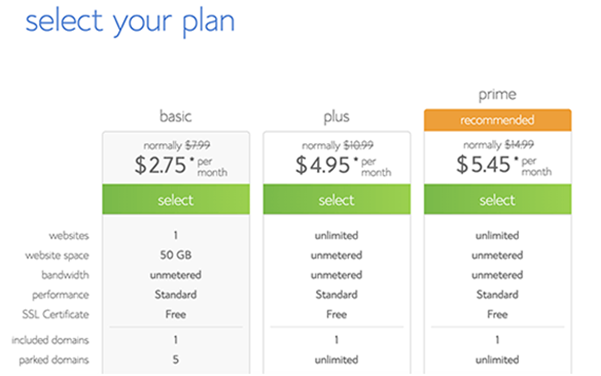 When you select the plan, you will get a popup choosing a name or domain. Just enter the business name & then click next.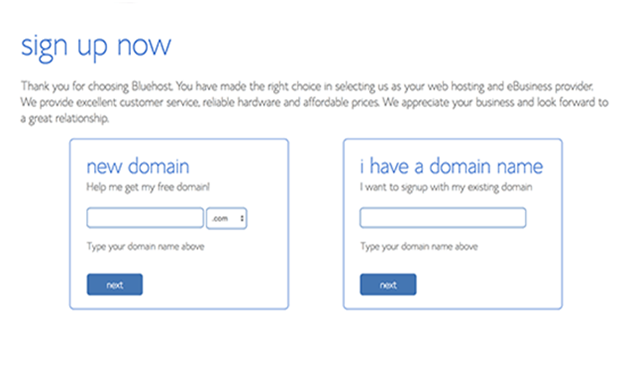 Now the blue host will check the domain name is matching your business name if no then it will suggest you some suggestions, or another domain name you can look at.
Here I will help you with some quick tips how to choose perfect email address for business with perfect domain names
.com domain name is good always choose it.
Never use hyphens or numbers in domain name.
Always use short domain name which you can easily pronounce & remember.
I will guide you by some tips how to choose the nice domain name for business
Good domain choosing is important for your business but don't utilize your much time on it.
After you choose your domain name, you have to add account information & final the package info & complete the process.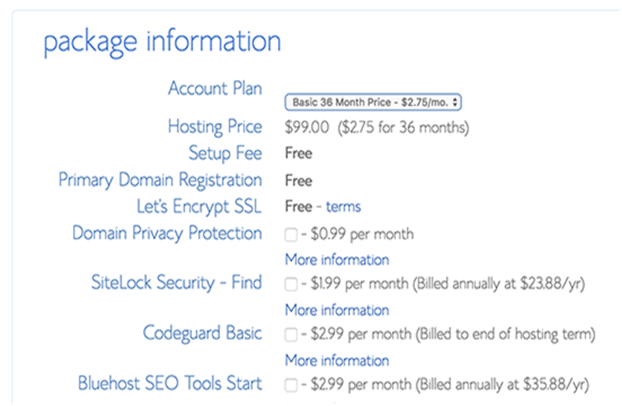 Now you need to enter the information of payment for finish the purchase.
With details you will receive an email how to login on web hosting Cpanel. It's a place where you can manage from support, emails, and other things.
Step2: Free Business Email Address Creating:
Click on the Section of Email & then press on Add email account tab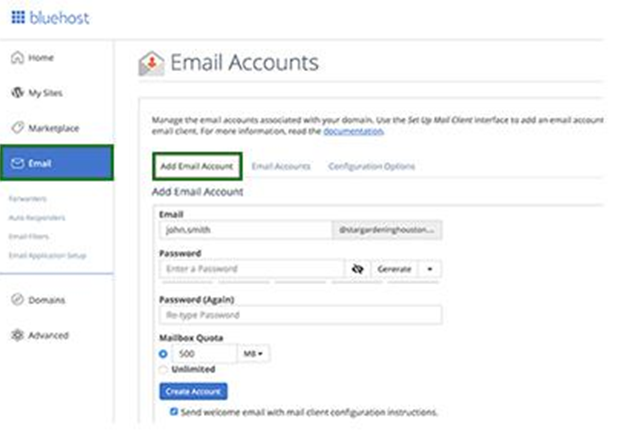 Now in your email account enter the username & password & click on the create button. You will get success message that blue host have create the email account for you.
Step3: Now your business email account is ready, now next step comes to learn how you can use it & how you will receive emails.
The Email section under the hosting account now switches the account tab (Email). Newly ''created email address'' you can see there on the list.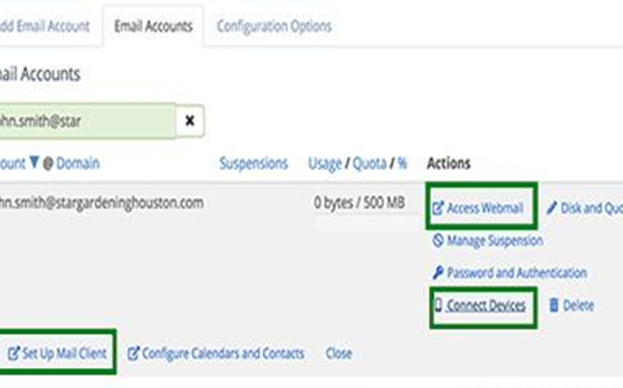 When you click on the link ''access webmail'' Bluehost will bring you to the webmail Interface. If you don't want to use an email client then it's a very nice option. Whenever you want to check your email you have to login on your account (hosting). A good way is to click on the devices which are connected & after click on mail setup link. It will give you the needed information on how to use email address during business with an app or business client. This information you can use is to setup using Gmail or any other app (email).
Note: it is very similar to creating business email for hosting companies which are offering Cpanel like InMotion Hosting, SiteGround & HostGator.
2nd Method: business email address creating using G Suite
Google is offering email addresses which are professional with G Suite which are including Gmail, Drive, Docs & calendar for your businesses.
It is allowing you to use Gmail for your business professional email with your business name but the method is not free, it is coming with many advantages while there is a little cost.
Google has superior technology which ensures that you mails are delivered on the right path & also they did not end in folders of spam.
Your hosting company (website) has resources for a shared server. That means they don't want you to send much emails. Gmail is allowing you to send up to 2000Emails/day.
So how to set up an email address for business by using G Suite, just take a look.
1 Step: Open G Suite account & signup:
The plan of G Suite per month is $5/person. it will provide you the access to Drive, Gmail, calendar video & audio conferencing with cloud storage of 30GB for a user.
You have the need of domain name that can purchase you during signup. But if you have a website & a domain name then you can use that on G Suite.
So let's start visit website of G-suite then click on the started button: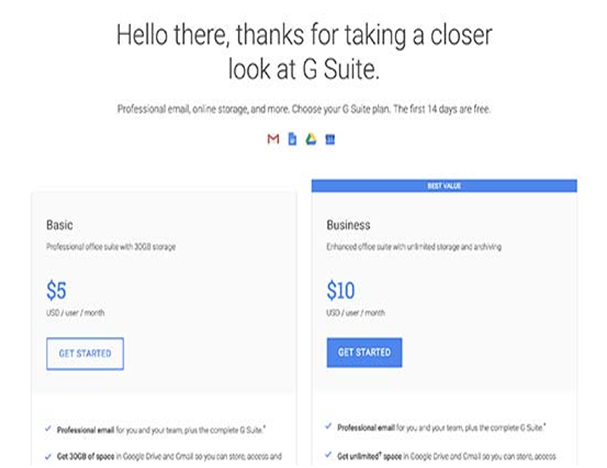 You will get the next screen where you are asked to enter the name of your business, employees number & the country you are located. You can choose only yourself or number of employees there is an option for that.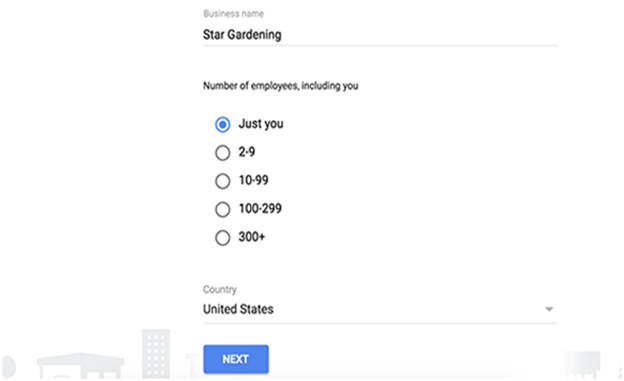 Note: it's nice to start small because you have to pay the charges for every user account. Always there is the option to add more accounts (user)
Continue with the next button.
They will ask you to enter personal information (details) with email id.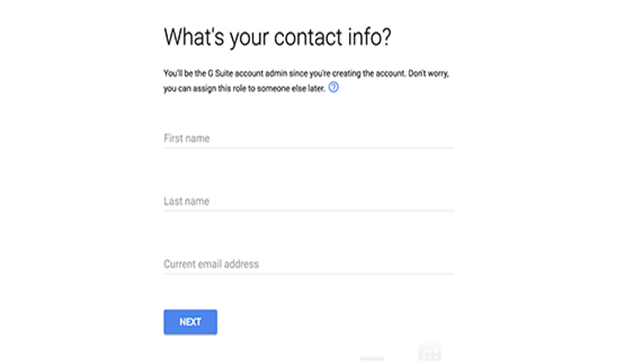 Next Screen comes, choose a domain name. If you have a domain name already then click on 'Yes' or the next option is 'No' there then click on 'No' option. I need one domain name to register.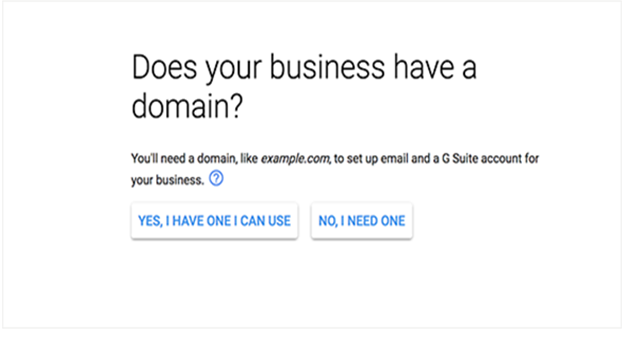 If you want to register a new domain , then you have to pay the charges for new domain registration. The cost of a domain name starts from $14.99/ month.
After domain name choosing the next option comes create your account by entering your username & password.
The given username will be your 1st email address for business, so choose a name which you wanna use as your email address(business).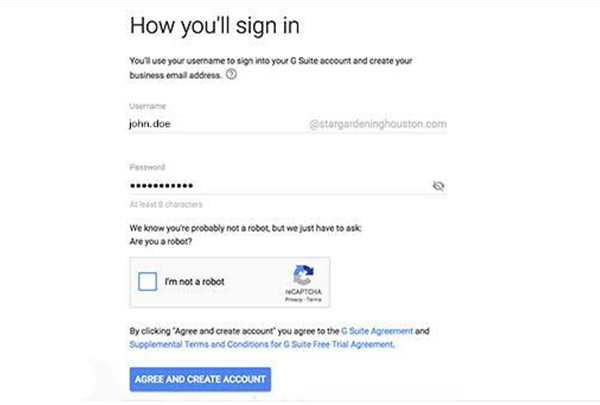 Next the display will show you the success message as well as a button just continue with "Go to Setup.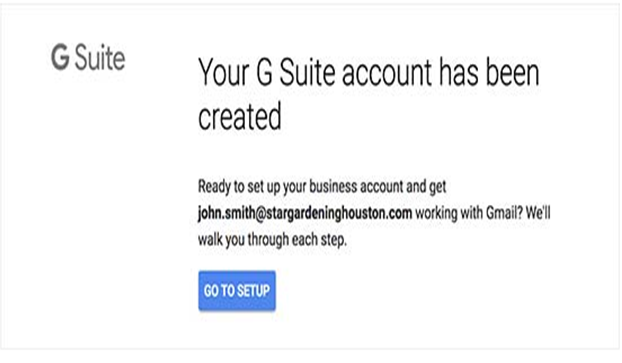 2 Step: G Suite & Email Setting up:
In the given step you will complete the setup of G Suite by setting & also connecting it to domain name.
There comes an option on the screen to add people to your account. If you need to create more accounts for departments or employees, then here you can do that.
You can click on the option ''I added all user email addresses'' & then next. Mean you can add more users to your account & create much emails when you needed.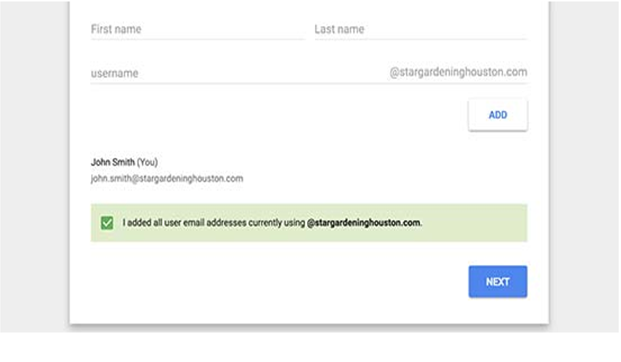 With an existing domain name if you are using the G-Suite then you have to verify that domain name which you own. Now you will see a HTML code to add that to your website.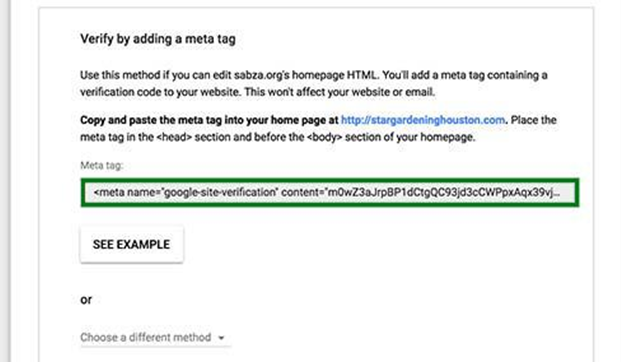 There are some more ways to verify your ownership. HTML file you can upload to a website using a File manager Application in the dashboard hosting account.
If you are not using a website then the next option is MX Record method to verify the ownership of domain name. Step by step you will see the instructions if you are going to choose this method.
Now we are assuming you have a website already in word press, & we will guide you how to add HTML code for verification in WordPress.
Go to Admin portion of the word press website then install & activate the insert headers & footer. In detail we will guide you step by step how to install a plug-in WordPress.
Go to settings >>>Insert headers & Footer page & paste the code of HTML you copied under the << Scripts in Header >> section.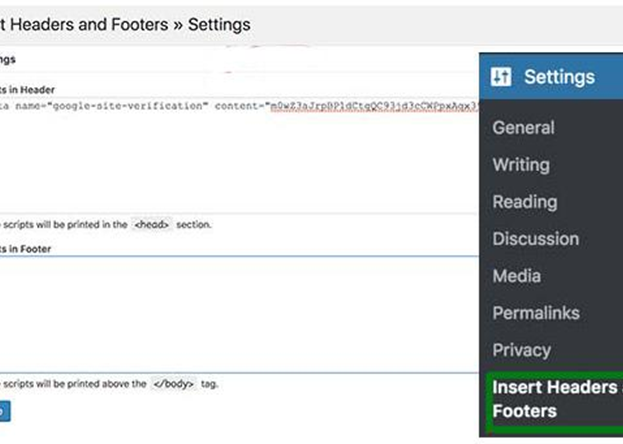 Now click on the ''Save'' button to store your settings.
Now back to your setup screen Gsuite & click on the button <<I added the Meta tag to my homepage>>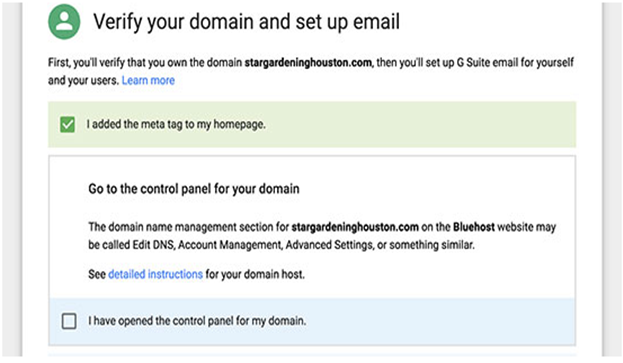 For your domain name Now you will be asked to enter MX record , Now we will guide you how to do it in next step.
3 Step:Domain MX Records Adding
Where to look for information domain names tells the internet server. If your domain name is not registered with Google, Emails will reach your domain name but not to the server of Google.
On your domain name setting you need to set up the right MX records. This will help your domain name to use Google servers for receiving as well as sending emails.
<<Login to your web hosting account>>
We will help you learn how you can add MX records in Blue-host, all hosts & domain registrars have the same setting.
Now <<Login to your blue host dashboard >> then click on <<Domains>>
Then next page <<Select your domain name>> Then Click on <<Manage>>which is next to ''DNS Zone Editor''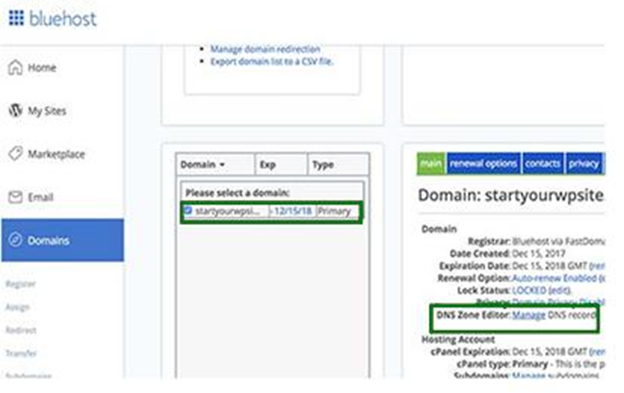 Now Blue-host will open your <<DNS Zone Editor >>. Now go back to your G-suite setup screen & check it <<I have opened the control panel of my Domain>>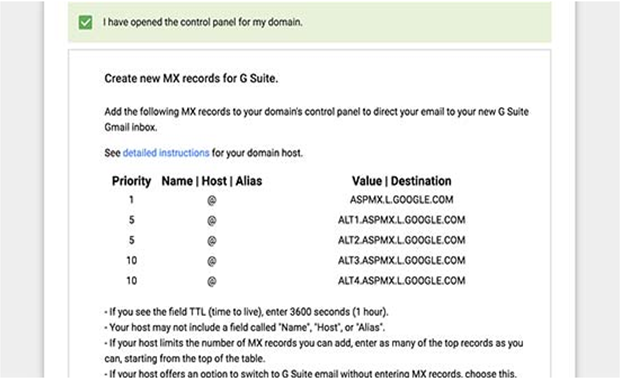 Now it will show you the MX Records that you have to enter. Also you will see a link of documentation which is going to show you how to add these records to domain server providers.
We will help you how can you add this information to your '''Blue-host DNS settings'''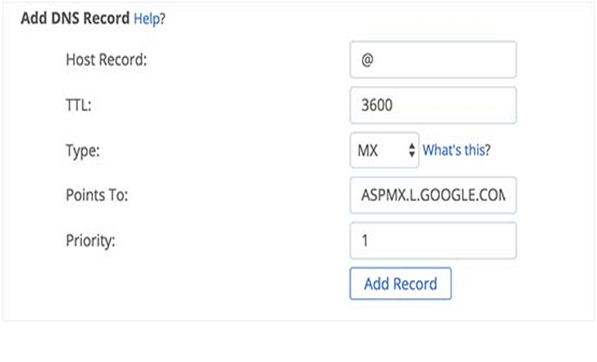 Now click on the <<Add Record >> Button & save it, add all lines mean repeat the process.
Once you have completed. Back to G-Suite setup there is a box next to <<I created the new MX Records>>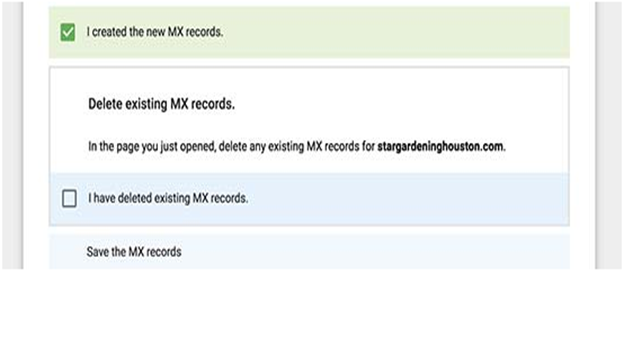 Next option comes "Save your MX Records"
When you save MX Records check the box which says <<I have saved MX records>> in G-Suite.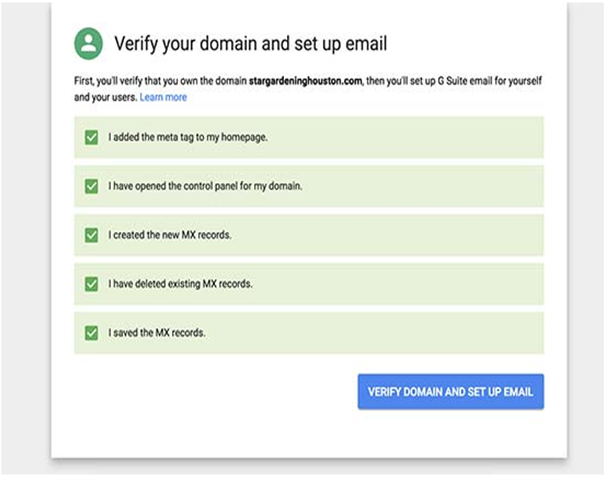 Next step you need to click on the button <<Verify domain & setup email>> button to exit the wizard setup.
4 Step: Email in G-suite Managing:
G-Suite is making it very easy to manage your email. Simply you can visit your website or Gmail to check Email.
Go to G-Suite admin console & create more & more email addresses. Here you can add the newly users, adjust your account setting of G-Suite as well as you can make payments.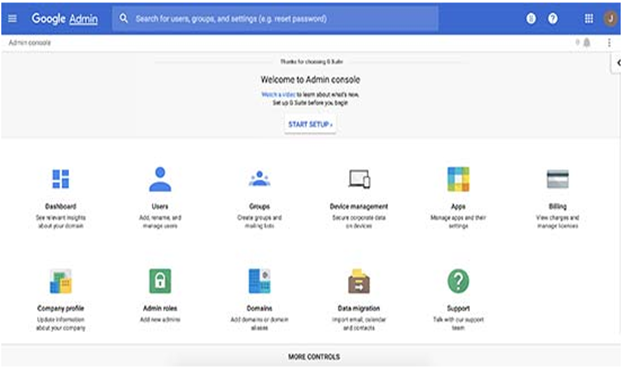 Now, these are the top 5 email service providers:
Gmail
ZohoMail
Yahoo Mail
Yandex
Icloud Mail
1). Gmail: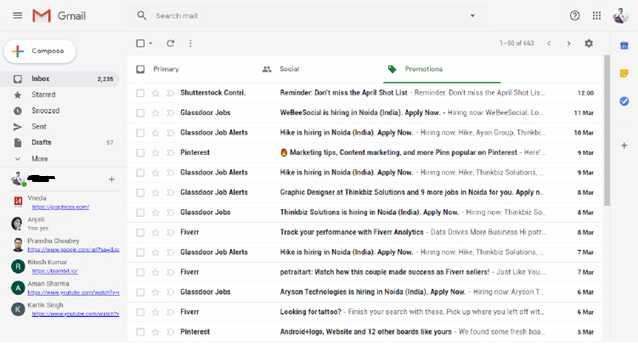 It's the best as well as popular service providers. It is used for business communications as well as personal. According to a report, billions of people are using Gmail. Gmail allows you a great deal of customization like tabs off & on. It has many advanced features like Email forwarding & Undo sent feature.
The great features you can get when you sign up in it you can choose 100 colours as well as themes for inbox theme, & sort emails very quick with labels.
If you are looking an business email provider, Gmail is the best free email service.
2). ZohoMail: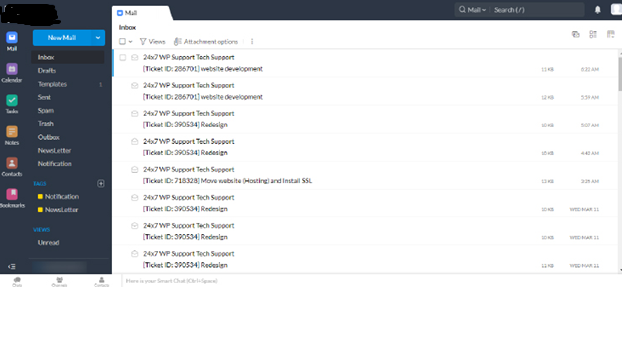 It's a very top choice for many users when it comes to free business emails because it provides the benefit that users can create free upto 25 emails. Easily you can enable the mail hosting for domain owners, as well as they are offering domain management options for businesses. It provides you with a free & minimalist interface. The process set is very easy; it takes very little time to finish all steps. Except for free plans they are also offering paid options, but if you are a small business owner then the free plans will work great for you.
3.) Yahoo Mail: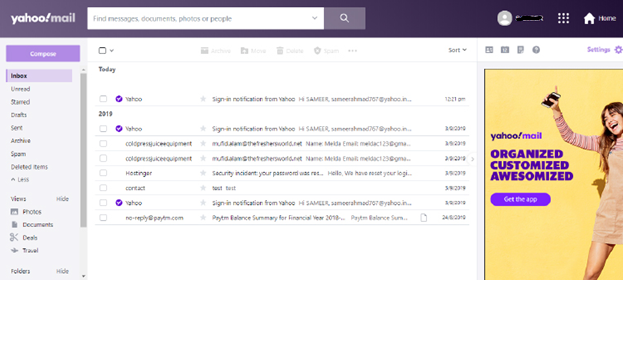 Yahoo was launched in 1994. It is providing much more services like yahoo news, Yahoo mail & yahoo groups too. It has very nice capabilities of spam blocking. Good amount of storage it is providing that is 1TB.
Pros:
Great spam filters.
It is allowing you to search information key from your inbox.
Senders Blocking.
Easily you can use yahoo calendar.
It is going to allow you connect external emails to yahoo mail.
Cons:
It has ads on inbox.
It is not supporting attachment of files which are online.
4). Yandex Mail: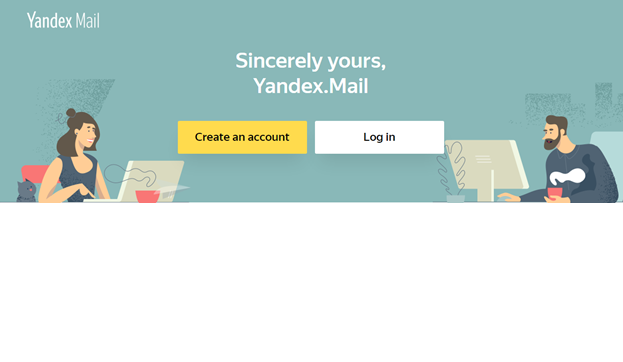 Yandex is a popular search engine in Russia. The services of Yandex were launched in 2011. It is providing very nice options like it has other features too like timer, interface as well as access to other yandex services.
Pros:
It is providing 10GB cloud storage.
Antivirus is build in it.
By pin or fingerprint you can login into the application.
It is allowing you to create task lists & create tasks.
The format of Email Address : name@yandex.com
5). Icloud Mail: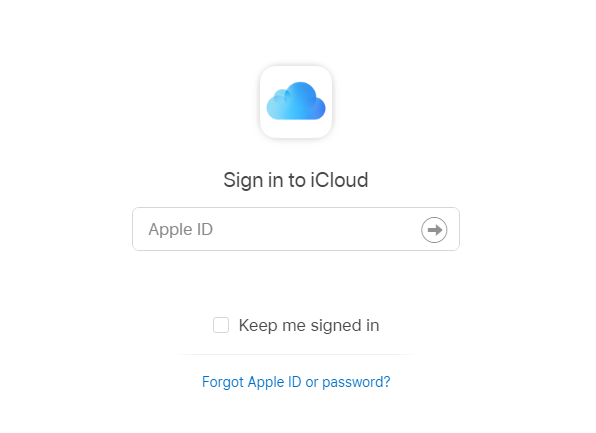 The service provider for Mac users is icloud .The service of Icloud was launched in 2011. It is providing great cloud storage as well as file sharing capability .You can easily setup & unsubscribe.
Pros:
It is providing cloud Storage for music , photos & documents.
It is allowing you to download the files on Mac, windows, & ios.
Upto 5GB you can share the files.
5GB storage online.
Cons:
Only apple devices can use it.
The format of Email Address is: name@icloud.com.
Conclusion:
Selecting your email provider is not easy as it might seem. The choice between paid and free is very easy in my opinion. Branding is important for every company and having your own domain in your email address is a part of this branding, just like your business card and logo is. The selection on which email provider is harder one for most of you. I really like the service from Microsoft & choose for Office 365. This is compatible with every device and uses the de-facto standards in email & appointments.We hope this article will help you a lot to learn about Email providers.