Top 5 Image Optimizer WordPress Plugins
Last updated on August 22nd, 2023 at 07:01 am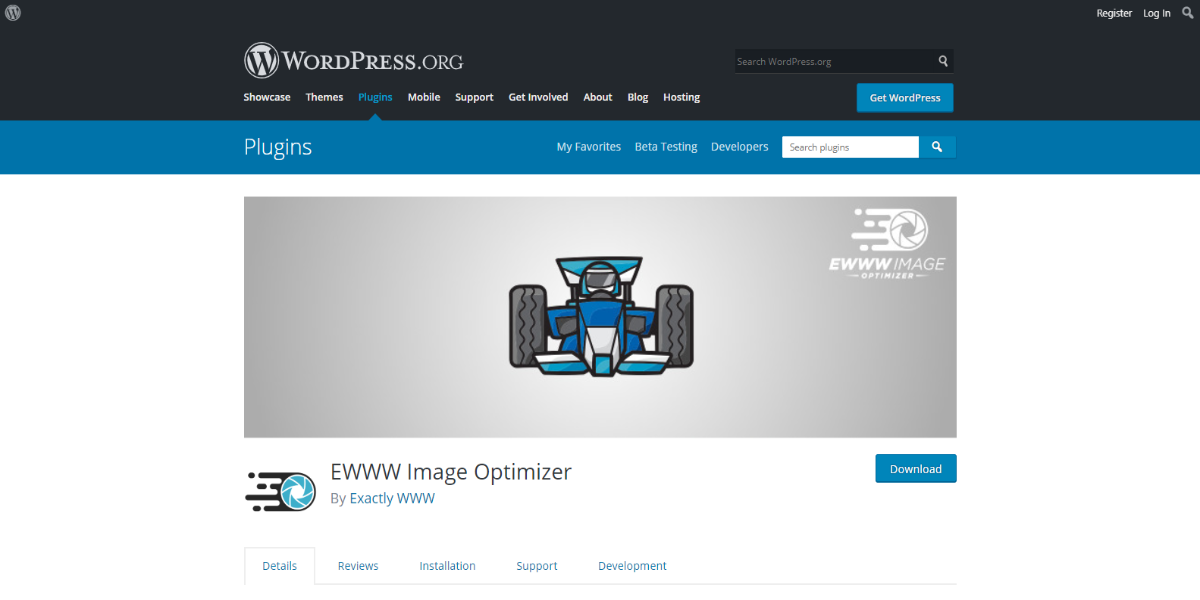 Features
The EWWW image optimizer WordPress plugin helps in increasing the speed of your page through image optimization. Consequently, the increase in page speed will result in a much better search engine ranking thus increasing the sales and sign-ups due to improved conversion rates.
Furthermore, this WordPress plugin will help in saving you storage space as well as bandwidth.
On the other hand, the EWWW image optimizer WordPress plugin features a fully responsive design making it ideal for use in small and big resolution devices such as phones and desktops respectively
EWWW image optimizer WordPress plugin can automatically optimize new images which are uploaded by you as well as it can optimize all the images that you had already uploaded and it will optically convert all your images into the best file format.
There are two different compressions featured in the EWWW image optimizer WordPress plugin, and they include the pixel perfect compression and the high compression option to help with visual lossless.
This WordPress plugin features a fully compatible design, and it can optimize images that are uploaded and created by any plugin, furthermore, it features unique integration with several popular plugins.
A bulk optimizer if as well featured in this WordPress plugin and it helps with optimizing all your images within a single page including the media library, pre-configured folders as well as your theme.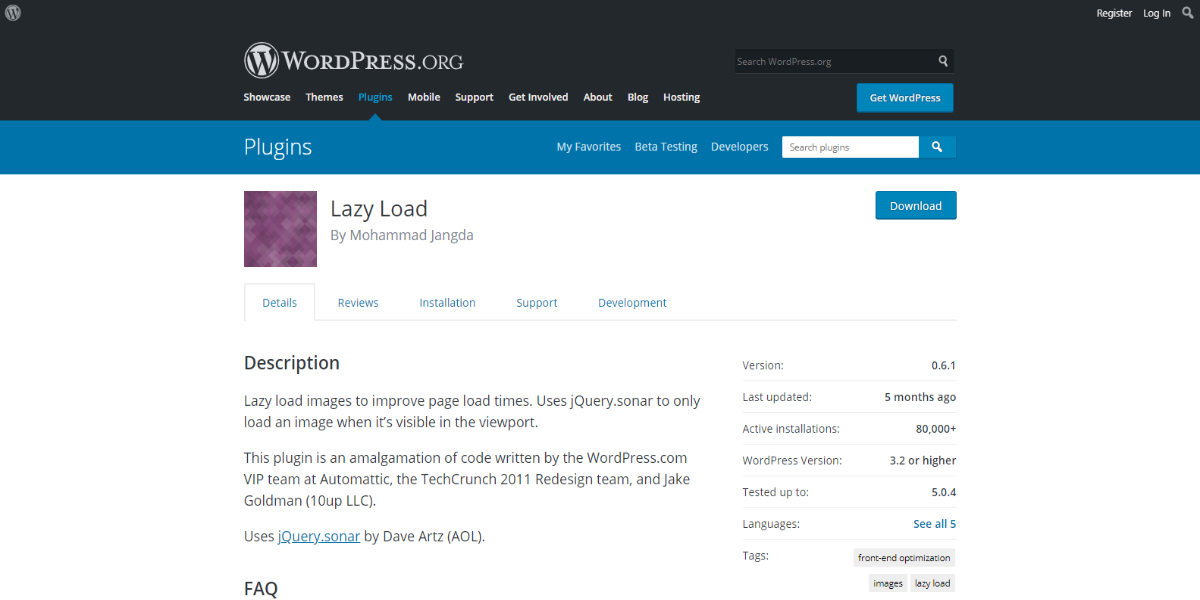 Features
The lazy load is a WordPress plugin that helps with improving time for page loading by reducing the numbers of HTTP request mechanism.
With the Lazy load image optimizer, WordPress plugin images, as well as the iframe, are displayed on the page only when the image is visible to the user.
Furthermore, this WordPress plugin works well on thumbnails, all post content images or in a widget text, smiles, avatars as well as the frame. There is no JavaScript library used including jQuery, and the weight of the script is less than 10KB.
While using this WordPress plugin, you can easily replace YouTube iframes by a preview thumbnail to speed up the loading time further on your website.
When it comes to compatibility, lazy load features a great design which is fully compatible with YouTube videos, iframes and images as well.
Additionally, lazy load features a light, and fast design which provides unique customization for the users and using this WordPress plugin is simple.
This WordPress plugin features a fully responsive design which aids in making it easy to open and operate it in devices with small and big resolutions such as phones and desktops respectively
The lazy load WordPress plugin features a design which is SEO friendly, and furthermore, you will not need to configure anything install it, and the automatically the plugin will start working.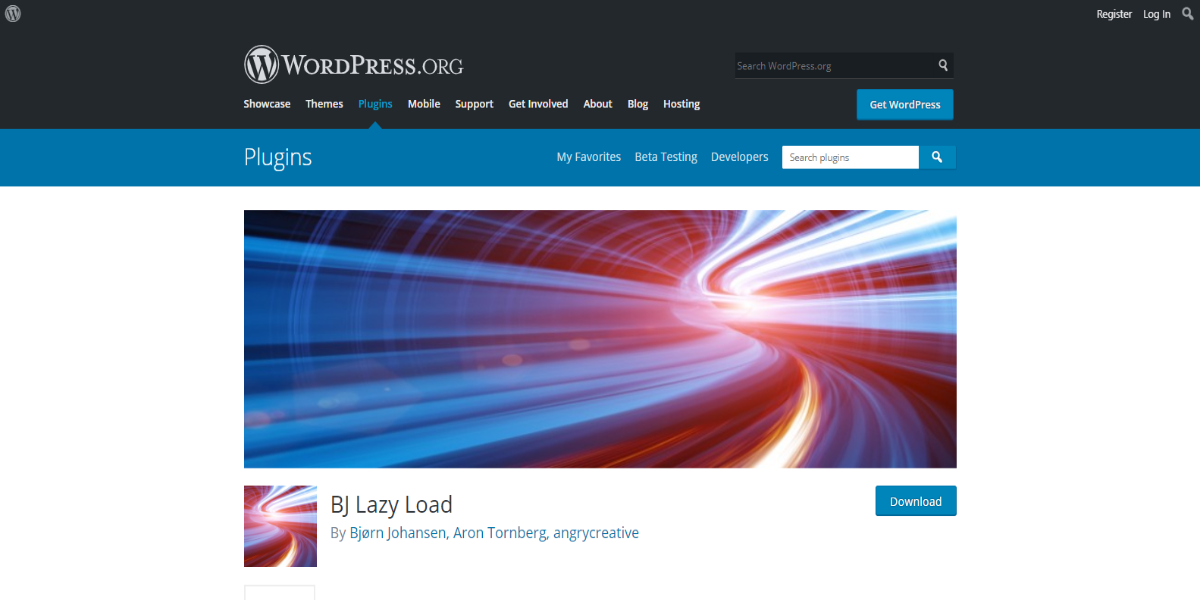 Features
Using the BJ lazy load will help in making your loading speed faster as well as saving the bandwidth.
The BJ lazy load WordPress plugin replaces all you post Images, gravatar images, post thumbnails as well as content iframes with a placeholder and further, it loads the content as it nears entering the browser window as visitors are scrolling the page.
Consequently, this WordPress plugin works perfectly with text widgets.
BJ lazy load WordPress plugin works with an iframe which helps in covering embedded videos from Vimeo and YouTube as well.
With BJ lazy load you can easily upload images and iframe in your theme through the use of simple filters. Furthermore, in this WordPress plugin visitors who are non-JavaScript will receive their original elements in noscript.
Nonetheless, BJ lazy load WordPress plugin is compatible with the RICG responsive image plugin for a better responsive image.
You can set your website into a multilingual site since this WordPress plugin features a translation design with WPML support making it ideal for the page builders and CMS.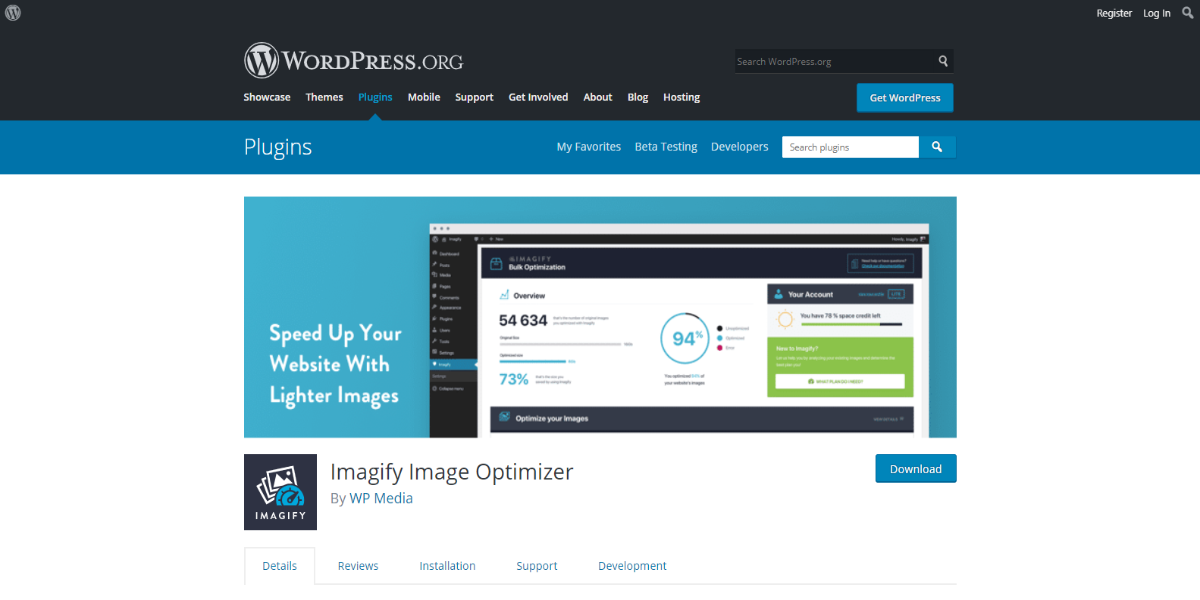 Features
The Imagify image optimizer is a WordPress plugin that helps in speeding up your website with images that are lighter without losing their quality.
Furthermore, Imagify features one of the most advanced image compression, and you can easily use these features directly with WordPress.
The Imagify image optimizer WordPress plugin features a design that is compatible with the NextGen Gallery as well as WooCommerce making it perfect for online business via the eCommerce shop.
With the Imagify image optimizer WordPress plugin, all of your images including retina images and the thumbnails will automatically be optimized on the fly once you add them to your WordPress.
Consequently, Imagify image optimizer WordPress plugin features fully responsive designs which allow users to operate on small devices such as phones as well as big devices such as desktops without the need of worrying about their resolutions.
Additionally, this WordPress plugin features a backup option that helps you in restoring your images to their original version, or you can as well optimize them into another compression level.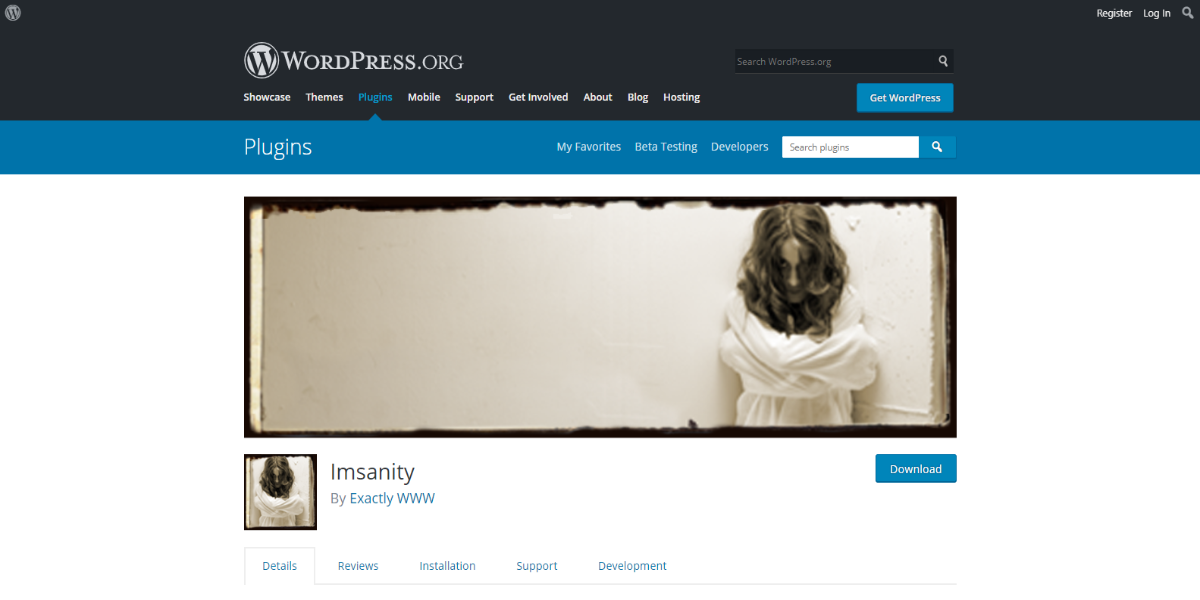 Features
With Imsanity it automatically resizes uploads of large images to a size that is more realistic for displaying in your WordPress browser, but at the same time, it is large enough for use in a typical website.
Furthermore, the Imsanity WordPress plugin features a bulk-resize design that selectively.
This WordPress plugin is configurable with a max height, width, and quality. Whenever a contributor uploads an image which is more significant the configured size, Imsanity will automatically configure the capacity and will replace the original image.
Consequently, the Imsanity WordPress plugin is ideal for blogs that do not require hi-resolution authentic images for storing or maybe contributors would not want to scale images before uploading.
Nonetheless, this WordPress plugin features a translation ready design with WPML plugin making it easy to create a multilingual website.
Imsanity WordPress plugin features a fast and easy to operate admin with a fully responsive design that can be efficiently run on various devices irrespective of their resolutions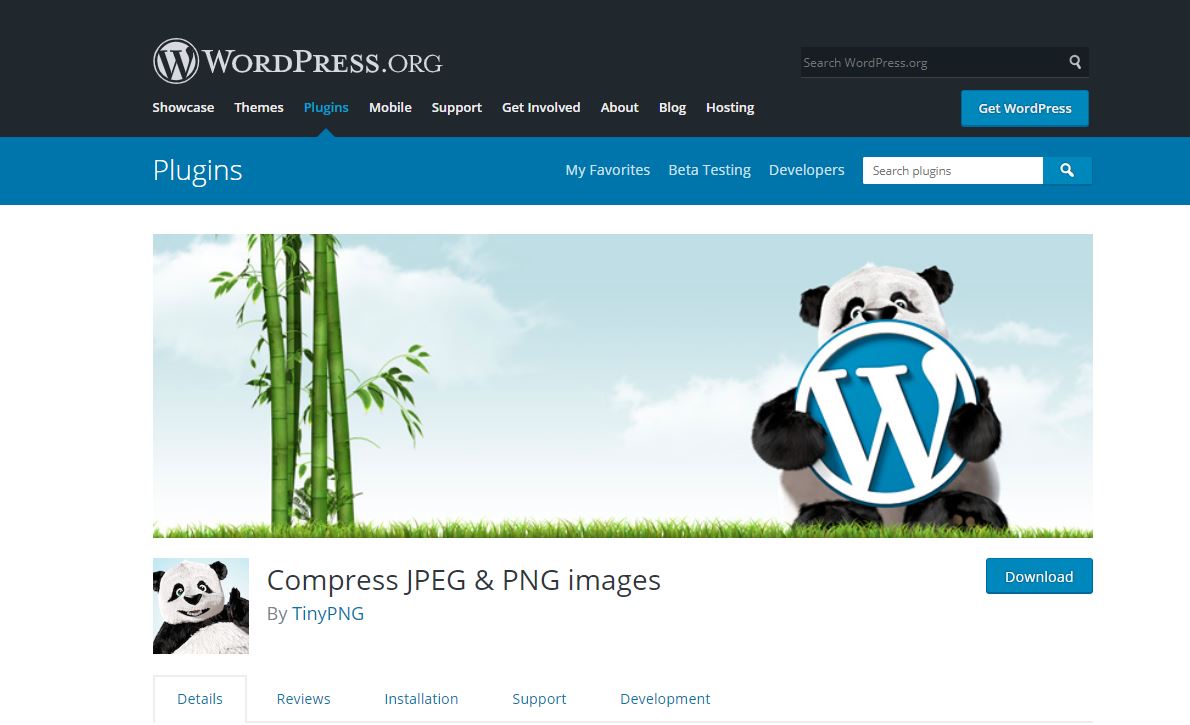 Features
This is a WordPress plugin and it is used to optimise and resize an image in any format.
This plugin has been used or installs 3.4 or higher WordPress version.
Compress JPG and PNG plugin can compress automatically new images.
Tekken 3 highly advanced background for optimisation of an image which has to increase speed in user workflow.
Optimisation of an image can be done in a bulk manner.
Use images optimise automatically
With the help of JPEG, encoding LED display JPEG image more quickly
PNG image and PNG animated image compression option are also available.
The best feature in this plugin is that it can support multiple sites with a single API k
Image compatibility is up to WP Retina 2x.
It also contains S3 compatibility
Standard RGB colour automatically translated.
It does not contain any file size limits.
Features
It can optimise image without affecting image quality.
It contains a flip of a switch through that it can be for offscreen images.
To-do optimising large images the user can set custom height and width according to the required optimisation of an image.
It has its own automated optimisation through that image can upload with superfast compression speed.
Smush plugin also upload those image which is not available in the library.
This plugin does not contain any limit to optimise any image up to 5 MB.
It has both multisite settings that are individual and global.
This plugin can process PNG, JPG and GIF file for optimising image and showing battle results.
Convert to Webp is only available to Pro licence user.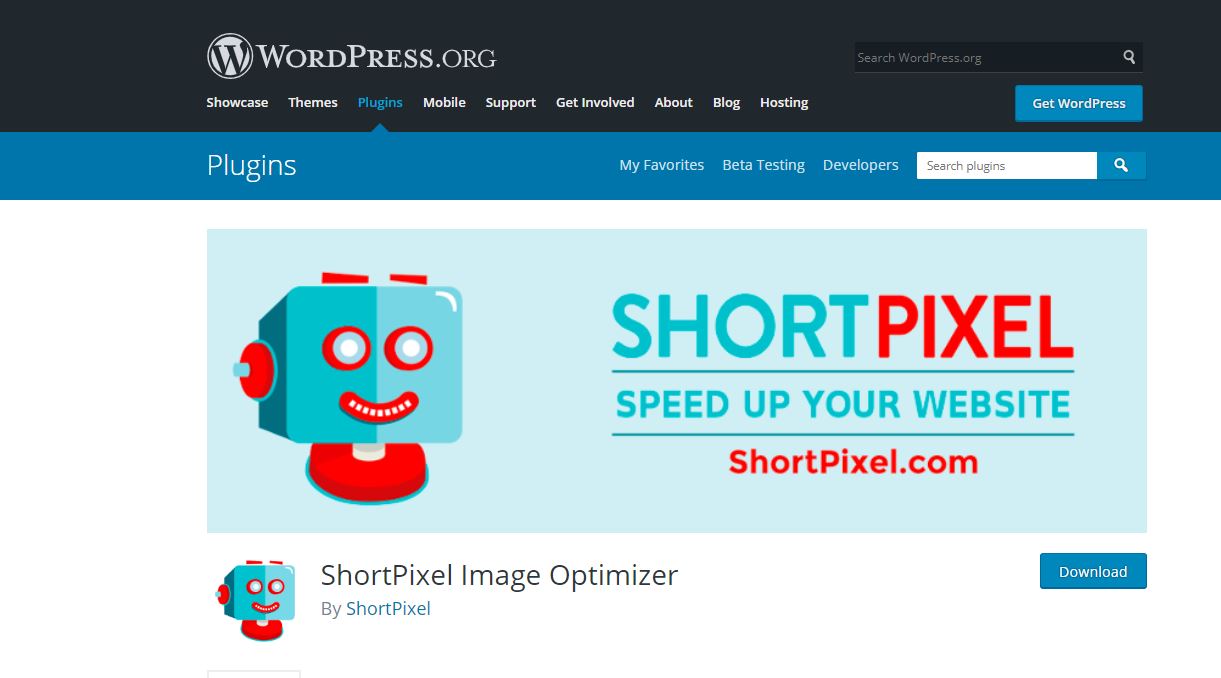 Features
The current version of this plugin is 4.19.2 the last update has been done 2 weeks ago.
This plugin can be installed 3.2 or higher WordPress version and it is available in 5.3 or higher PHP version.
This plugin has more than 200000 active installations on WordPress.
This plugin is used to compress still image or animated.
The image can be compressed in the form of JPG, PNG, GIF.
The PDF file also compressed by this plugin.
There will be no size limit to compress files.
The advance feature has been given by this plugin to Google lovers that it can convert JPG, PNG or GIF to Webp.
Not only the image but thumbnail and featured image also compressed by this plugin.
There is an advance feature to compress picture image is that it can automatically resize within two different option before optimised.
It can convert CMYK to RGB.
User can test lossy and lossless version of images within a single click.
This plugin can be installed on both types of websites like Http and https.
With a single API, key user can run this plugin on multiple websites.
This plugin also works for woocommerce.
It is compatible with WPML media plugin
With NextGen gallery high work efficiency short by this plugin.
Automatically skip already optimised image.
Show a static report of 30 days.
Which Image Optimizer plugins Do You Like ?
Need help in Plugin Selection or Plugin Issue? We are available 24/7 by Phone or Chat.