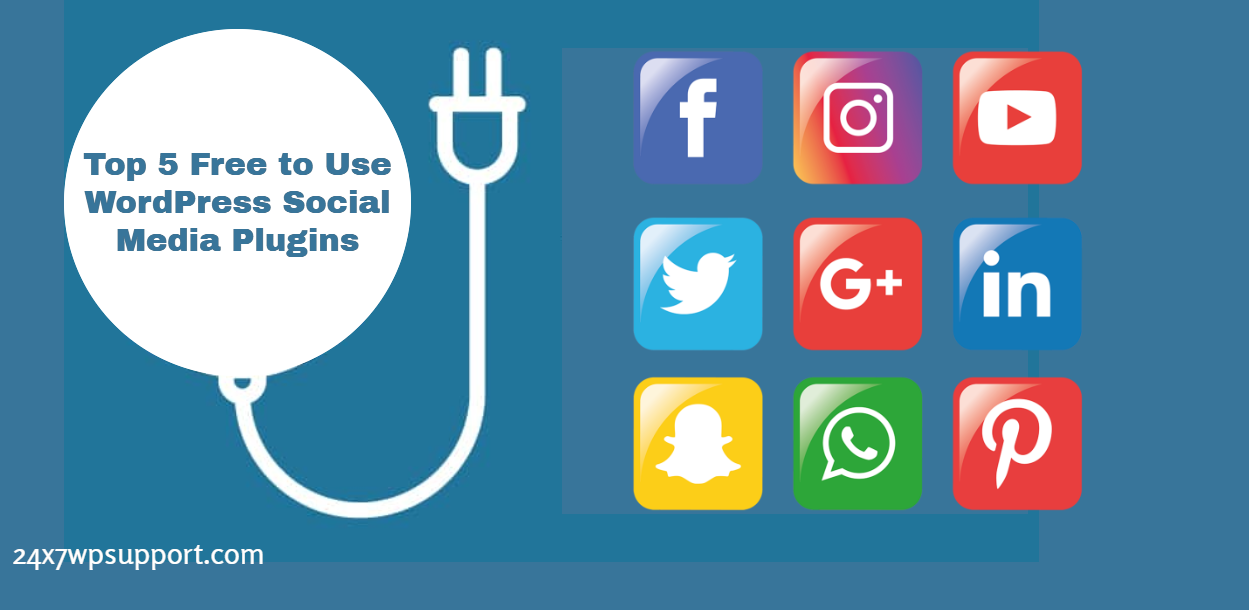 Top 5 Free to Use WordPress Social Media Plugins
Last updated on August 22nd, 2023 at 06:31 am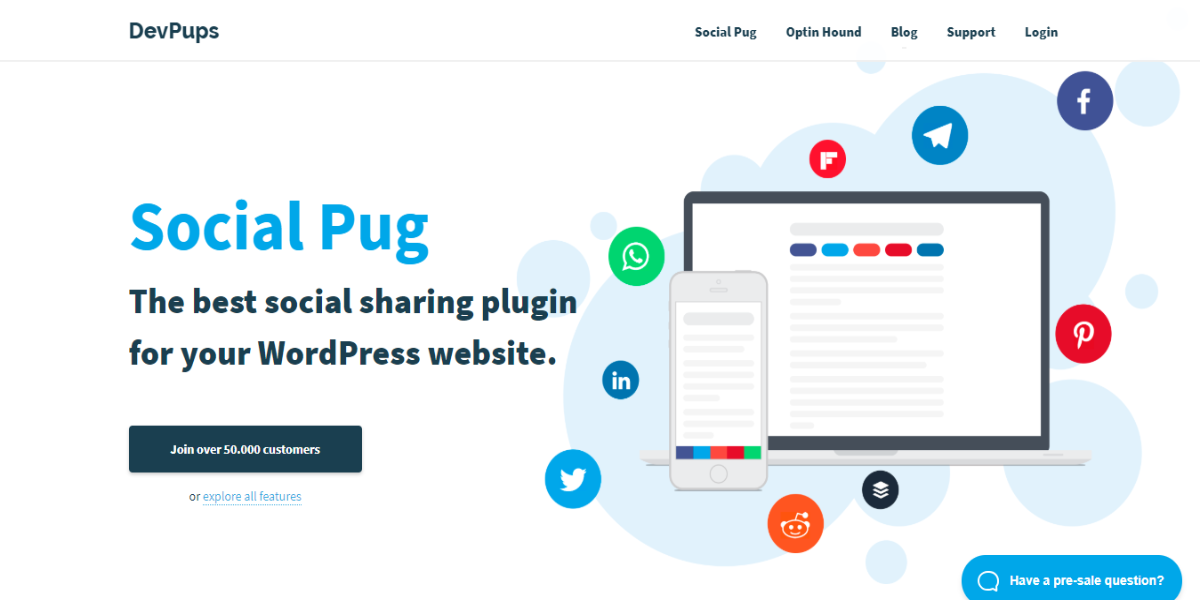 It among the most straightforward social sharing plugin available and allows the addition of extremely customizable social share buttons which beautifully integrates with the design of your site. Consequently, you get an increase in social media shares and interactions.
Usually, the free version of this WordPress plugin comes in all the five biggest social media platforms, that is, Twitter, Facebook, Pinterest, LinkedIn, and Google+.
Furthermore, for every social media platform, you can easily customize the social share button according to your preference. The options include a share button with is a simple social media icon, social sharing buttons with social share counts and a share button that has a bold label to catch the user's attention.
Therefore, your users have social media proof.
These social sharing buttons can either be placed after and before the post content or be positioned so that they follow readers of your website as the scroll up and down, in the system of a social media floating sidebar. The floating sidebar can be on the left or right side of your site's page.
Features
Typically, it shows the social share count on all social media platforms, inclusive of Twitter hence offering you with social media proof and increase the credibility of your site.
It comes with editable button labels thereby allowing you to maximize your engagement.
You get to decide when to place your social share buttons, that is, after your content, before your content or both.
Social Pug makes use of Retina Ready sharp share icons thus displaying the best-looking social media icon on every screen.
You can access a broader number of individuals through additional social media networks such as Telegram, Pocket, Email, Tumblr, WhatsApp, Yummly, Reddit, StumbleUpon, Buffer, VK, and Flipboard.
Easily import and export the settings of one site to another with a few clicks.
It guarantees your website is mobile ready with mobile sticky footer social share buttons.
When a user does a specific action, you can trigger a pop-up social sharing button.
Allows your users to share a custom tweet with a single click.
Using Google Analytics UTM tracking, it enables you to locate the source of your incoming traffic quickly.
It is a social media plugin for WordPress that intensifies engagement and traffic by assisting individuals to share your pages and posts to any service. This service includes Google, Facebook, WhatsApp, Twitter, Reddit, Tumblr, LinkedIn, Pinterest and more than 100 other social media and sharing apps and websites.
AddToAny since 2006 has been making websites social media ready and considered the home of universal sharing, subsequently why it is the most popular WordPress share plugin.
Features
It is very customizable since you get to decide where the AddToAny appears as well as readily modifying the sharing on your WordPress website. Additionally, it is very extensible for both designers and developers since the custom icons permit you to make use of any icon from any region.
Custom placement of this social media plugin is very diverse since you can place the content before and after the content, as well as before or after the content. Moreover, the share bar is either horizontal floating or vertical floating. Appearance can be as a widget within the themes overall design or as a shortcode.
It is optimized for all mobile handsets since its SVG icons are pixel-perfect and super-lightweight at all sizes, and its responsive share menu perfectly fits on every display. Also, the responsive floating share buttons in default are mobile ready, and its configurable breakpoints allow its floating buttons to work with all themes correctly.
Usually, it is WordPress optimized; hence loads asynchronously; therefore your content always loads parallel or before with this WordPress plugin.
It supports multisite networks, accessibility standards, WooCommerce, plus theme features like widgets, post formats, HTML5, and infinite scroll.
Comes integrated with Google Analytics for sharing analytics which also allows you to show share counts on pages and post as well as track shared linked using custom URL shorteners and Bitly.
This social media plugin readily translates into dozens of languages and has continuing support from the online community.
You can customize the share buttons to suit your preference, that is, follow buttons, counters, standard share buttons, floating share buttons, vector share buttons and follow buttons plus custom share icons.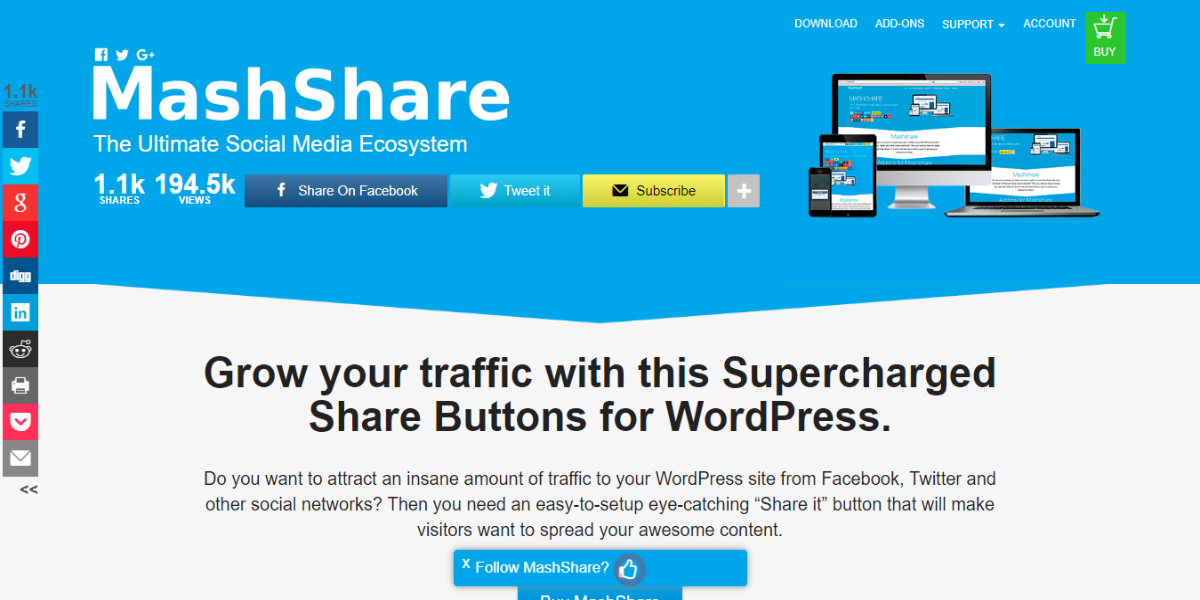 This social media plugin is typically free and comes with a highly customizable and professional ecosystem for social media sharing as well as optimization of your content.
Unlike other social buttons, MashShare does not use external scripts hence resulting in extended loading times, and this subsequently guarantees your privacy, and that of your users is not compromised.
Features
It is friendly to developers and comes with numerous actions and filters.
Usually comes with high-performance social media icons for the most popular platforms, such as Facebook, Twitter, Mail, Pinterest, WhatsApp, LinkedIn and many more.
Typically it is hugely customizable as well as has shortcodes.
The font share button icons have a high-resolution lossless vector, and this WordPress plugin also has a virtual/ smart share count function, thus makes use of psychological aspects to increase the actual shares.
This social media plugin is translation ready, with the languages available being Brazil, Portuguese, Spanish, German, Italy, Turkish and English.
It displays to you the total number of social media shares readily at a glance.
Has many Add-Ons such as YouTube Share, other social networks, Google Analytics among many others.
Usually has transient and object caches to offer you with a quick execution speed of Social Media Icons.
Comes with a custom CSS field for personal styling of the social media share buttons and ability to completely rewrite CSS for a more straightforward modification.
Supports SEO third-party plugin by integrating with WordPress SEO by Yoast and All in One SEO Pack.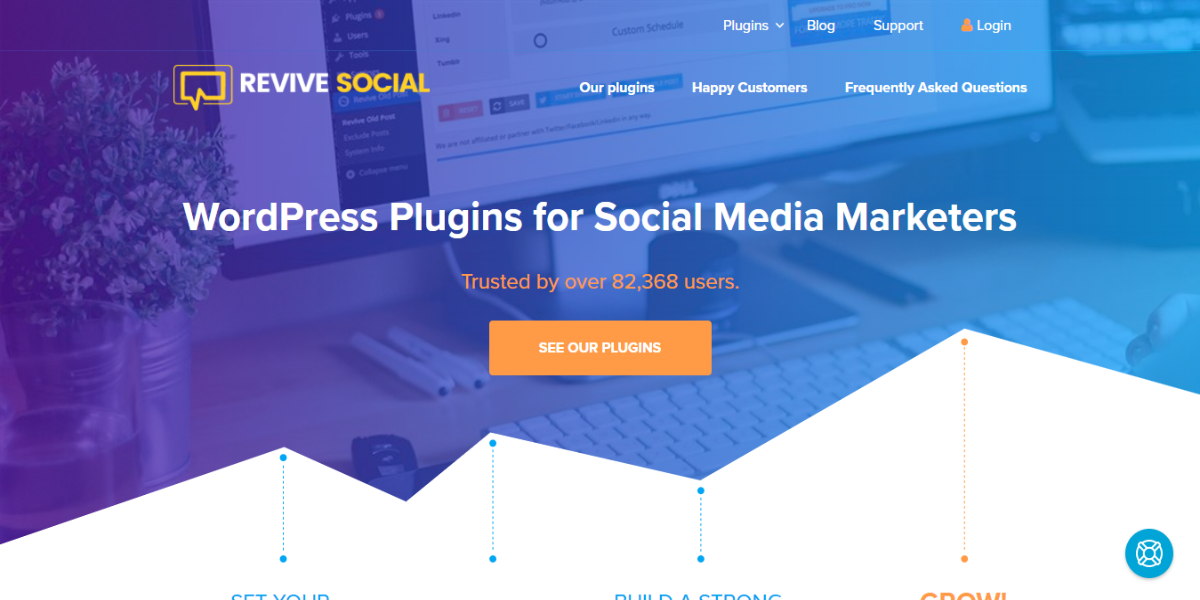 Assists you in keeping your old posts alive by sharing them automatically and consequently directing more from social networks to them as well as helping you in promoting your content. Additionally, you can set the number of posts you want to share to result in more traffic and the sharing interval.
Features
Typically it has links which redirect visitors back to your website as well as omits specific posts.
Integrates with Google Analytics and is compatible with the URL Shorteners.
Enables you to share old and new posts, decide the number of posts to share and the time interval between posts.
You can make use of hashtags t focus on particular topics using this social media plugin and is WP to Twitter.
The Pro version enables custom schedule, post with an image, custom UTM tags for analytics, custom post types support, custom share messages, and numerous social accounts including LinkedIn. Pinterest and Tumblr.
Enables you to share videos and images from your media library.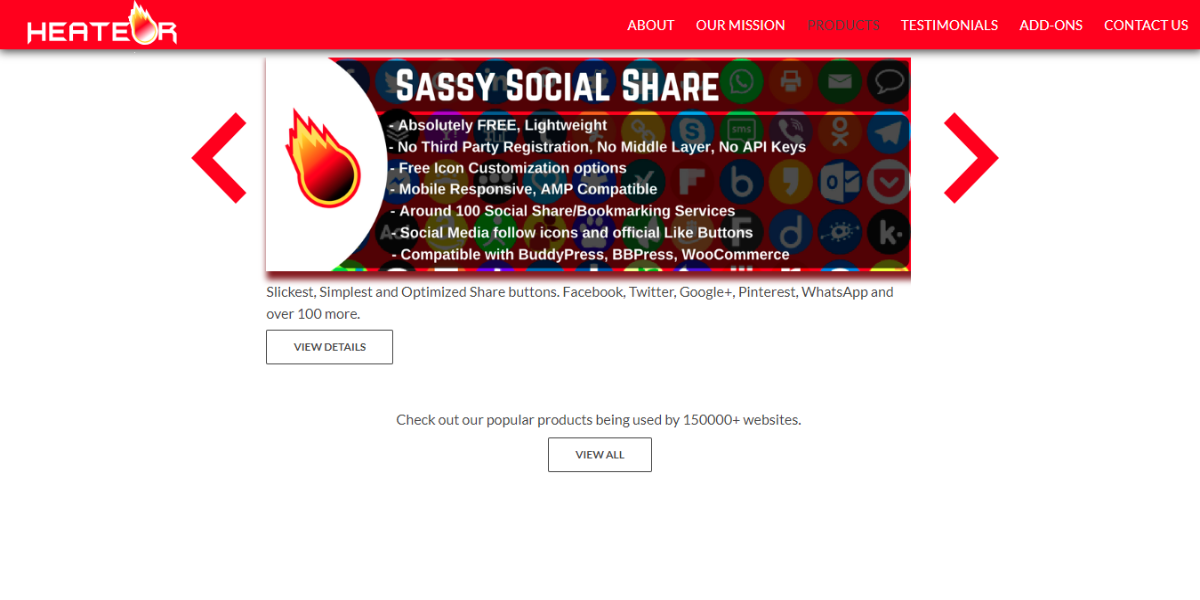 Allows users of your site to share the content over Google, WhatsApp, Reddit, Pinterest, Tumblr, LinkedIn, Twitter, Facebook and other 100 social bookmarking and sharing services. Moreover, it is the smoothest and simplest social media plugin which is significantly optimized and has vector icons which look excellent.
However, WordPress plugin does not work on the local server; therefore you need to have an online site so that the plugin works appropriately.
Additionally, it never saves cookies in the visitor's browser when visiting the site if this plugin is installed.
Features
Offers you the option to choose the size of the sharing icon, with a minimum of 16 pixels and no upper Limit as well as the shape of the icon, be it rectangular, square or round. Also, you get free icon customization.
Compliant with GDPR and compatible with both myCRED and Gutenberg editor.
Allows you to rearrange the order of the various social share icons and integrated is URL shortening service as well as a floating and standard design for the social share icons.
Usually is compatible with WooCommerce, BBPress, BuddyPress and multisite while still providing support for HTTPS-enabled sites.
This WordPress plugin is mobile responsive, allows the sharing of WooCommerce products, and compatible with AMP.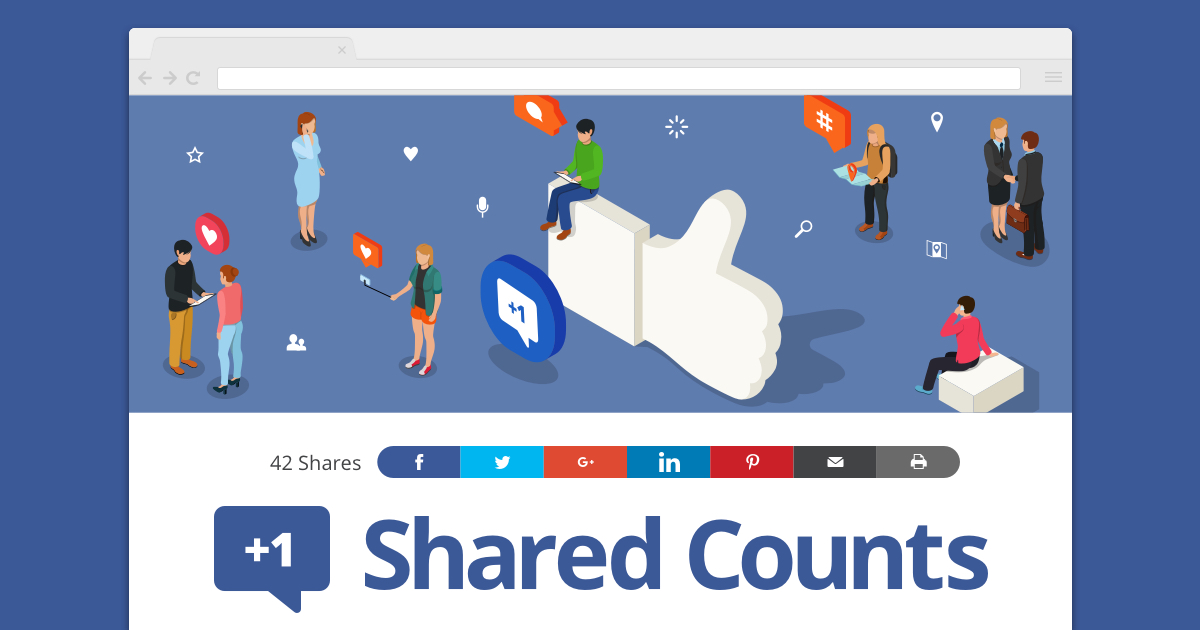 Shared Counts is a WordPress plugin that is used for embedding social media plugin on the website. This plugin is very fast and easy to use which it comes with unlimited popular social accounts. The social accounts are as Facebook coma teacher, Google plus, Pinterest, LinkedIn, etc. There is more than 10k active installation and it supports PHP version 5.6 or higher than that. The latest version of share counts plugin is 1.3.0.
Features
this plugin help to share post and pages on a social media platform with a single click.
This can only possible when this plugin provides a sharing button on pages and post such as Facebook share button, Pinterest sharing button Twitter sharing button etc.
these sharing buttons can be customised by the user completely according to their use so that this button looks attractive and eye-catchy to any visitor
This plugin also provides a one-click option to retrieve data from Http to https. While doing this user will not going to lose a single bit of data.
All social tools plugin used to track user data and keep use cookies but 800 plugin is vice versa on GDPR feature.
User will get complete support from the organisation but the interaction platform is only GitHub.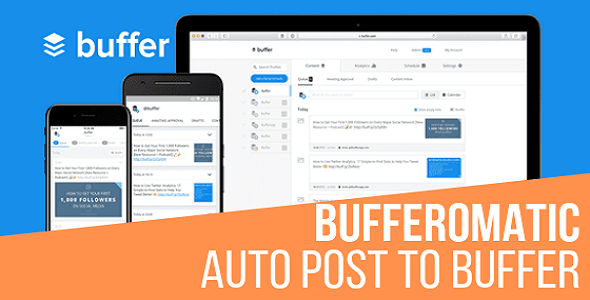 WordPress to buffer is a WordPress plugin that is used to publish any e post, pages or custom type post to social media account. This WordPress plugin also allows schedules a post to publish on the social network. There is more than 7 k active user and this plugin can be installed in 5.0 or higher WordPress version. WordPress to Buffer WordPress plugin support 5.6 or higher PHP version.
Features
User can dynamically create or update data from the post, author, custom field events, calendar etc.
This plugin also supports shortcode while updating the status.
User can schedule their post to publish on social network this can be easily done by this WordPress plugin applying all thing in a queue.
User can publish different type of status quotes for a single post to different social networks.
This WordPress plugin also provides or allow the feature to show on published feature image of your post or page present in the website.
WordPress to Buffer WordPress plugin is not only to support WordPress but it also supports woocommerce.
All email support can be combined with one particular email.
This WordPress plugin contains its on administration panel through which any update related to software or anything user will receive a notification.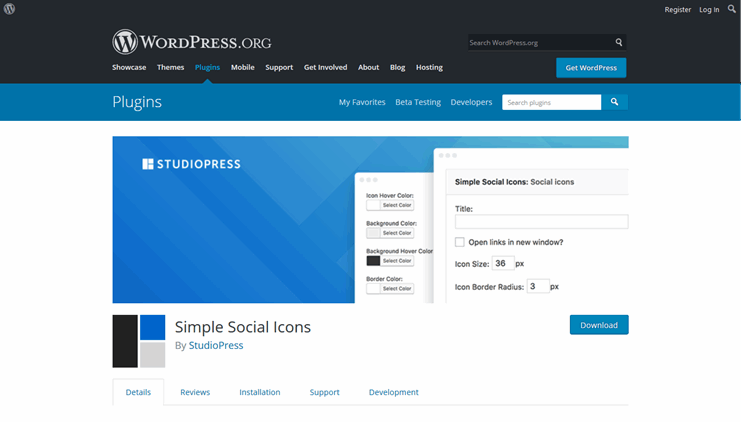 The simple social icon is a WordPress plugin which is used to display all social network icons in the most common pages, custom post, etc. Simple social icon WordPress plugin has been created or designed by studio press. This plugin provides all button fully customised and the user can also embedded URL for their social media accounts.
Features
This plugin support 4.0 or higher WordPress version to install and there are more than 200 k active install.
Profile of any social network can be chosen easily.
User can completely customise all social network buttons with their colours.
This WordPress plugin is highly responsive and manageable to all social media networks.
Which Social Media Plugin Do You Like?
Need help in Plugin Selection or Plugin Issue? We are available 24/7 by Phone or Chat.