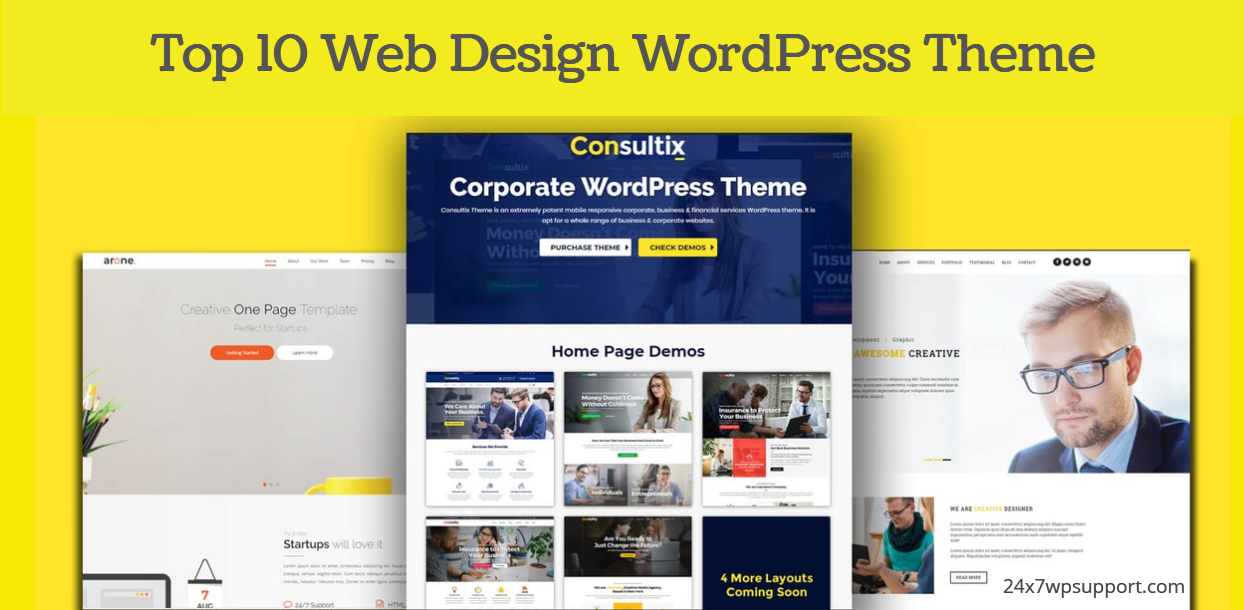 Top 10 Web Design WordPress Theme 2022
Last updated on June 21st, 2022 at 05:51 am
Contrary to what many think, WordPress is not limited to matters blogging alone. Indeed, this vital resource can also play a role in designing websites or enhancing their efficacy. To be able to discharge this duty, the theme has to be paired with some great and relevant plugins.
Here below we have identified and are going to shed more light on the ten best web design themes and plugins.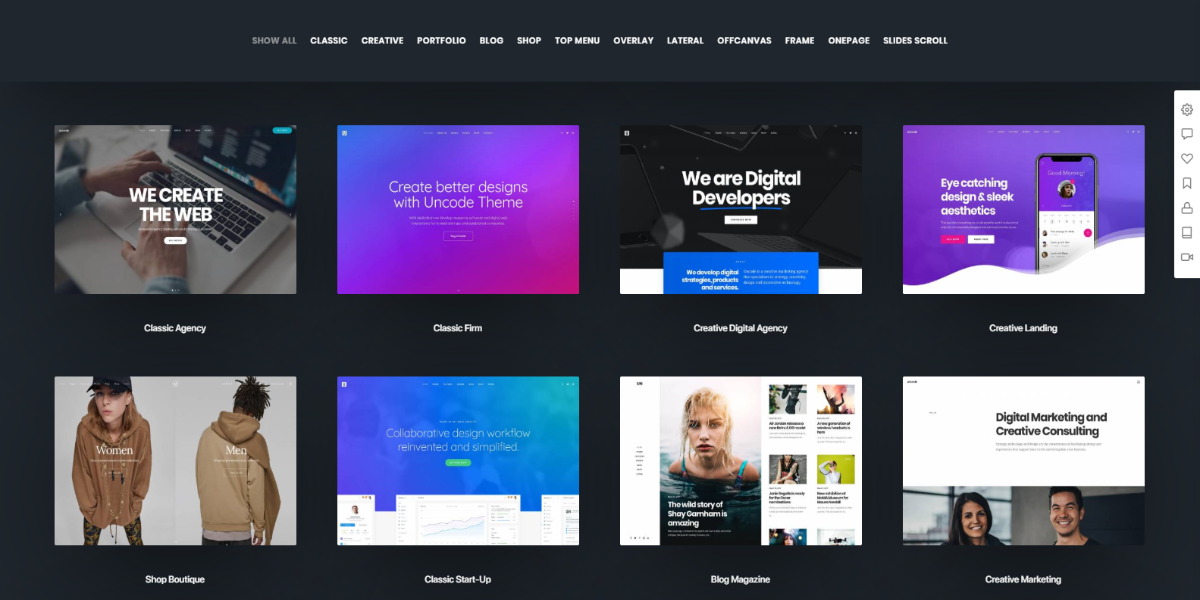 Uncode is a creative and multipurpose WordPress theme. It operates on the pixel picture display and is also based on the WPBakery Page Builder. The theme fits numerous uses and applications. From web designers to marketers, to corporate entities, the list of those who can utilize it is endless.
Designing sites using this theme is pretty simple. You only have to drag and drop the images wherever and whenever you deem fit. It comes along with some 50+ pre-made concepts which are ready-to-go or to pair with other like-minded themes. It brings about great, intelligent, and beautiful sites.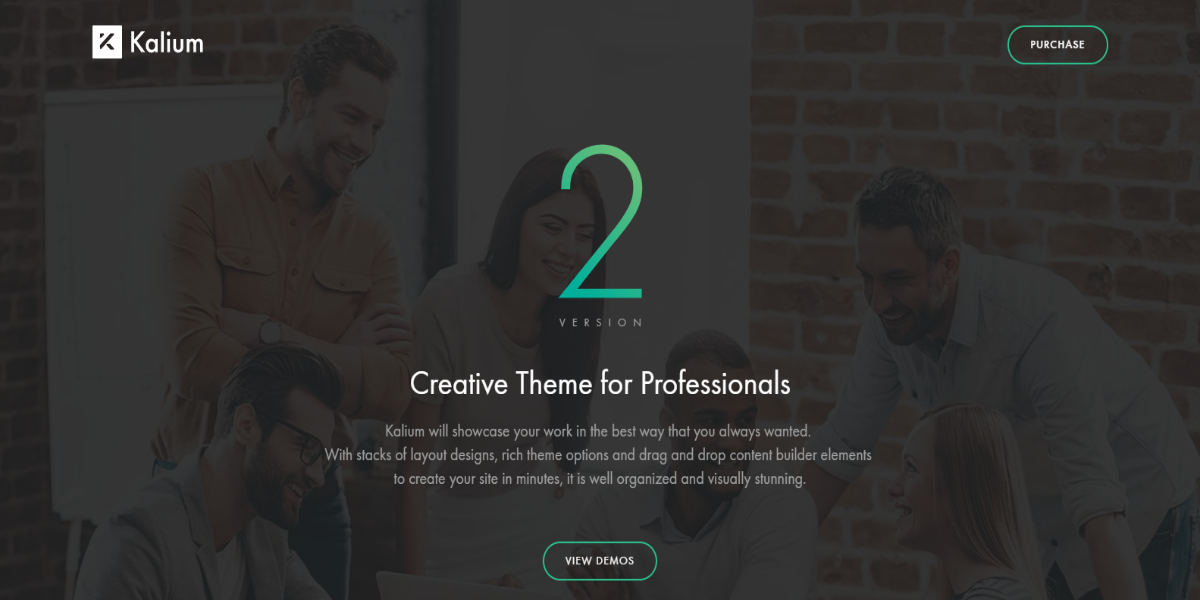 Kalium is a great and creative theme for professional web designers. The theme is designed to showcase the travels, photography, product landing pages, and lots of other exciting stuff. With stacks of pre-defined layout designs, rich drag-and-drop content builder, user-friendly theme options, this is a great tool to use indeed.
One striking aspect of this theme is the speed with which it delivers the desired outcomes. Unlike other themes of its kinds, it takes only minutes to do so. In all, it is well-organized, very breathtaking, and constantly updated.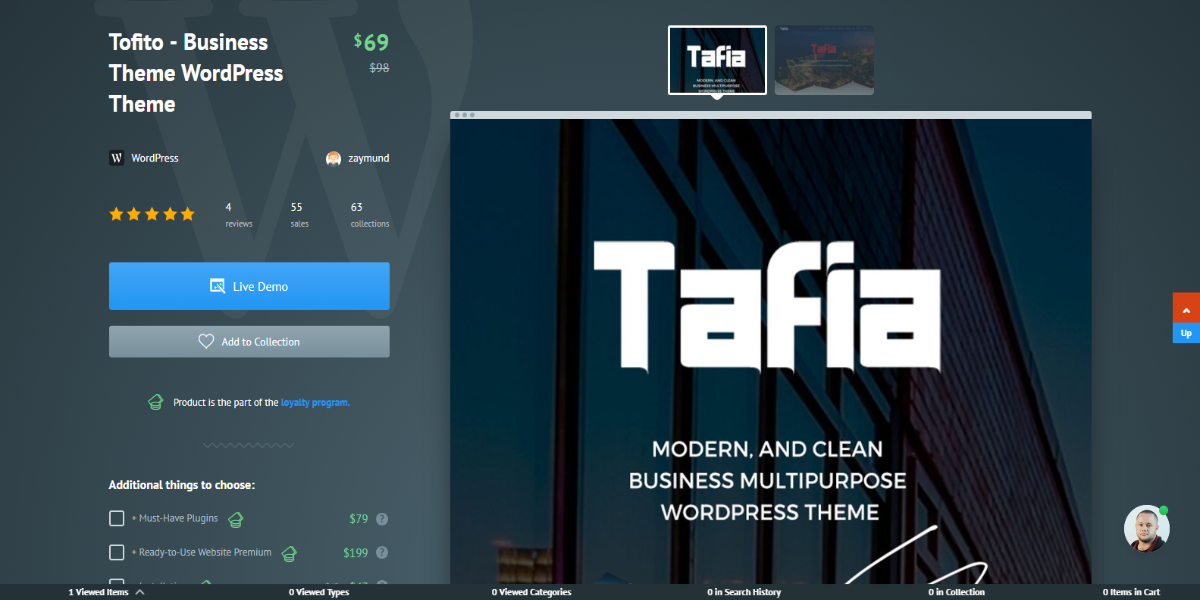 If you desire or plan to design a business website, this is the theme to consider leveraging. It is wholly intended for businesses and lets you create some truly unique designs. Whether your business is small or large, you can be sure that this theme will be of relevance to you.
It is on the whole fully responsive, appears great on the smartphone and is usable across several platforms. What's more? This theme is packed with numerous features which all combine to make your experience all the more worthwhile.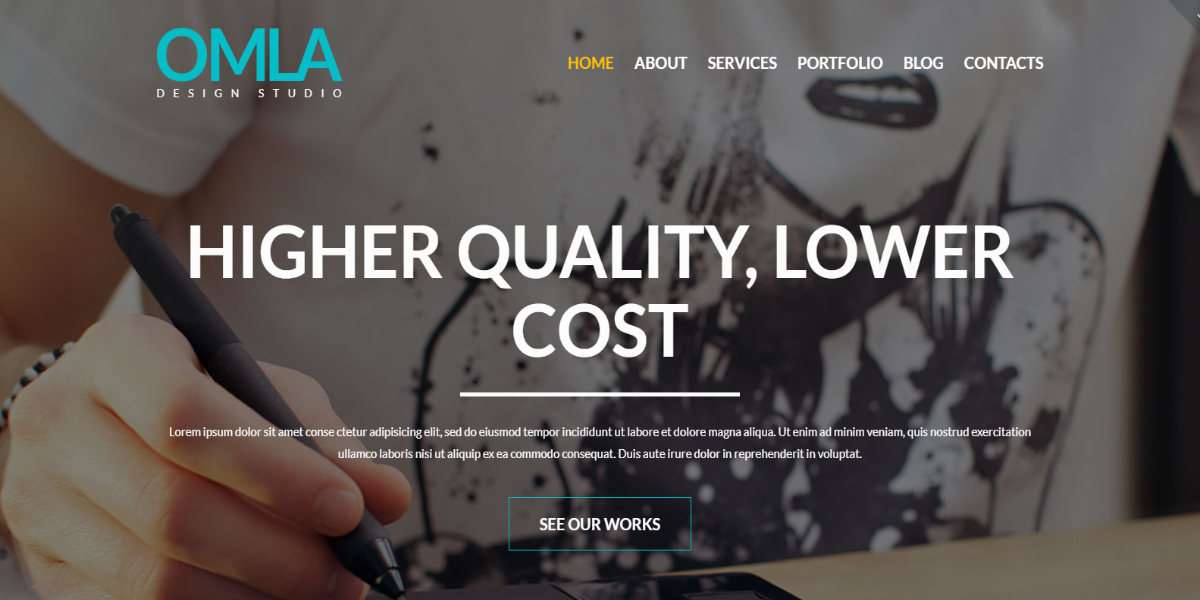 Do you wish to increase sales by attracting more traffic to your website? Well, this Web Design Agency WordPress Theme is the tool to look up to. Given its multi-colored palette, it is able to accord to you some unique impressions which allow you to create numerous kinds of opportunities.
Further to this, the template is also a great tool for those who fancy arts and visual appeals. Musicians, photographers, graphic designers, and those who cherish elegance will find it particularly awesome! Its awesome layout also enables the presentation of details which are particularly interesting.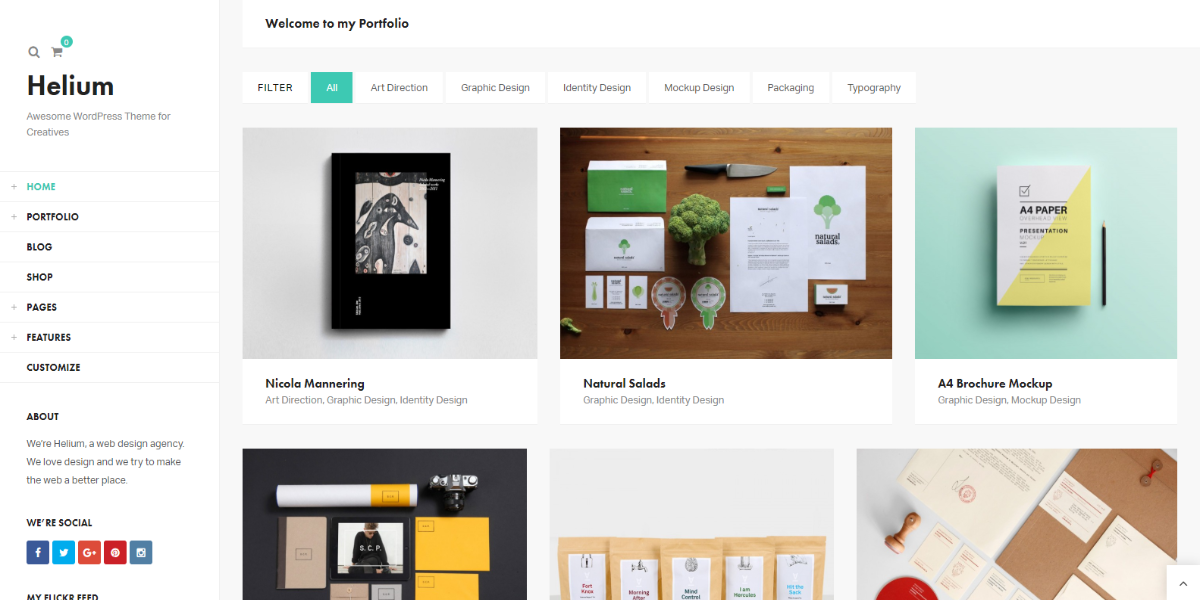 Helium is a multipurpose modern tool. That is because it brings together both blog themes and portfolio. It comes in the form of some three different kinds of layouts, is generally beautiful, and accompanied by the robust AJAX navigation system. It stands tall by being clearly visible and allows for great user experience.
Other than merely showcasing your work, this theme also allows you to sell digital merchandise and print other items. That it can pair and communicate with other like-minded devices make it all the more great for your use.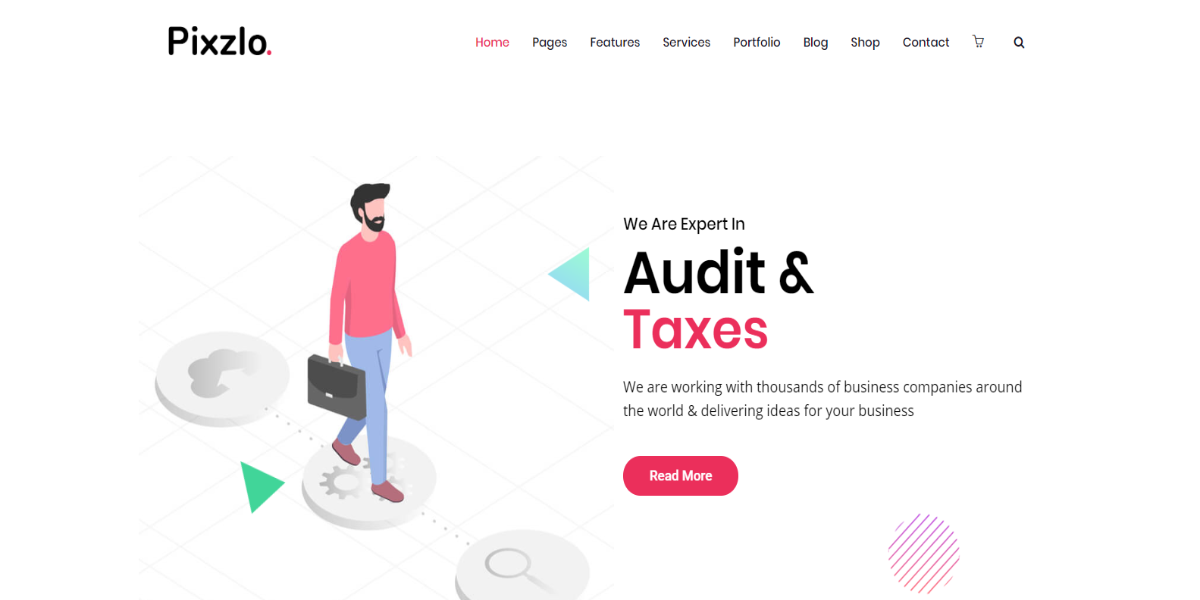 Pixzlo is yet another creative WordPress theme for professionals. It is a clean, trendy, modern, and engaging theme indeed. The theme is also so designed as to be pretty responsive on the mobile platform. You will find it particularly great for your landing page, marketing, technical sales, and startup company.
At its core is the visual composer which is accompanied by some 260 builder blocks. With these resources, it is possible for you to create stunningly appearing sites. Lastly, the theme is also compatible with a couple of plugins and third-party software.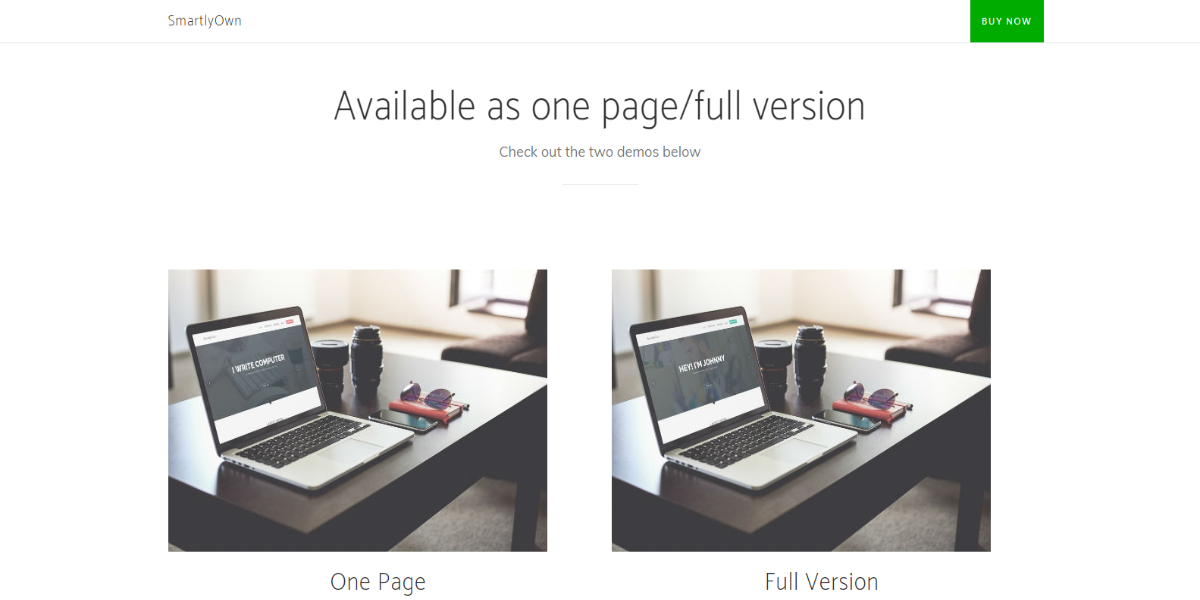 As the name intimates, this Smartly Own WordPress theme is for smart people. In most instances, it is only those with a knack or liking for matters I.T who will find it suitable for their use. It is mainly unique in that it takes the shortest duration of time to bring about the desired end results.
In all, the theme is extremely lighter in weight and contains some features which are pretty useful. These include services, portfolio, skills, tables, and pricing. If you lack the time or have to work on many orders at a time, this indeed is the theme of choice.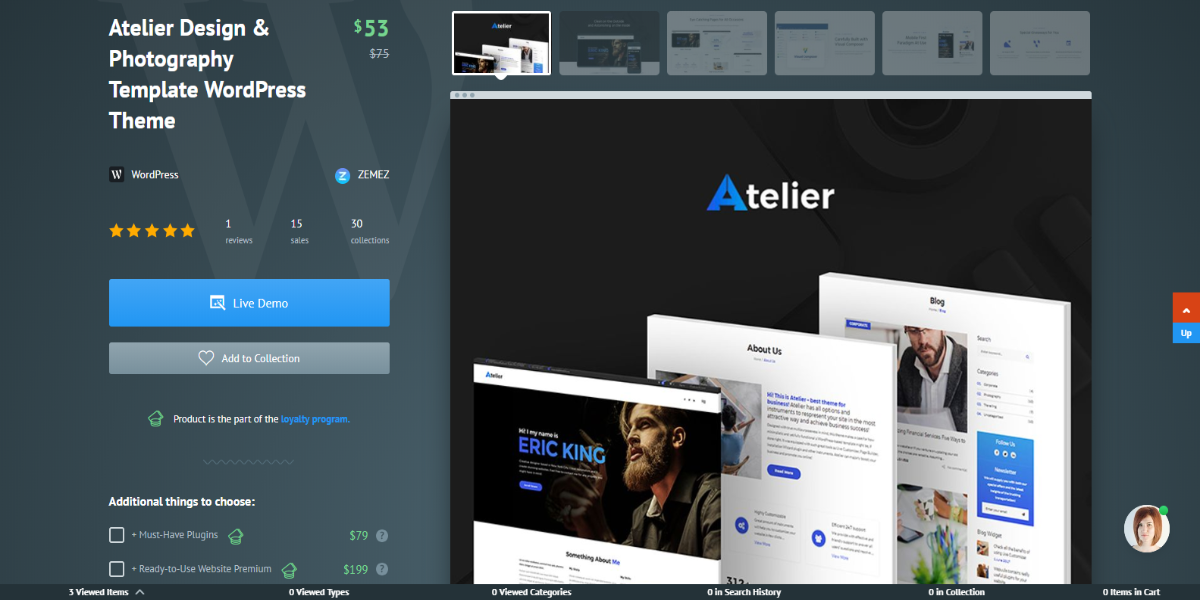 Atelier brings together design and photography. In light of this, it is mainly intended for those web designers who are coincidentally photography enthusiasts. These include travel bloggers, fashion designers, video producers, and lovers of nature.
By using this template on your site, it will be able to reach out to and impact a larger target area. Moreover, the site will be available for use across just about every other electronic gadget or platform. You will not really struggle to share your thoughts and ideas with others!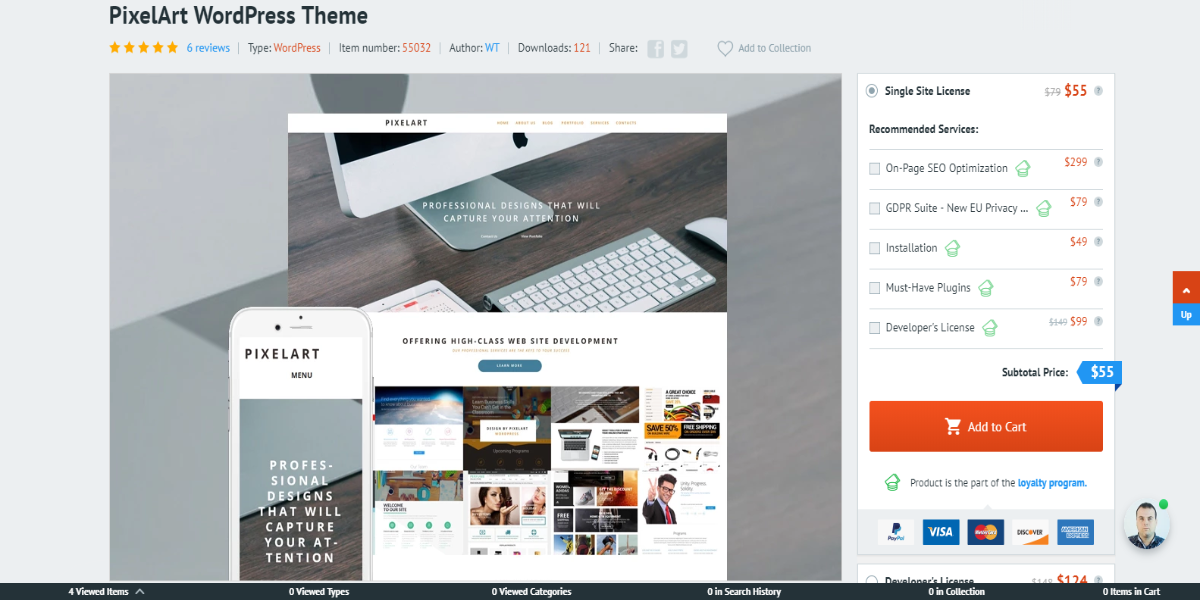 Have you ever desired to make great web sites but have no expertise or prior experience? Well, worry no more! This PixelArt WordPress Theme has you well taken care of. It is pretty simple in scope and nature. For this reason, it is well suited for those who have no experience in the field of web design.
Generally speaking, the theme is highly responsive, allows for parallax scrolling, has large font icons and equipped with tons of relevant features. The fact that it contains integrated SEO tools further extends its functionality beyond the normal.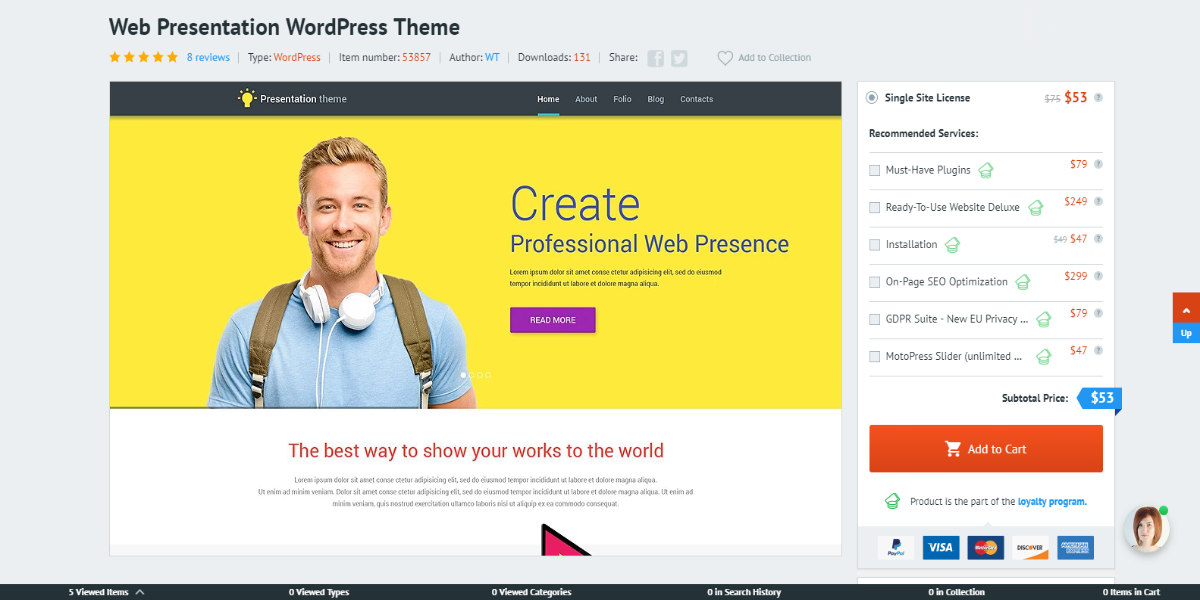 To set your site apart from the others in the cyberspace, you need to make your site as beautiful and eye-catching as can be. This can only happen if you utilize the right plugin for the job. You have this Web Presentation WordPress Theme for your consideration if this is all you want.
It is available in a flat style and appears trendy indeed. With some bold visuals and full-width, this site has the true potential of grabbing the attention of a would-be visitor. These are further complemented by the grid-based galleries which have some spectacular appearances.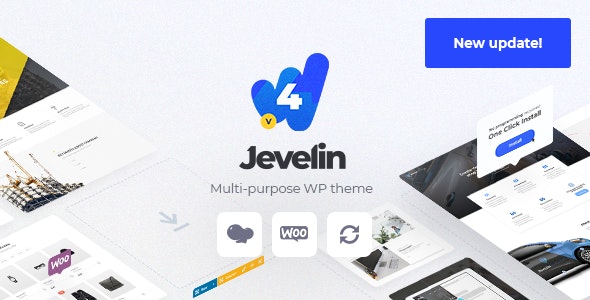 Jevelin essay wordpress theme that is designed totally in multi-purpose responsive MP wordpress theme. This theme has been created by theme forest organization and it was created on 27th April 2016 the last update is recent which is on 27 April 2016. Organizations provide regular updates so that their use will always connect with the latest technologies.
The developers give their complete time to design this theme which depends on the niche of web design. Discuss its all features one by one. It is a multipurpose fully responsive theme for business freelance and private use. In this theme users will get slider revolution, woocommerce easy customizable, contact form 7, one-click install, more than 40 custom shortcodes, RTL optimized, and many more.
Jevelin theme has its drag and drop builder in that it contains a control panel, with Unsyon tool. If a user wants to upgrade their site negation are the developer provides the Megamenu. This theme is very friendly with Search engine optimization. Users can also upload video tutorials. Users can also change accent color from page to page including header layout.
Regular updates will be provided by the organization for this theme. This theme is not available for the free version. Any user wants to use its complete features then the user must buy its premium version of this theme. For that user need to spend a certain amount of money to buy its active legal license. After that User will also get the Jevelin theme complete document. This theme is also compatible with all types of pf browsers.
Webify is a well-constructed wordpress theme. This wordpress theme is made for creative designers. user can check out a very which type of resources features and functions are to be present in this wordpress theme this theme has been designed by theme forest organization in the last update has been released by the organization is on 5 December 2020.
New demos will be uploaded by the organization every month regarding this theme so that every user connects with the latest technology after updating the webify theme. Users also use the beautiful portfolios for use with unlimited gallery space. The topography is well crafted with beautiful presentation attractive and visual rhythm. There are more than 60 shortcuts with an unlimited sidebar. Webify theme is SEO friendly and code is entirely designed in HTML 5.
The main reason to design this theme in the latest coding language because the loading time of the website is less. However, website rank will be improved. There is a pre-defined slider with a pricing table layout. For all post format UX friendly layouts and WPML Ready. This is not available for the basic and free version.
So those users are required to use its complete feature then the user must be required to buy its premium plan. For that users need to spend a certain amount of money on the organization for taking the Webify plugin. After that user will get an active legal license with complete all documents. This theme is entirely responsive in all screen devices. It also supports all types of browsers.
CONCLUSION
Having received the insight you need to select and hopefully acquire the best web design WordPress theme, the ball is now on your court. It is up to you to go ahead and identify the one which precisely suits you. When are you launching out to acquire your theme of choice? Let us hear in the comment section below!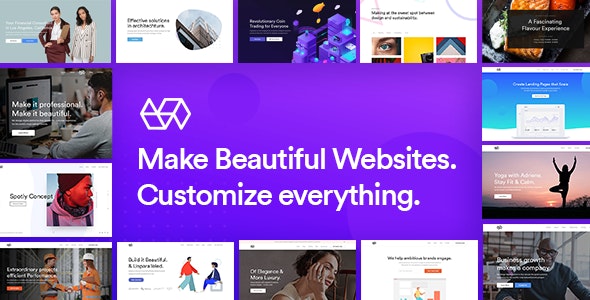 Which Web Design Theme Do You Like?
Need help in theme selection and theme Issue? We are available 24/7 by Phone or Chat.