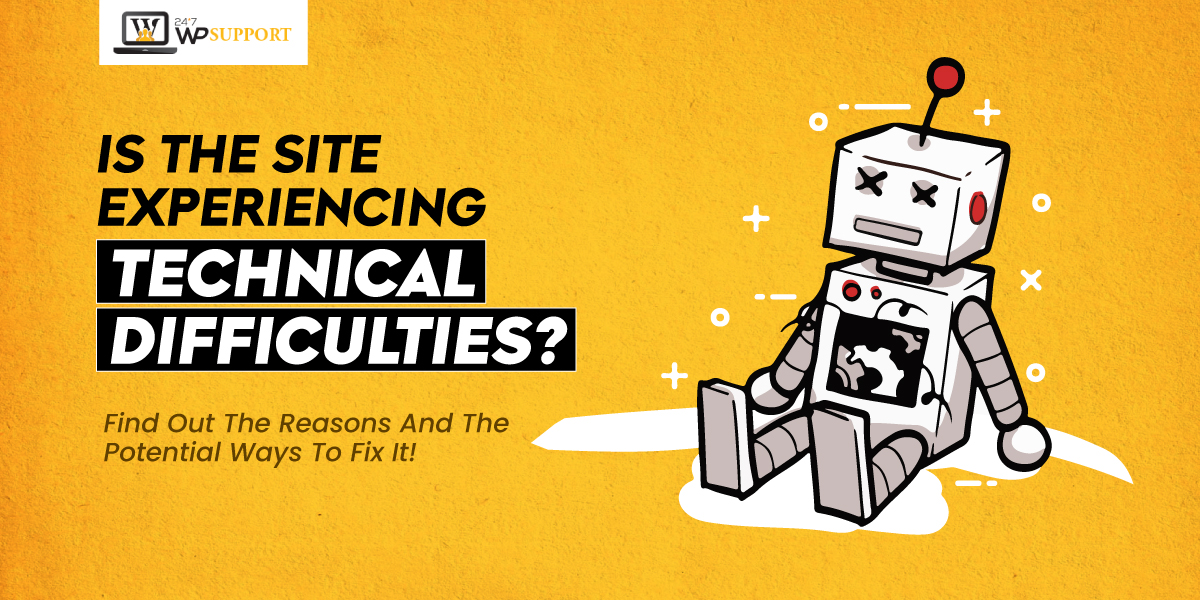 Is the site experiencing technical difficulties? Find out the reasons and the potential ways to fix it!
You must be wondering how to eliminate the site is experiencing technical difficulties issue in your WordPress site! With WordPress, various errors are there, which users keep facing, like the database connection issues and internal server issues. However, the WordPress (might) show this full error as (or similar):
"Please go through your WordPress's site admin email inbox for clear instructions in order to avoid the site from experiencing technical difficulties further."
The article has you covered as you are curious to know more about this error, what it indicates, and how to fix it! If you aren't comfortable with WordPress troubleshooting, this guide allows you to know everything. Let's get started!
What does it mean by the site is experiencing technical difficulties?
Have you ever heard of the term "Blue Screen of Death" with Windows? WordPress possesses an identical thing, named "The White Screen of Death," which is intimidating! The 'this site experiencing technical difficulties' resembles the White Screen of Death, and it is a lethal error in WordPress.
This error implies you are not able to access your website from the front end and backend. Therefore, whenever a website visitor opens up your site, they will be welcomed with this message: "The site is experiencing technical difficulties."
Whenever you try to enter your website's backend, you will see a similar message. It might seem troublesome at first as it will let your visitors and potential clients visit competitor sites. However, you shouldn't worry as this error can be fixed.
Why does this issue appear on your WordPress site?
Your WordPress website might be suffering from some generic issues, which let it spawn this fatal error. Let's check out the probable causes:
1. PHP Error
WordPress utilizes PHP scripts, plugins, and themes; it also accepts daily updates. Is your site using an older PHP version? If so, you will see such error: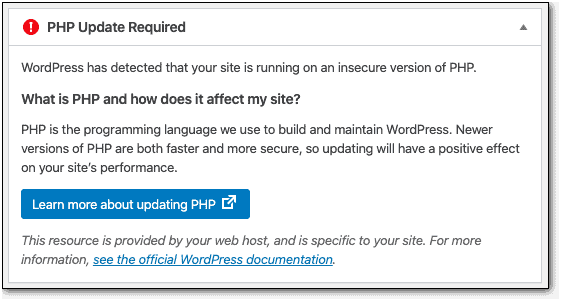 2. Problems at the server-end
In various instances, you might be watching this error and nothing may seem faulty at your end. However, the leading issue behind it could be some issues with the web hosting server.
3. Theme or Plugin Conflict or incompatibility
WordPress keeps providing new versions of it and updates for fixing bugs. Moreover, it keeps updating the themes and software of the plugins to stay consistent with the newest WordPress versions. In case you are using an outmoded WordPress theme, version or any plugin, such conflict or incompatibility problems may arise.
4. Malware
Unfortunately, if a hacker gets access to your site, they might invade and install any malware on your WordPress site. The consequence will be that your website might get shut down, and some fatal technical issues might spawn.
5. Mismanaged Updates
Any updates might get mutilated or mishandled while installing WordPress updates. This might get discontinued midway or be completely timed out or fail. In both cases, "The site is experiencing technical difficulties" error will appear.
How to normalize your WordPress site quickly from this error?
Refreshing your site's page and clearing your cache are the biggest tips for getting your WordPress site back to its normal condition. Right after visiting the "Settings" option of your search engine, you can clear your browser cache immediately.
You can use any caching plugin in order to eliminate your website's cache. But troubleshooting "The site is experiencing technical difficulties" error can take higher time to be eliminated. All you have to do is to identify what results in this error and how to resolve it! Let's check out the probable solutions to fix this issue:
Method #1: Identify the source of the issue
Crosscheck your Admin mail
With the "The site is experiencing technical difficulties" error, sometimes, it's possible to get an email explaining the error's origination. To keep your site in recovery mode, a link will be sent to you, precisely the admin's email ID on WordPress. In case you didn't receive the mail, checking your spam folder is necessary.
This error of WordPress doesn't say enough about the issue. Luckily, WordPress provides a superior feature, named Debug, which can be enabled while troubleshooting problems on your website. Utilize a WordPress debugging plugin, which will automate the procedure to enable debugging.
➔ Log into your hosting account followed by navigating to cPanel > File Manager > public_html. You have to spot and open the wp-configs file and search for the line showcasing ( 'WP DEBUG', false )
Have you enabled an audit log on your site? In case you want to identify what's wrong, it is mandatory to refer to this log. Check out the recent changes made to your site.
Method #2: Error Troubleshooting
In case plugins are not causing issues, you can check out the themes if they cause any error on your WordPress site. Visit "Appearance" on your website's dashboard, and enable a default and classic theme like "Twenty Twenty."
All you need to do is to clear your website's cache and choose an incognito mode of surfing. If the site is experiencing technical difficulties, errors disappear; the theme is the main issue for this error generation.
Method #3: Solve plugin incompatibilities
Have you recently received a notification email from WordPress based on this error? You will also receive a link for its quick recovery. This link will redirect you to the back end's recovery mode. It will emerge as follows: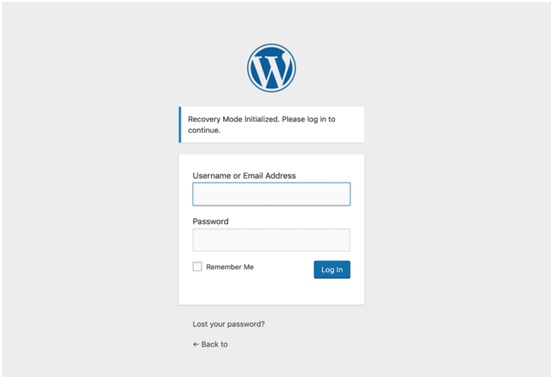 After you provide the login credentials, you can fix the errors pretty easily. In order to fix any major to minor plugin incompatibilities, hit the "Go to Plugin Screen." You have to disable the incompatible plugin while you are directed to the subsequent page, and after that, choose "Exit Recovery Mode." Such an error can be quickly fixed when the incompatible plugin is the offender.
Conclusion
This is all about the site is experiencing technical difficulties error and the way to overcome it completely! Hopefully, with these methods mentioned above, you can successfully eliminate this major error.