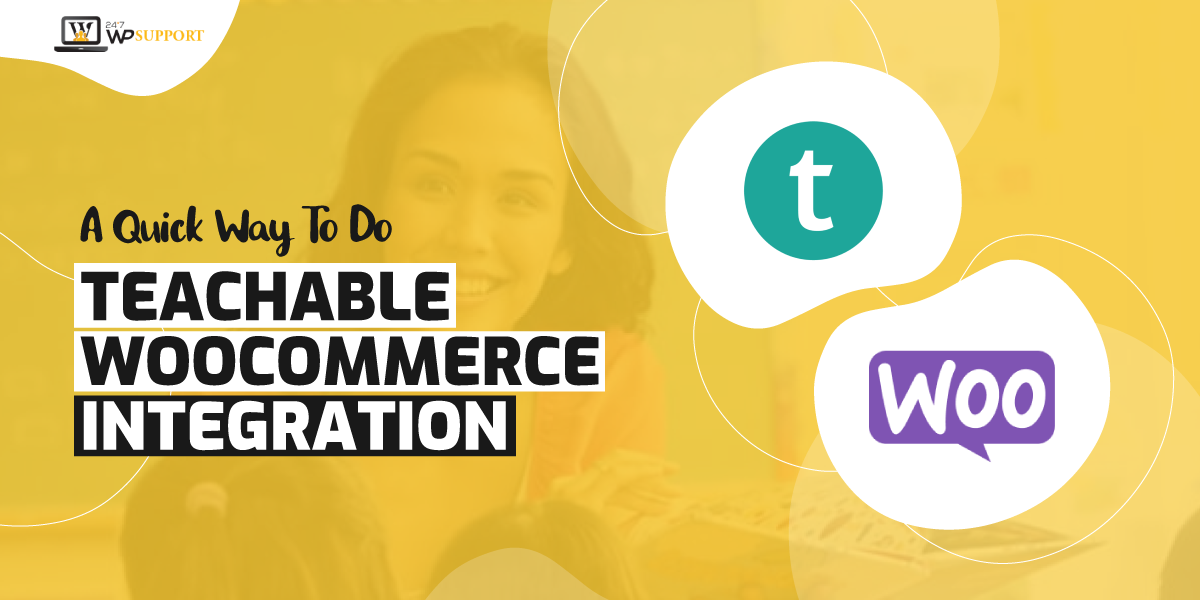 A quick way to do Teachable WooCommerce integration
If you are looking to sell your online courses directly via the WordPress site, you are at the perfect place. Teachable is one of the incredible tools to host the courses.
What Teachable Offers?
Suite for web development
Affiliate management
Checkout system
Course hosting
User management
Why should you go for Teachable?
Usability
From building a site to even up the admin tasks, Teachable has got absolute reviews regarding ease of use. The class builder is not only flexible but also powerful. It is the best solution for those people who look for click navigation and have no technical experience.
Moreover, it has options for multi-selection to make mass changes on uploaded courses. It can be regardless of whether you need to delete numerous lessons at once or alter the preferences. You can even save effort and time.
One can even access Cloud services on Teachable. You can directly import the files from Google Drive and Dropbox. These files can be videos, audio, and texts. Right from testing to instructional, you can order all your content.
Branding and identity
This is one of the praised qualities of Teachable. It allows the creators to show their content uniquely. The builder of this platform is highly customizable. You can initiate by tweaking details like fonts and colors. One can even choose the default themes for the appearance of your website.
They have a great variety of alluring typographies and layouts. People with peculiar aesthetics will love Teachable.
Customer Care
Teachable gives full control to its users. Businesses can work closely and keep an eye on the progress of clients directly.
Only the resourced person will have the data of their clients, rather than Teachable. There are online commercial marketplaces that exaggerate their association and control the framework. So, the clients do not have any direct/ immediate direct connection with their students. The teachers are given full liberty to have follow-ups of their previous students. You can customize the messages, this includes groups or promotions assuming they have not purchased a course recently.
Course Compliance
Teachable has advanced tools. Hence, you can be assured that the courses are taken in a specific arrangement/ sequence. This tool is designed in such a way that the clients can take full advantage of what they paid for. They can give evaluated tests (with or without limitations on the number of endeavors).
Marketing, Sales, and Money Matters
It starts with an alluring course, yet money is filled in its deals. Teachable gives its clients the ability to draw in and keep clients. It permits landing pages to interface with Facebook promotions, showing client testimonials, etc.
Accepts Multiple Currencies
The Gateway of Teachable permits Stripe, PayPal, Apple Pay, and
Google Pay. It likewise provides a set-up of a suite called BackOffice. This gathers tax forms from affiliates and authors, and afterward makes the payouts for its clients.
So, who all can get benefits from Teachable?
Anybody who can bestow to the world can get profit and benefit from Teachable. Teachable has helped lecturers on a collection of subjects, from calligraphy to gardening. Fundamentally, if you have any kind of expertise that you could impart with confidence, Teachable can assist you.
What draws in novices to Teachable is its free lifetime plan. It permits the unpracticed to fiddle within the site and course creation. Progressed course makers love this platform because of its remarkable advertising and marketing tools.
It gives an opportunity to develop the online image of the brand. It is particularly famous with artists and bloggers of different media.
WooCommerce
On the other hand, WooCommerce is a flexible and open-source platform. From luxury cars to gym classes, WooCommerce can support you to develop customizable platforms. You can extend the functionalities and add features to your store. You can manage massive endeavors such as managing the merchandise and online stores.
How to do Teachable WooCommerce integration?
If you are planning to use Teachable to host your online courses. You can do it without any hassle via WordPress websites. You can use UpsellPlugin, WordPress checkout system to do this.
For Teachable WooCommerce integration, follow these 5 steps:-
Pick the WooCommerce platform as your trigger app.
From the list of triggers, choose your wished " trigger".
Choose the platform Teachable as your action platform. Make sure to authenticate it.
Choose the resulting action from the action list.
You need to choose the data that you must send from WooCommerce to Teachable. You are all set!!
24×7 WP Support is a proclaimed expert when it comes to WordPress or WooCommerce development services. We assist businesses to fix and build eCommerce stores using the latest development and technology. Our experts have specialized themselves in the art of fixing the toughest errors or technical glitches using this breakthrough technology.
We have a dedicated team of experts who can assist you to develop ingenious themes and plug-ins and themes. Our team provides 24×7 support and aid to quickly resolve the bugs or issues that your store has.