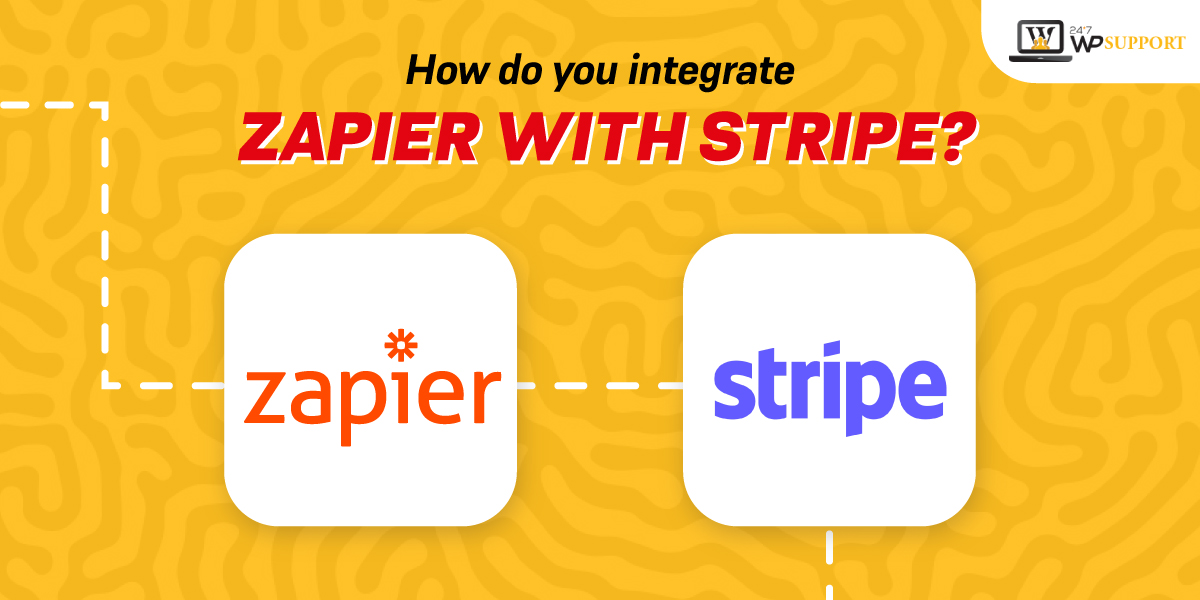 How do you integrate Zapier with Stripe?
Last updated on June 9th, 2023 at 07:06 am
If you are a business owner, you must have been searching for the right methods to curtail your team's burden without losing productivity. If that's what is troubling you, you certainly need to integrate your business tools and automate your operations seamlessly. However, all tools can't be easily integrated with other tools.
So, is it possible to automate your tasks without staying in a long queue?
Well, it's possible without waiting to craft integrations for your fav tools. You don't need to pay heavy amount for the development of custom codes, too. Zapier makes a better option.
To put it simply, Zapier allows you to connect those web apps you love to use to your favorite tools, making it hassle-free for automating hectic tasks.
That's why you should let Zapier take care of these enormous activities for you!
Similarly, Stripe is a top-notch payment platform. Hence, integrating Zapier with Stripe can turn your data into actionable insights. So, are you willing to integrate two robust tools? Join your Zapier and Stripe data today and know the streamlined integration process!
Without much delay, let's find out the process of integrating Zapier with Stripe and other crucial information about the integration. And if you hesitate at following the process yourself, hire Zapier integration experts from 24x7wpsupport instead of following this Zapier to Stripe integration guide.
What is Zapier? Zappier helps you connect your apps and automate workflows as it knows seamless automation is for busy people. It can easily move information between your web applications. That's why you can remain focused on your important tasks.
To begin integrating Zapier with Stripe, you will have to register for a free Zapier account. However, the Zapier automation is regarded as "zaps," where it uses 2 major elements for the process automation:
It indicates a signal, which initiates the automation process. It allows the automation to begin when brand new sales appear in Stripe.
It indicates your needs or expectations that you want triggers to complete. It means sending an email, posting data anywhere, and creating a report.
That's how with the appropriate merge of "triggers" & "actions," one can efficiently create impeccable automation, which takes care of your hectic schedule a lot!
Moreover, you don't have to copy-paste the data, or constantly verifying your tools and apps, or even notifying your customers manually. Zapier can handle it!
What is Stripe?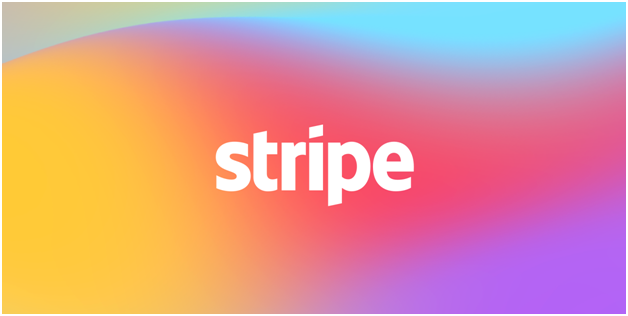 Stripe is a top-notch deliver-friendly method to accept online payments and mobile applications. Stripe's suite of APIs empowers commerce for truckloads of organizations of all sizes. Hence, it helps process billions of dollars for their businesses every year!
How-to Guide: Process of integrating Zapier with Stripe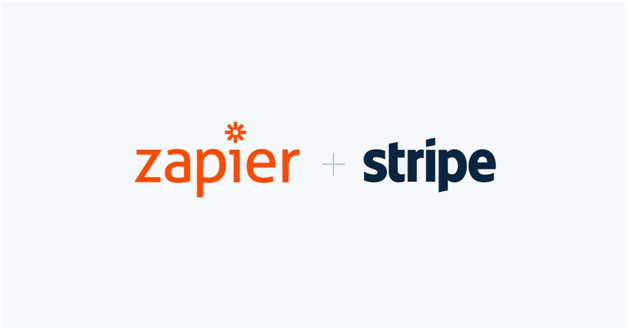 Anyone can quickly create their own zaps on their Zapier dashboard. To get started with the Zapier and Stripe integration procedure, you need to see below processes:
Create a Zap
Log in to your Zapier account first and hit the "Make a Zap" button from the sidebar. After that, you have to name your Zap by altering the placeholder text in the header section.
2. Build a Stripe Trigger
From the "Choose App and Event" option, find and select "Stripe." After that, you need to open up the detailed list of options from the "Choose Trigger Event" and hit the "New Charge." Therefore, it makes sure the users' action or the "New Charge" will take place after a charge has been created.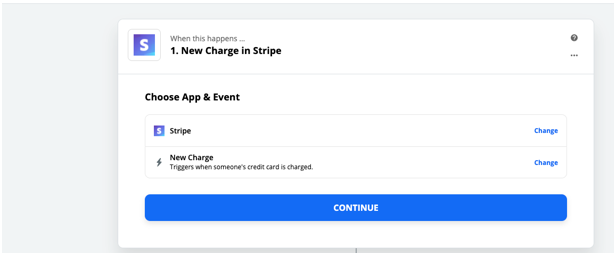 3. Select the "Strip" Account
You have to connect your "Strip" account now. However, in order to do so, you have to type the "API Key" from your Stripe dashboard when initiated.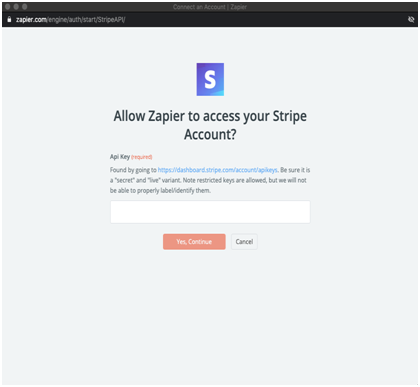 It can easily be discovered by clicking here. Make sure to keep it as a live variant and secret. As observed below, an API key can be provided by Stripe, which is a top-notch and secretive live key.

The live API key should be utilized for Zapier to drag in authentic data. This live key is only released once your Strip account has undergone the activation procedure.
4. Customize Charge
Now, you have to prompt the process for selecting the charges, which may act as the trigger. Therefore, you may set it to "True."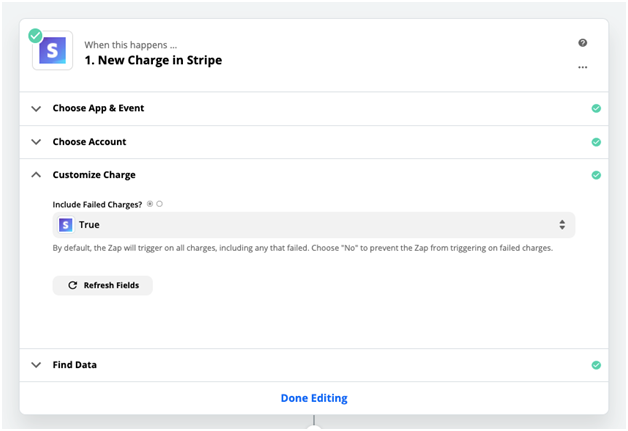 Are you done with the setup of customizing the charge section? Zapier will try to reveal the sample data from Stripe to set up and examine the Zap.
When an exclusive API key is utilized to merge with Stripe, you can see accurate data and samples.
Now, you need to choose "Test Trigger" to detect a recent charge and move forward to the subsequent step.
5. Identify a Customer in Stripe
In this stage, you have to find a customer by their email address and name. Make sure to opt for "Stripe" as an app and "Find Customer" as the event.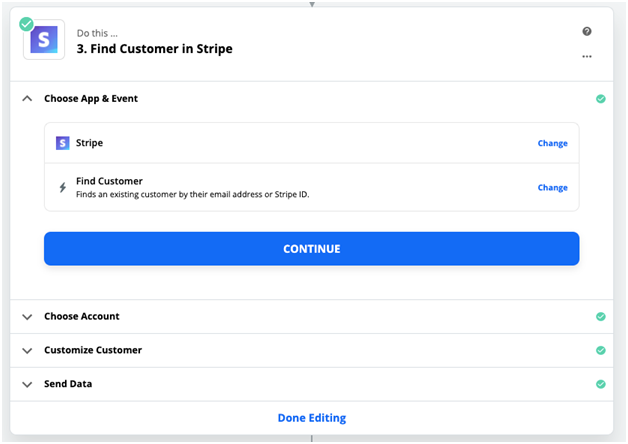 Now, hit the "Test and continue" button to proceed further.
In your Zapier dashboard, you can have multiple zaps. Create one by searching for "Stripe" and choosing it.
Now, type the other tool's name in the second box for integrating Zapier with Stripe.
Are you worried about how to get the most of the Stripe data? You will gain countless controls over here as Zapier offers numerous Stripe integrations. Let's look at the favorite zap to give you the best inspiration, which helps your business touch the summit of success.
Incorporate Stripe Customers to a MailChimp List
MailChimp is the best and famous email marketing tool as it's hassle-free to use. Numerous businesses use it frequently.
If you want to add your customers to your MailChimp lists after they purchase something from you, Zapier and Stripe integration is the way. It will add each new customer to your valuable MailChimp list automatically.
It will be an excellent method to fetch their email addresses to your MailChimp account or email marketing application in order to send them relevant content and create repetitive sales.
How do Zapier and Stripe integrations work?
For integrating Zapier with Stripe and make it work without any hassle, you should follow the steps below:
Step #1: Authenticate Zapier and Stripe. It generally takes 30 seconds.
Step #2: Choose any app as a "trigger," and let it kicked off your automation. And, this requires only 15 seconds.
Step #3: Opt for a resulting action from another app. It usually takes 15 seconds to complete!
Step #4: Pick out the data you need to send from one app to another within 2 minutes.
That's enough! You can give more time to other works without worrying about the Zapier and Stripe integration working procedure.
New Zapier and Stripe Integration: Subscription management, Instant triggers, and more
The two famous Stripe triggers are New Event and New Charge. Such triggers mainly used to be polling triggers. Therefore, it means Zapier periodically checked for factual and new data from the trigger app to inaugurate your workflow.
Such polling interval is also termed as "polling time" and "polling speed." This is how often the trigger searched for the brand new data. Such an interval varied relying on the user's subscription plan. Hence, it could be as often as infrequently in every 15 minutes.
On the other hand, both triggers would spend approx 50 items per poll. Therefore, such a limit indicates that users who have an enormous customer base in Stripe or who operate charges in various batches would surpass these limits. That's why their Zaps could miss out on triggering on things.
Stripe will allow Zapier to know if any new data is available as these are the quick triggers. Therefore, Zapier and Stripe with quick triggers are marked "Instant" on your dashboard.
Search for customers in Stripe by email ID
A new search has been incorporated in the integration of Zapier with Stripe. Therefore, anyone can easily look up customers by providing their email addresses. This search makes it a lot hassle-free to identify the correct customer as a top part of an automated workflow.
Let's see an example; you might use this search to discover and update customers in Stripe as their information switching on other apps, such as your CRM.
Full-fledged support for subscriptions
Subscription management is an essential part of Stripe for various customers, and now you can utilize a Zap for both canceling and creating subscriptions. Such exclusive actions are completely supported by a brand new search, allowing Zapier to find the best subscriptions in Stripe.
Conclusion
Well, it's high time to get creative! Hope this Zapier and Stripe integration procedure isn't exhaustive. One of the zaps mentioned above helps you automate your common tasks, which online businesses are regularly dealing with.
Zapier allows you to send information between Zapier and Stripe automatically, and no code is required. The integration of Zapier with Stripe can easily be done after following those top 5 steps, as mentioned earlier. Hopefully, this article helps you satisfy your needs.
Zapier and Stripe integration allows customers to get associated with various services! Do you have any questions in your mind regarding Zapier and Stripe integration? Kindly let us know your questions by commenting below! And, share your opinion too! Live Chat