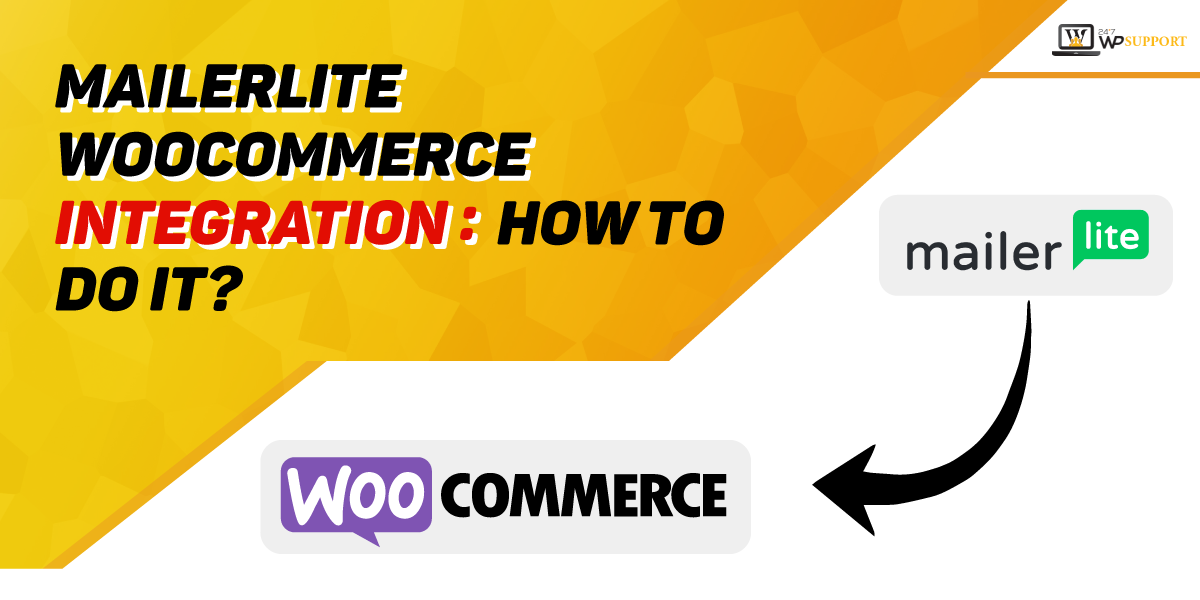 MailerLite WooCommerce integration: How to do it?
MailerLite is the best marketing tool that makes it very simple to plan excellent and beautiful newsletters. You can even build automated e-Commerce campaigns to boost your business.
With MailerLite, you can connect with your clients easily. You can even advertise your products and win back lost deals. It offers similar advanced integration and tools.
Why is MailerLite the best tool for business?
This tool is best because:-
You can sync the newsletter subscribers and customers to the MailerLite account.
Store all the data of an eCommerce site such as Name, phone number, email address, order details, etc.
You can develop segments automatically in the MailerLite subscriber group.
One can keep the track of revenue and check how emails affect their sales. Hence, business owners can easily optimize the email content for better business.
Import the details of the product from the eCommerce store within seconds. You can integrate text, links, and images into the drag and drop newsletter builder of MailerLiter directly.
You can send automated offers and messages to the customers. This will be triggered as per their recent purchase trends.
You can send abandoned cart emails. This will engage the users to make their purchases who leave their carts unattended.
Build pop-ups and landing pages. This will assist you to expand new products, features, and subscribers.
Features that you can enjoy when you do MailerLite WooCommerce integration
Features that you can enjoy when you do MailerLite WooCommerce integration
1. Sales tracking and Data synchronization
When you do MailerLite WooCommerce integration, the new subscriber's details will be added to the MailerLiter subscriber list automatically. The details will include the Names, email addresses, etc. There are also custom fields of WooCommerce that are added to the list of subscribers fields. Hence, you can keep track of sales.
The fields of WooCommerce includes:-
Woo orders count- Here you will get the order numbers that the subscribers have developed.
Woo total spent- It will assist you to figure out the complete amount of money that the subscribers have spent on the WooCommerce store.
Woo last order – You can find the last date wherein the subscriber placed their last order.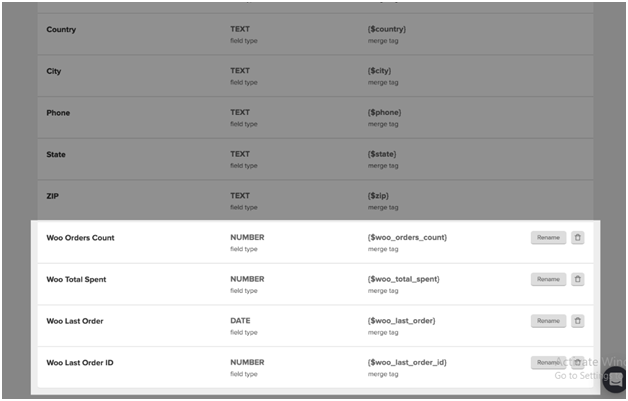 Use this to accumulate your data. One can even find the subscribers and develop the segments.
2. Product blocks
You can save your time in drafting the newsletter. You just need product blocks of e-Commerce. This block imports the descriptions, images, and prices of the product automatically. It will be directly linked to the WooCommerce store.
3. Automation triggers of eCommerce
Have you done the installation of Mailer WooCommerce integration? If yes, you can get additional eCommerce triggers. This you can find on the workflow editor.
4. Emails for abandoned carts
You can create an automation for the trigger Abandoned cart. This will help you to develop responsive emails. Hence, you can send automatic emails to your subscriber if they have abandoned their cart.
Now, you can trigger Abandoned cart emails in numerous ways:-
Log in and register your users
Suppose one of your clients logged in to your store. They added their favorite items to the cart. The email will be triggered immediately if the user is on your MailerLite list of subscribers.
Existing subscriber – Your clients from the subscriber list place and order and they enter their email address. The mail will be immediately triggered. They do not have to continue to the next step for this.
First-time buyer – You can trigger a first-time buyer after they give their contact details during the process of checkout. The email (they entered) is added to the subscriber list of MailerLiter automatically.
Steps for MailerLite WooCommerce integration
1. Under MailerSupport (Please check on the right top of the screen). Click the dropdown menu and tap "Integrations".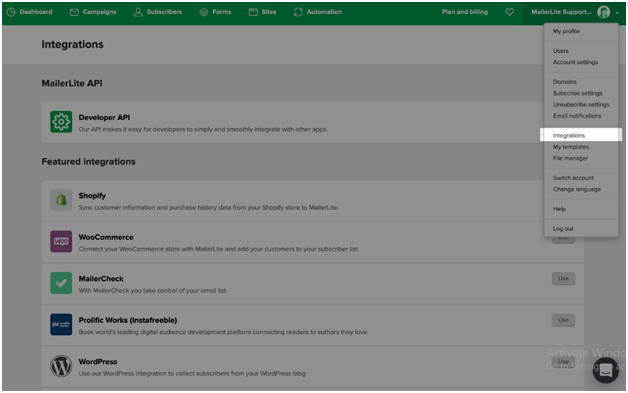 2. Search for "WooCommerce" and tap "Use".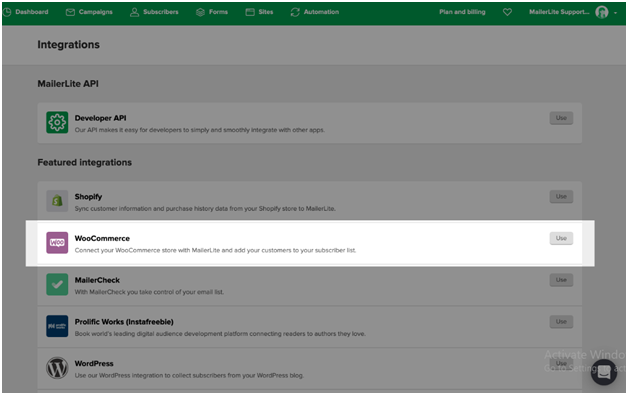 3. Navigate through the section e-Commerce integration and tap the button "ON".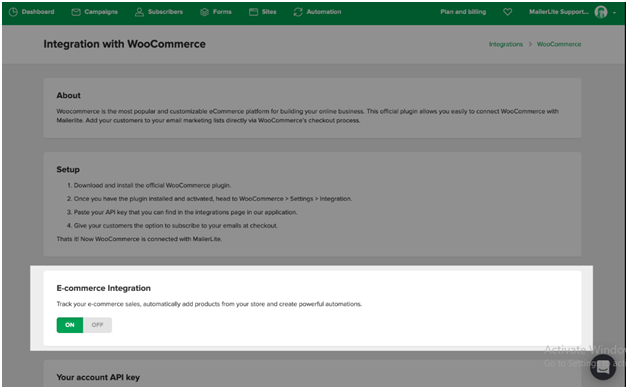 4. Search for the section "Your account API key". Then you must click "Copy" to copy the information on the field.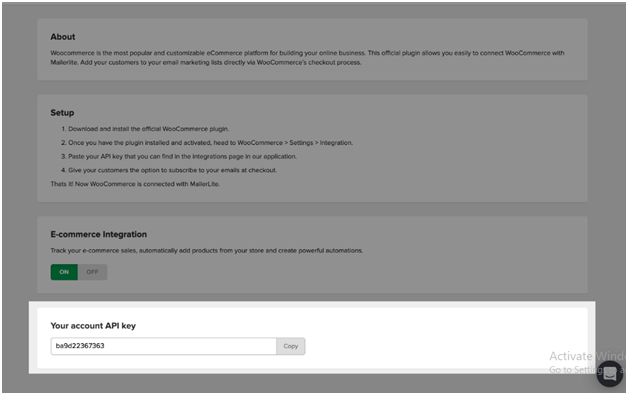 Please Note:-
Please recall this information. You may require it in the following steps!!
5. Visit the dashboard of WordPress.
6. Scroll for "Plugins" and tap "Add New".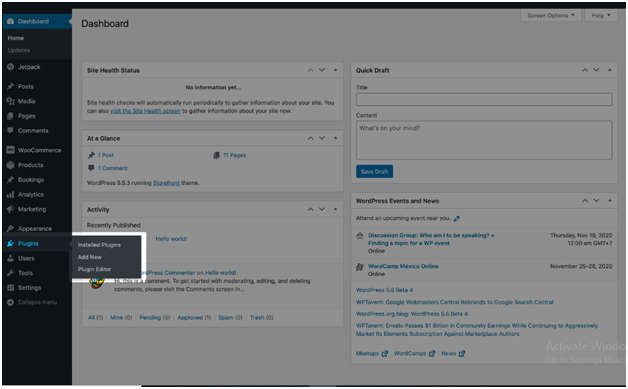 7. In the search field (check the image) look for "WooCommerce-MailerLite".
8. Tap "Install" and click "Activate".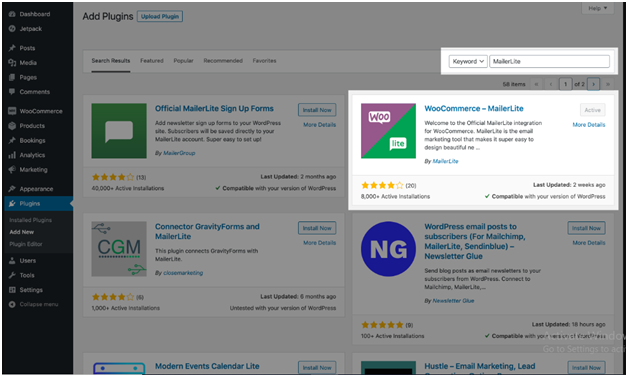 9. On the sidebar, tap "WooCommerce". Then hit "Settings".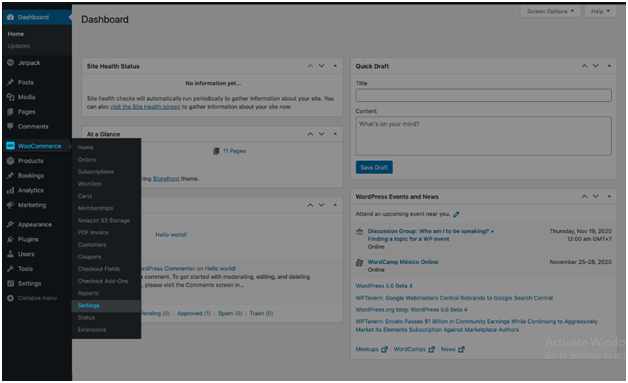 10. Then click the tab "Integrations".
11. Paste the account API in the field of Mailer Lite API. You have to paste the field which you have copied from Step No. 4. Then hit the "Validate Key".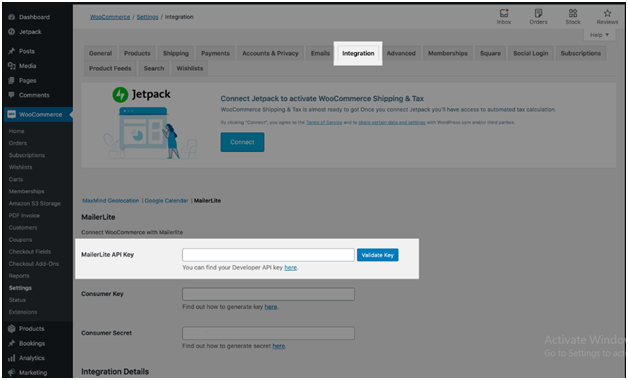 12. Choose the group for your subscribers for the process of checkout.
13. Add "Consumer Key" and "Consumer Secret".
If you want to get Consumer Secret or Consumer Key, visit "WooCommerce".
Click "Settings" and tap the button "Advanced". It is better that you open this in a new tab. Select "REST API" and choose the button "Key".
In the field of Description, you must complete MailerLite. Choose the user and select Read Permissions.
Tap "Generate API key". Next, you will be directed to a window with Consumer Key and Secret. Copy and paste it to the MailerLiter integration. This is an integral step. Hence, do not skip this option.
14. Tap "Save changes".
Congratulations!! Your MailerLite WooCommerce integration is done.
How to sync WooCommerce customers to your MailerLite account?
When the installation of the WooCommerce-Mailer plugin is done. The existing subscribers will have their purchase information synced in MailerLite.
Moreover, all new subscribers that consent to connect your mailing list will consequently be added to MailerLite.
Clients that exist already in your WooCommerce list but do not exist in your MailerLite list won't sync. Now, this case arises when you want to sync alongside new subscribers that sign up without receiving marketing emails.
24×7 WP Support is a renowned WordPress development, maintenance, designing company. We offer scalable maintenance services. So, if you have any doubts or challenges, you can hire us for affordable and quick solutions.