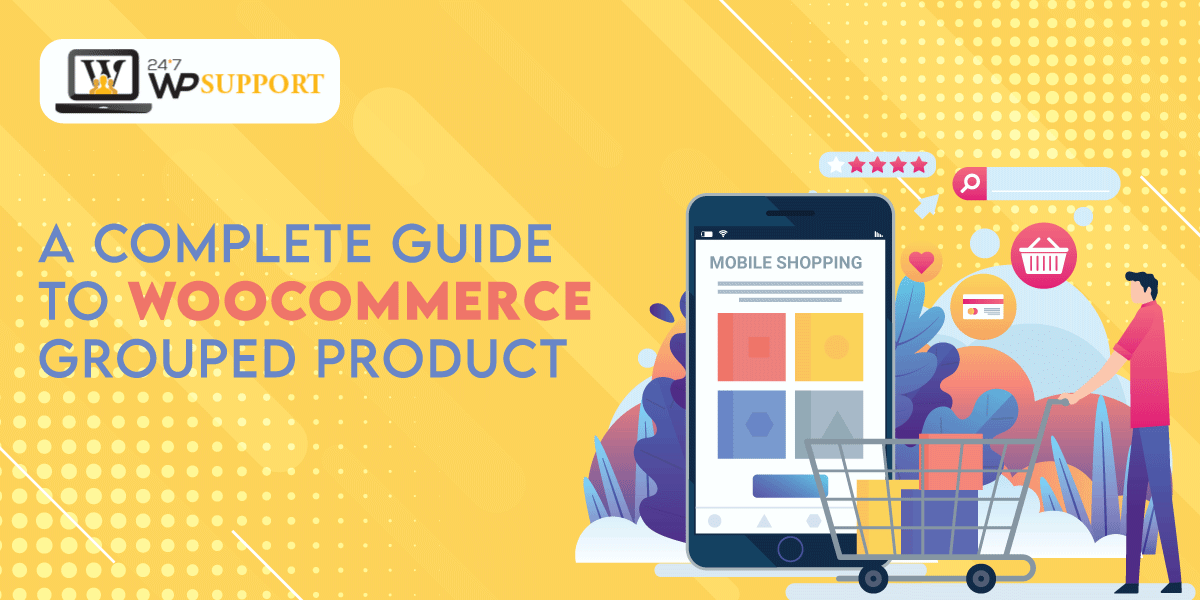 A complete guide to WooCommerce grouped product
WooCommerce is the most popular platform in the market. This platform is highly regarded for its ease of use. It has got the ability to level up an online business with plenty of built-in features.
What is a WooCommerce grouped product?
As the name suggests, WooCommerce grouped products consist of complementary or similar products. They allow customers to purchase the products in a group.
WooCommerce grouped products are one of the best ways to display related items together. It makes things easier for customers to figure out what they require.
But, you need to consider how to group the products. You can display your WooCommerce grouped product depending on the product type you are selling to specific locations.
You can term this as a magical tool as it allows to boost sales. It is because the customer tends to purchase more- when products enhance and fit each other.
For instance, for a clothing store, you can aim to sell peaked caps, t-shirts, and cropped pants for the SUMMER SALE. You can create combos or collections using WooCommerce grouped products. Using this, you can avail more sales and provide many choices for customers.
You will get assistance in the following ways by setting up WooCommerce grouped products:-
Offer plenty of options. In addition, it will also inform the shoppers that your store has more useful products.
Your shopper can instantly find the product they require. For this, they need not have to browse the whole site.
Boost SEO as you can link individual products together. You can use it to generate strong interlinking of the product for your site.
Types of WooCommerce products
WooCommerce supports numerous product types. You need to consider this way before you pick the best product type for your online store.
Generally, there are five different types of products:
The simple product is the simplest product type that are available to use in WooCommerce. You will have a simple quantity input field and a sales price for a single product. In addition, there are no ways to add variations to your products with this type of product.
External/Affiliate Product
This type of product is used when you want to allow other retailer to sell a particular item for their own price and then ship the product directly from the third-party site.
WooCommerce does not have a built-in affiliate system. Hence, this type of product is the only way to allow affiliates to sell items directly on your site without entering each order manually.
The downloadable product type enables you to sell file-based products. The most common use of this type of product is selling software or digital downloads. Variations of this type include virtual and downloadable products.
The variable product is the most complicated type of product that is available for WooCommerce. It enables you to create multiple variations within a single variable product (for example, different-sized t-shirts).
With this option, you can add attributes to each variation (like color or size) and then assign stock availability for each attribute. The user can then select a combination of attributes that they desire for.
The grouped product type creates an easy way to have a group of simple products tied together. For example, you could create a product with different sizes and colors of one type of item (like t-shirts).
You can add variations in the grouped product, such as images, stock availability, and cost per option.
Why Add Grouped Products in WooCommerce?
Grouping products in WooCommerce is a great way to let your store sell multiple products as one. This section will cover the benefits of adding grouped products in WooCommerce.
1. Grouping products is a great way to move old stock
If you have items that you want to keep in stock but no longer sell as individual products, WooCommerce grouped products is a great way to sell them as a bundle.
By moving old stock into a grouped product, you can keep it in stock and sell it simultaneously!
2. Grouping products increase the order value (average)
By grouping many related products, you can increase their perceived value by consumers. They'll see your grouped product as a collection of related items rather than just a single product. This increases the chance that they'll want to buy it, increasing your average order value.
3. Grouping products can lead to stronger interlinking
By adding related products to a grouped product, you can boost your SEO by increasing the number of links to other products in your store. This is a great way to increase click-throughs from search engines by letting them display more of your site in their results pages.
4. Grouping products allows for better advertisement
WooCommerce grouping products allows you to advertise related products as a bundle. This is a great way to upsell as well as cross-sell the products in your store. By showcasing related products to customers visiting one product, they'll be more likely to buy multiple products!
How to set WooCommerce grouped products in WooCommerce?
There are numerous businesses that produce multiple products that are same in nature. But, these products are not similar. For instance, one can sell various widgets grouped into three categories. They are:-
The possible way to handle this kind of stance in WooCommerce is by employing grouped products. This will allow one to add various products together and you can sell them in groups.
#1. Generate parent product
To do this, you need to visit "WooCommerce" and click "Products". Next, hit "Add New" to set up WooCommerce grouped products.
Next, you need to give a title for the grouped product. For this, from the menu of drop-down choose, "Grouped product".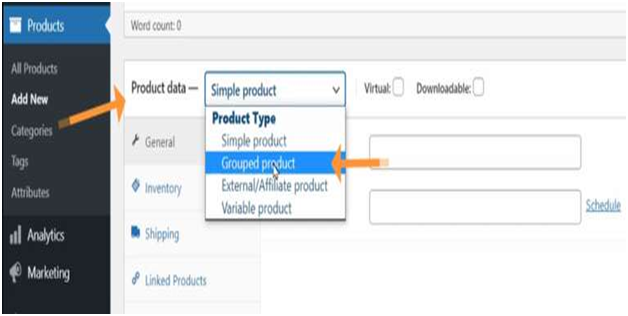 While you pick this option, you will see some fields like price disappear. The main reason behind this is their collection of child products. Tap "Publish" to set up WooCommerce grouped products.
#2. Generate child products
You simply can set products as child products. For this, you need to browse to the dashboard of WP and head to "Products". Next, click "Add New" to set WooCommerce grouped products.
You will see a new page. Here, enter the details mentioned below:-
Name of the products
Description
Image of the product
Description of the product
You can also specify the type of product that you wish to implement from the available list in the panel "Product Data".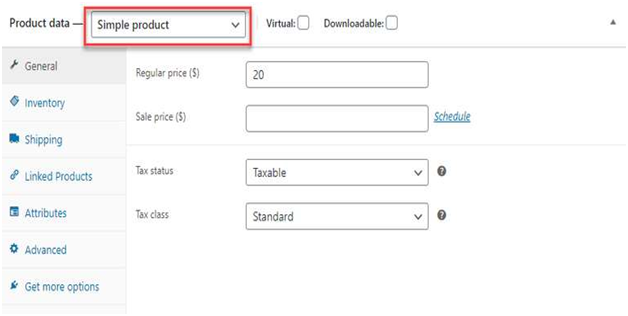 Apart from this, you can also attach more details in the section of product data. This includes shipping details, inventory, and prices. Tap the button "Publish" to set up WooCommerce grouped products.
#3: Link products
Now, you have to link individual products to the generated grouped products. For this, go to the dashboard of WP and click "Products". Tap "All Products" to set up WooCommerce grouped products.
You can witness all the products that are available in your store. Figure out the grouped product that you generated in the previous step. Tap "Edit" to set up WooCommerce grouped products.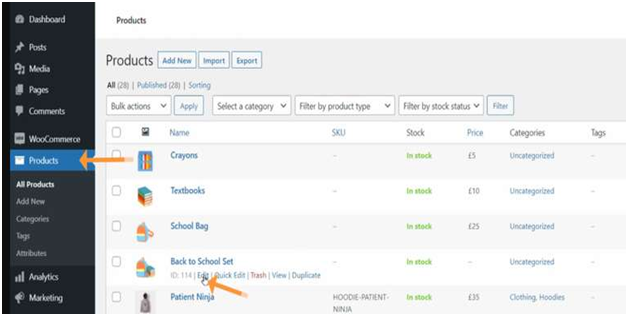 You will be guided to the page of products. Next, scroll to the section, "Linked Products". You need to share the simple product's name for linking. You can do that in the search box of "Group Products".
You will come across name suggestions the minute you start typing. With this, you can choose the names of the products that you prefer quickly and easily.
When done, tap "Update" to set up WooCommerce grouped products.
You will see your products visible on your WooCommerce page. Here, your customers can add a range of products they wish.
#4: Hide products from individual searches
You can hide child products in the searches of catalogs. This will prevent these products from displaying in individual searches. On the other hand, it will only appear only in the searches of group products.
Head to the box of "Publish" and set the visibility of the catalog to the option "Hidden". Hit "Ok" to set up WooCommerce grouped products.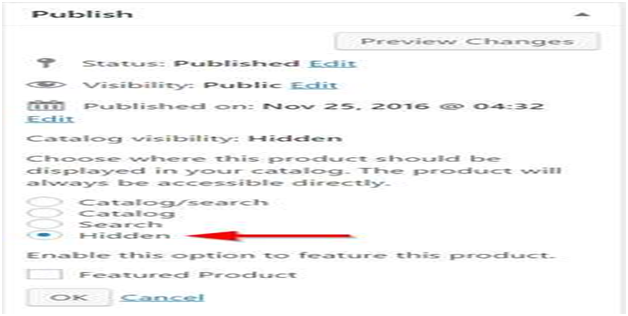 Final Note
There are various types of products in WooCommerce. They are:-
Downloadable that requires fulfillment
External or affiliate for no data (ingoing) from the product
Virtual with no cost for shipping
Grouped products will have parent products with variations
Simple with no child and parent relationship
Setting up WooCommerce grouped products gives variations of a single product. WooCommerce grouped products will have parent products. Every child product will inherit the attribute of WooCommerce grouped product.
WooCommerce grouped products will help you to showcase related products clearly. With grouped products, you can also increase the average order value for your store, move old stock, and improve interlinking across your product pages.
24X7 WP Support can help you add grouped products, create a parent product, add child products, and add variations of your choice with ease. The only difference is that you'll have to select the variation attributes for the parent and child products in a 'Grouped Product' instead of creating them individually.