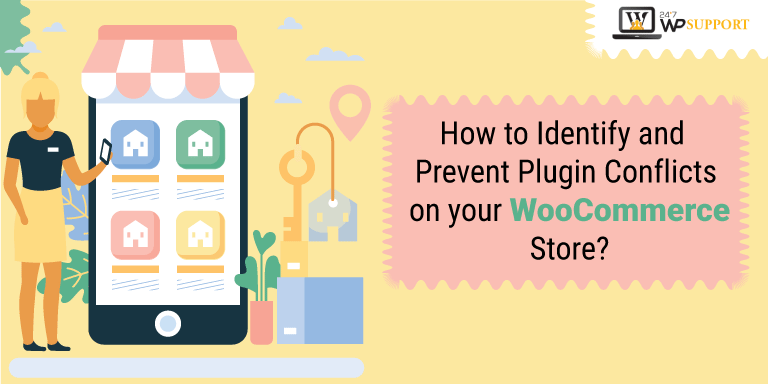 How to Identify and Prevent Plugin Conflicts on your WooCommerce Store?
WordPress plugins are the best resources that can power any functionality or feature. They are a powerful add-on for any WordPress website. Even though they are helpful, they might be the center of issues in most cases.
You may face performance issues, crashes, bugs, and errors and the fatal white screen of death. People with minimal technical knowledge may face more troubles.
Tips to identify and prevent plugin conflicts on your WooCommerce store
Testing on a staging website
The staging website is exactly the same copy as your live website. Hence, it is not wise to activate a plugin on a live website. Even though you may have had a good experience using them earlier, try avoiding them.
You must do the testing on a staging website.
How to do it?
Nearly all hosting service providers give staging websites. You can use it to test a new plugin before initiating a step to activate it on a production website.
In case, you are unable to get a staging website then you can use plugins like:-
Jetpack Rewind
WP Staging – DB & File Duplicator & Migration to test it.
These plugins allow getting a clone of your site by downloading it into the subfolder of the main WordPress installation. It will also enclose your database's copy. This approach is best for those with limited technical expertise. So, if you are one who cannot handle aspects of website management, go for this option.
Identifying conflict plugins
This process consumes plenty of time. Hence, it is better that you hire good WooCommerce support in order to get things sorted quickly.
How to do it?
You need to test the new plugin in order to get through it. The reason is that many plugin conflicts arise when you do a cursory and quick check. Hence, you must ensure to have a close look at the primary functionalities of your website.
Options such as payment and checkout options must be promptly checked. With this, you can avoid unnoticed errors that can affect the sales of your website.
Figuring conflicts of the plugin
You may have sorted some fundamental aspects for plugin conflicts, but you may still face some errors. When you have plenty of plugins, you may not be able to figure out the exact plugin that is causing you trouble.
Deactivate the plugins. You can then only by one reactivate them. Steps to figure out the conflicts:-
1. Default theme
Switch to the default theme for issues. Your theme is not the culprit if the error still persists.
2. Deactivate your plugins
Apart WooCommerce, deactivate all the other plugins temporarily. Visit the same pages where you noted the issues earlier.
As you did earlier, activate the plugin one by one and check for the issues.
3. Check the documentation of the plugin
Make sure to check all the documentation in order to figure out conflict-related details. Else, you can reach good WooCommerce and WordPress support.
If things are not in order still then pre-installed plugins may be the problem-maker. Since you cannot deactivate the pre-installed plugins, you may have to reach your hosting provider. It is better that you go for a reliable web hosting service.
WooCommerce installation may be the other reason that is creating chaos. If so, hire good professionals to fix the error.
How can you prevent the conflicts of the plugin?
Irrespective of how hard you may try, you may come across a few conflicts. Let's check some preventive measures that you must take care of for plugin conflicts.
No stress on the Production site
It is better that you avoid installing plugins here. Always install the plugins on the clone or staging site.
How to do it?
Check and test the plugin properly before opting for installation on your production website.
Only use the plugins when necessary and check the quality of the plugin. You can go for other options like code snippets if you are looking for similar functionality as some plugins. Check whether the plugin is updated consistently or not. Learn the developer's reputation and find out how they give support.
Regularly audit the plugin
Do periodic audits for your plugins. As a result, you can identify the performance of the plugin. You will get an idea about future plans and updates. Always do the testing steps before updating your plugins.