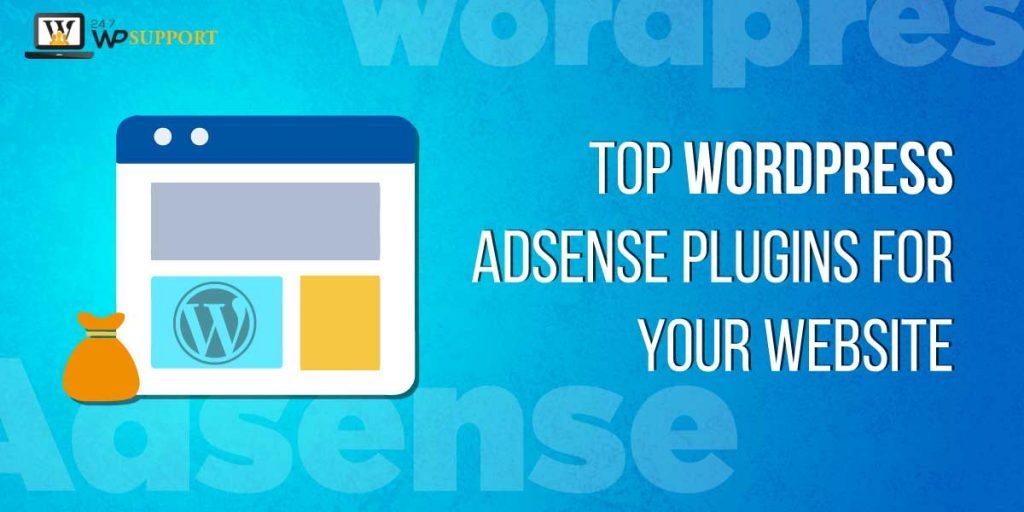 Top WordPress Adsense Plugins for your Website
Last updated on September 5th, 2023 at 05:53 am
Are you looking for the best Adsense Plugins and applications for WordPress ad management? To monetize their websites, many WordPress site owners rely on the advertisement. In this post, to maximize your ad revenue, we will share the best ad management plugins and solutions for WordPress.
The perfect choice for displaying ads on the website is Google Adsense Plugins. While that's the best way of earning money online, Adsense plugins would always be the safest option with the website or the blog to generate extra income. While being one of the most commonly used forms of monetization for bloggers and webmasters. It is a popular pay-per-click platform for advertising.
If you're looking for different Google Adsense plugins for WordPress website, read on.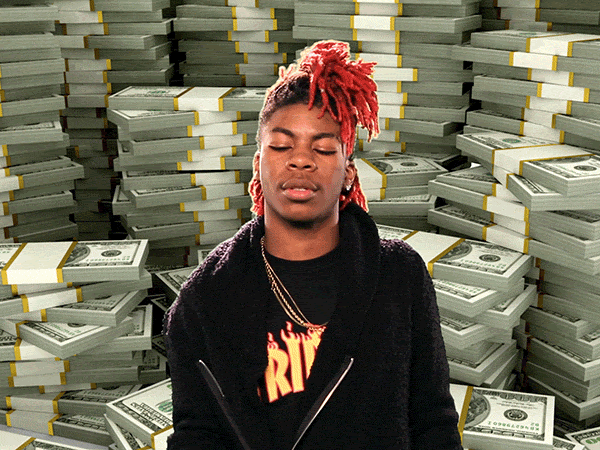 All Adsense plugins vary from the apps, hence choosing the best one to suit your requirements and needs.
What is Google AdSense?
Google AdSense for WordPress is a popular Google-run advertising network that allows you to add advertisements to your website to make money quickly. It's a cost-per-click (CPC) service that will pay you for every click that users make on the ads on your page.
The easiest way to monetize your page is by Google AdSense; you just need to add a tiny code snippet on your site, and Google will handle the rest.
Creation of Google AdSense Account and Connect it with the WordPress
First, you need to install Google AdSense, then by going to the Google AdSense website, you will need to sign up for a Google AdSense account.
To start the sign-up process, click the Sign Up Now button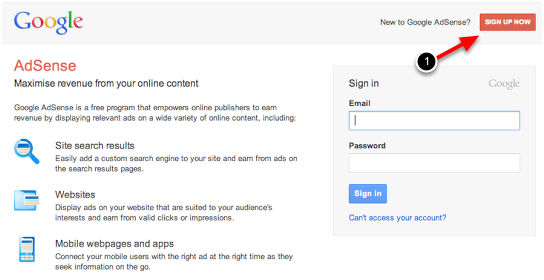 You will need to enter the URL and email address of your website on the next page.
Then choose to get helpful AdSense information to your email address by selecting your preferred option and clicking the Save and Continue button.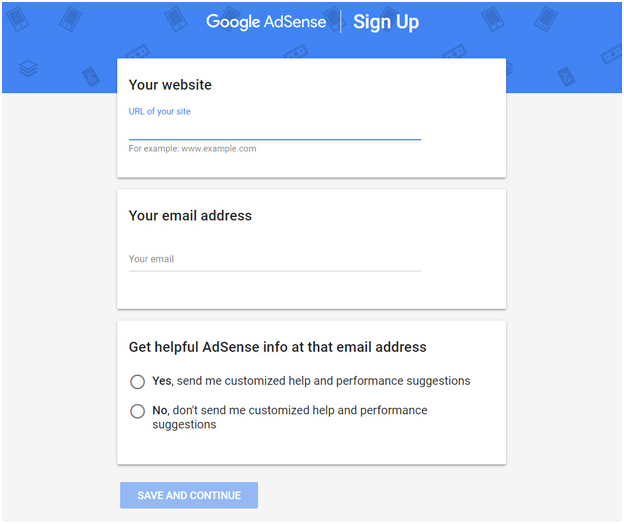 First, you need to pick your home country and test to continue with the Terms and Conditions tab.
Tap on the Create Account button at last.
If you can see the homepage of your Google AdSense for WordPress, that means you have created your AdSense account.
The next move after this is to trigger your account.
You can find two tasks to complete on your AdSense homepage to enable your AdSense account:
Enter your payment address
Next, connect the WordPress site to the AdSense
You will need to add a piece of HTML code to the header of your WordPress site to connect your site to AdSense.
This script can be found on your AdSense website.
All you need to do is copy that code.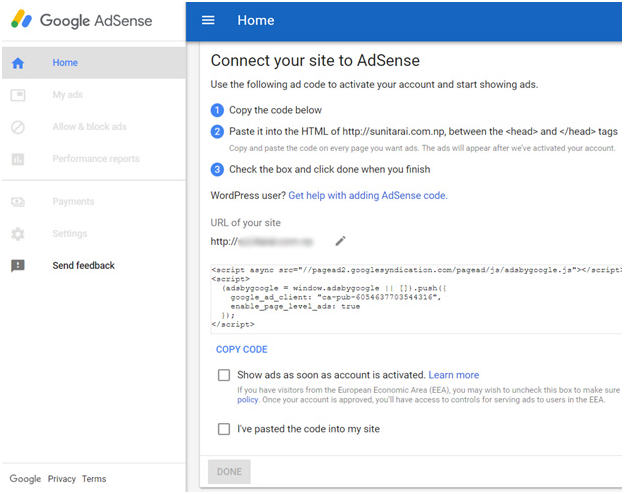 Next, you need to log into your WordPress dashboard to add the code and install the plugin 'Insert Headers and Footers'.
The plugin helps you to easily insert code into the header and footers of your theme, without having to change the folder of your theme.
Now, go to Settings» Insert Headers and Footers after installing the plugin and paste the HTML code into the header field.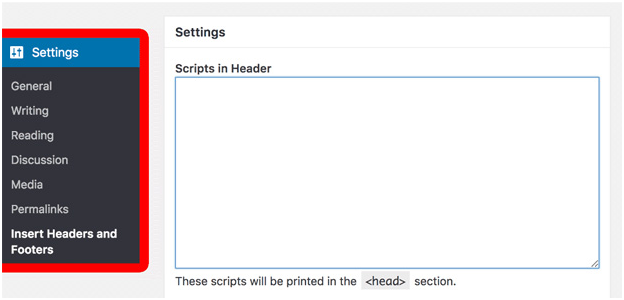 Now that you've applied the code to the header of the blog, go back to the homepage of your Google AdSense account and click on the link mentioned in the web file.
Next, click on the Finished tab.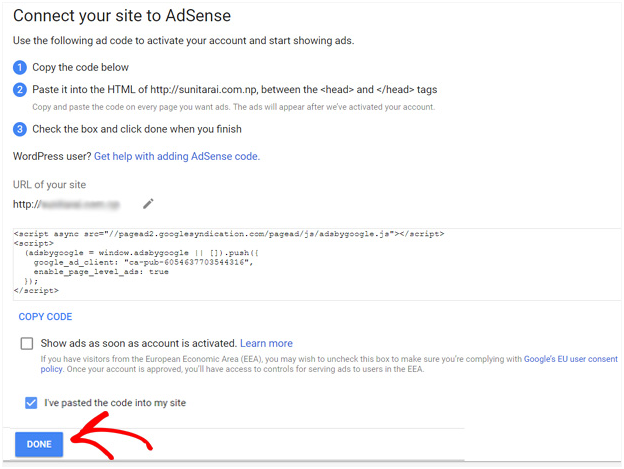 First, you'll see a quick Google AdSense notification that your page is being checked. That's perfectly normal, but that means you're going to have to wait. It usually takes a day to complete the activation process, but for some sites, it may take up to a few weeks.

Once you have activated your Google AdSense account, you will have access to all the previously gray AdSense options. You can now begin to create ad units. You will need to click on the My Ads tab and select content to get started. Then press the Ad Units key and the New Ad Unit button.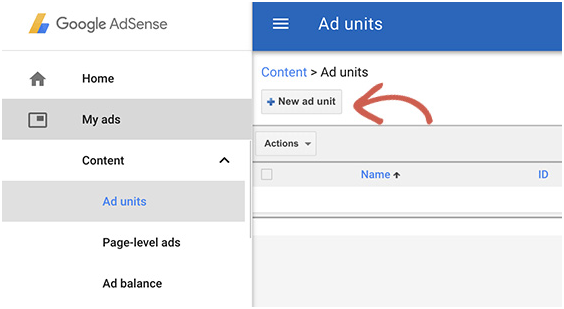 Next, you need to give your ad unit a name and pick your preferred ad size, form, design, and colours.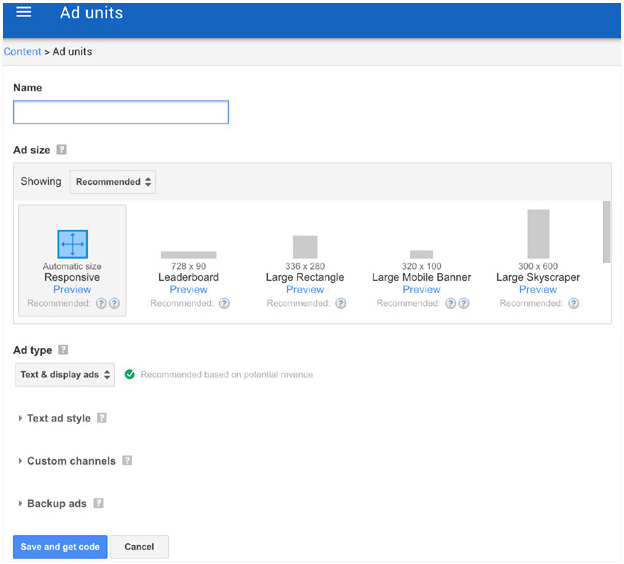 You can select your ad dimensions from the ad size. Choose the one that is listed under Recommended for the best results when selecting. You can then select a type of ad from the option Ad Type.
By definition, you will see text and display ads. You can just stick to that. The Ad style option allows you to customize the appearance of your text-based ad units. You may mainly change their style and colour.
Custom channels, the next choice, allows you to better track site-based ad efficiency. This particular feature is optional.
If no advertisements are available, the last choice allows you to set what you want to see when Google can't find any relevant ads. Once this set-up is complete, click on the Save button and get the software button. It will give you a code.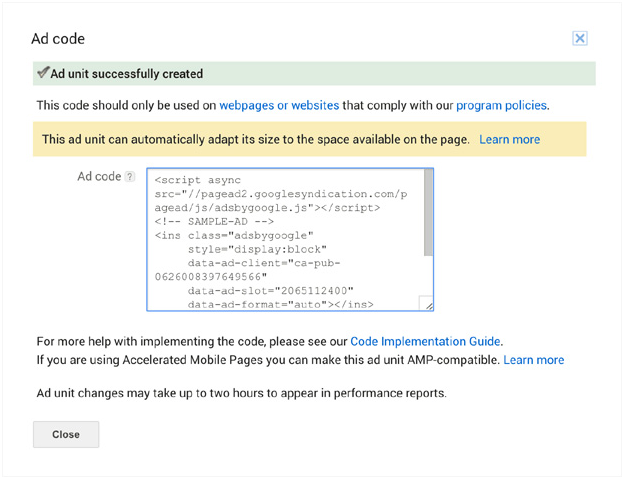 Copy the ad code and save it in a safe place because, in the next step, you'll need it.
Best AdSense Plugins for WordPress
Have a look at the top WordPress plugins for ad management and how they might help you in boosting your WordPress Ads earnings.
AdSense Plugin WordPress Quads is one of the WordPress platform's most common Google Adsense plugins. Although this plugin is fully responsive and comes with AMP support to ensure that all phones are loaded quickly with your page and ads.
Additionally, this plugin allows you to migrate from the former to the later version of all your data and settings. In addition, you will also be given the option of placing advertisements in a post individually or randomly. You can insert Adsense ads anywhere on your post with this plugin. One can also import your old quick Adsense and start with the same settings you love and use already.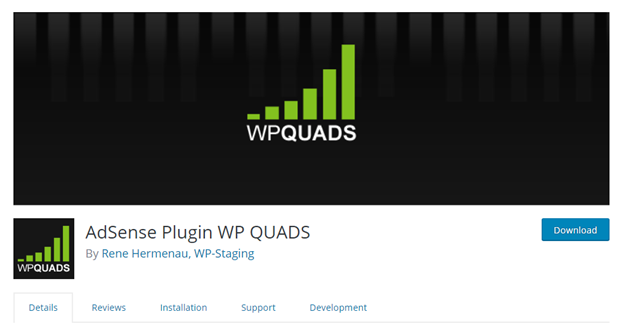 The Adsense in the Post Advertising app helps you in saving and embedding your pages or the posts. This plugin provides you with the simple shortcode options to insert in all the posts for ensuring that you can display advertisements. It will also increase the chances for readers to click on ads. Besides, this plugin also allows you to view the ads in the widget area of the page, like the right sidebars or the left sidebars, or a header or a footer of the page.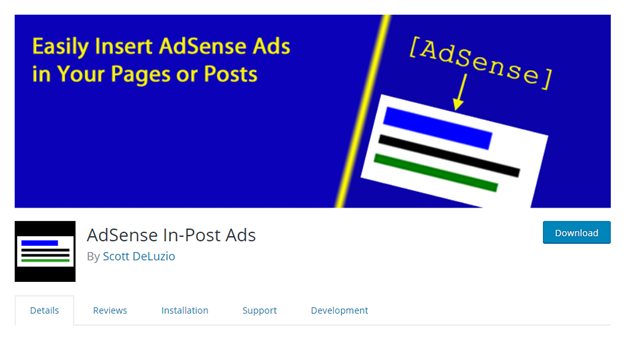 The plugin for WP-Insert is another advertisement plugin for WordPress that helps you to control your advertisements and is designed for Google AdSense. It's built at SmartLogix Technologies by the team over. It currently has more than 30,000 active installations with a score of 4.5 out of 5 stars.

Marketed as the "best app for WordPress," WP-Insert has a lot to do. As a result, it has a lot to do with it. Just as the tagline of the plugin says, WP-Insert does much more than even hither and thither inserting your ads. It can also manage tracking codes for Google Analytics (or any other third party), display the legal notices, and also highlight the code in the theme editor.
Ad Inserter is another Google Adsense WordPress plugin. It comes with lots of options for configuration and 16 separate blocks of code. While this is free to use, a plugin that has many advanced features and allows all kinds of ads as well.
On the other hand, to allow the plugin to select the ad locations, you can also use the automatic display option. Ad Inserter also focuses on adding the content in paragraphs in order to increase and maximize the engagement rates. Conversely, you can also view ads with the PHP function's custom shortcodes.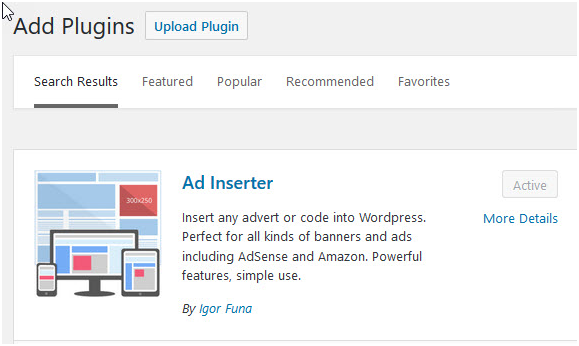 Advanced Ads is a simple publisher-made ad manager. Based on the developer's experience of delivering millions of ads a month, the developer developed this ad plugin as a strong but lightweight solution not only for managing and installing banners in WordPress but also for testing and optimizing them.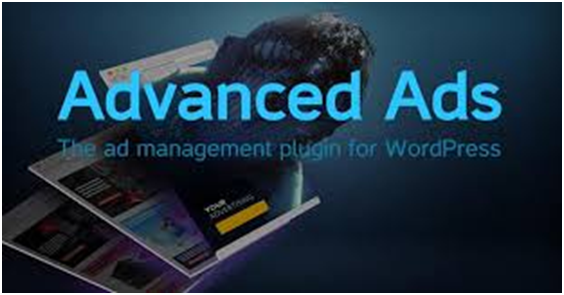 This plugin has been around for a long time, and in the support forums, the developer is quite involved. Like the other plugins mentioned above, this also has a free version and premium add-ons. In the plugin, all formats such as ad rotation, ad injection, and ad widgets are supported.
WordPress Ad Widget offers one of your website's most natural ways to view AdSense or other advertising. Installing and enabling the plugin in your WordPress website can build many custom widgets. To use the widgets, go to your website dashboard's Appearance > Widgets and find the widgets called' Ad Widget.'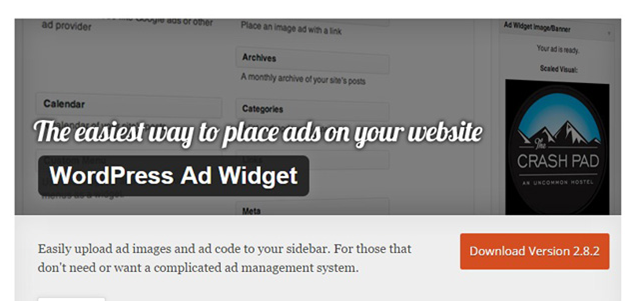 You can display advertisements for both text and images using the plugin. The simple, start-up-friendly plugin allows an unlimited number of ads to be displayed. Nonetheless, make sure you comply with the ad providers ' policies.
Easy AdSense plugin allows you to add simple steps in your WordPress website by incorporating Google AdSense ads. The plugin will display advertisements on the front page and other pages of your website in addition to regular blog posts. You can also pick the ads for a custom hover effect.
Although multiple advertisements can be displayed depending on the length of the message, the plugin adheres strictly to Google's rule of not showing more than three ads on the same site. The custom widgets can also be used to display advertisements in the sidebar. The plugin is simple and usable in multiple languages.

The fantastic app for adding AdSense advertisements to your blog is Google AdSense by BestWebSoft. You must provide your AdSense publisher ID to approve the plugin once you have downloaded and disabled the plugin. After that, by selecting the appropriate customization options, you can display ads.
The plugin allows you to view various ad forms, including text, picture, text and image ads, blocks of links, etc. You may pick the format for each ad type. Horizontal, vertical, and square dimensions are available for formatting. There are also several places to view the ads. Eventually, you can choose a color palette by default or custom colors for the ads.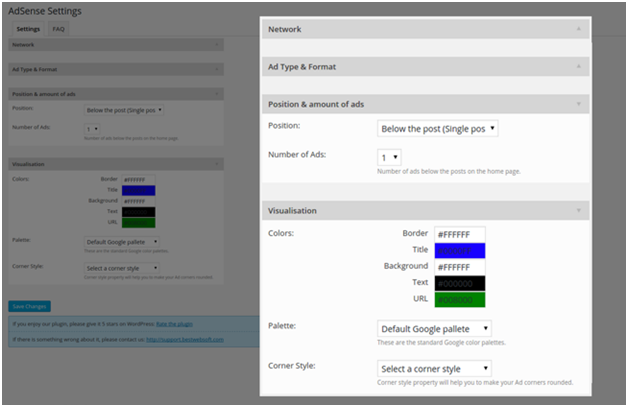 Need a plugin to help you inject ads into your posts automatically? See Add Post Ads for more information. It helps you to display advertisements in the content of your post automatically. You may create different ads of any size and then choose to show the ad after that section. After a different number of articles, you can also view multiple ads in the same post.
It's straightforward to use. Simply create an ad with the ad code and then add the number of the article. For your host ads, you can incorporate third-party ad software as well as custom HTML.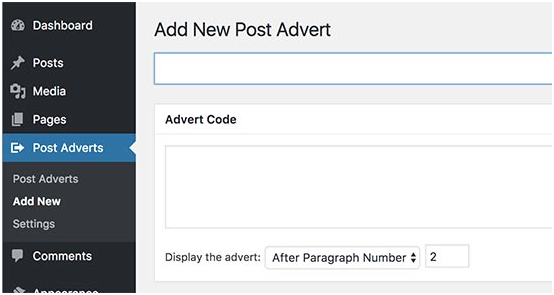 Quick Adsense is a common plugin for free administration of WordPress ads. Despite its name, the plugin can be used to view advertising of any kind, including host ads, third-party ad networks, and Google Adsense.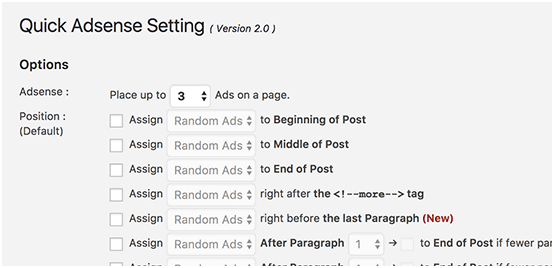 It comes with a secure set-up page where you can manage and select how and where to display your ad codes. The plugin will display ads before or after posts, post content within, after the extract, and more automatically. It has custom ad widgets for displaying ads in sidebars and other ready areas of the app.
AdRotate is an effective plugin for the beginners along with the experienced users to handle WordPress ads. It supports the network ads as well as the ads for rotating banner.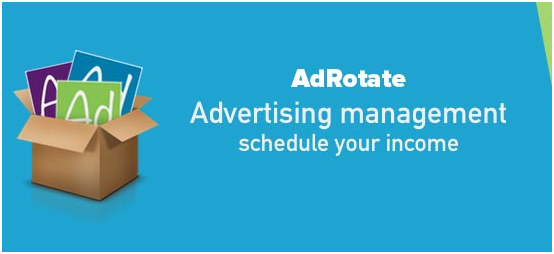 It allows people to create the ads and the ad groups easily and use shortcodes to insert the same in the WordPress posts. One can also use custom widgets to inject advertisements into sidebars. It provides basic statistics for tracking the ad impressions, that is especially useful if you sell ads directly on the website.
It's a free plugin that fits well for the majority of small websites as well as the blogs. If you are looking to use the advanced features such as planning, Adblock mask, online ads, media management, geo-targeting, and much more, you'll need their pro model.
Adning is a tool for managing premium ads. It offers various features like other plugins on this list. Nonetheless, Adning is user-friendly and does not complicate the stuff. If you want to show several ad forms across dozens of different networks, this plugin would make it easier to accomplish your task.
Google AdSense easily puts the AdSense ads on your page. If you are the kind of website owner who does not want to waste time setting up or handling your ads, this plugin is for you. You are required to download and trigger the plugins.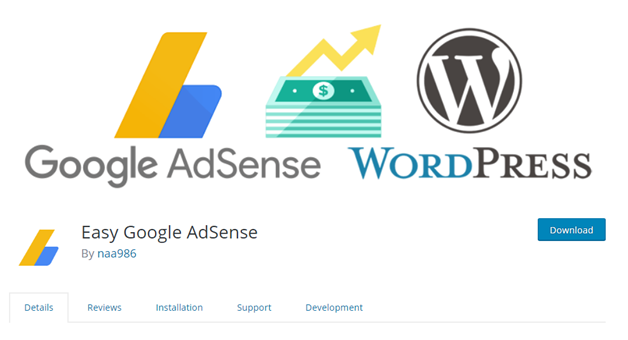 WP Simple Adsense Insertion is another excellent plugin for placing ads manually in your content on WordPress. The plugin uses WordPress ' shortcode feature to help you put ads exactly where you want. You can also call PHP functions from the model directory of your theme to configure the ads manually.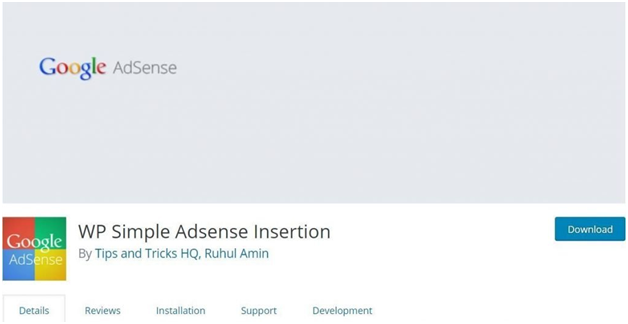 Nonetheless, the plugin's main selling point is that it can save up to 1 to 3 codes from Google Adsense. This will enable you to place a variety of ads across your website through shortcodes. You will also be given the option of inserting in-article ad codes automatically, either in the middle or at the end of a message.
With a dedicated WordPress plugin, you can now add Google AdSense to your AMP site. As more people make use of mobile devices to browse the web, you need to have a fully optimized mobile user website. Not only will you receive poor results, but even search giants like Google won't compensate it. With a quick implementation of AMP, you can speed things up dramatically and give all your guests an excellent experience.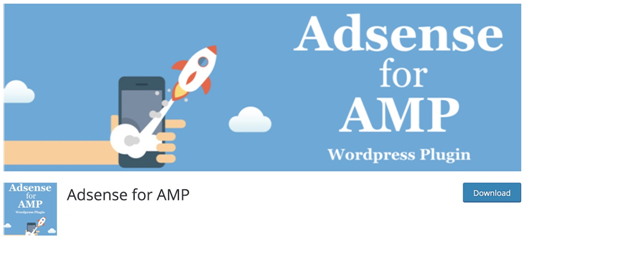 You can use Adsense's power for AMP to take things to the next level and monetize your web sites. Now you can place ads above and below the content of the post and never again worry about reactivity. Alternatively, if you want to take advantage of even more functionality, Adsense for AMP also provides a lot of extra features to add pro.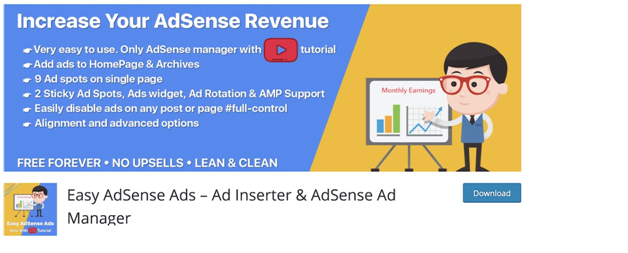 Simple AdSense Ads also supports AMP, which allows mobile, tablet, and web ads to be added to different ads. You can disable ads on specific pages and posts as well as rotate banners.
Ads for WP is a versatile, practical WordPress plugin that provides you with multiple options to monetize your website. You can also conveniently display other ads on your site along with support for Google AdSense. There are the features; you need to take them to your full advantage and get the most out of your website. All the hard work would be paid off, and using Google AdSense is one of the fastest and most comfortable solutions.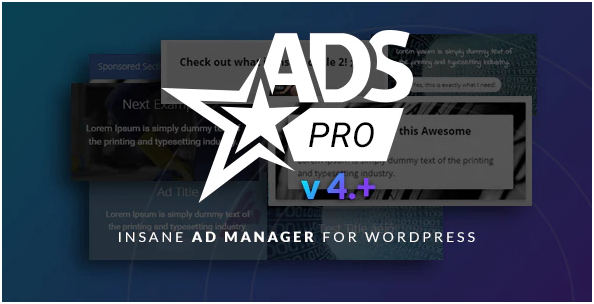 Ads for WP app removes ad blockers, offers feedback and articles, and works perfectly with AMP. Other tool features include a widget, shortcode, no limit on how many ads you want to display, and secure display at various locations on your pages and posts. You can combine AdSense advertising with other channels as well and see what's doing better.
While most of the WordPress AdSense plugin found in this collection is focused solely on monetization, the necessary statistics are provided by Google Adsense Dashboard. This provides a detailed description of your Google AdSense advertising success that you are about to share on your website or blog. That said, any time you see how much you got, what is your CPM and CTR, you don't need to join the site.
Google Adsense Dashboard's core features are total statistics, date range choice, and quality of custom channels. As a result of the caching system, it also improves load speed and allows you to translate it. You don't have to leave your website again to get a better understanding of how your Google AdSense ads are doing.
You may avoid adding ads entirely to your site when you just begin. Nonetheless, start brainstorming website monetization when you begin making traction and see the traffic rising slowly. Go with Google Adsense Advertising Manager to make your life a lot easier. This WordPress AdSense plugin allows you to put AdSense without a hitch on your page. Due to the introduction of AdSense, you can already begin to see some results in hardly any time.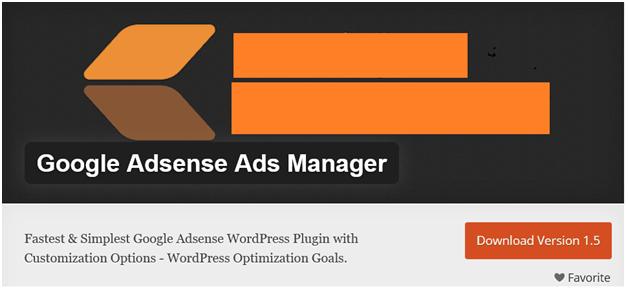 Using the plugin Google Adsense Ads Manager is not tricky. It can be achieved by anyone. It's simple and easy to understand the settings. It allows you to set preferred alignment and conditions. Google Adsense Ads Manager supports positions in the left, right and center and can place the ads on home your page.
The journey to blogging is incredible. Through learning how to create content, to reaching a point where you feel comfortable earning extra money from what you've already written, and hoping to publish in the future. When ads money begins to roll in, it's a beautiful feeling, and you feel a sense of accomplishment. The appreciation washes over you for the effort you put into your blog to be financially compensated. The WordPress Ad-Manager plugin truly believes this concept. And so, helping bloggers set up a solid advertising foundation on their blogs supports them. These blogs have custom ads management options, as well as a general multi-purpose AIO ads plugin.

Google's DoubleClick is the web-based system for advertisers to sell and distribute. It is Google powered, in cost effectiveness and reliability, DoubleClick has the edge over other platforms.
It allows selling ads on Adsense or other third-party advertising networks and run a competition for ad spots. DoubleClick automatically selects and serves the spot's high paying ad.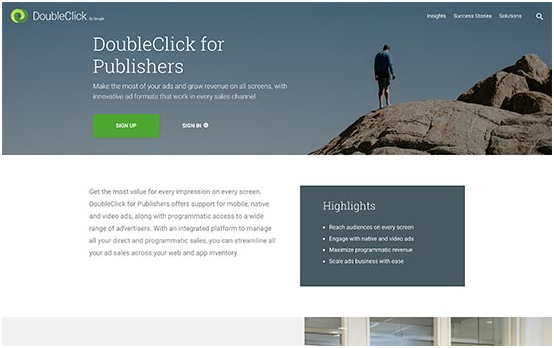 DoubleClick includes excellent reporting tools enable you in measuring the ad performance than any other solutions more accurately. Given its usefulness, getting started with it is little complicated.
OIO Publisher is an ad management tool for WordPress powered websites that is available as a plugin. It's especially great to develop websites that want to sell ad spots directly to advertisers. By selling ads directly through your website, OIO Publisher would remove the middleman.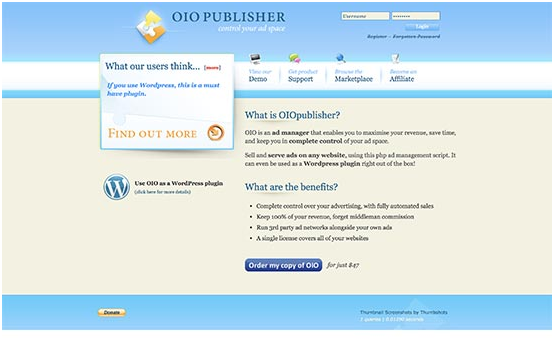 It is responsible for monitoring, transactions, and tracking. On your website, you can create ad zones of various sizes and types. You are free to choose the total number of ads for displaying it in each zone, select the price, the factor of rotation, targeting, and more.
OIO Publisher is quite simple to use as a plugin. It comes with a custom plugin to view ads in your website's widget-ready areas. Nevertheless, you may need to edit WordPress theme files to position the ad zone code for individual placements.
Google keeps a close eye on the clicks on its AdSense ads. You may be temporarily or permanently removed from the ad system if it finds out that the ads were clicked by crawlers, bots, or any other automated operation. Therefore, monitoring ad clicks on your website is very important.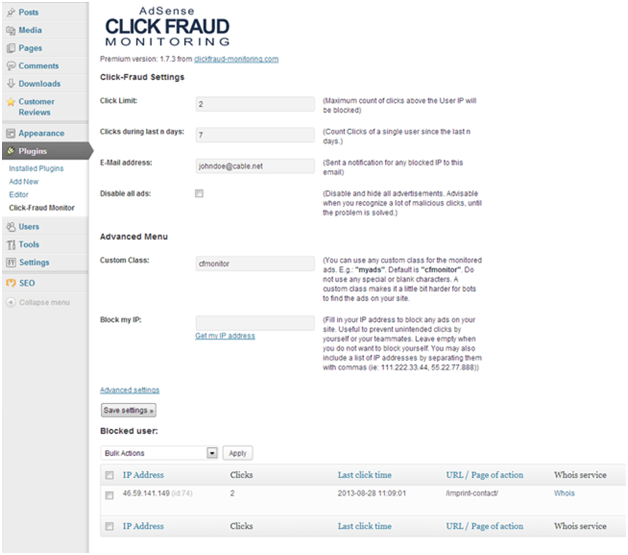 For this reason, the Click-Fraud Monitoring Plugin of Google Adsense is the most excellent tool. The app protects all the ads from clicks that are suspicious and unwanted. It would automatically block the visitors within a short time those have clicked various ads many times. The plugin powered by AJAX enables you in unblocking the IP address manually. We also have this plugin's paid edition, which I haven't tried. Share your opinions on their pro edition if you have it.
Ad Injection is the excellent WordPress plugin for ClickBank, Amazon Associates, Google AdSense or any other ad suppliers to view the advertisements. Depending on the post length, you can select the total number of the ads. You can also specify the visitors and their list would check the ads. You can also display ads in the random locations and the sidebars along with the before and after posting positions.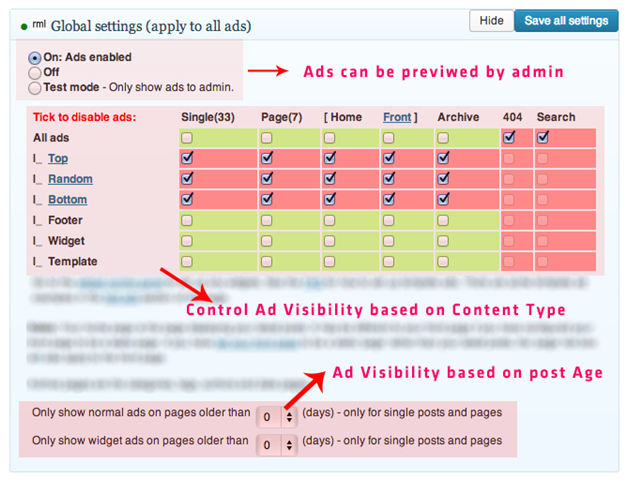 Since the plugin supports A / B split testing, it's easy to find out which ad variations work best for you. And if you don't want your regular visitors to be irritated, you can only choose to display ads on the old posts or the posts of any specific authors, categories, tags etc.
Google Adsense plugin is a great way to earn money by placing ads, comments, custom articles, search results, categories, labels, and widgets on WordPress website sites. While the plugin has lots of useful features and should be more than enough for your needs. The plugin allows you to view various types of ads, including text, picture and video ads, blocks of links, etc. You'll also find a number of places to show the ads. You can also choose a default color palette to select the advertisements ' custom colors. There is also the option to use the plugins settings page to add your custom keys.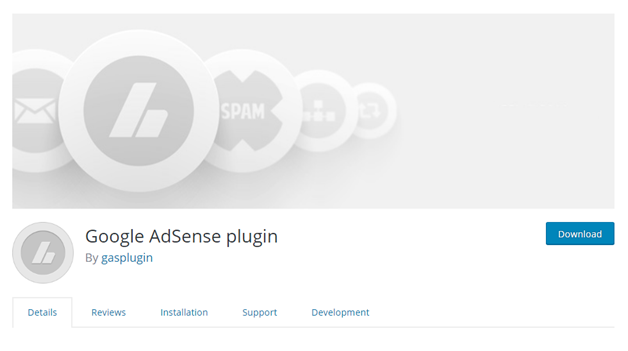 Final Curtain
Keep in mind that all of these plugins will allow you to search for AdSense, and you need to use it. The AdSense search box helps all your readers find the content on the blog, and one can also earn satisfactory income from the extra unit. Here you can take a look at the total AdSense plugins units allowed.
As you can see, there are plenty of great solutions in WordPress to promote marketing management. And indeed, many of the above plugins are entirely free. And with additional premium features such as support for Google AMP and geo-targeting, you can extend them. You should, therefore, have no excuses to start testing better ad placements, testing A / B and optimizing mobile advertisements. Have you got a favorite plugin for WordPress ads that we missed? If yes, please let us know. Be in touch for further developments in WordPress.