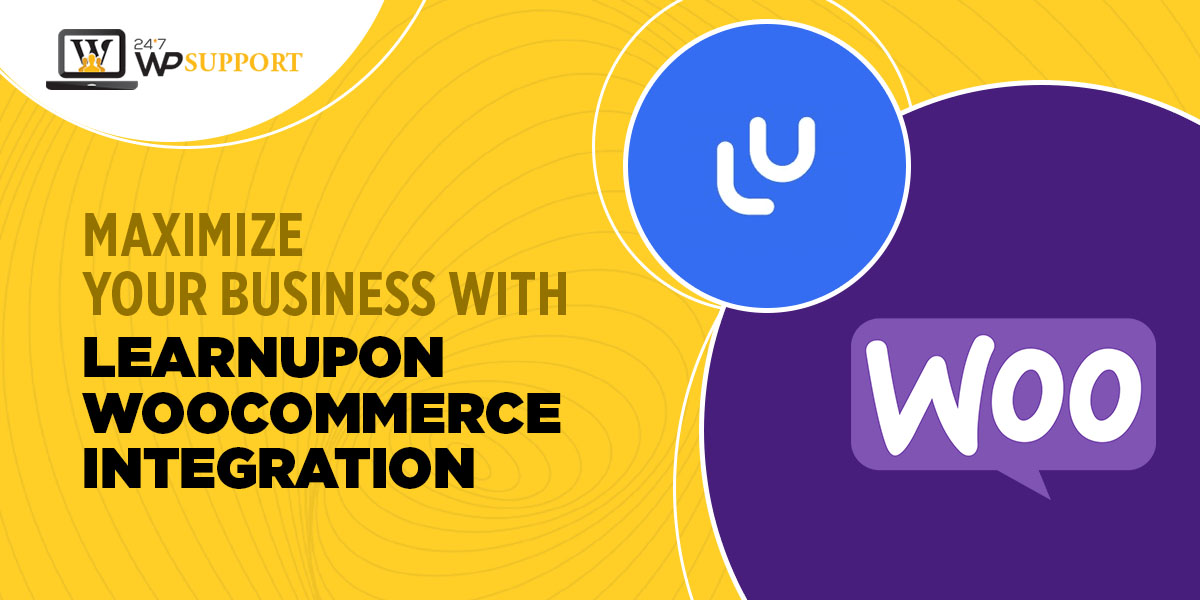 Maximize your business with LearnUpon WooCommerce integration
LearnUpon is a prominent LMS that can assist you to create revenue. With this eCommerce Learning Management System, you can attract potential clients, maximize efficiency, and grow revenue. It has got amazing solutions for training delivery and a complete eCommerce solution.
About LearnUpon
Overview About the product
LearnUpon is a powerful yet strong solution to track, deliver, and manage your training.
LearnUpon is one of the finest LMS that can assist you to give an extravagant experience to your users and staff.
LearnUpon is a user-focused LMS. It assists to give impactful training to businesses.
Security and protection are a major priority of this LMS.
Where can you use LearnUpon Courses?
You can easily entitle new hiring successfully. One can even assist their new joiners to make the mark faster.
One can motivate the employees to achieve, do, or know their target.
You can strengthen your relationship and fuel the growth of your customer using value-focused training.
With LearnUpon, you can develop a community of professionals that adopt, value, or have ideas about your products.
With this tool, one can propel partner success and develop a revenue-driven relationship via training.
You can build a top-class Sales team that has the skill-set to achieve long-term deals.
Easily record the compliance and centralize training to maintain and achieve the record efficiently.
With it, you can drive great revenue by the best training delivery and end-to-end eCommerce solutions.
How can businesses benefit from LearnUpon configuration?
You can enable this so that your clients can buy the courses on behalf of in place of other learners. They can purchase a product or can place orders for bulk quantities.
This eCommerce LMS supports numerous currencies. This includes EUR, CAD, AUD, USD, etc.
Hence, your users can make their payments as per their wishes.
You can sell bundles of courses as one product. This has proved to incentivize many e-learning businesses.
WooCommerce
WooCommerce is one of the curated tools that can assist you to grow and launch your business. It has handpicked selected robust WooCommerce plugins and extensions. These features can assist to overcome the most complex challenges that you may face in growing your store.
From promoting or launching new types of products, the essentials of WooCommerce can provide building blocks.
Benefits of LearnUpon WooCommerce integration
With LearnUpon WooCommerce integration, you can reach a larger and wider audience. You can easily replace the in-person training through the LearnUpon platform. With WooCommerce, you can reach the maximum crowd.
Develop new streams for revenue
You can market, productize, and sell the course formats. One can even expand their earning potential for businesses.
Drive sales for your business
One can fuel the training and sell the training via an in-built and easy-to-use eCommerce storefront.
You will get maximum visibility for your online courses. LearnUpon has great-in-built SEO features for LearnUpon WooCommerce integration.
Using the integration of Google Analytics and SEO of LearnUpon, you can reach the maximum crowd in a short time. For this, you must ensure to add the keywords, snippets, and Google Analytics account.
You can choose the country of residence simply for the store. Ensure to add the applicable tax rates for smooth business workflows.
One can generate discount coupons. This you can redeem for all the courses via LearnUpon WooCommerce integration.
.
But if you are planning to offer discounts on one course, you can control that in the options of course sales. Make sure to make changes to the eCommerce store.
You can even offer discount coupon options for a specific course. To do this, go to the sales option of courses.
You can disable or edit the coupon at any time.
Steps for LearnUpon WooCommerce integration
Step 1: Install and set up the LearnUpon plugin.
Step 2: Integrate the LearnUpon Learning Management System plugin with WooCommerce.
Step 3: Sell the LearnUpon courses via WooCommerce.
24×7 WP Support is your personal WP support service team. Our proficient developers can help you with the integration or improvise your security.
We have an adept technical support team who are well-versed to tackle the issues. Our team believes in doing everything transparently. The team at 24X7 WP Support ensures to send detailed work reports to our clients.
So, if you're struggling with WordPress issues or cannot contemplate LearnUpon WooCommerce integration. Hire us we can eliminate the headache and protect your mission to success.