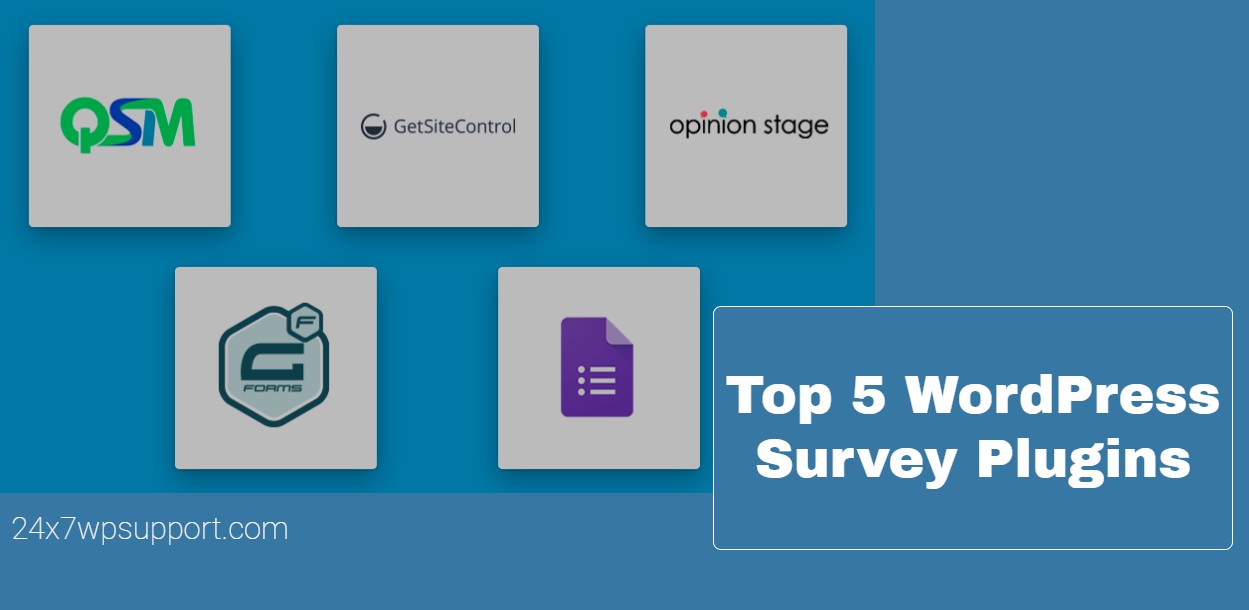 Top 5 WordPress Survey Plugins In 2022
Last updated on July 18th, 2022 at 05:35 am
Survey plugins essentially allow you to collect user feedback directly from your WordPress site. With the information you get, you can easily figure out how to improve the overall wellbeing of your business and get to ramp up the number of customers you're able to drive through your site.
There numerous ways you can collect contextual data from the people who check out your site. For instant, you could create a contact form, ask users to drop a comment below a blog post, create polls, and so much more.
But chief among them is including a survey form right into a webpage. This method is a little involving, so you need to figure out possible ways to make it more engaging, fun, and get even more users to participate in them.
This is NOT an easy task for someone who's never conducted a survey before. But luckily for WordPress users, there exists a long list of plugins that are specifically designed to make the survey creation process a cinch, besides making the surveys look amazing and simple enough to both run and use.
With some of this plugin, you can even store the information collected through the surveys, export them when necessary, and compile them in a spreadsheet or CRM software for an easy reporting and analysis.
In this post, we'll be comparing 5 of the best survey plugins on the market today for you to read through and make a pick: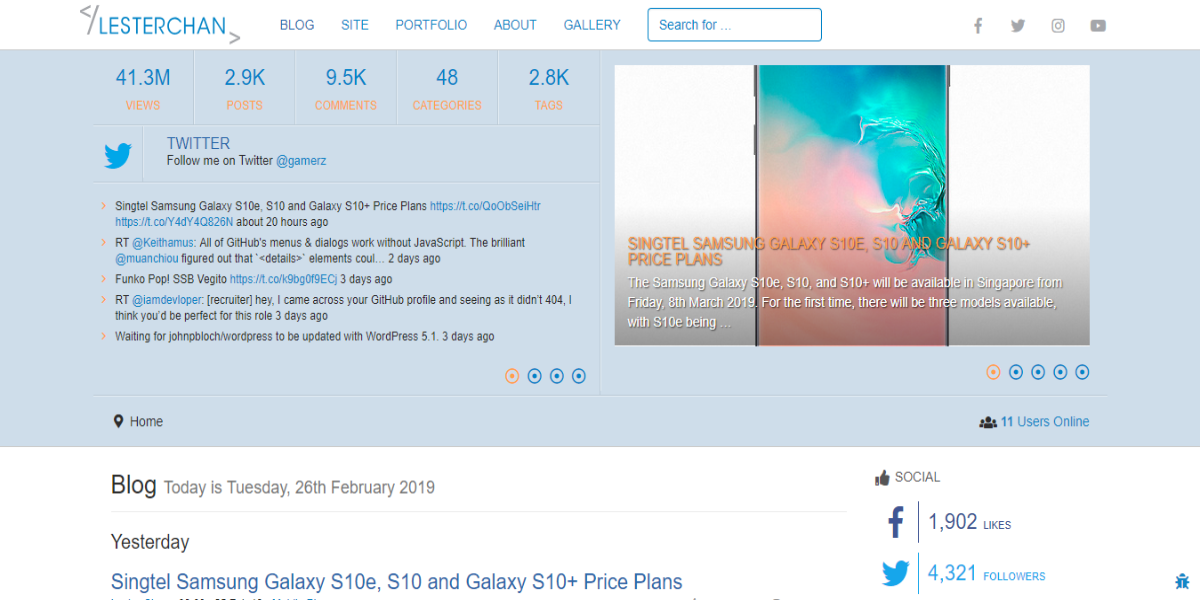 Looking for simple poll plugin to integrate to your WordPress site? Well, look no further than WP-Polls.
To start with, this is the only plugin on the list that doesn't feature a form builder. But it does arrive with radio buttons and checkboxes that you could use to collect user responses.
And after users are done casting their votes, the plugin automatically displays the results. Adding to that, the responses will be displayed in logs, which allows you track down how the users voted. For duplicate vote, you can use the IP addresses shown at the backend to cancel duplicate votes.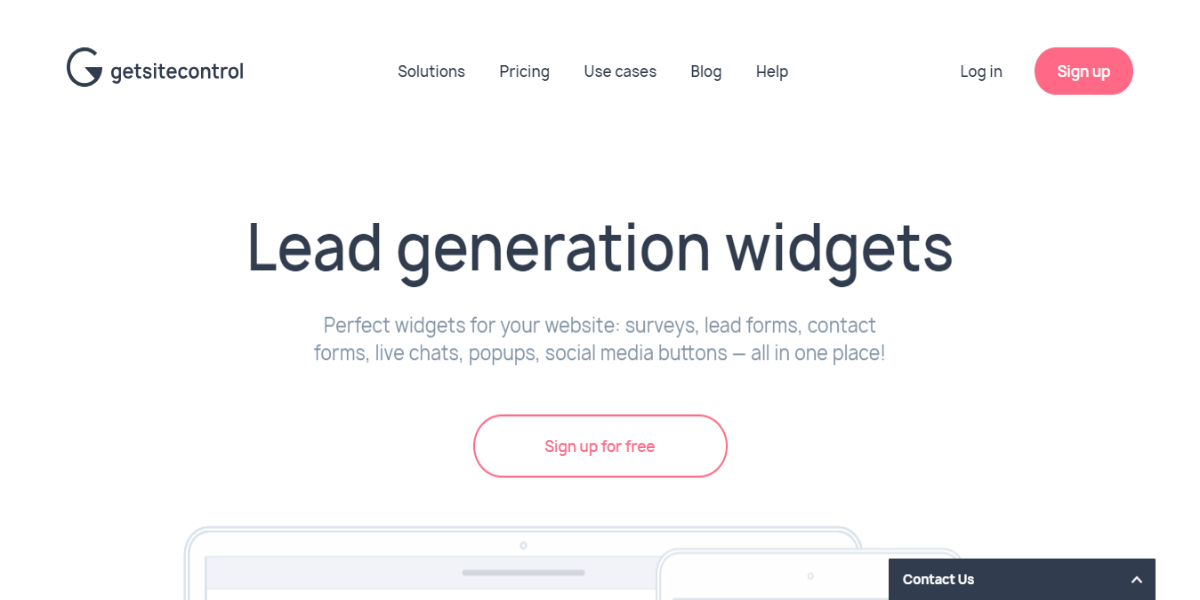 GetSiteControl is a standalone WordPress survey plugin that's designed to make poll integration a snap even for those who've never tried working around one before.
With this plugin, you have the option to integrate 9 different poll widgets directly into your site with little strain on your part.
This is the plugin you install on your WordPress site if your plan is to create short, good-looking polls that users will have a hard time resisting to take part in.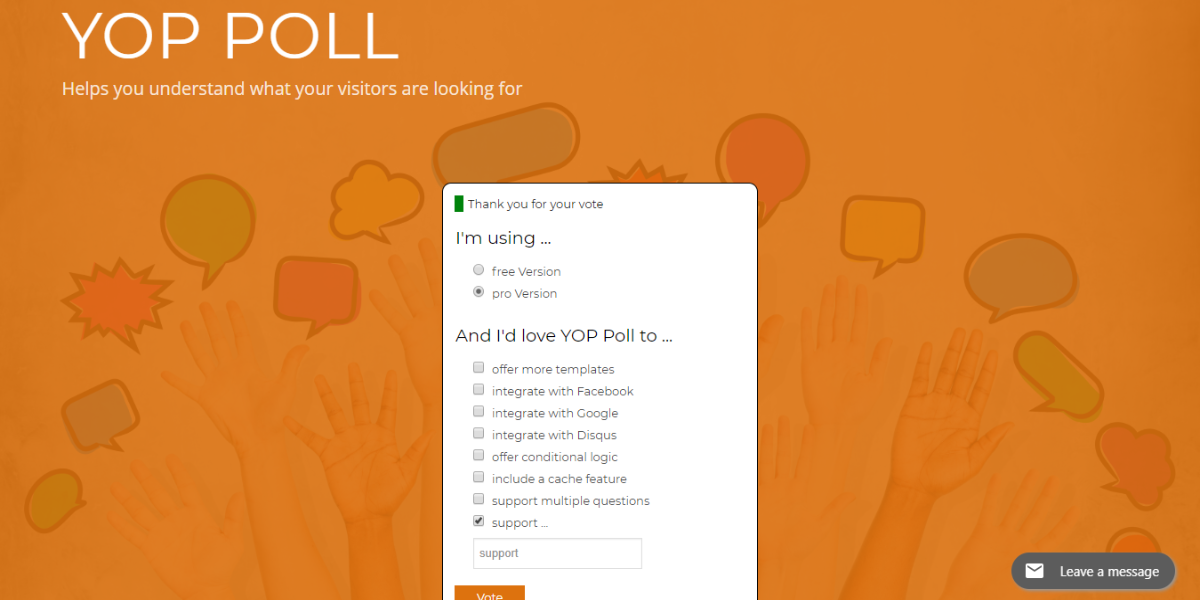 Designed by your YourOwnProgrammer, YOP Poll is another simple WordPress plugin designed to make it easy for you to both set up and publish a poll. You can also attach a poll date and view voting results at the backend as they roll in.
The only limitation is that the plugin doesn't leave you with much to customize. But it does stack lots of surveys templates for you to choose from.
This is the plugin you choose if you're planning to set up a kind of survey where your users will be selecting from a string of predefined answers. That's because it doesn't allow open answers, save for the "other" option.
To display the form on a webpage, all you'll be required to do is copy paste the short code provided and that's pretty it.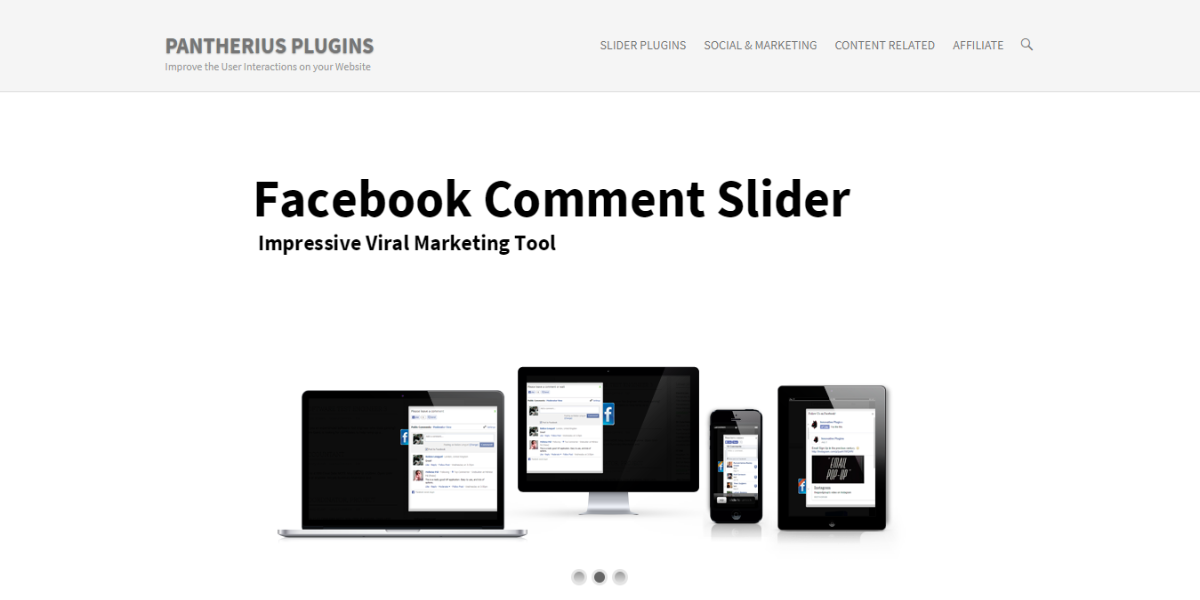 WordPress Survey and Poll is one of the most popular WordPress surveys plugins you're likely to come across online.
It's a simple, easy-to-use, drag-and-drop form builder that you could use to create stunning surveys, contact forms, and even advanced forms such as donation forms, order forms, and payment forms among others.
Not only is the plugin easy to use, but powerful enough to create super-engaging WordPress surveys in the shortest time possible. Speaking of which it only takes a few clicks to add more fields to the form you're creating.
Goes without mentioning the smart survey fields that allow you to create attractive and complex surveys without straining much. In the text fields provided, you have the option to use dropdown fields, checkboxes, radio button, the Likert scale, ratings, and so much more to pepper up your surveys and get even more users to participate in.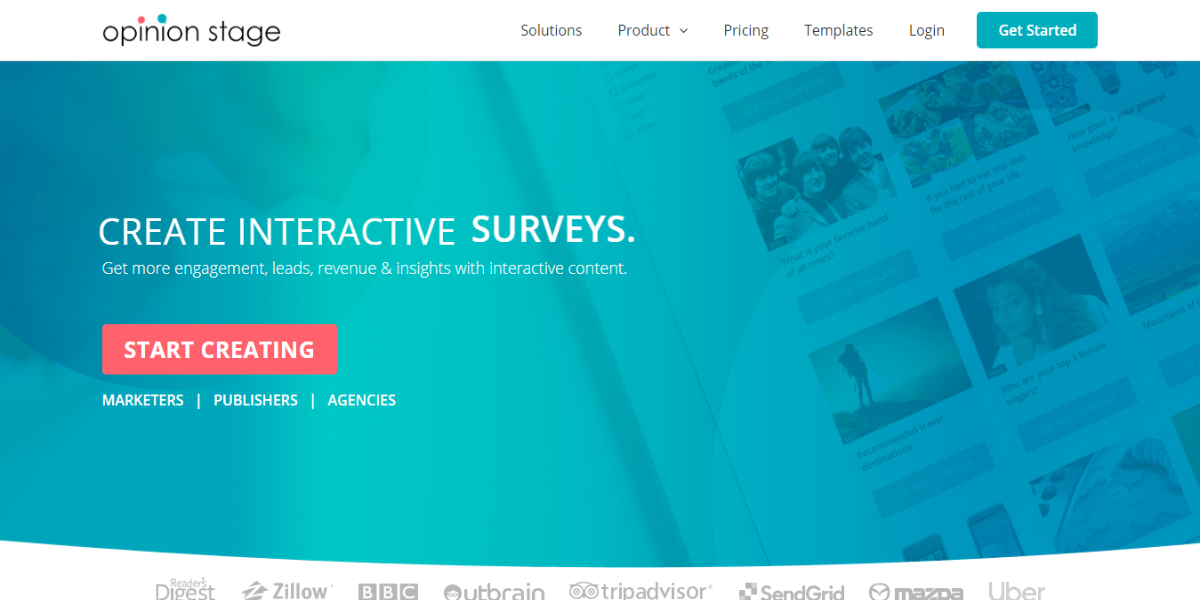 Polls is another easy-to-use poll and quiz plugin designed for creating all sorts of surveys, outcome polls, polls and so much more.
To use the plugin, first you have to sign up with OpinionStage where you can create customized quizzes, outcome polls, and surveys in no time and embed them directly to your WordPress site using the code provided.
It's a Wrap
It's our hope that this post has help you find the most fitting WordPress plugin to create polls and surveys for your WordPress blog or website. For more info or help regarding surveys, you're kindly invited to reach out to us today with your query and we'll be glad to help.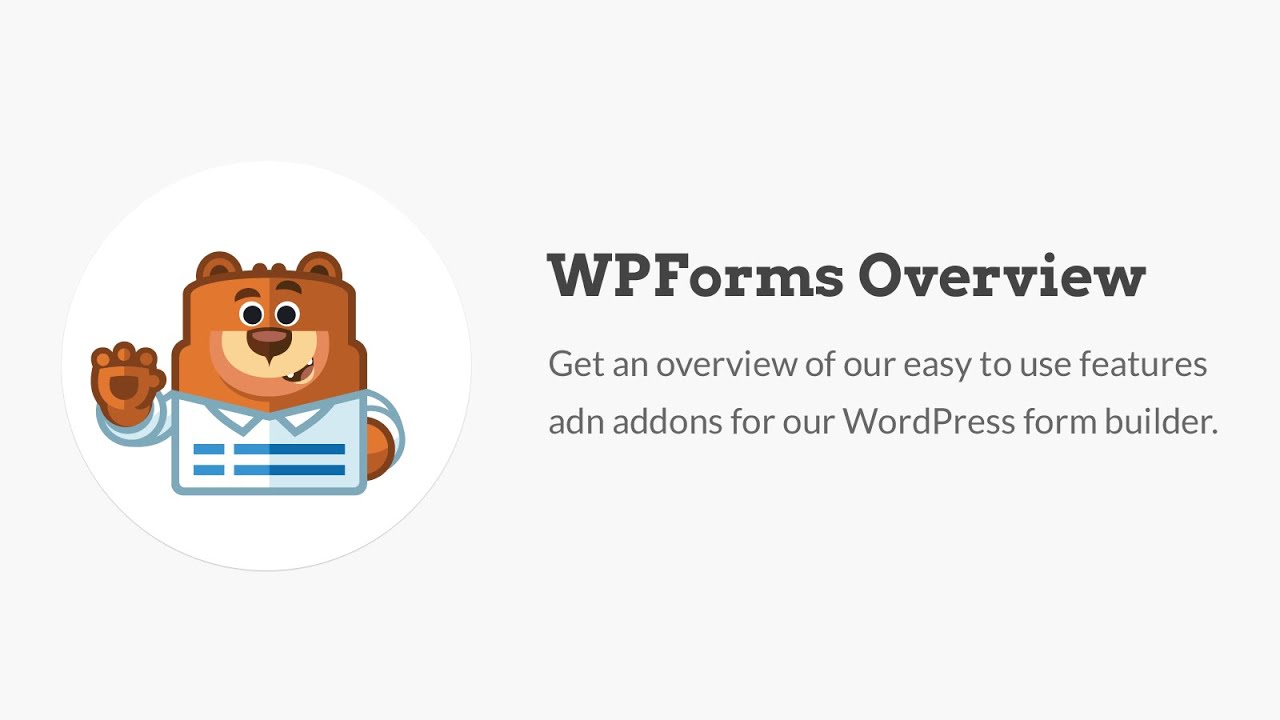 WP form is a WordPress plugin that has been used for various responsibilities that are present in the market. WP forms plugin has been used by many active users. It is a powerful plugin that contains several features embedded in it. WP form contains its own drag and drop form builder. It has its own form templates. It is completely responsive to any screen size.
Users will get instant notifications and a smart conditional logic system has been embedded in it. this WordPress plugin also provides a spam protection shield for a WordPress website so that spammers did not attack your website during form submission.
Users can also combine all server details using WP form features such as conditional logic multiple forms custom notification email integration and many more thing. WP form WordPress plugin can be easily used by the beginner also.
Beginner users just place a button for which users want to survey. WP forms are available in both versions as basic as well as pro version. In the basic version, the user will not get the complete feature facility of that versus login. For using the pro version users need to buy the Pro plan of WP form WordPress plugin by spending a certain amount of money after that organization with providing use active legal license for WP forms WordPress plugin.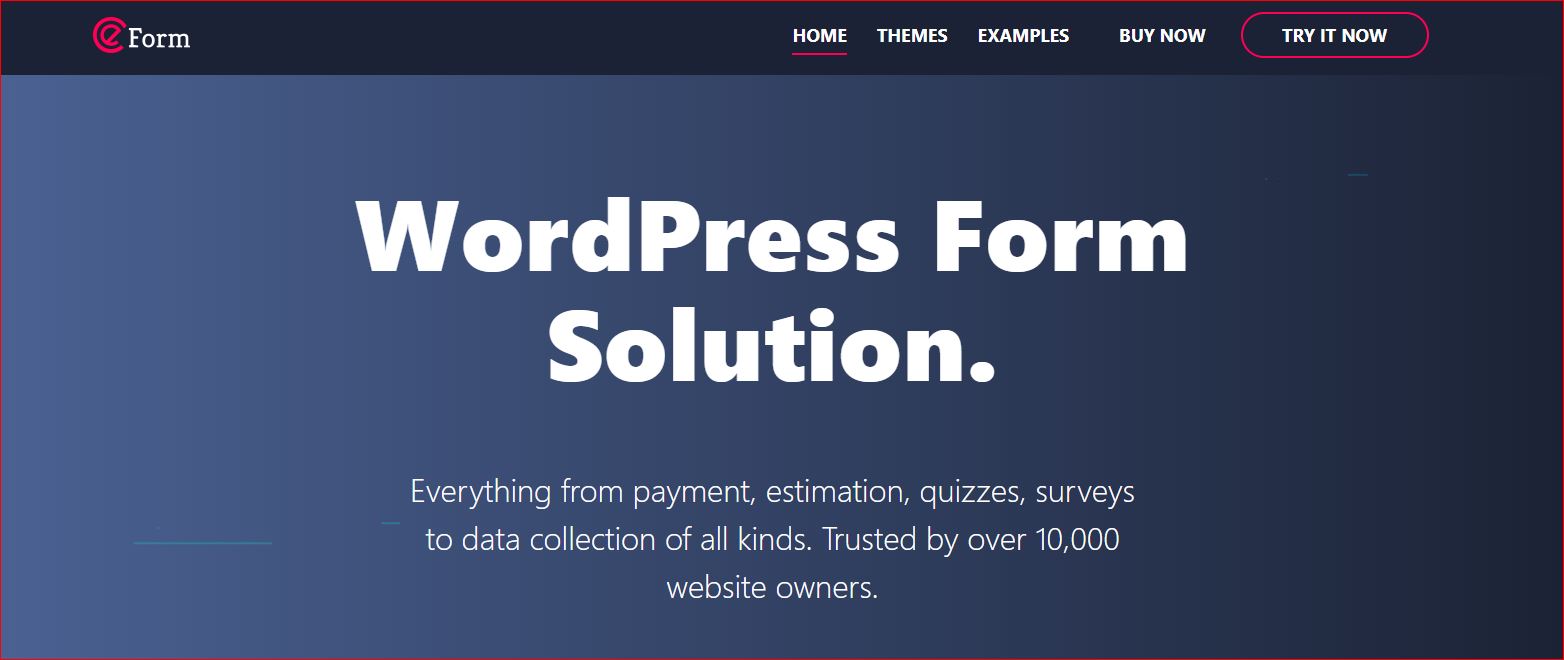 eForm builder is a WordPress plugin that has been created or designed by a code canyon organization. this WordPress plugin has been created on 11 October 2012 and the organization will provide an update in a very short time period so that the user will get in touch with all the latest technology. The last update has been released by the organization on 20 August 2020.
This WordPress plugin is also an optimized Gutenberg editor and it contains high resolution. It is also compatible with all browsers such as internet explorer Firefox Safari opera mini Chrome and edge. They are many files included in this suggested JavaScript JSON HTML CSS and PHP. eForm builder WordPress plugin also contains an online demo so that users are assured before downloading this plugin. this plugin support is free fast and reliable so that customers feel comfortable and their queries will be resolved in a very short time period. Users will not be required any coding skills users can set this WordPress plugin by just drag and drop elements.
This WordPress plugin is available in both versions as free as well as premium versions. In the free version, the user will not able to use all feature of this plugin but to use a complete feature of this WordPress plugin user need to buy its premium version so for that user need to spend a certain amount of money after that the organization will going to release an active legal license. After that users will be able to use their complete features.
Which Free WordPress Survey Do You Like?
Need help in Plugin Selection or Plugin Issue? We are available 24/7 by Phone or Chat.