Top 10 Photo Style WordPress Themes
Last updated on September 13th, 2023 at 04:25 am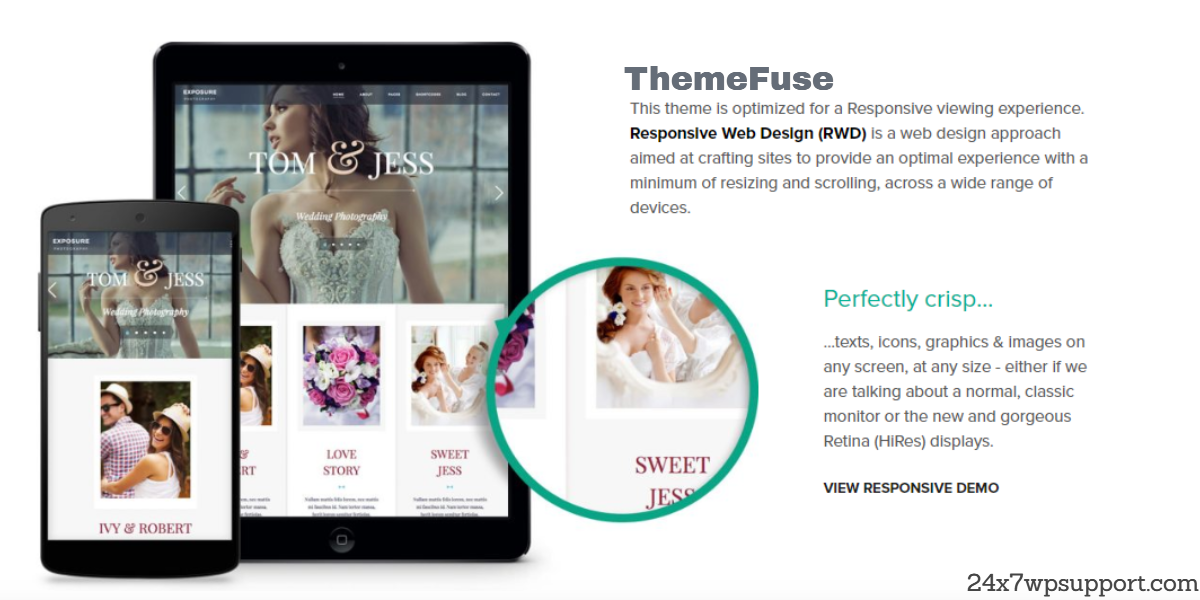 Features
You can quickly change the colors, background among many other features directly through the WordPress admin with just a few clicks.
All the themes in addition to being easy to use are highly customizable to suit your preference.
It is perfect for hobbyists and photographers due to presence of a responsive photography WordPress theme.
With its Responsive Web Design (RWD), this theme aims at creating websites which offer optimal performance with little scrolling and resizing across numerous handsets.
The images, graphics, icons, and texts through various sizes and screens are perfectly crisp either on the classic or standard monitor, or also the new and beautiful Retina (HiRes) display.
Comes with two inbuilt sliders to choose from, one being somewhat static but includes videos, whereas the other is excellent for showcasing your photography portfolio.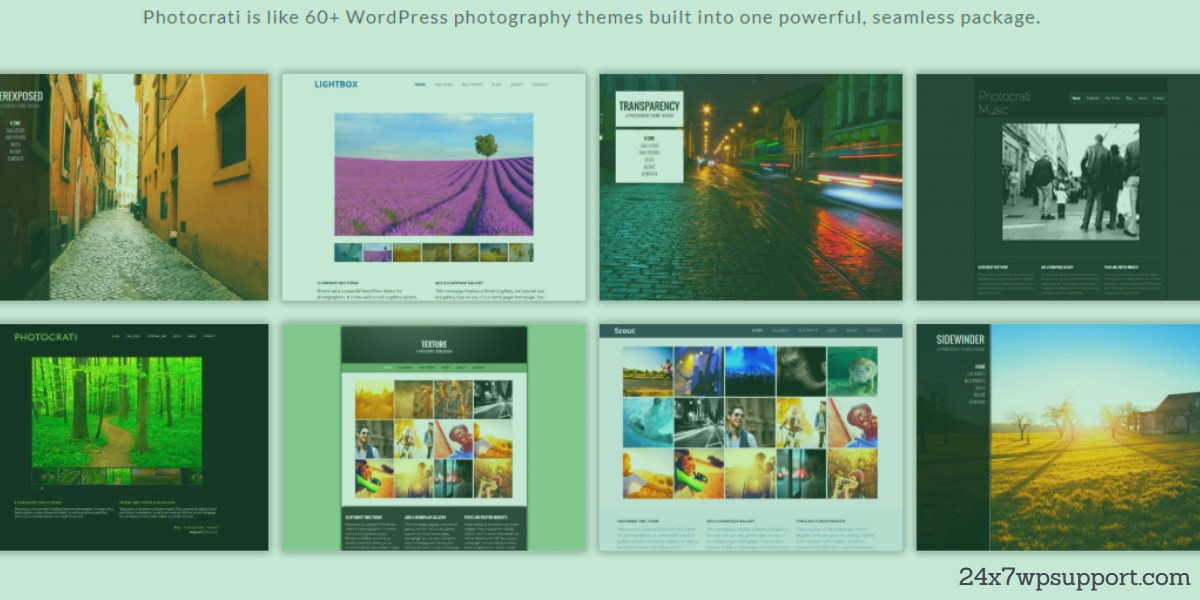 Features
Photocrati is a WordPress theme designed for photographers, by photographers.
Features
After the initial purchase of this theme, you get lifetime rights to use this WordPress theme. Furthermore, canceling the subscription still guarantees you access to this theme forever, but you will not get access to support and subsequent updates.
Photocrati incorporates more than 60 WordPress photography themes packaged into one robust and unified package.
Its pricing is affordable since this WordPress is perfect to satisfy your every need.
This WordPress theme is straightforward to use and to customize to your preferred design.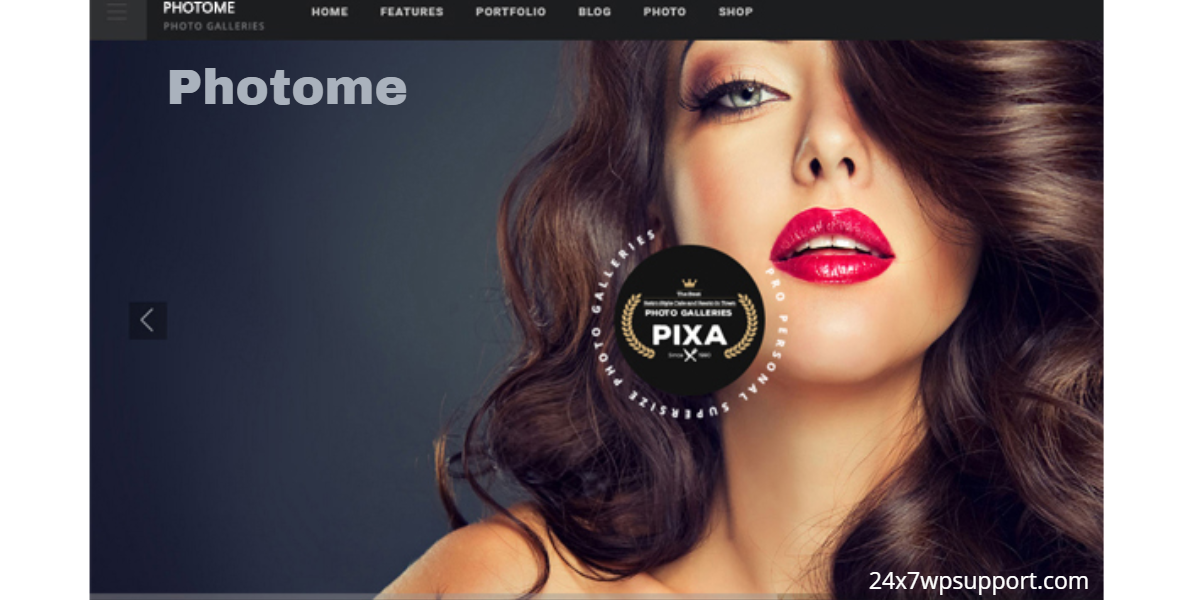 Features
Comes with four-page design options, as well as boxed settings, page width for all its pages and unlimited page sidebar.
Present in this WordPress theme is limitless color options; thus, you get to choose one which best portrays your style.
This photography theme for WordPress is installed using only one click.
Installed in the WordPress theme are lots of Widgets ready for use and Page Elements.
Incorporates Google Fonts, therefore, allows you to choose font-size, font-family, header and line-height for all your text from fonts available online from Google.
Present as a default theme feature is a Drag' n Drop page builder which enables you to create either a column or row with much ease.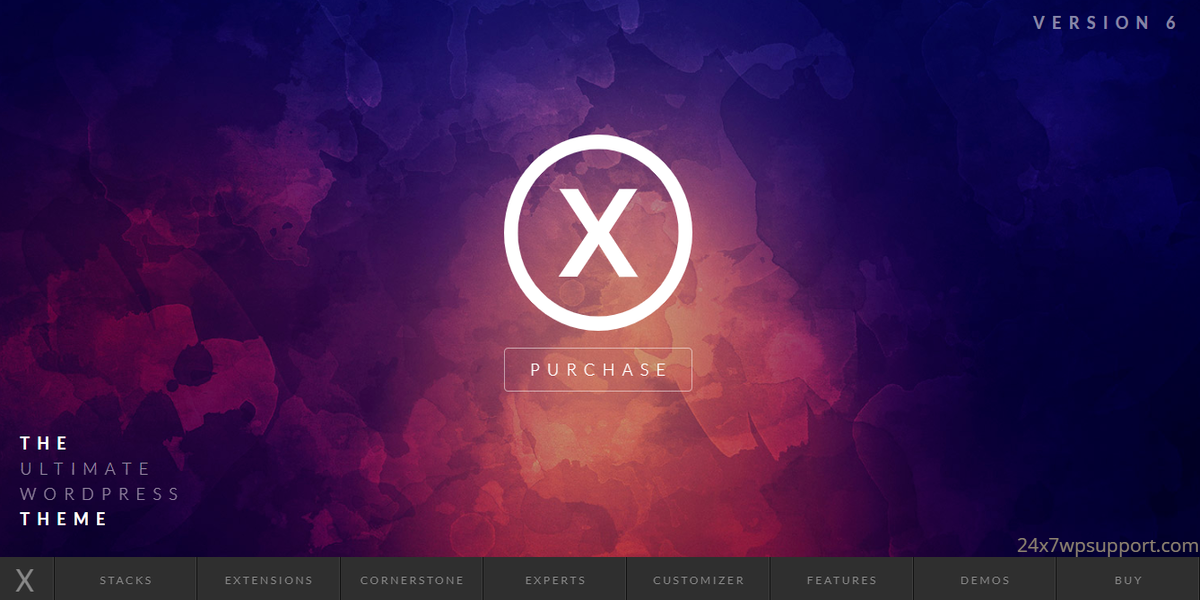 Features
Have access to all the vital building tools available in one location, for instance, preferences, fonts, and colors, which consequently allows you to customize your experience.
Usually, this WordPress theme comprises V2 elements that are powerful and attractive therefore bringing you innovative customization options to improve your overall experience.
What you can create using theme essentially has no boundaries and no two versions of X at any one time will appear similar.
Being built using the newest semantic HTML5 markup lets search engines to differentiate where your main content begins and ends quickly.
Get a personalized and custom-made approach to sharing your pictures using this WordPress theme.
It works on every device be it a mobile handset, laptop or tablet showing every pixel as clearly as it should appear.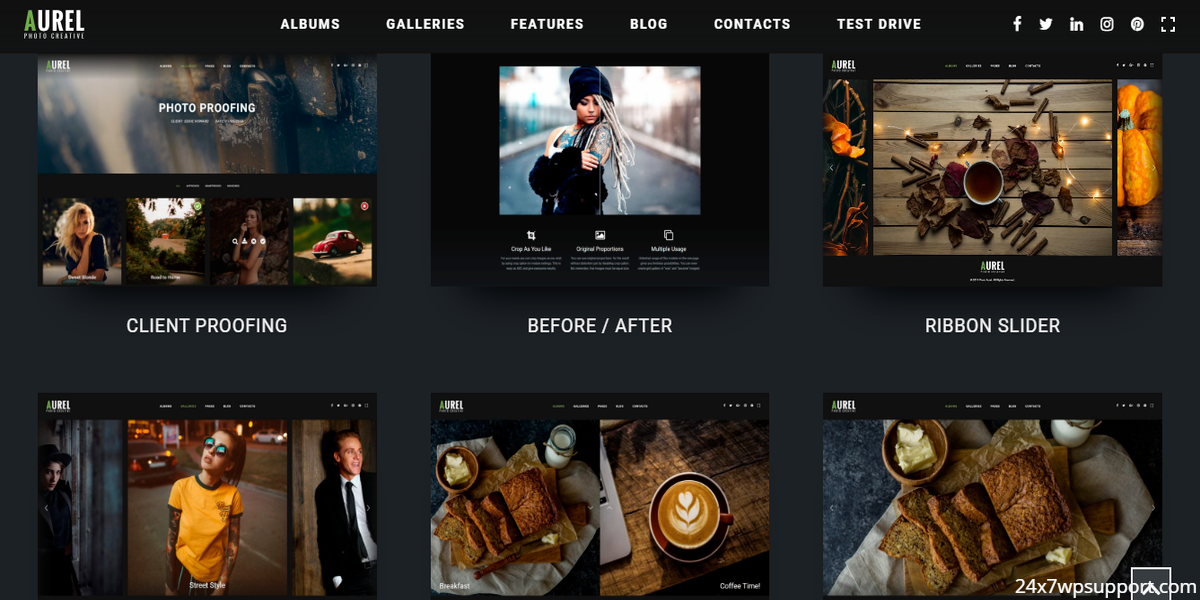 Features
Customer support is always ready to help in case of any question or problem you are encountering while using this WordPress theme.
Installed plugins such as Loco Translate or WPML are present thus can fully translate to a language you can comprehend.
Has password protected albums and galleries, therefore, guaranteeing you the safety of all your pictures.
Shifting from the dark to light theme is quite easy, and no CSS or HTML experience is needed, with just a click of the button, you get to enjoy a new appearance.
WooCommerce is present thus enables you to sell your photos with every element of your store matching the general layout design.
Numerous layouts for your galleries and album are present, including Ribbon, Split, Kenburn, Grid, Packery, Fullscreen thus you can showcase your photos in the best possible manner.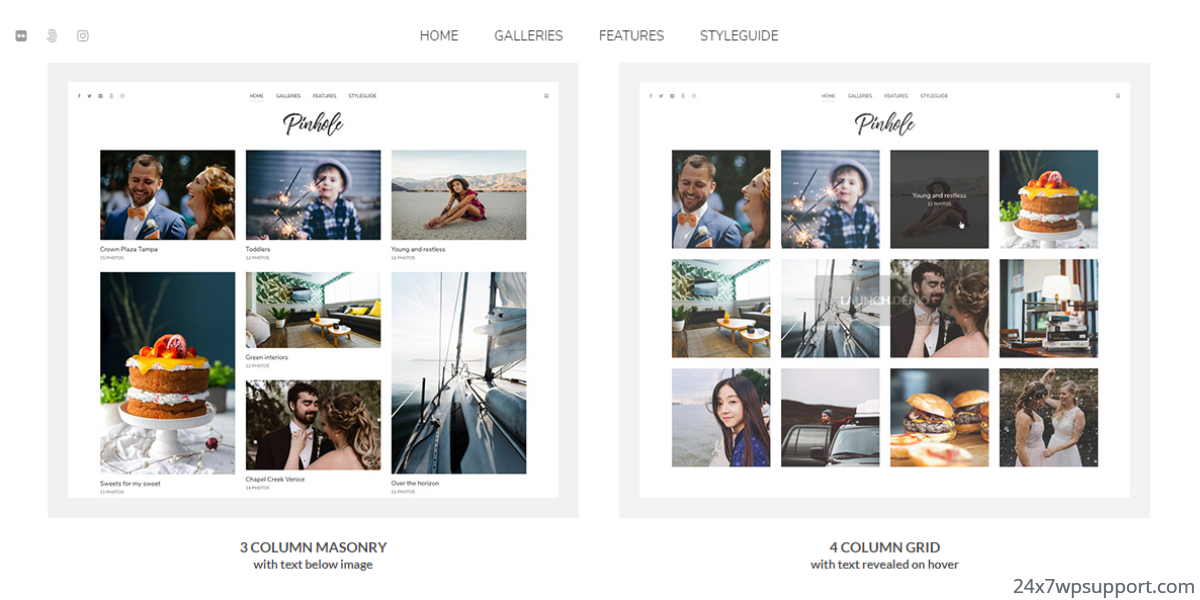 Features
More than 30 gallery designs which subsequently let your photographs stand out due to the diversity in layouts and style while displaying in galleries.
Each gallery is protected from unauthorized entry with the login sent to a precise client. Furthermore, with these private galleries feature, clients can effortlessly download each photo.
Comes with a responsive design which perfectly fits a broad range of screens, that is laptops, mobile phones, and tablets.
Translation of every text on your site via the theme options panel is made accessible to a language you can fully understand.
In addition to the standard WordPress widgets, there are various custom widgets for extra features.
After linking your site to the official Envato API, you will receive continuous updates on your theme which you can install with a single click.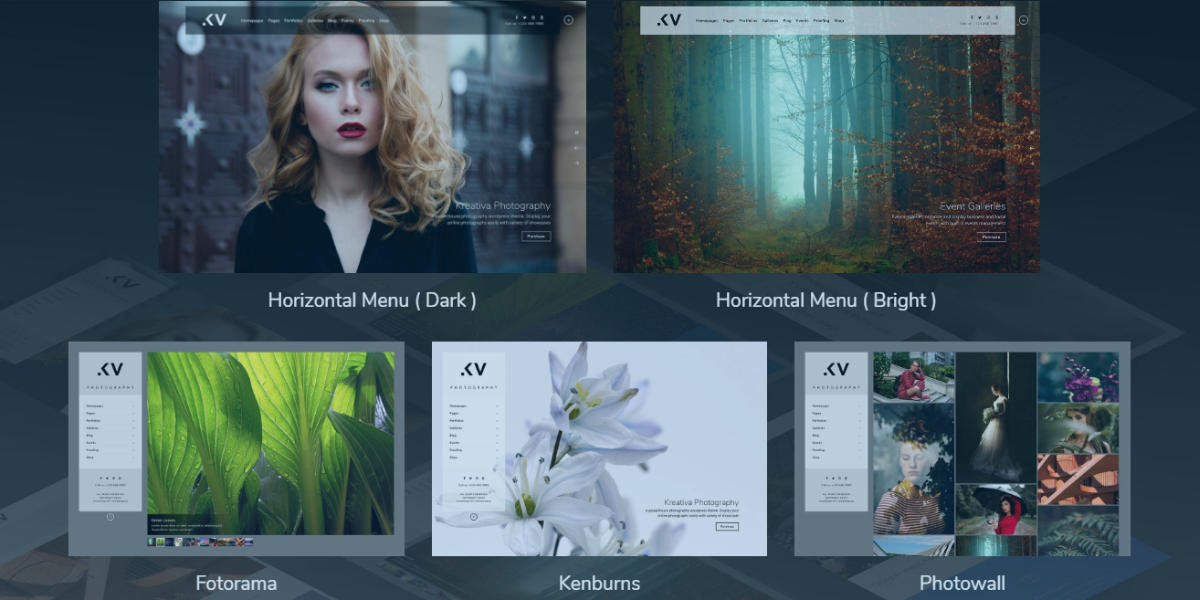 Features
This WordPress theme is SEO optimized thus guaranteeing you your website gets easily noticeable after doing an organic search.
Its page background displays videos, sideshows, and colors.
For each page, password protection is enabled thus safeguarding the safety of your clients' pictures.
Having MPML support ensure this theme easily translates various languages.
Has innovative admin options that allow you to switch and control them designs with much ease. Additionally, the setup of theme skin, color pickers, range sliders, font selectors, menu styles makes configuring this theme easy.
It 100% responsive, taking advantage of a narrow display to rearrange elements and layout of the theme.
Inbuilt in this theme is an events management function.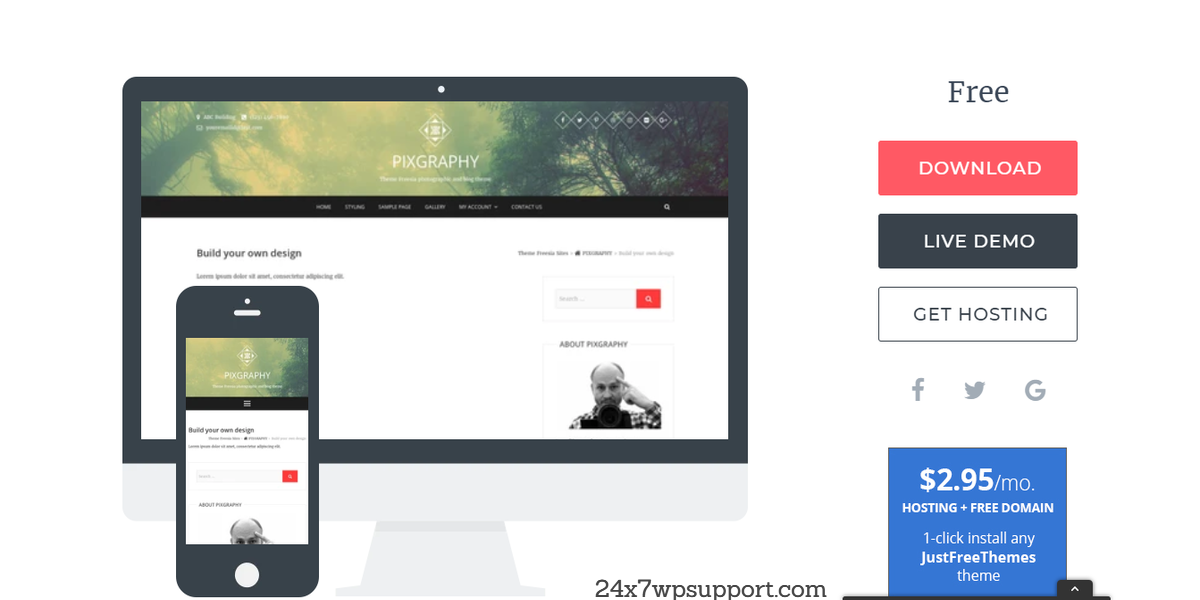 It is a Responsive Photography WordPress theme build and designed by Theme Freesia.
Features
Present in this theme is a gallery template, sidebar, widgets and contact us template.
Supports many popular plugins such as WooCommerce, Jetpacks by WordPress.com, WP-PageBavi, Breadcrumb NavXT, Contact Form 7, bbPress, Polylang to name a few.
It is easily customizable with many options available using Customizer.
Additionally, this WordPress theme is translation ready.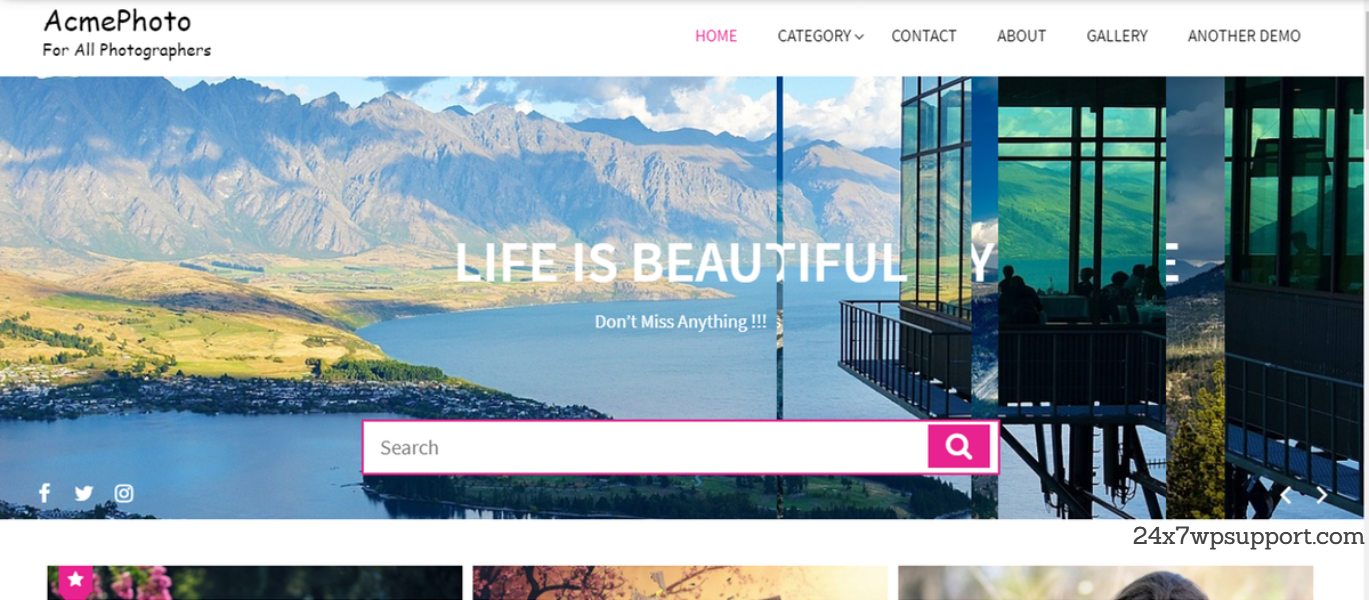 Features
Incorporates a superb mix of Elegant Design and Quality Code.
Its customer support is excellent offering readily assisting you in case of any question or trouble.
This WordPress theme is responsive and provides you with the Best Premium features.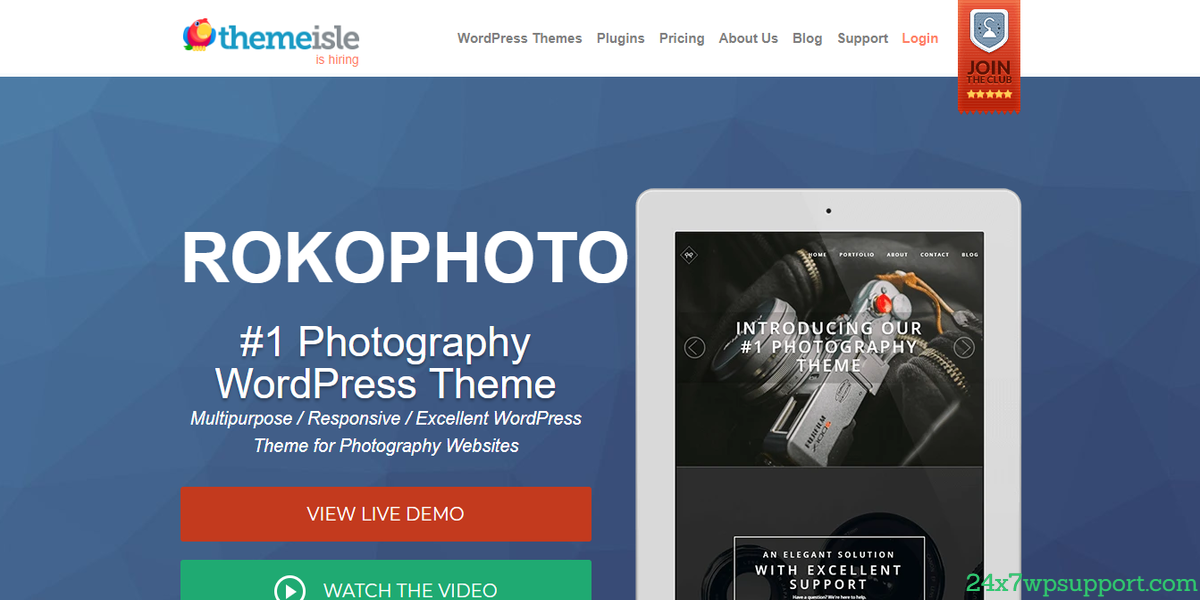 Features
With the Live Customizer in action, you can easily fine-tune your site to make your website appear as you would wish to and see the changes made in real time. Additionally, you can change design details, colors among many other.
Readily translates languages using the premium and free plugins found in this WordPress theme.
Present are a custom background for you to select from and all you need to do is choosing the media you intend to use as the background, and that's it.
It has excellent support as well as access to 1-click updates.
Pre-installed in RockPhoto is an SEO-ready structure as well as an optimized and clean source code thus guaranteeing you a strong online presence.
Presence of responsive, user-friendly and powerful mega menu makes the arranging and organizing of the submenu content easy. Also, you entirely have control over the structure and design of your menus.
Which Photo Style Theme Do You Like ?
Need help in Theme Selection or Theme Issue? We are available 24/7 by Phone or Chat.