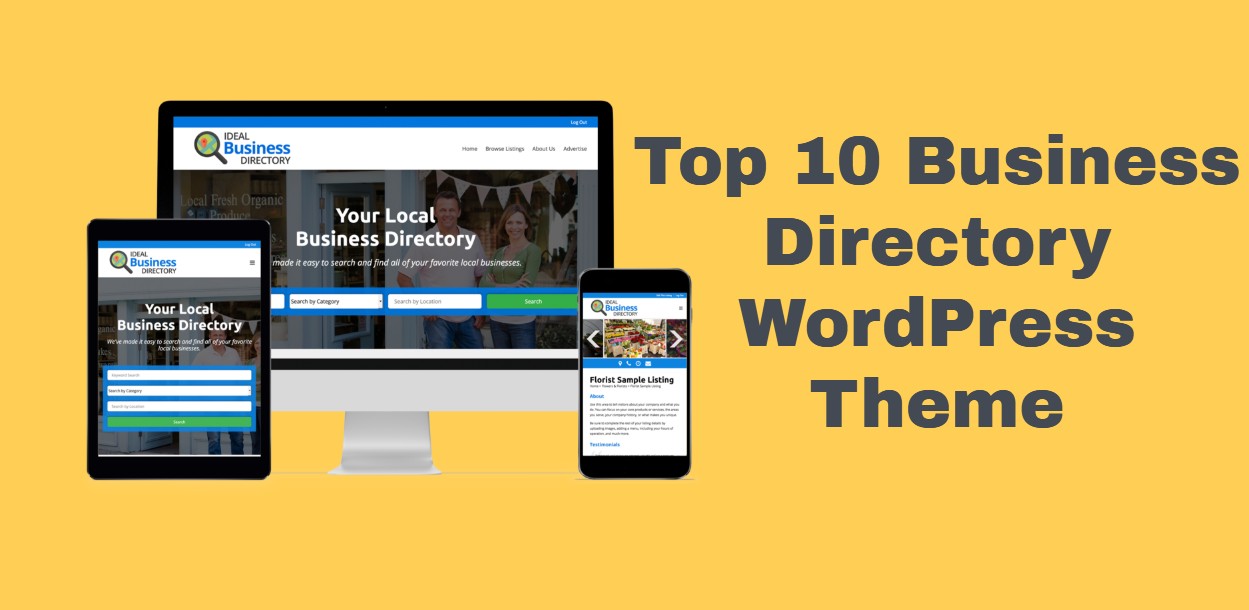 Top Business Directory WordPress Theme
Last updated on June 7th, 2022 at 07:31 am
If you want to earn from running a local or global business directory, a reliable WordPress theme is perhaps your best bet in achieving your goal. There is a wide variety of Business Directory WordPress themes to choose from, some of which are much better than others for various reasons. We have looked into the available Business Directory WordPress themes and compiled a list of ten of the best themes. Take a look.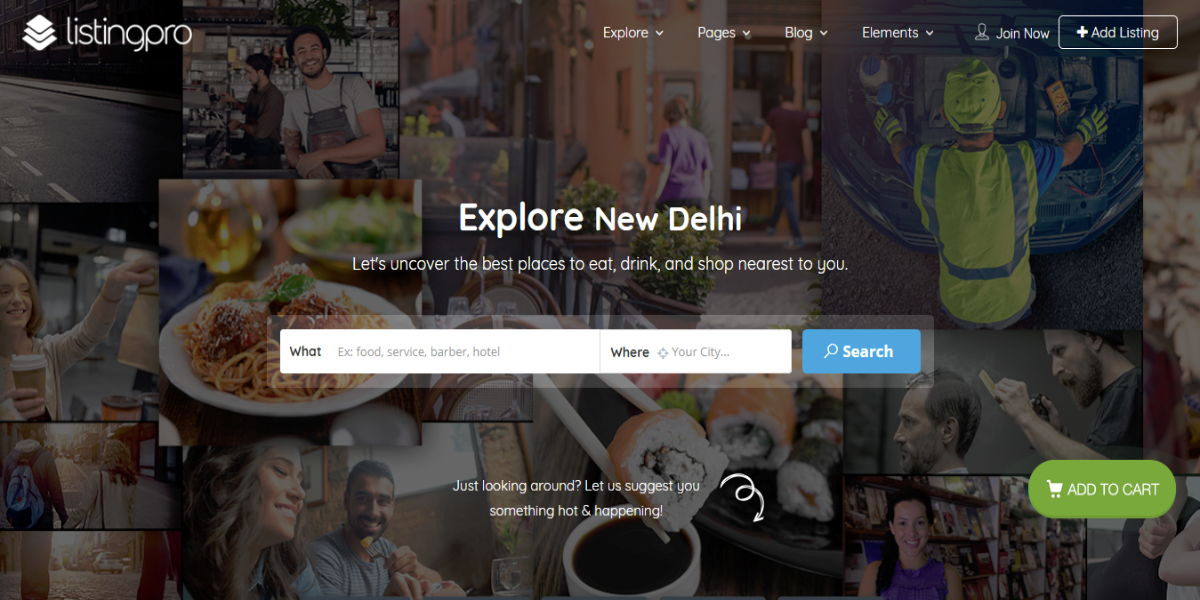 This WordPress theme is a highly advanced directory solution with a super-easy setup. Personalizing and managing this theme is straightforward. It allows multiple ways of monetizing your website. This theme takes the Front-End Submission to an advanced level of convenience. Its highly developed Live Search Algorithm and Filter ensure that your search results are accurate and delivered quickly. The theme offers flexible pricing plans. It supports other top features including Ad campaigns, events management, and menu management.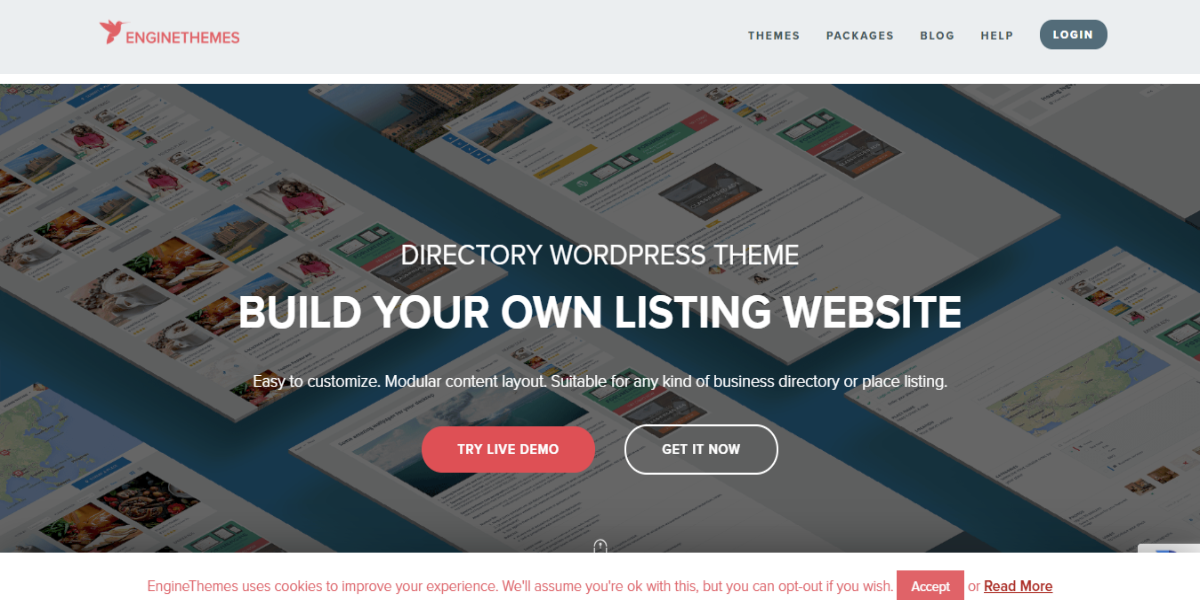 This is a straightforward business listing theme that is highly adaptable. It allows you to create different packages, set multiple pricing plans and monetize your website in numerous ways. With this theme, you can offer ad space and charge for listing submissions. It provides local payment gateways for total convenience. You don't need any coding skills to customize and use this theme. The theme offers SEO support so you can maximize your website's traffic.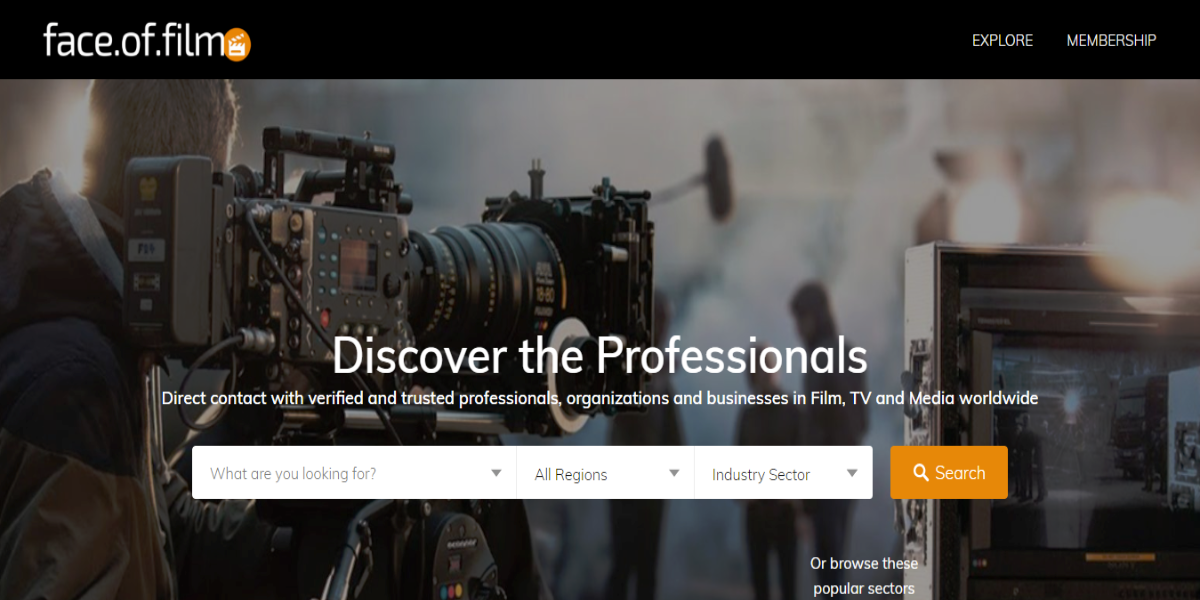 This business directory WordPress theme has all the best features for creating, managing and monetizing a professional directory site. It has a friendly user-interface, and it is powerful in the back-end. Its advanced listing cards system provides multiple choices for maximum versatility. It offers free plugins so that you can access more functionality. Business owners can easily create and manage their listings.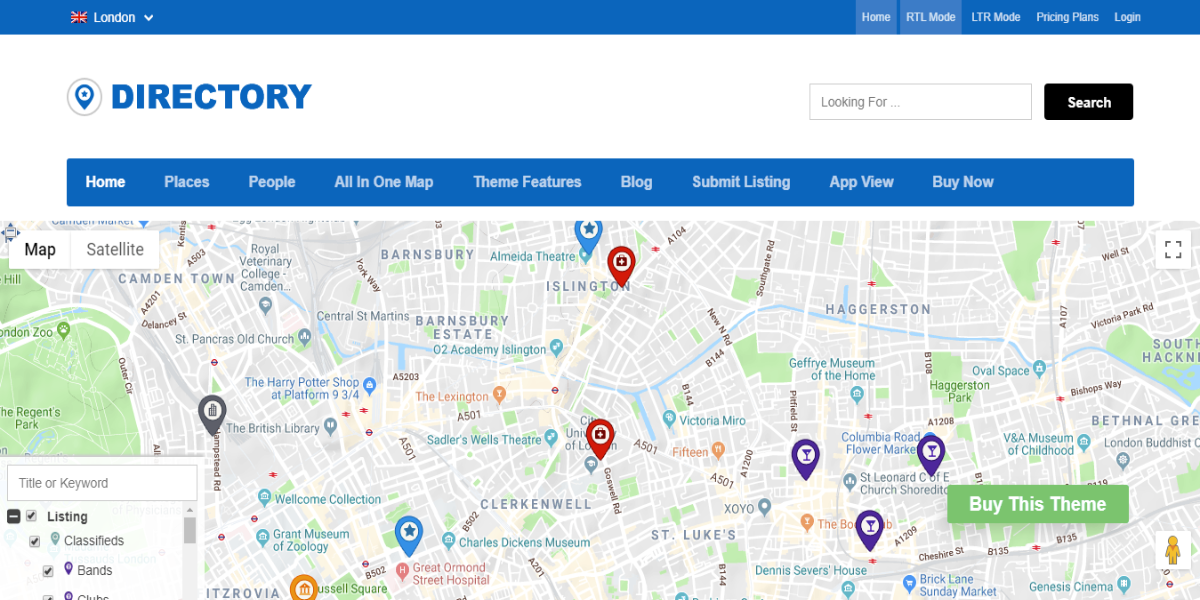 This business directory theme for WordPress is highly responsive and customizable. Whether you want to establish a local or global all-purpose directory site, this is the ideal theme to manage and monetize your business. You can create multiple price packages and sell a range of membership packages. It supports easy processing of recurring payments, and you can feature clients businesses for a fee. The theme allows you to charge according to specific categories and for additional fields for optimal customer choice.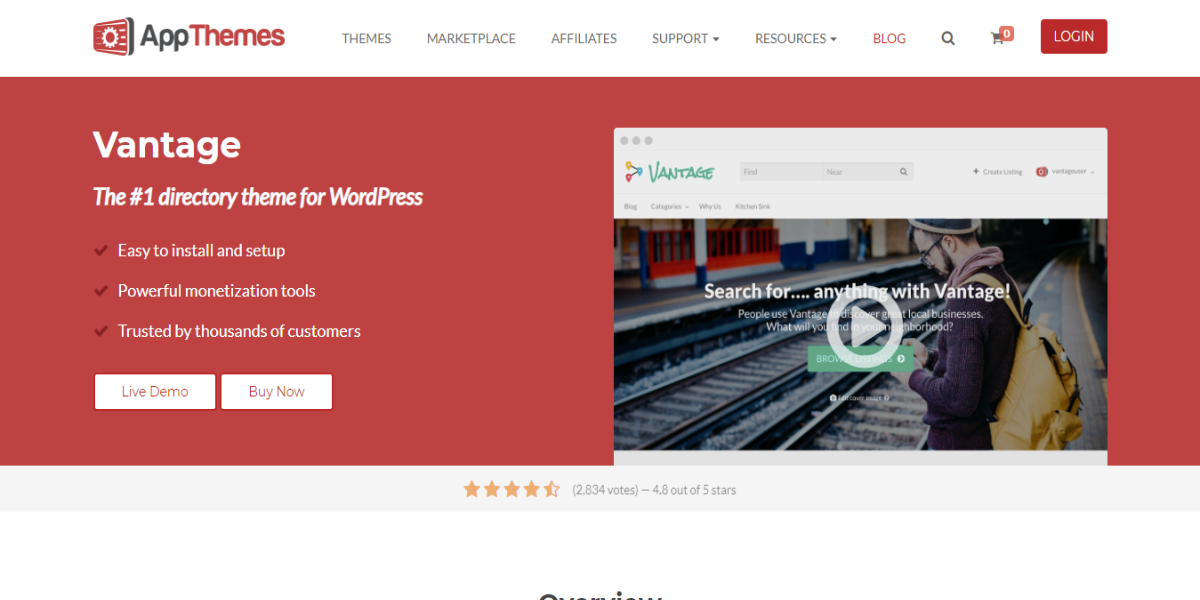 Enjoy efficient creation, management, and flexible monetization of your business directory site with this powerful and easy-to-use WordPress theme. Vantage is fully responsive on a full range of platforms. It supports geo-coded listings for the most accurate search results. Its flexible pricing plans allow you to create multiple streams of income. It has a user dashboard that helps business owners to manage their listings conveniently.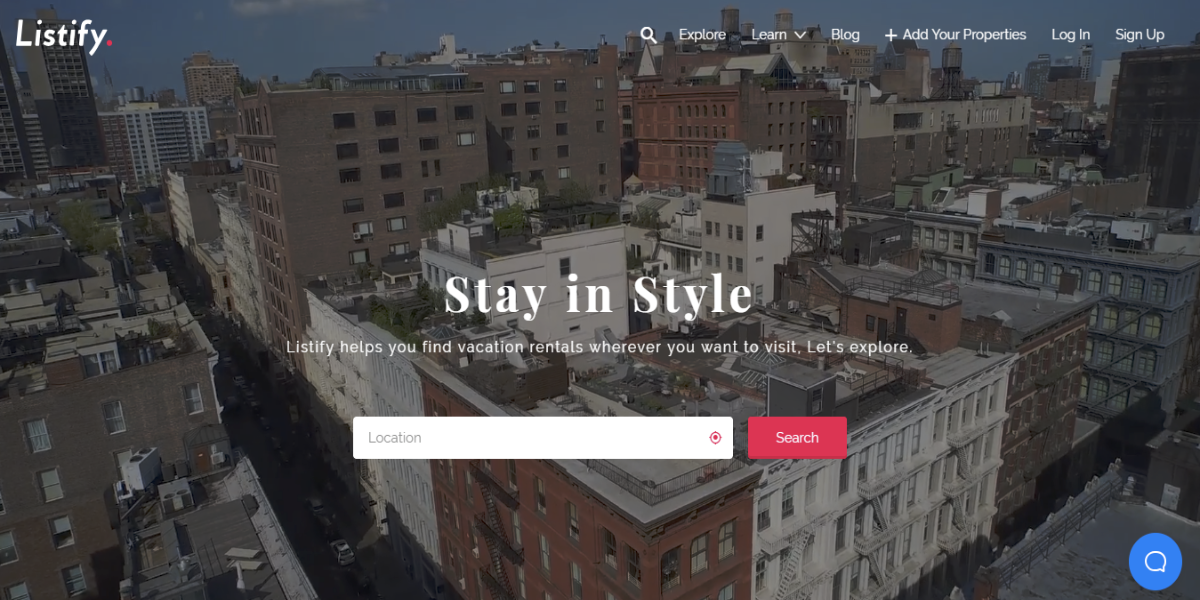 With Listify WordPress theme, you can brand your site to a professional standard with no much knowledge in design. Its drag & drop editor enables fast customization. The Listify search function uses advanced geolocation technology that produces the most relevant results. The theme exhibits high page speed, and it supports SEO for better rankings on Google. With Listify, you can have multiple streams of income including running ads, charging for subscriptions and site access.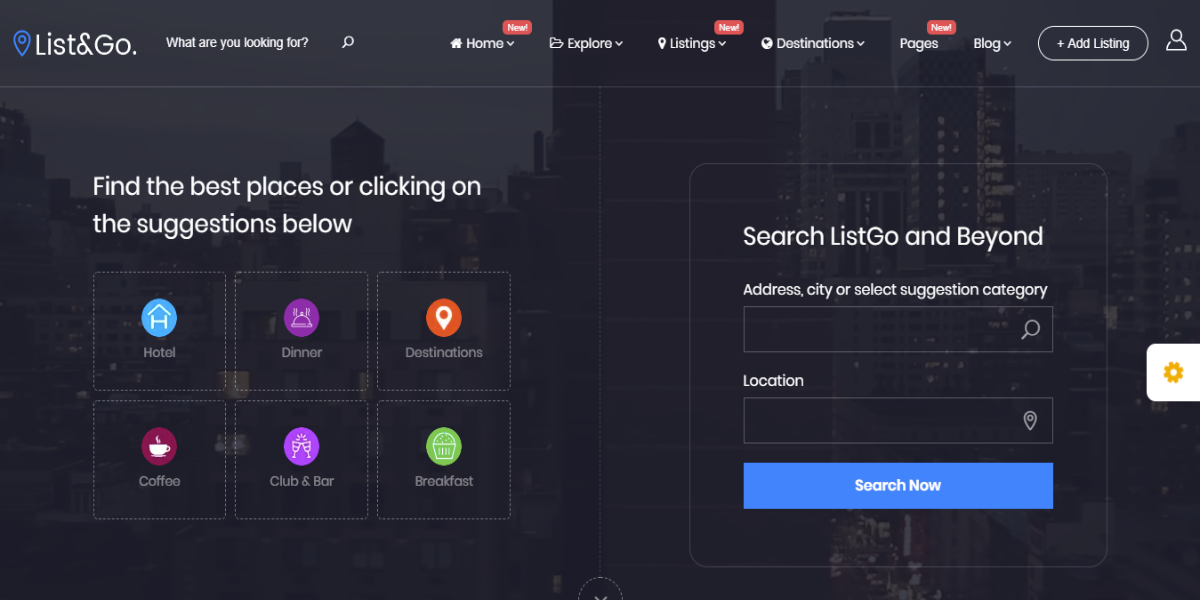 Listgo offers top features including Recurring Payment and Paid Claim Listing. This theme has a Promote Listing feature and a Stripe Payment Gateway. It is compatible with a vast range of user platforms. It is a user-friendly theme that allows business owners to create and manage their listings seamlessly.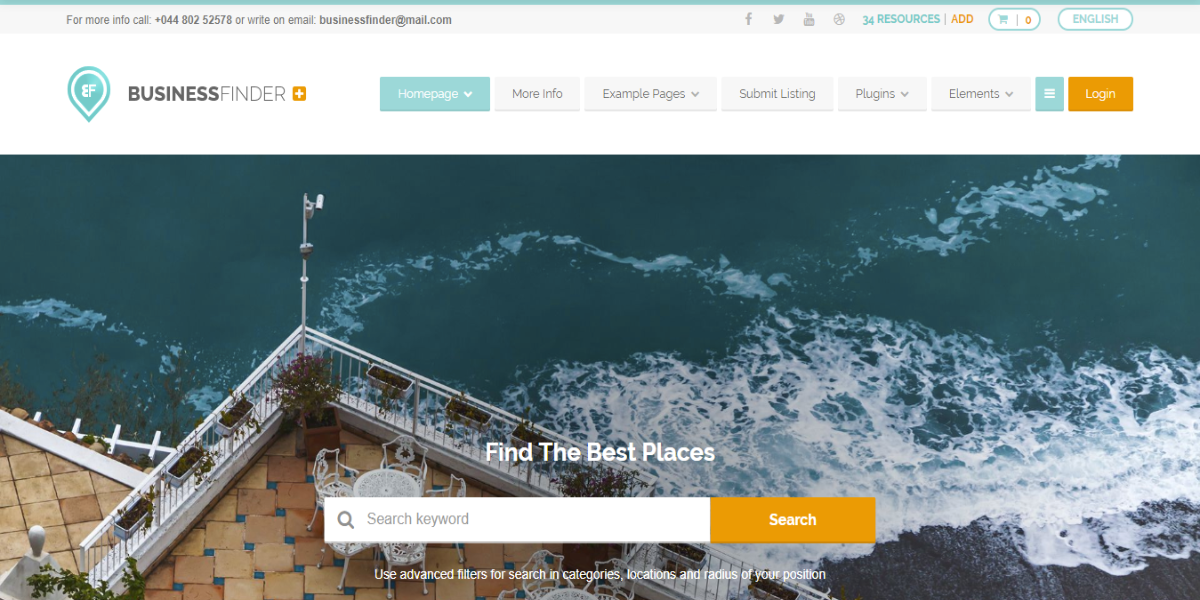 This elegant business directory theme is super responsive and highly customizable. It allows you more efficient ways to create and manage an all-purpose directory business. It is compatible with multiple plugins and has a great user interface. This WordPress theme allows you to set up various headers for every page and each page can be customized further. Its Drag & Drop Page Builder enables users to create their listings easily. It is multilingual enabled and avails SEO tools for more website traffic. It utilizes Geolocation technology to provide users with highly relevant search results.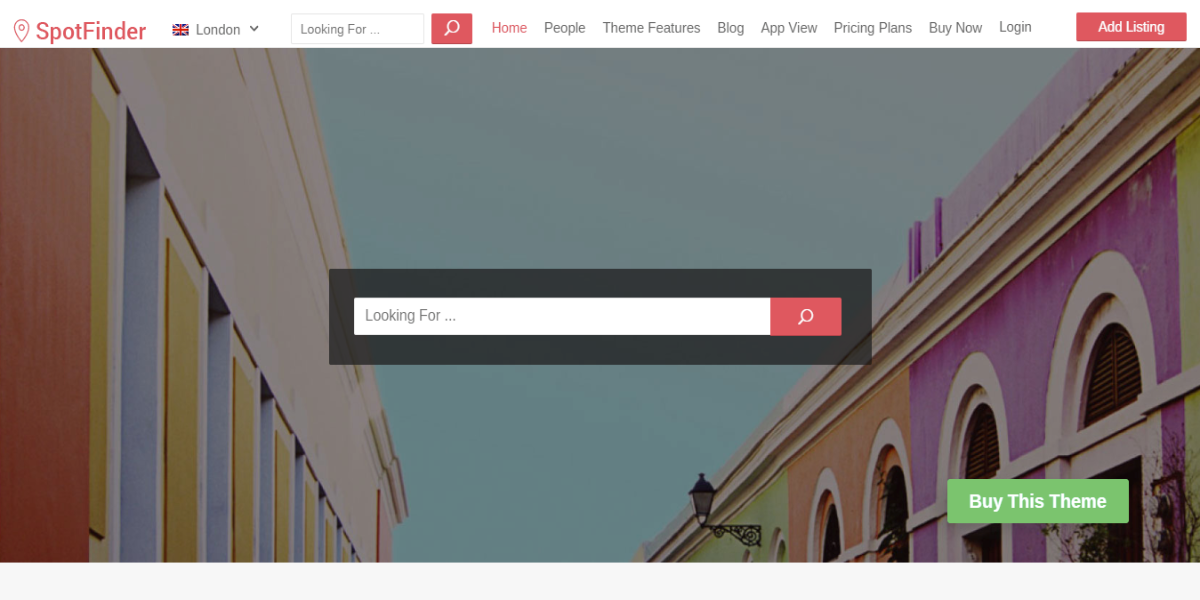 This Directory WordPress theme is equipped with all the tools you need to create, manage and monetize an elite-level directory easily and quickly. You can create an all-purpose directory where you can display listing ads for a fee. It provides powerful functions while remaining easy-to-use. It is a highly responsive theme that works really well with a wide range of devices. It offers the option of a mobile app-view for even better responsiveness. The theme loads quickly and is easy to navigate on any device. It is designed with full-width layouts and a multipurpose homepage.
Wyzi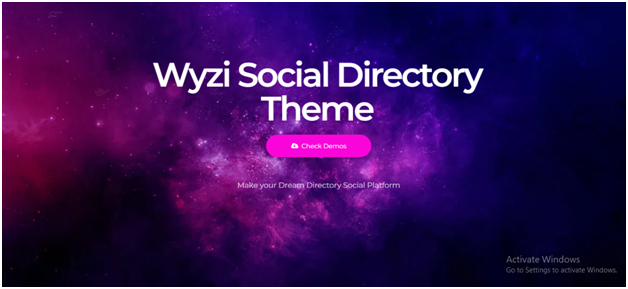 Wyzi is a prominent business directory WordPress theme. This template is a great service provider and business finder directory WordPress theme.
It has many demos and they all work differently. It has an impressive option to configure the listings settings for your online business directory. Wyzi can be easily integrated with WooCommerce. Therefore, you can smoothly manage the payment options.
You can collect commissions on individual transactions. Otherwise, you can charge a flat fee simply. You can even create subscription payment packages.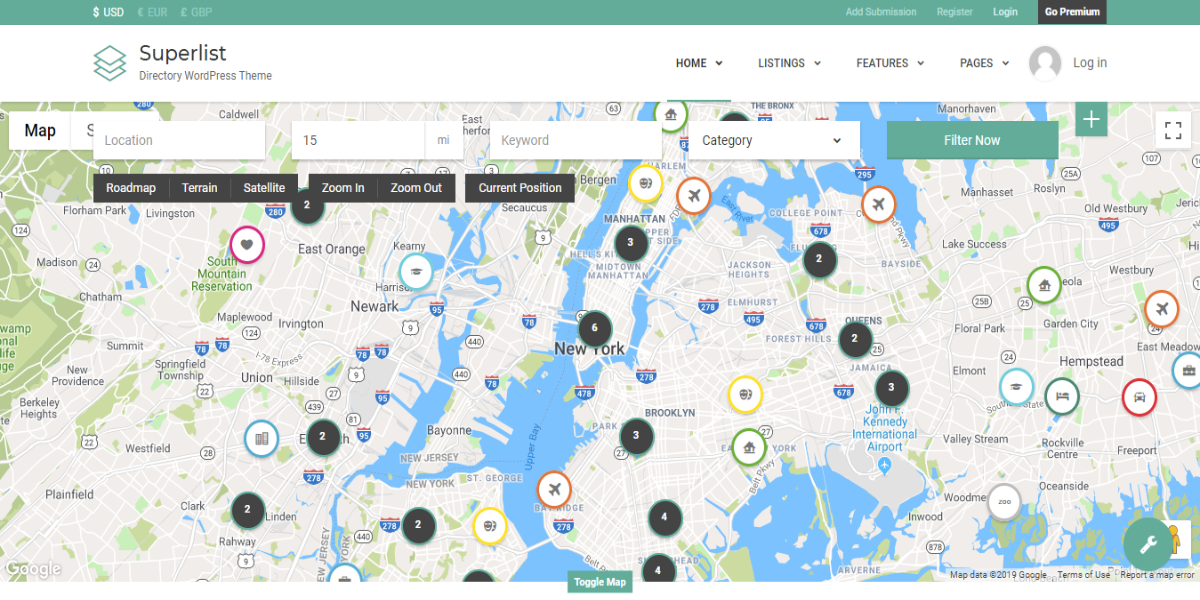 With this WordPress theme, you can set up your directory website in a single click. The theme has an easy user interface and will provide the flexibility to build the exact business directory you want. Users can create their own listings on your directory for a fee. It has an advanced package system that allows user restriction. It is a fully responsive theme that offers a wide range of color variations.
Brikk

It is a powerful business directory WordPress theme with a contemporary design.
You can use Brikk to develop a directory that lists items, events, and jobs. Routiz plugin powers Brikk. Hence, you can customize the features like listing.
The features of Brikk's booking are flexible. You can incorporate the functionality onto the listings and directory website. Hence, you can manage daily, hourly, and longer period bookings.
You can even set up automatic booking or keep it pending. You can review it manually later. It has a complete-featured notification system. This robust business directory WordPress theme has a fully-featured notification system.
You can even monetize your website with Brikk. You can craft subscription packages. It will allow your users to access the website for charge-one time fees or recurring fees. Hence, you can collect fees or publish the listing on the transaction that takes place through your website.
Directory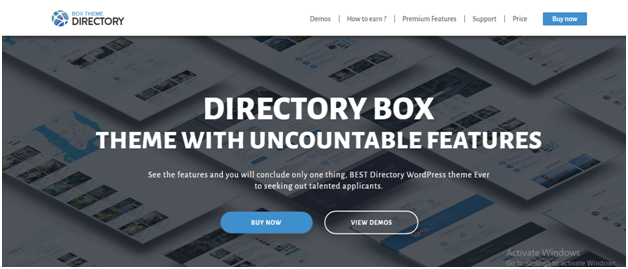 This scalable business directory WordPress theme is best for any kind of listing. They are great for developing a premium directory.
The Directory provides ample options to browse listings. This includes filtering by subcategories and categories, Google Maps, etc. It also comes with a geo tracker. With this, yo0u can show the listing as per the IP address of the visitor.
The visitors can submit the listing using forms. It can be created through the admin interface and custom form builder.
Do not forget to include a custom post type builder. It will organize and structure your directory. Moreover, you can customize the contents of the individual listings.
You can contemplate subscription packages or charge per listing. These are the best way to monetize your directory using this business WordPress theme. You can even generate coupon codes to create discounts.
Finally, we can say that this is a powerful business directory WordPress theme packed with features.
Urbango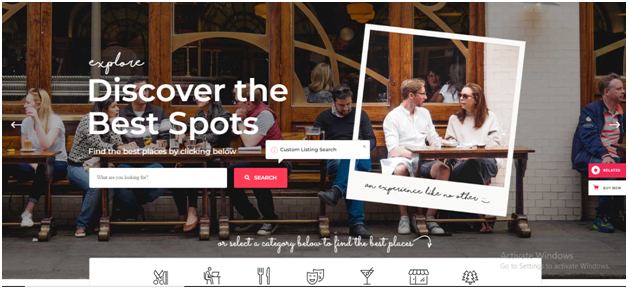 This is premium listings and directory business directory WordPress theme. It is enriched with integrated features.
Its demos can be used to display a drink and food business, beauty salons, etc. For your homepage, you will get a full-width slider. This will highlight a powerful search tool, best listings, etc.
Urbango comes with some great features. With these settings, you can select the information and data that are stored for every listing. This will give your visitors the content they are looking for. For instance, they can check your store's location on Google Maps, pricing details, etc.
Urbano also gives you the option to monetize from the online directory.
Listify

Listify is known for its appealing looks with features. It will exactly operate the way you like.
It encloses integration options. This includes WooCommerce Bookings, Resurva, Open Table, etc. Hence, your visitors can make business reservations listed in your directory. It is the best selling point that you can employ to attract your advertisers to your site.
Listify is not short of options when it comes to monetizing the directory website. It has the ability to charge users to add or claim their listing. This happens because it has got the ability to display the advertisements. You have flexibility with this business directory WordPress theme.
You get the option to showcase the background videos that too in full width on your site's homepage.
MyListing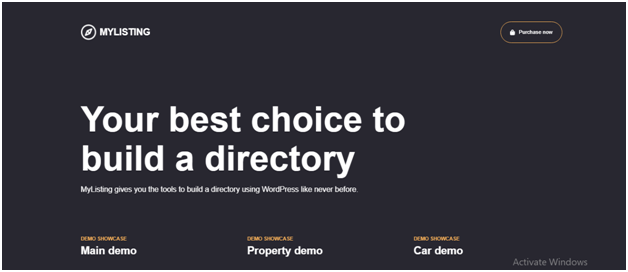 It is a listing and business directory WordPress theme. MyListing can be aimed at specific geographic regions.
It has pre-built demos that are styled on prominent capital cities across the globe. You can create a listings website or online directory using MyListing.
Each demos have its own distinct design. It will share a complete modern feel and look. This theme has an amazing Elementor page builder tool. Using this, you can approach a drag-and-drop page builder interface. You can customize your website's design because using this builder
Using the listings builder feature, you can select and pick the field that is available for the directory's entry. It will ensure that you can display and store all the necessary data for listing. This will help the audience to get the details they require.
You can collect payments and create a membership plan for your users. There are numerous other features like an instant quick search tool, featured support, etc. It has a WP Job Manager plugin paid listings addon. This will allow you to craft a job and employment directory website.
It gives you unique freedom to develop an online directory that your project requires.
Javo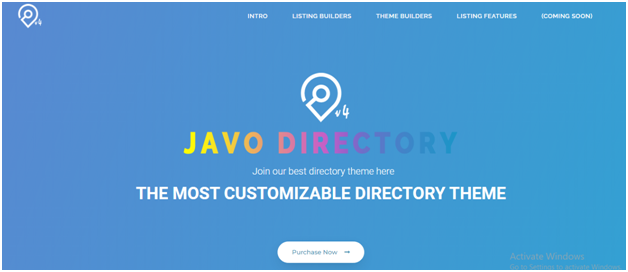 Javo is another great looking business directory WordPress theme. It includes an eye-catching and impressive layout for the homepage.
Javo has a large full-width image slider for the background. This is displayed on the homepage. It does excellent work to showcase the best directory listings.
This business directory WordPress theme employs Google Maps well. It allows the users to browse the map. As soon as the users tap on the markers they can find about each listing.
These listings pages will give all the essential details and images regarding the listing. The users can share their feedback or leave reviews with the community.
It has a pre-installed WPBakery plugin. This ensures to access the drag-and-drop page builder. It also comes with the Slider Revolution plugin. Hence, you can add dynamic and professional image sliders & content. This you share on any pages and posts as per requirement.
Lately, this business directory WordPress theme has a powerful search tool and front-end forms.
Cityo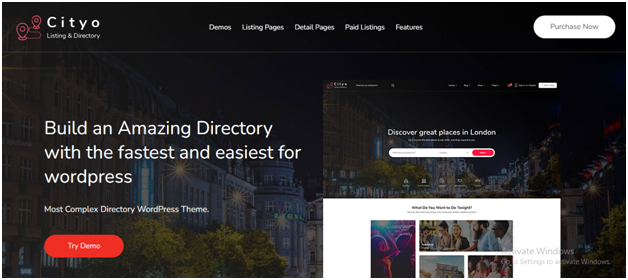 This business directory WordPress theme works well to list the attraction types. This can be within the city. Cityo is best to create directories that have listings for galleries, museums, bars, etc.
It is the best theme for entrepreneurs who want to launch a directory site for an urban area or city.
It has an excellent listings template range. The design of Cityo includes image galleries, interactive maps, etc. It also has some amazing templates that cover service areas, contact, about, etc.
Cityo has got you covered because it has the ability to help visitors to find the listing they are seeking for. It has clickable markers. These are showcased on the interactive map.
You will filter and search tools. These tools will assist your users to narrow down the search results. The other feature of Cityo is the Elementor page builder. It has the options of eCommerce that allows you to set paid plans of subscriptions.
This is the best theme for a city-based and modern audience. So, go for it!!
Eventum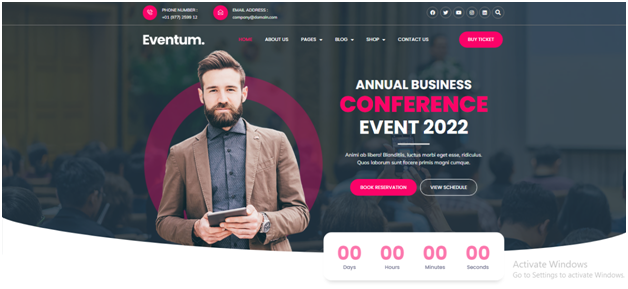 Eventum is the child theme of Templatic. It was specifically built for the events directory using WordPress.
It was developed on the core capabilities and features of the Directory theme. Eventum can assist you to develop resources. It will help you and your users to share upcoming event details.
Eventum will assist your users to find the listing in an easy way. The powerful search tool, listing calendar, etc., makes it easy to track the events on the website.
On your website, your users can have their own profiles and find events with similar sources. It gives you a complete amount of flexibility and monetization offers.
Vehica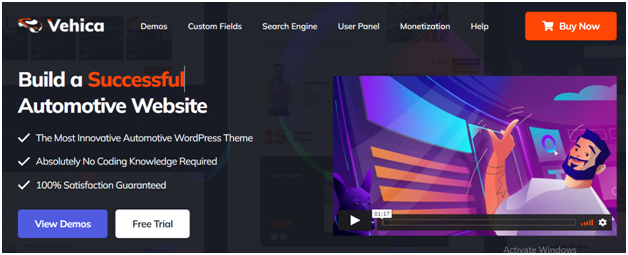 Vehica was developed for the launch of an online vehicle directory using WordPress. It has a perfect demo for this set-up of this type of project. This automotive theme has a complete set of templates for the individual listings pages, directory, homepage etc.
It has some essential features. This includes a built-in comparison tool and search tool. You can easily customize the fields that are necessary for the listings.
The visitors can easily sign into your website and start to add their own listings.
Which Business Directory Theme Do You Like ?
Need help in theme selection and theme Issue? We are available 24/7 by Phone or Chat.