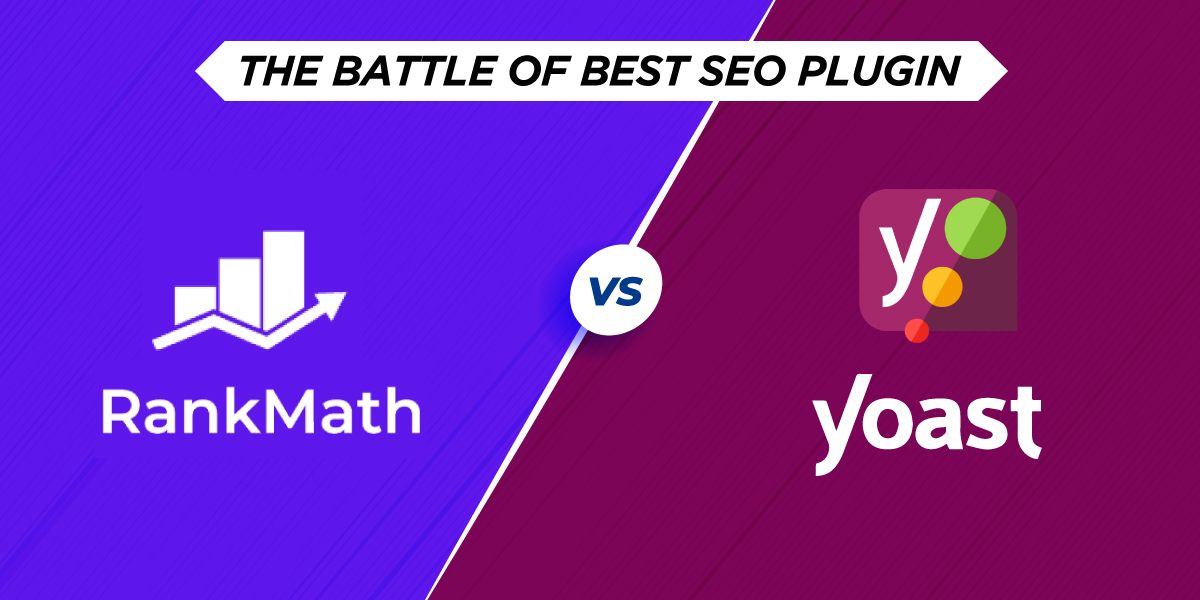 Rank Maths Vs Yoast SEO – The Battle of Best SEO Plugin
Last updated on October 13th, 2021 at 11:31 am
So you have your blog set up and you have started writing posts. A bitter truth that without properly optimizing your web pages and content for search engines, it's almost impossible that your information will reach a broad audience.
There comes the need for an SEO tool.
Yoast SEO was the one word go plugin for the majority in recent years because of its helpful guidance, user-friendly interface and quick enablement. However, Rank Math SEO soon initiated gathering audiences in this regard and called itself to be another powerhouse.
Overview of Yoast SEO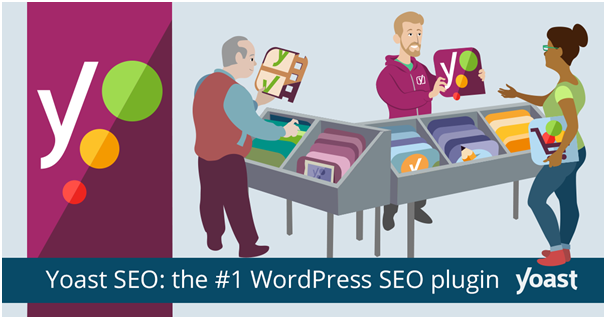 Formerly known as WordPress SEO, a majestic name in itself that explains why it dominated the SEO plugin list for so long, Yoast SEO is considered to have the most powerful algorithms for content optimizations. The godfather of SEO tools has now been optimized to a great extent and at the same time has also included helpful tutorials.
Overview of Rank Math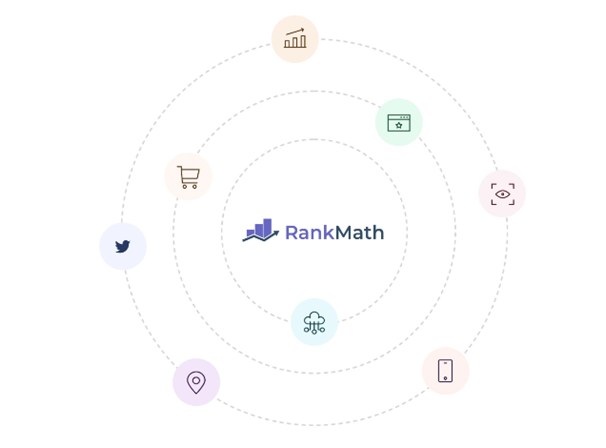 Rank Math can't be underestimated at the same time. Just in 2 years of its release, it has achieved an unbelievable number of downloads. Although it isn't currently the most popular one, its sudden popularity made it arguably the second most popular SEO plugin of 2020 according to the data.
Now, let's start the comparison battle of Best SEO Plugin…
Rank Math Vs Yoast SEO - Getting Started
Rank Math as well as Yoast SEO both being user-friendly does a nice job and it's preferably up to you, which one you choose in terms of initial onboarding into its world.
Rank Math
One the first launch, Rank Maths opens up with a wizard to let you configure the important and basic things. You can additionally link your Rank Math account to unlock some more features. Although you don't need to do this to use the plugin, once done, all features will be available to you in one go.
Overall, the wizard is quite good and customized for basic as well as advanced users. You would configure basic schema information, Google Search Console and Google Analytics integration, if you want to use them, XML sitemap, and other quick things.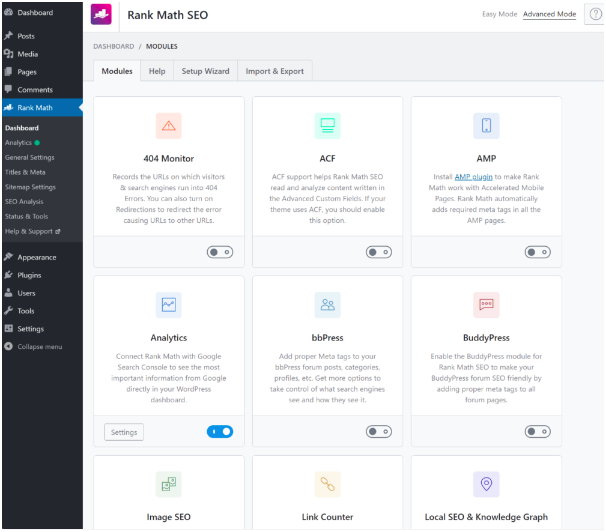 While going through the setup wizard, it will also prompt you to set up advanced things like Role Manager, 404 error monitoring, redirection, and detailed schema markup settings.
Yoast SEO
Yoast SEO has an equally quick and diverse customization wizard, though you will have to initiate it from the WordPress toolbar.
The initial setup wizard does a pretty nice job in navigating you quickly through all the important settings such as:
Basic site-wide schema data
SEO site templates
Whether or not index your site
Yoast SEO also includes some tips and suggestions that will indicate any potential issue with your site in the future. And like Rank Math, Yoast SEO also lets you disable the features that you don't want to take the advantage of. Just click on the feature tab and play with toggle buttons.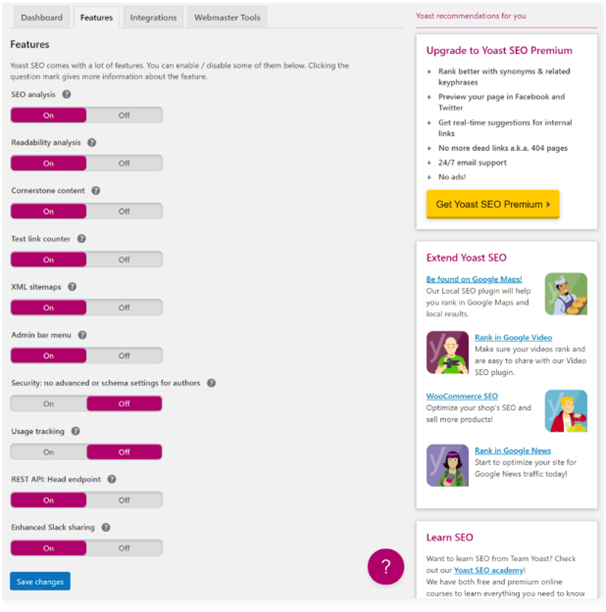 Rank Math Vs Yoast SEO - User Interface
Your day-to-day action is what is meant most and that depends on the user interface that you will be witnessing after the setup.
Rank Math
You have an advantage if you are using block editor Gutenburg. Rank Math completely integrates to it. You can open Rank Math in the editor by clicking on its icon on the toolbar. Rank Math settings are subdivided into four parts:
General – Here you can set up focussed keywords and edit the snippets.
Advanced – Configure metadata information
Schema – Setup structured data
Social – Set up social graph information for social media.
Rank Math is yet unique in terms of its analytical interface. You will be able to track, Search Console Reports and traffic statistics from Google Analytics. Although, keywords ranking/performance is paid.
Yoast SEO
Yoast SEO on the other hand provides you two ways to set up SEO information for a piece of content. A meta-box appears underneath the editor, be it the classic editor or block editor. An additional SEO option is provided in the sidebar if you are using a block editor.
If you prefer to go with the meta-box, the Yoast SEO tool has an advantage in that scenario over Rank Math. However, each section is expandable to popup more information.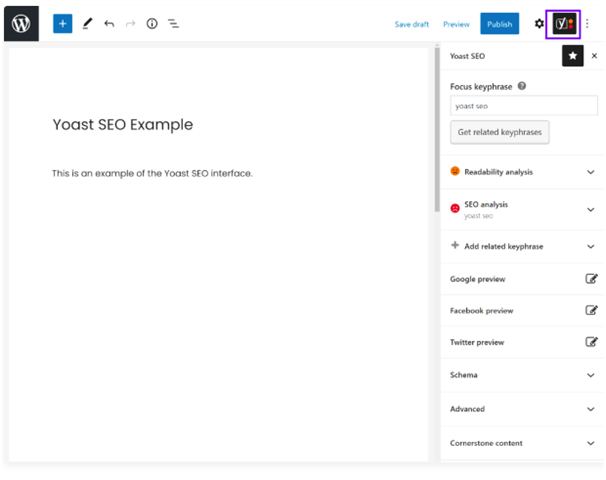 While the other option is to use the meta-box, the setting where is divided into four columns:
SEO – set up focus keywords, title/description, tags, slug, and Google preview
Readability – Display the readability enhancing tips
Schema – Choosing Schema type for the piece of content
Social – Construct open graph choice for Facebook and Twitter
Rank Math Vs Yoast SEO - Keyword Optimization
With both SEO tools, you can add focused keywords and analyze your document according to them. However, here Rank Math wins over Yoast SEO in certain criteria.
Rank Math
Even with the free version, by default, Rank Math lets you play with up to five keywords. The number can also be increased to unlimited by using a filter.
Whenever you enter a keyword, you will see a score from 0-100 that will tell you the performance of that keyword. if you get a score above 80, that will give you a green tick which is a good sign, else it will show red which means you need to optimize your content.
Yoast SEO
With Yoast SEO, you can work with only one focused keyword. However, you can purchase the pro version to increase the limit. Same as Rank Math, here too the green and red sign function and the optimizations are pretty much similar. Yoast specific is a little less specific though if you ask my opinion since there are only three indications.
Rank Math Vs Yoast SEO - Pricing
Both of them are available for free in the WordPress plugins list. However, both boast a premier version that compiles more features. Although, in the beginning, Rank Math was all free. Later on, the developer came up with a premium for it.
Overall if we see, Rank Math's most premium package is a lot more affordable if compared to Yoast SEO side by side. Also, Rank Math supports unlimited websites while Yoast SEO doesn't propose such offerings.
Rank Math Vs Yoast SEO - Features
Rank Math
Free Features
Create a template that manually adjusts tiles and SEO meta description for a piece of content
Control image for Facebook and Twitter
Up to 5 Keywords analysis and optimizations at a time
Create a customizable sitemap than the default for Google Search Console
Control schema for the individual piece of content
link your website to search Console in order to automatically submit sitemaps
View Search console analytics in WordPress Dashboard
Optimize your website for local SEO
Automatically set image alt and title tags
Add breadcrumbs to your site
Have a look at the count of all the links to your website
Manage 301 and 302 redirects
Set product/ shop titles/ description for Woocommerce SEO
Premium features
Tracking sites ranking and keyword ranking
Google trends integration
Google Video SEO
Google News SEO
A lot of predefined Schema types
Access to google Adsense earning history
Yoast SEO
Free Features
Create a template that manually adjusts tiles and SEO meta description for a piece of content
Able to create customizable sitemap other than the default
1 focussed keyword analysis
Set custom schema for a portion of the content
Verify your site with Google Search Console
Set Facebook and Twitter description
Set SEO titles and description for Woocommerce products
Add breadcrumbs to the website
Link counter to count the number of links associated with the website
Core Premium feature
Manage 301 and 302 redirects
Internal link suggestion
Addition of relevant internal link blocks
Multiple focussed keywords
Generate associated Keyphrase based on SEM rush
Conclusion
It is pretty clear from the overall performance demonstrations above that both of them are quality SEO tools. You can choose either of them and believe me you will never regret your choice.
Overall, Rank Math has a little bit of advantage over Yoast SEO in case of the number of focus keywords it offers to optimize your content with. Also, another nice thing with Rank Math is that you can disable the features you don't want to use.
Now, we are expecting that you have chosen one. If you have any more queries, feel free to put comments. And if you need experts to enable Yoast SEO or Rank Math for your website(s), contact us at 24x7wpsupport.