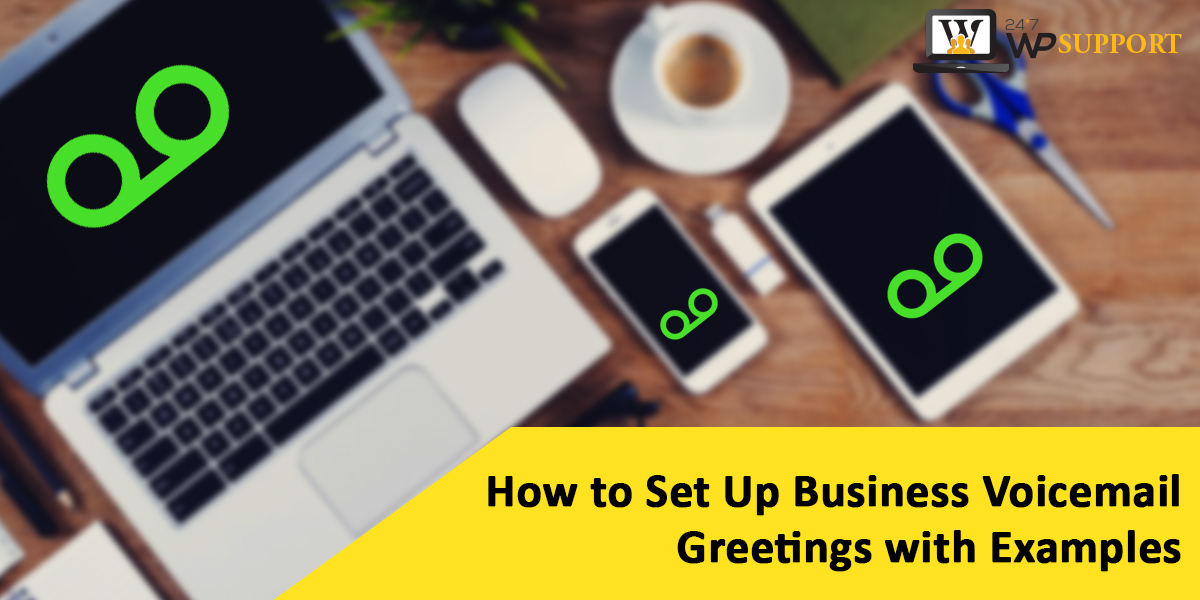 How to Set Up Business Voicemail Greetings with Examples
As we know that this is a very important part of our business as a voicemail system. Those customers or visitors who visit or reach to your business then there will be definite and the voice greeting system is there. But the major difficulty is in that position where users are not able to select perfect business voicemail greetings for their business so in this article we are providing many business voicemails greeting with examples so that users can get interact with that and select according to their requirements.
This business voicemail greetings is used when any customer or visitors try to contact you, but you are not able to pick customers to call or visitors attend customers at the off hour business. A well-managed greeting is going to make a positive impression on callers and customers who are visiting after business hours. And we can use this business voice mail greeting before the call reaches us. In this article, we are going to describe in brief how to set up business voicemail greetings by showing their example? So read this article carefully for better understanding.
What are the things that include making a proper voicemail greeting?
As we know that the proper voicemail greeting is to design or create in such a manner that it can release a great and good impression to the customer or visitors who reached us via the medium of our business. Users make a show that the voice message should not be longer than 22 to 25 seconds. The voice message should contain almost complete information that is going to convey to the customers or visitors in a short time duration. Here we are going to show some voice message which is listened to by the user most of the time.
If any callers are going to follow up with the written correspondence, then the user must speak their name spell.
The company name and department name should be there.
The caller must know that you are not able to take the current call which is going on right now.
Give some time so that they can leave a voice message to you.
Also, mention the expected time to receive their call or your availability time.
If your business has alternative ways to resolve all types of problems then a user notes an alternative solution to that problem to the customers or visitors.
What is the best way to set up a voicemail greeting?
Let's discuss this complete process of setting up voicemail greetings, we're taking small businessmen. According to small business owners, they have mostly used landline or mobile phones to manage all types of customers and visitors call. Well, this is a great sense of humor that this work purpose is the same that is used in high profile business. But the difference is that a lot of small businesses are going to use the virtual business phone number. The reason behind that is with the help of virtual business phone number bleach of privacy chance is very less. And the other process is a landline or mobile number which is going to connect to the internet to manage all types of calls. In the official language, this term is to be known as a business VoIP phone service (voice-over international protocol).
The voice mail greeting service provides lots of advantages over the landline to mobile.
Users can set up different business hours with different voice greetings.
The user also provides some space to set up for voice message and many more things which are done by the customer or visitors.
Users can also connect the landline phone or mobile phone over the internet. And they are also able to work on a tablet, desktop, Deskphone and any type of mobile application.
Users can easily provide access to new employees without calling any technician or buying any type of equipment.
One mobile number can be used by multiple employees at a single location.
There is a lot of phone service provider in today's market, but we are going to suggest about Nextiva. Nextiva is the largest phone service that is used by the user. It also provides an easy web-based admin panel so that users can connect applications or any mobile phone with it.
If any user does not want to use the Nextiva phone service, then we suggest the second option that is Ringcentral phone service. This phone service provides an awesome and highly advanced future in it. A single dashboard through which the user can manage all types of voice greeting, auto-attendant, voice message, call transcripts, and many more things.
Some voicemail greetings with example
All users want to create their voice greeting with the most effective and attractive manner. This is because they do not want to disappoint any customer or visitors who visit during their business hours or after business hours. So we are going to two-place some creative and most effective voicemail greetings with the help of an example.
Avoid some cliches type of statement to a customer and visitor because they are not here for interested to hear such statements. The other point is they do not have how much time to spend over these types of statements.
For example- "your call is important for us"
Make show one thing that the voicemail clip should be professional in manner and sounds smooth.
The sound of the script not should be in that way that you are reading a book or a magazine. It should be in that way that customers can understand all things properly
If you are looking for hiring any voice artist for this type of work, then you can search it out on fever and freelance. There are many freelancing websites you can go no there and search for it for them.
Make sure that the voicemail clip contains important and relevant information regarding your business and short time clip.
Here are some good voicemail greetings with examples
Hi, I am Jason and I am not able to take your call right now. Definitely, I will reach you as soon as I can. Leave me a detailed message after the beep sound pressed. If you require any immediate action, then you are free to call my secretary Natasha. Its extension number is 6336. Thanks for your precious time on call.
Hello, you reached two documents department. We recently closed this department from our normal hours of working that is Monday to Friday from 8 a.m. to 6 p.m. Please leave a voice message after the beep sound. At the time your message received to us definitely we called you as soon as possible. Thank you for providing your precious time for us.
Hi, this is Jim clocks and I will be out of the office on till Thursday that is 24 July 2020. My second time in the office is 25th July at 9:00 a.m. If you have any important message for me then leave your voice message after the beep sound. Whenever I reach for your message I definitely call you as soon as possible. In an emergency, you can immediately call to my assistant to its extension number is 363 629. Thanks for your call and have a good day.
Different types of voicemail greeting option
As we all know that in different types of business work areas there will be a telephone system and these telephonic systems contain a different type of voicemail message in it. This voicemail contains many types of message let's understand with the help of the example given below.
General voicemail greetings example- this type of voice mail was used at that time when there will be no different voicemail is set up then it is set up by default voicemail greetings.
Internal voicemail greetings example- this type of voice mail greetings is going to be used within the company when a company employee wants to call through telephone, then these types of internal voicemail greetings are to be used.
External voicemail greetings examples- this type of voice mail greetings to be set for those people who called for your company from outside. There is only one thing that is to be done that you have to set a default voicemail greeting which will go to hear by all outsiders who called to your extension.
Temporary or out of office voicemail greetings example- this type of voice mail was set at that time when you are not present in the office during office hours for a long time. This voicemail system is set with expiry date and time. After that you do not require to turn it on it will automatically turn it on your default voicemail greeting service.
On the phone or busy, voicemail greeting examples- when you are taking one call, then another call comes at the same time then to inform the second user by creating a busy, voicemail greeting that is you are not able to attend their call right now you are busy on another caller.