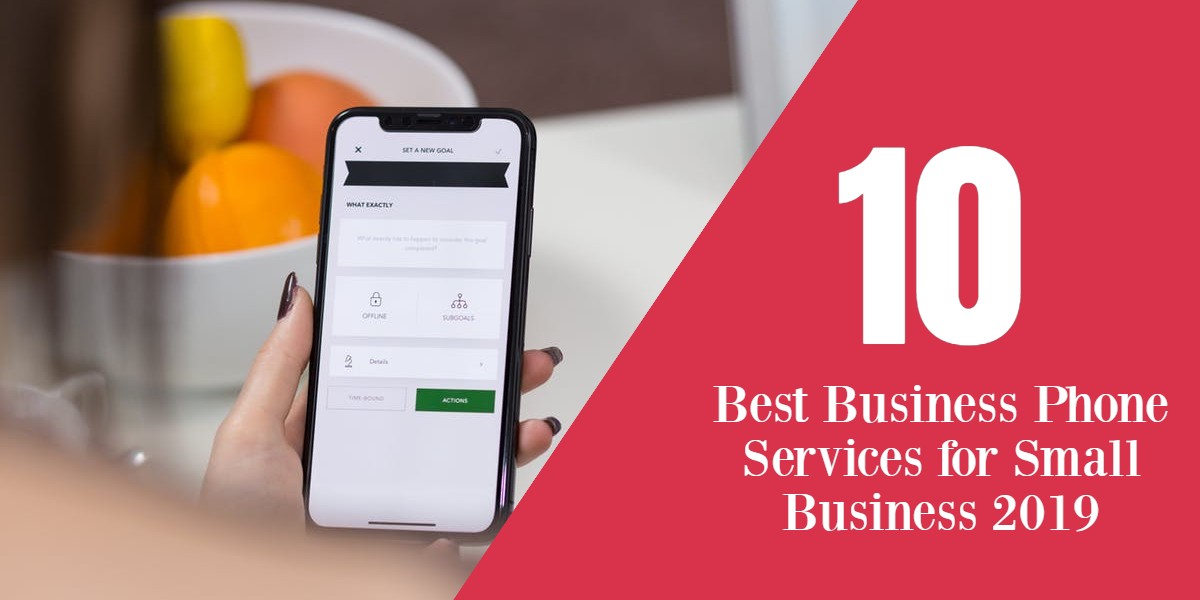 Best Business Phone Services for Small Business
Last updated on September 18th, 2023 at 05:10 am
A telephone system is a necessity for any business, which includes startups and small businesses. It allows business owners to improve their customer support, boost productivity, and reduce the costs of communication. In short, investing in a telephone system can help you optimize your overall business operations.
However, telephones have now evolved from the concept of traditional telephony. Instead of being limited to audio call exchanges, they now provide a complete set of tools to enable unified communication in business.
In this article, we take a look at the 10 best business phone services for small businesses.
MiCloud Office is an integrated telecoms solution that leverages cloud technology to provide a complete set of communication features. Through MiCloud, business owners cannot only exchange calls, but also store them for the records.
Because the system is cloud-based, it integrates other communication media, such as social messaging and emails. This enables small business owners to set up conferences, exchange calls (both PC and mobile), and work with emails, all under a single screen.
The system leverages Voice over IP (VoIP) protocols to ensure smooth and secure transmission of calls. VoIP communication also helps to keep the cost of communication in check without compromising call quality.
The service also offers extensive features to business owners. They can make use of features like local number portability, unlimited local calling, mobile twinning, corporate auto-attendant, audio conferencing, and much more.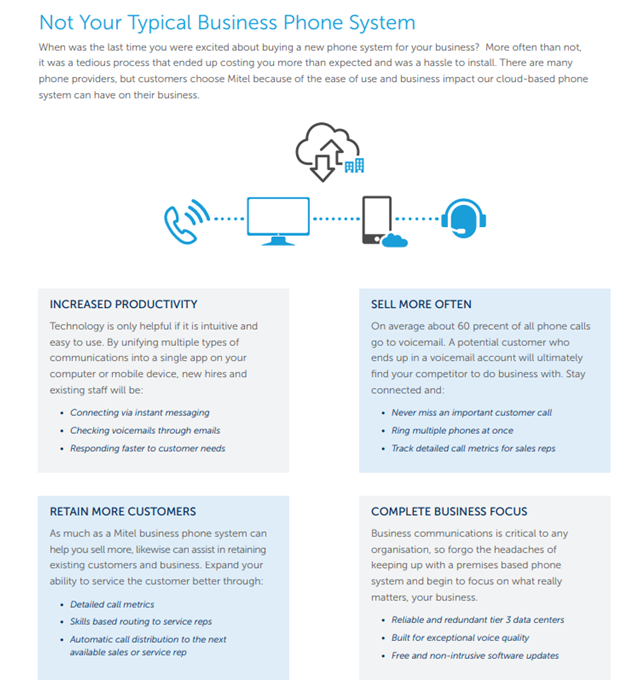 Those who are keen on utilizing data analytics can benefit from its powerful dashboard. The dashboard interface provides a summary of real-time analytics through detailed visualization. These features help managers make optimal use of their resources and fine-tune their operational tactics.
When it comes to the service price, small business owners can expect to pay anywhere from $5 to $15, depending on the features they need and the hardware required.
8×8 is a vendor of several phone system products. However, for small businesses, the service has come with a comprehensive virtual office desktop. The virtual phone system provides superior tools for distributed working and collaboration through domestic and international calls.
The service supports its VoIP operation with cloud hosting. This means that users can get versatile communication options without needing complex hardware.
The service has multiple plans available, but the service offers some advanced features, even in some of the basic plans. Users can avail call recording, auto attendant, extension dialing, ring groups, and internet faxing in those plans.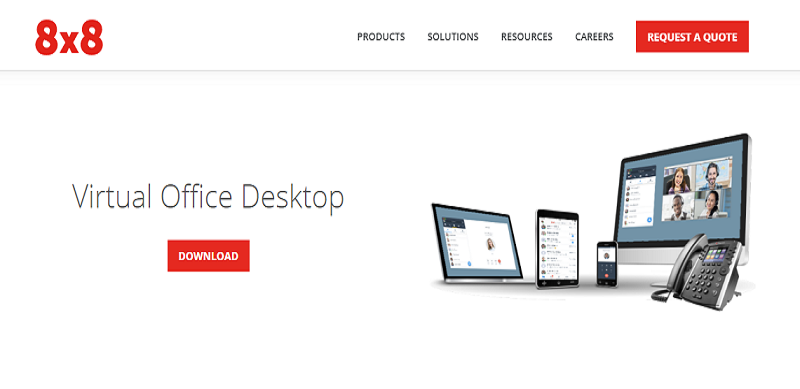 Moreover, advanced plans offer business owners the option to integrate their phone systems into CRM platforms, such as Salesforce, Zendesk, and Netsuite. If you want, you can also integrate online tool kits of Microsoft and Google. On top of this, the service has mobile apps available, so users have a foundation for an integrated Contact Center.
The overall cost depends on which pricing plan you need. The initial Virtual Office package is the 8X8 Express, which costs $12 per user per month. Other packages include, X2 Edition ($28), X5 Edition ($48), and the X8 Edition ($115).
Opting for advanced packages will allow you to get additional benefits. For instance, you will have access to increased media storage, the number of countries you can call and support for call recording. However, the service doesn't provide any discount for additional users.
Ring Central is another feature-rich small business phone system. The business phone platform includes all the basic features that you would need for your small business. The basic version offers features like caller ID, call forwarding, call waiting, and transfer. Moreover, you can share a single line between multiple mobile devices and users.
If users need to integrate their existing accounts on Gsuite, Microsoft, and Dropbox, they can do so easily with Ring Central. Apart from that, they can make use of cloud-based administration to set up and manage calls.
Their Cloud PBX includes all the PBX hardware you need. Moreover, the platform lets users configure settings, according to their needs. Therefore, you can enable multi-level IVR, role-based access control, auto-receptionist tools, and call monitoring to have a versatile PBX.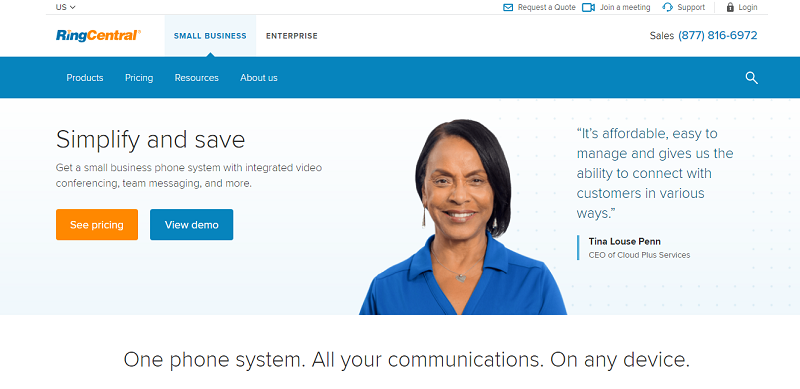 The service's robust collaboration tools ensure that your business operations can run without any disruptions. These include file sharing, conferencing options, and project management tools to streamline your workflow.
The basic Essentials plan begins at $19.99 per month per user. The service allows companies to add up to 10 users. There are also advanced features, such as team messaging, analytics, integrated workflows, and omnichannel contact centers.
In total, there are four plans for the service, and the pricing varies, according to what you want. However, keep in mind that the subscription fee will range from $19 to $49 (per user per month). However, these charges have to be billed annually.
Vonage Business is a premium VoIP service that offers unique plans that cater to the enterprise and the small business market. The service has become one of the pioneering names in VoIP communications today. Vonage is an excellent option for small businesses as it enables owners to utilize a plethora of premium features.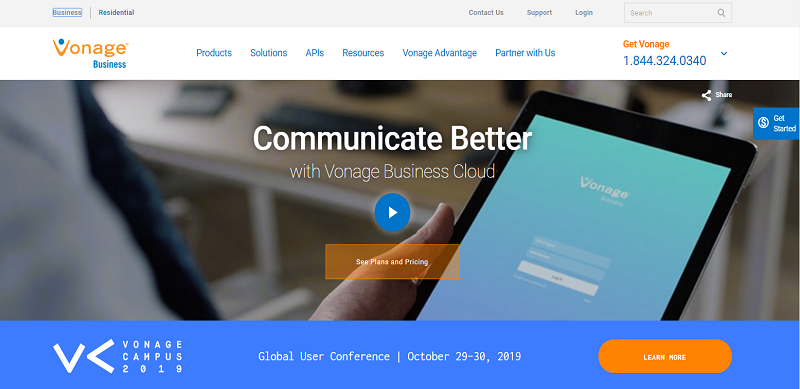 The Mobile Plan provides a means for basic mobile communication and costs $19.99 per line per month. However, opting for a Premium Plan ($29.99 per line per month) unlocks features like file sharing, auto-attendant, chat/video conferencing, and CRM integration.
If you want to access more features, you have to upgrade to the Advanced Plan, which costs $39.99 per line per month. This will unlock features like call recording, forwarding to multiple extensions, onboarding, and visual voicemails.
The service cost is on the higher side, but it allows business owners to benefit from the best services available on the market. Moreover, the company has a team of experienced customer support representatives to go along with their communication service.
AirCall has a strong clientele, including big names like Uber, Pipedrive, and Birchbox. The service provider allows business users to take and place calls in over 40 countries. AirCall offers useful call center tools to optimize your customer support.
The service also has an easy-to-navigate and user-friendly interface. You can group your calling numbers in categories and get a bird's eye view of calls that require follow-ups. Moreover, the service bolsters its services by enabling call conferencing, forwarding, queue callback options, and time-based routing.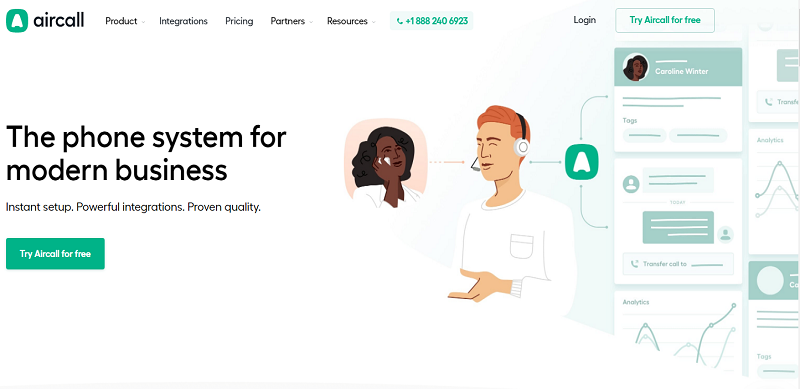 The service has two plans, namely Essential and Professional. Both these plans are calculated for each user per month and have discounts if subscribed annually. Essential costs $30 annually ($40 monthly) and offers features like unlimited inbound calls (excluding toll-free), phone support, integrations and API, and smart queuing.
On the other hand, Professional costs $50 a month per user if billed annually ($70 if billed monthly). The plan has premium features, such as PowerDialer, advanced analytics and reporting, Salesforce integration, live call monitoring, and more.
Nextiva is also a decent business phone service for small businesses. The service focuses on ease-of-use and offers a quick set-up to make the workflow more efficient. Nextiva allows small business owners to leverage unified communication panels through a simple, web-based admin panel.
Nextiva's VOIP phone service is as good as any other service out there. Small business owners can use features like unlimited free domestic calling, advanced call routing, online faxing, voicemail to email and text, and more.
The service also provides a free local or toll-free number, and free number porting. But that's not all; users can also avail features, such as call forwarding, routing, caller ID, and custom greetings.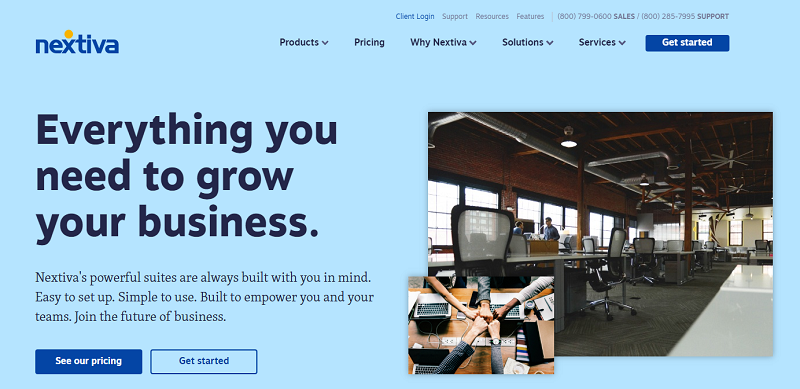 If you need advanced features, then Nextiva has covered that as well. For instance, you can access powerful features, such as CRM, online surveys, call analytics, Live Chat, and other solutions integrated with the business phone system.
The initial pricing for Nextiva's phone service begins at $19.95 per month for every user. However, as you add more users, the pricing will slide down further. You can save even more money by creating a pre-paid account.
GrassHopper provides virtual phone numbers over VoIP phone service. So the service is great for a small business that has limited use of unified communications. The virtual phone number enables users to forward calls to any mobile device or phone number. However, you would still need a phone line for outgoing calls.
Each virtual number has multiple extensions; so, users can choose from toll-free, local, and vanity phone numbers. The service has options for Canada, US, and UK-based toll-free and local numbers. Moreover, you can benefit from GrassHopper's web and mobile apps to manage your account, along with the phone service.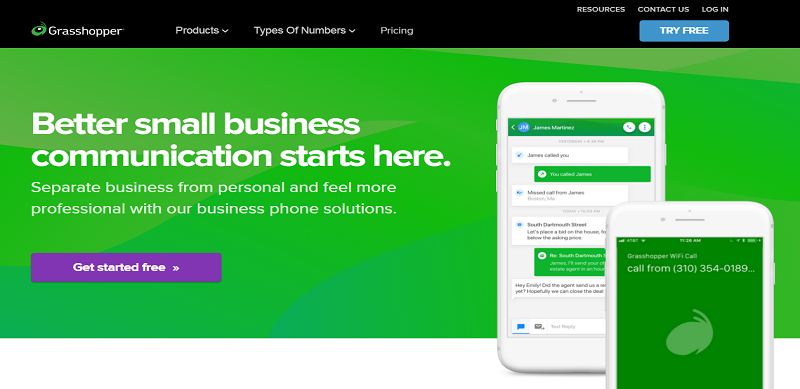 Needless to say, the phone system has standard features, such as call routing, forwarding, waiting, and call hold music. Besides that, users can take advantage of voicemail to email transcripts and other services.
The service plan starts from $29.99/month, which has a single virtual number. However, this number has up to three different extensions. This makes it perfect for remote teams because they can add extensions and then use them anywhere through mobile or desktop apps.
3CX is an IP PBX that offers unified communications solutions to its users. The platform assists small business owners to improve their call management while keeping the telecom costs under control. The platform also offers mobile apps in Android and iOS devices to help business owners monitor their operations on-the-fly.
The service makes it easier to collaborate between different teams with its numerous conferencing options. Besides that, 3CX will help you to integrate your CRM system with your business phone service. As a result, you won't have to jump from platform to platform for managing clients.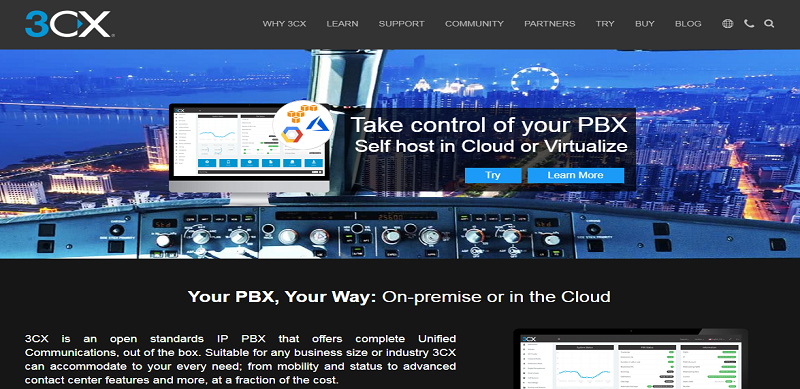 3CX has a user-friendly design and is also easy to install, manage, and maintain. Therefore, you don't need to hire technicians to manage the application.
The service has several annual subscription options. The pricing of these packages changes depending on the number of simultaneous calls and features you need. If you need a minimum call capacity, you can access their phone system without charge. Alternatively, you can access the Pro and Enterprise plans for $188 and $225 respectively.
Axon Virtual PBX is a platform built to address the needs of businesses and call centers. Therefore, small business owners can leverage from this service as well. The phone system uses VoIP technology, and you can scale the service according to your needs.
The service offers all standard PBX features you expect from a phone system. Axon Virtual PBX accommodates call transfers, call recording and holds while supporting predictive dialing, video conferencing options, and digital call routing.
While Axon Virtual PBX lacks a complete cloud solution, it still offers a web-linked control panel you can access remotely. You can use the virtual PBX as a standalone application or in conjunction with an analog PSTN landline and a VoIP system.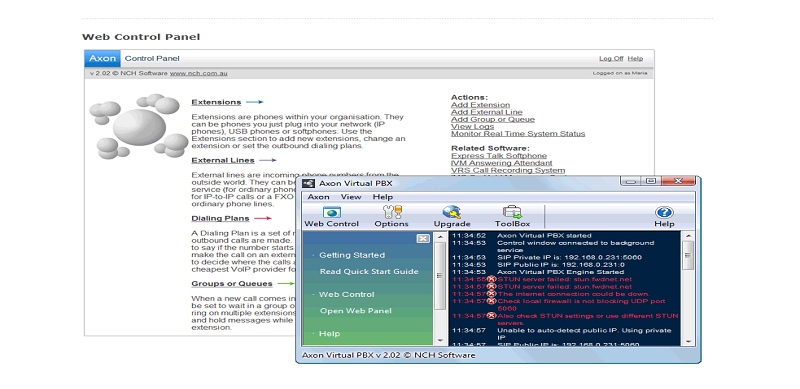 Like 3CX, Axon Virtual PBX offers a free plan for small businesses. However, the Business and Enterprise edition cost $139 and $259 respectively.
Phone.com focuses on being a cost-effective business VoIP service. The phone system has a pay per minute base plan, and if you apply for the annual plan, it will cost only $9.99 per month. However, the service balances that out by limiting the number of phones and calls in that package. Users are allowed to use only 300 voice minutes along with 5,000 SMS each month.
However, users can still benefit from features, such as call blocking, voicemail to email, and call queuing through this plan. Phone.com has also been declared as HIPAA compliant, which means that the service meets the standards of privacy related to healthcare businesses.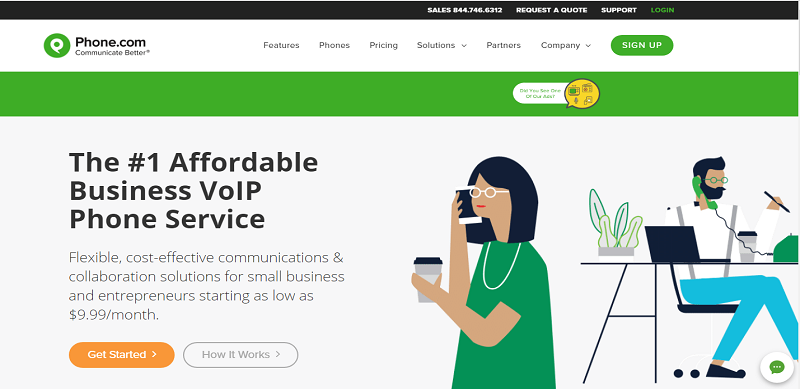 You can also avail other plans, such as Plus by paying $14.99 per month (if paid annually). With this package, you can use 500 minutes and 10,000 text messages in a single month. Unfortunately, even the service's top plan ($29.99 monthly if paid on an annual plan) limits its offer to 1000 minutes and 20,000 SMS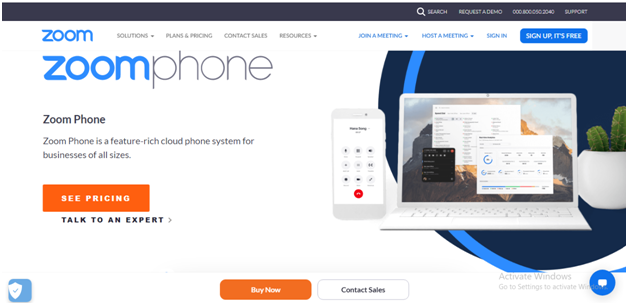 Since its evolution, businesses have used Zoom and connected with their team remotely. Remote work has become a stable skyrocket and the new trend nowadays.
Numerous businesses have voted for its reliability and ease of usage. This is the reason why the cloud phone service of Zoom is highly valued.
The phone system is hosted in a cloud system. It is accessible as a stand-alone product. You can bundle this service with the video conferencing service of Zoom.
This business phone service offers numerous tools and calling features. It includes voice mail transcription, HD quality call, call monitor, etc.
You can use video conferencing and phone service on the same platform of phone service. It offers bundled subscription and phone-only plans.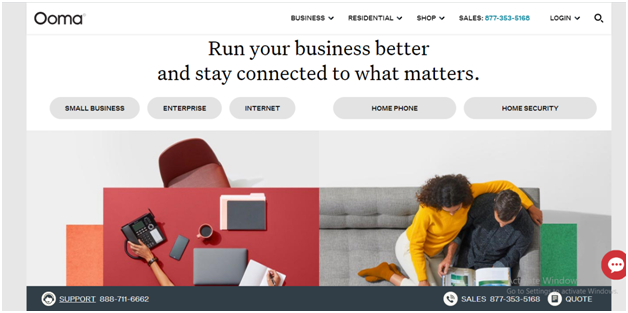 This business phone service is an ideal option for the business that uses hard phones. There are many businesses that require phones at every desk.
And if it is an enterprise, then they require numbers tied to the location. For them, people do not matter.
Let us understand the scenario more simply:-
For instance, it won't be possible for hotels to give tablets and headsets to their guests.
Ooma plays a major role in such service sectors. It is an intelligent plug-and-play system. You can quickly set up and customize it as per your workplace. It can fit into your existing technology without making much of a fuss.
Do the installation of the Ooma base station. As soon as you are done, you can hook up your fax machines and old phones with adapters.
If you are a new business, you will definitely get swayed by its lucrative pricing. You need to pay $19.95 per month flatly for each user. Moreover, you can cancel it at any given point in time.
You can even use any type of phone virtually with this magnificent business phone service. Ooma even shares some excellent prices on the new top model phones.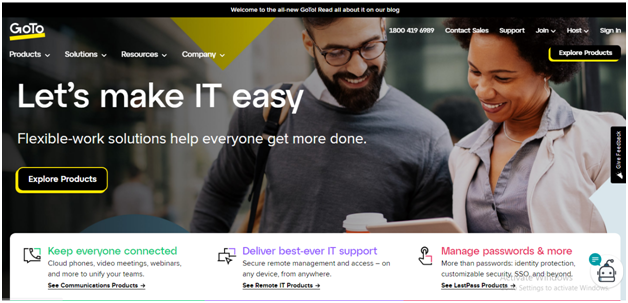 An all-inclusive business phone service that is loved by entrepreneurs.
It gives enterprise-level communication to small businesses. GoToConnect has easy to use system for small and large team sizes.
You can use features like Virtual fax, individual call logs, conferencing, etc. Its Support Center tool makes it eminent.
You can connect with your clients and resolve their queries. You can even walk your clients easily through the technical issues.
It is the perfect choice for Saas or IT organizations. The agents working in these sectors can quickly connect with their clients. They can even check their details on the single intuitive dashboard. The agents can even do real-time analytics.
You can set up the GoToConnect phones with ease. You just need to plug them and you are all set to make your calls in seconds.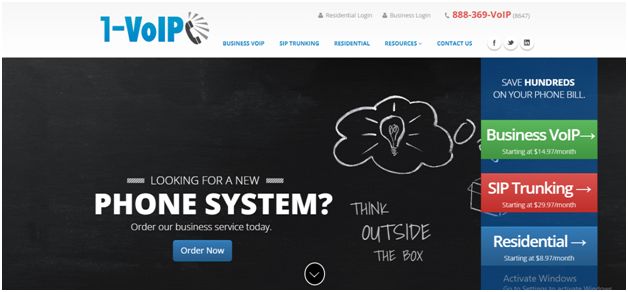 One of the most flexible business phone services mentioned on this list. It gives solid and robust solutions for large to small businesses.
1-VOIP does not cut back the basic features in the metered plan. You can get the features like Hold music, call recording, call waiting, queues, etc. In the standard plan, you use more than 40 features.
It is perfect for those businesses that do not anticipate the volume of the phone calls but need a phone plan. Hence, best for sectors like IT Support and telemarketing services.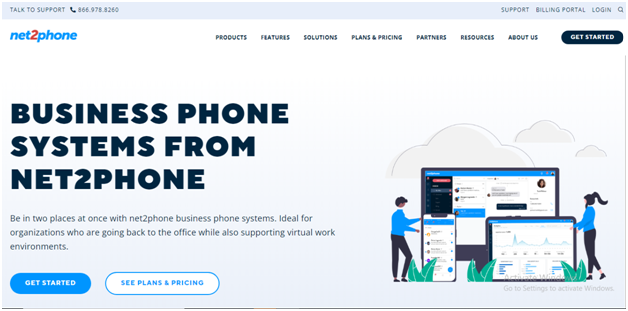 An ideal solution for businesses that are highly focused.
For instance, when you set up a business, you will have few employees and will have basic requirements.
But, as soon as your brand grows your requirements expand. You will need more team sizes at each stage. You will have a system that grows with you. Hence, you need not switch the phone systems at every business stage. This is what net2phone provides.
You can choose your plans from the 5 plans. All plans have Huddle access, video conference solutions, and unlimited calls.
A Microsoft team user can easily implement voice capabilities to the Teams environment. The app allows the Team users to make calls using a dial pad. They can receive, transfer, and make calls across all devices.
Conclusion
Generally speaking, small business owners seek a phone system that can help them manage their operations efficiently. However, in the case of business phone systems, the question is not what a phone system can do. Instead, what matters is whether you need the service or not.
As a business owner, you can leverage analytics to make your workflow efficient and even integrate your CRM with the phone system. However, some users have limited use for these features and need a cost-effective system to communicate with their clients, partners, and team members.
In the end, there are plenty of options to choose from, and the best phone system is the one that fulfills your needs. Hopefully, we have narrowed down the options with our list of 10 best business phone services for small businesses. If you found this article useful, feel free to leave a comment below. Live Chat with us