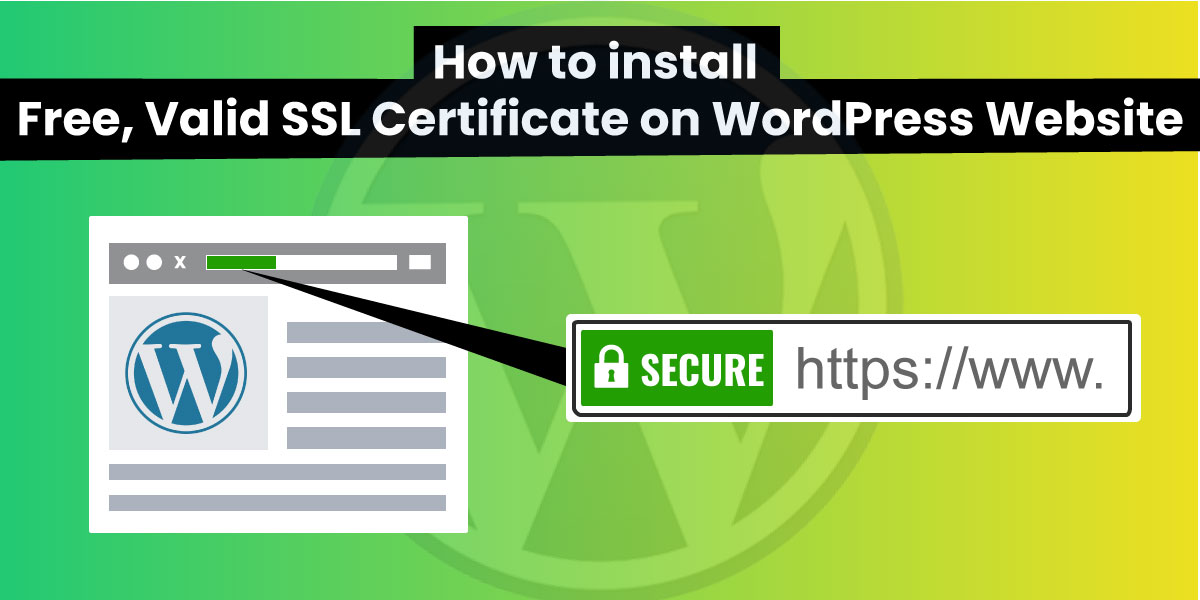 How to install Free, Valid SSL Certificate on WordPress Website
Last updated on August 10th, 2021 at 01:36 pm
Internet is a vast network interwoven with a large number of networks. Web servers enable various websites to access them via web browsers. Sadly, hackers are likely to attack websites and other networks. Safety is crucial in today's eCommerce era, along with digital transactions for goods and services and online businesses.
The best way to secure your WordPress domain is to add an SSL certificate. You get extra SEO value for your page by adding this credential, as the search engines find a secure website to be more trustworthy than a site without https.
An SSL-enabled website is a need for a safe internet, but its implementation costs raise concerns about its widespread adoption. In this article, we will direct you via step-by-step instructions and free provider of SSL certificates to add an SSL certificate free of cost to your WordPress page.
Before going ahead, you need to know what SSL is? Let's have a look at the same.
What is SSL?
SSL is the Secure Socket Layer. SSL creates a data transmission layer encrypted between the two systems. Whether it is server communication to server or server communication to browser, SSL enables encrypted data transmission and prevents access to an outsider. A server needs an SSL certificate to create an SSL connection.
SSL also has certain advantages. Get to know what they are:
Advantages of SSL
Below are some advantages of SSL. Read on to find out what are they:
1) SSL protects your data
An SSL certificate's core function is to protect communication between server and client. Each bit of information is encrypted when SSL is enabled. The information is locked in layman's terms and can only be opened by the intended recipient (browser or server) as no other person can have the key to open it. SSL helps protect you from the naughty army of hackers and skimmers when dealing with sensitive data such as IDs, passwords, credit card numbers, etc. As SSL converts the data into the undecipherable format, the abilities of the attacker prove to be an edgeless sword against the unbeatable SSL certificate encryption technology.
2) SSL affirms the identity
An SSL certificate's second primary function is to provide a website with authentication. In terms of web security, identity authentication is one of the most critical aspects. The Internet is becoming more and more frustrating.
3) SSL helps in satisfying the DSS/PCI requirements
If you accept payments online, you need to know one or two things about the standards of PCI / DSS. Your website must comply with PCI in order to receive payments online. One of the 12 primary requirements set by the payment card industry (PCI) is to have an SSL certificate enabled.
Now, let us see what HTTPS is? Let us know what it is.
What is HTTPS?
"HTTP" or "HTTPS" appears in a web browser at the start of each website URL. HTTP is the HyperText Transfer Protocol, and Secure is the S in HTTPS.
Secure Hypertext Transfer Protocol (HTTPS) is the stable HTTP version, the primary protocol used to send data between a website and a web browser.
HTTPS is encrypted to enhance data transfer security. This is especially important as users share sensitive data, such as logging into a bank account, email service, or provider of health insurance.
HTTPS ensures the encryption of all communication between your browser and the website you are viewing, that means it's secure. Only receiving and transmitting machines can see data transmission information (others could theoretically access it but could not read it). The web browser displays a padlock icon in the URL area on secure sites to notify you.
HTTPS should be on every website gathering passwords, transactions, health or other sensitive information. But what if you can get your domain's free and legitimate SSL certificate?
Importance of HTTPS and what happens if the website does not have HTTPS?
HTTPS prevents websites from broadcasting their information in such a way that anyone who snoops on the network can easily view it. As information is transmitted through standard HTTP, it is broken into data packets that can be easily "sniffed" using free software. It makes communication highly vulnerable to interception over an insecure medium, such as public Wi-Fi. Besides, all interactions that occur over HTTP occur in plain text, making them highly accessible and vulnerable to man-in-the-middlele attacks for anyone with the right tools.
Till now, you must be aware about the importance of HTTPS. Now, let us see how the Website Security works.
How SSL keeps your website secure?
You need to download a certificate of SSL (Secure Socket Layer) to enable HTTPS. The certificate contains a public key that is required to start the session securely. The website sends the SSL certificate to your web browser whenever you request an HTTPS connection to a web page. Then your browser and the site start the "SSL handshake," which includes exchanging "secrets" to create a secure link between your browser and the website.
Once you get to know how the website security works, the next thing you need to know is why one should get the SSL certificate. Let us see why.
Why must one get an SSL Certificate?
Even if your website does not collect and transfer sensitive data, you may want to have a secure website and obtain a free and legitimate SSL certificate for your domain for several reasons. Read on to find out:
Performance: The Secure Socket Layer improves the time required to load a particular page.
Search Engine Optimization (SEO): Google always has the intention for internet to be a secure and safe experience for its users not only for those who use Gmail, Google Chrome and Drive.
Google says that security is the main factor in ranking the sites in the search results. If you have a website which is secure and your business competitors do not have any then your website can rank higher that might be required to get the click from the search results page.
Where can one get the Free SSL Certificate?
One can get the SSL certificate from the certificate authority. Few reliable sources are given below:
Let's Encrypt: This certificate is valid for 90 days, and the recommended renewal of the certificate is of 60 days.
Cloudflare: Cloudflare certificate is free for personal blogs and websites
FreeSSL: The certificate from FreeSSL is free for the non-profits and the startups
StartSSL: The certificate from StartSSL is valid for 1 to 3 years
GoDaddy: The certificates here are open for the open-source projects that are valid for one year.
The type and duration of the certificate vary according to the authority. Most authorities offer free and chargeable standard SSL certificates for EV SSL certificates if they provide them. Cloudflare offers free and paid plans as well as various options for add-ons.
Once you know the various sites from where you can download the SSL certificate, the next thing that might bother you is things one must consider whenever you get the SSL certificate. Read on to find out:
Things one must consider when getting the SSL Certificate
Google is suggesting a 2048-bit certificate. If you already have a weaker 1024-bit certificate, they recommend that you update it. One must decide whether you require a single, multi-domain or the wildcard certificate.
The single certificate is best suitable for the unique domain
The multi-domain certificates are ideal for multiple domains
Whereas the wildcard certificate is the best ideal for the secure domain with the dynamic sub-domains
Next comes the SSL Certificate installation. Now we will the steps involved in the process of SSL Certificate installation.
Steps for installing the SSL Certificate
The web host installs the certificate free of charge. Some of the hosts do have a Let's Encrypt SSL Certificate installation option in the cPanel dashboard. You need to ask the current host or find the one which offers some direct support for the Let's Encrypt. If the host doesn't provide you with this service, your website maintenance company or the developer can install the certificate for you.
One must expect for certificate renewal often hence you need to check the timeframe with a certificate authority. To make this easier while implementing, you need to partner with the fully managed hosting provider.
You must be wondering what else you need to do? Let us see what is required further:
Force SSL
You need to force SSL on the website after you have obtained and installed the SSL certificate. Again, you can ask for this from your web host, maintenance company, or developer. However, you can do this by downloading, installing and using a plug-in, if you wish to do it yourself and your website is in WordPress.
Whenever you use the plug-in, you need to check its compatibility with your WordPress version, its installation instructions and the reviews. The most important plug-ins for forcing SSL are mentioned below:
Always see to that you backup your site first and always be careful whenever you execute this. If you happen to misconfigured, then you can face the dire consequences. Those are:
The visitors are not able to see the website
The images are not getting displayed
The scripts don't load that might affect how various things on your site function
Colors and typography don't appear
Set up server-side 301 redirects
Users and search engines need to be redirected to the HTTPS pages via 301 redirects in the server's root folder in the .htaccess file. The .htaccess file is the invisible folder, so make sure the secret data are displayed in your FTP system.
It would be a good idea to back up your .htaccess file before you add the redirects. On the server, temporarily rename the file by deleting the period (which in the first place makes it invisible), update the data (which is now visible on your device as a result of removing the date), and add the period back to the one on the server.
Change the Analytics Settings
Upon taking these steps, to view the HTTPS version of your domain, you will need to change the default URL in your Google Analytics account. Since the HTTP version of the URL is seen as a completely different website from the HTTPS version, the traffic statistics will be off.
HTTP and HTTPS are also handled as separate domains by Google Search Console, so add the HTTPS domain to that profile.
Keep in mind whenever you switch from HTTP to HTTPS, the number of shares will be reset if you have social sharing buttons activated on your page.
In this way, you are required to install the free and valid SSL certificate for your domain and encrypt the data for keeping it safe. The SSL certificates are a part of the future of WordPress security.
Final Thoughts
We hope this article has helped you understand and learn how to get a free WordPress page SSL certificate. So, don't waste your time anymore and follow the steps for SSL Certificate installation.