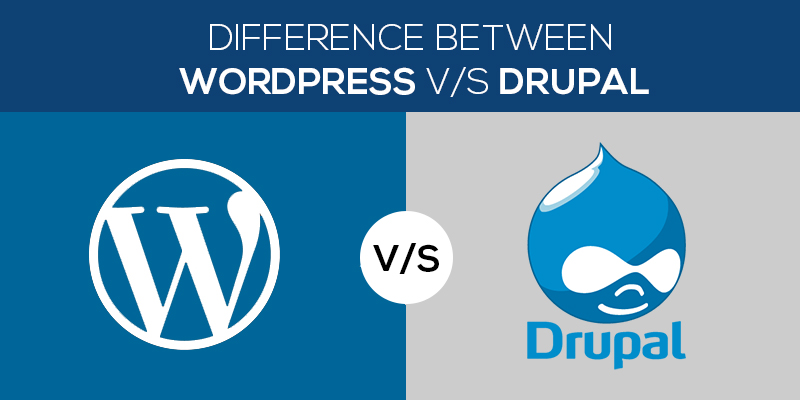 Difference Between WordPress V.s Drupal
Last updated on August 11th, 2021 at 06:11 am
Whether you are looking for a way to map up your internet voyage before taking the trip, you ought to consider WordPress and Drupal as the very bests in terms of arming your business with the most advanced web technologies. In accession, should you seek for an oscillating, outstanding and out of the box online presence that could speak for your brand itself. WordPress and Drupal, both act well as there are no tricks and pretense. Everything is simplified and all of the processes are fact-based, customer-focused and user-oriented.
To perceive any brand with positivity and to attain emotional response of the utmost origin. The most meaningful way is to develop a website that could be easy to use and manage. So you could allot more time as well as budget for your business. Crafting a creative online presence, the root of which goes beyond the horizons of skies. Word Press and Drupal, both are armed with the analytics and technologies to find out where you are and to reach that benevolent latitude for your business where you want to be.
Key differences between WordPress and Drupal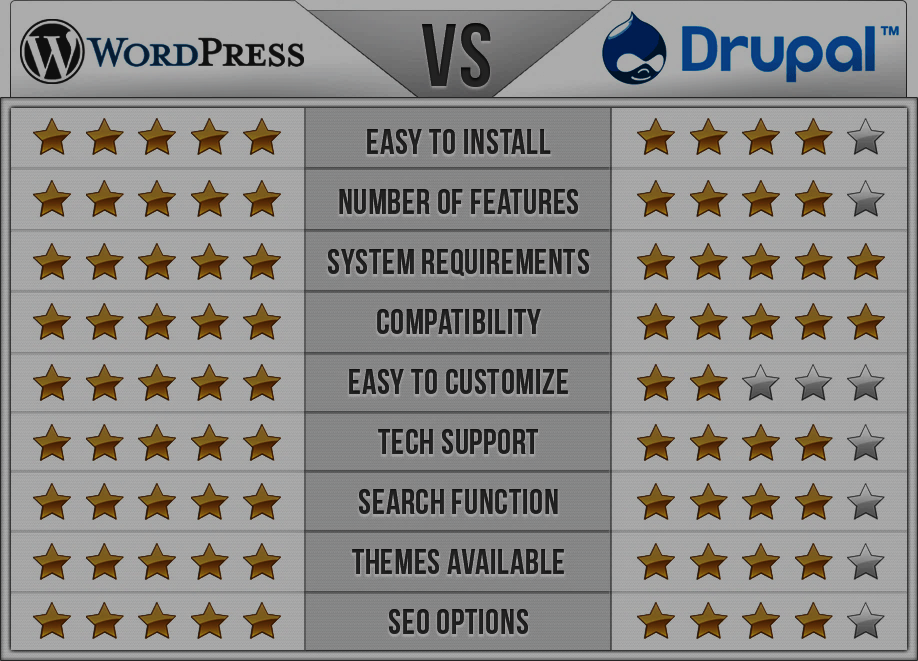 Word Press is easier to install and Drupal may seem a little bit tougher as there is a Drupal way of coding in the Drupal sites
WordPress comes up with lots of features, yet the Drupal sites are faster
Word Press sites are very easy to customize and there is no professional help required, when you are dealing with them.
Word Press has the largest community and tech support available.
Search function is much better in WordPress sites.
A wide array of themes and plug ins are available in WordPress sites and there is no need of seeking professional help while installing them.
In terms of search engine optimization, you should rely more on WordPress.
About the Drupal
Being written in PHP, the Drupal is evolved as mainly a tool for creating smaller sites. However, it can power up any enterprise level site at ease, although the customization options are not very user friendly. Upon downloading the Drupal is ready to use and it also comes up with a web-based installer as well as add on modules. Drupal delivers also a great deal of supports including great content management and collaborative authoring. In addition, it supports newsletters, podcasts, peer to peer networking as well as image galleries. And in accession, it is also possible to download and upload files to the Drupal sites. Which may look Drupal and WordPress alike, yet they both have their own way and huge differences as well.
In terms of development, Drupal has a closed community. It is not that fact the Drupal developers are unfriendly. But they have their seperate styles of coding that is very often termed as Drupalism. It does mean that even a developer will have to learn the Drupal way to develop a site in Drupal. This particular fact considerably decreases the popularity of Drupal.
About the WordPress
WordPress is written in PHP and MySQL and it is one of the most flexible platforms for content management. In terms of customization, it may lack a few staff in relation with Drupal. Yet the simplicity of WordPress has to be considered. WordPress plugins and themes are very easy to install. You need not to be very tech savvy to handle the ups and downs as well as trends and bends of a WordPress site.
The key difference lies between this two is certainly about the manageability as well as flexibility. WordPress plug ins are very easy to manage. And there is no need to use a developer while performing any modification. Yet, while using the Drupal, you need to seek help from the professionals, every time you want a modification.
Plugins in the WordPress are very to install, handle, edit and modify. There is no need to be a developer to add a plugin in the WordPress site. However, you will require a developer to add plugins in the Drupal site. We are not saying the Drupal way of developing is too tough or too complicated. But it takes a lot of in-depth understanding of the Drupal concept. A lot of effort and experience is also require to deal with the Drupal. Even the simple-most task may take several hours to complete in Drupal. While WordPress delivers an easy-to-manage dashboard and admin panel that lets you access into every important thing of the site. In addition to a user-friendly dashboard, WordPress admin panel is intuitive and polished. It might have been an excellent pick for the content creators as well as developers.
All of those key facts make the learning of the Word Press a lot easier. It also can reduce the cost of site maintenance, as there is very little requirement of outside developers and professionals. However, to deal with more complicated staffs and troubleshoot the WordPress, you have to seek professional help.
However, the editing, uploading and updates of the Word Press sites are easy to manage. And there is no need of manual deployment of the codes. In accession, WordPress could deal with an immense amount of traffic and workload. It could perform equally well as an ecommerce platform. On the contrary, the level of traffic that a Drupal site can manage is very scalable. However, the Drupal sites are faster than the Word Press and Drupal sites can deal with a vast amount of data, images and contents. Still, WordPress should be prioritize as it is an easier platform to manage.
Final Verdict
At the end of the day, all you need to do is to scheme a scheduled project properly. And in terms of proper accomplishment of any web developing project. Platforms like WordPress hardly come by, that you can count on and rely on. Since, most of the site owners are not that tech savvy. We always recommend WordPress to develop the sites, as it requires less time, less budget and less involvement of the professionals to modify, edit or upgrade the contents.