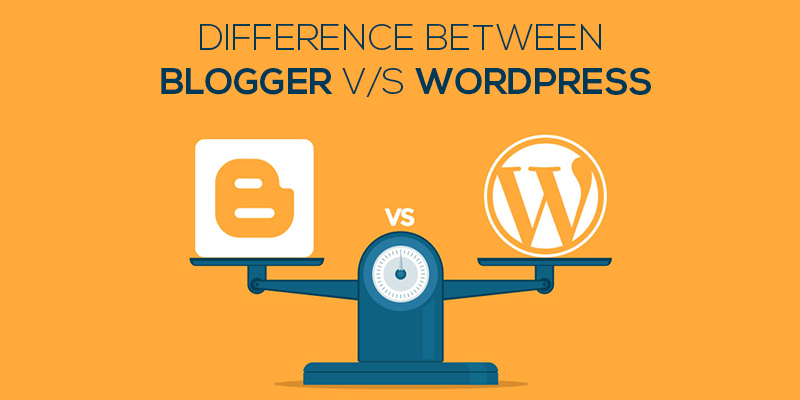 Difference Between Blogger V.s WordPress
Last updated on August 11th, 2021 at 06:11 am
A simple approach for saving your time, sanity and money while dealing with online marketing would be to invest on a simple platform like Blogger or WordPress. Which one is the best that we could not tell at the moment, yet we could discover the facts, which remain underneath those platforms to boost up the revamp and re-amp your web presence. The rest is up to you to find out a proper solution for your web presence. All we could do is to deliver the insights and show you the ways. However, let us get back to the comparison we were going to make.
A preface to blogger and WordPress
WordPress being developed in 2003, is an open-source as well as free content management system. To make it work for your site, you need to install it in the web server and you will require a domain name, unless you are happy with a WordPress subdomain. On the other hand, blogger is a Google owned blog publishing platform and service that lets the user publish their blogs in a time-stamp series. At first, it was developed by the Pyra Labs and then, Google bought it in 2003. Basically, the blogs of blogger are host in a subdomain of blogspot.com.
Although they both are workable and free solutions, however, they have basic differences in terms of features and core coding. WordPress.com is actually a commercial approach. On the contrary blogger is not a commercial service. And it lets the user to write independently and to publish without much pricing. To get a good chunk of money back from a WordPress site investment, the business owner will have to put a lot of time, effort and a decent level of technical expertise. If you are looking for a non-commercial approach for your site that is easy to maintain and simple to set up, just get your grabs on blogger. Should you want a fair level of customization, try the WordPress.
About Blogger
As we have already mentioned blogger is a Google owned service. It is hosted actually in blogspot.com and anyone can publish a blog using blogger with just a few clicks. If you have a pre-existing Google account, you will easily be able to sign up in blogger using your Google credentials. If you do not have a Google account, the sign up process may take a little longer. Whatever you are going to do, the whole process of setting up a new blog in blogger will not take more than a few minutes. While using the blogger, you will be able to create as well as manage multiple blogs using a single account. However, if you really want to explore how much you can do with your site at the simplest manner, try WordPress.
In comparison to the WordPress, blogger is a lot simpler and its simplistic style could have been prove to be very handy for the users. To make the contents to shine at a very few clicks, blogger has no alternative. Nonetheless, you cannot expect any earning from the blogger sites. It is also not suitable for brand exposure, as it will deliver a poor impression of your brand. The number of tools you can use in Blogger is very limited and you really cannot do much with it. As you have no way to enter into the Python based Google core through blogger. It should be seen as a lighter tool and as a paper boat floating over Google. Apart from creating a blog style site, there will not be any kind of way available for you while using the blogger.
About WordPress
While using the WordPress, the possibility of brand exposure and traffic engagement is endless. You could easily use any WordPress hosting provider for hosting the site. While being on the WordPress platform, you own all of your data and you are free to choose how long you want your site to keep running. Furthermore, you will have control over all of the data. And you can control what to share with the third-party sites or tools and what not to. If you are going for a self-hosted WordPress site. You are free to customize it any time you want. Yet the security and site backup will be your responsibility. However, the best part of WordPress is that you will be able to design and customize your site any way you like, and the whole process, is very simple.
In terms of content publishing, WordPress and Blogger, both act in the same way. Yet publishing any content is pretty straight forward in the Blogger. If you are going to use WordPress, you will find a whole bunch of new options to use while publishing a new content. For collaborative projects and e-commerce sites, WordPress site might have been a good option.
It is possible to preview the contents before publishing in both WordPress and Bloggers. It will let the developers see how their posts are going to look like when they will be on the air. Once you are happy with all kinds of customization, you are free to publish your blog on the web.
Key differences between blogger and WordPress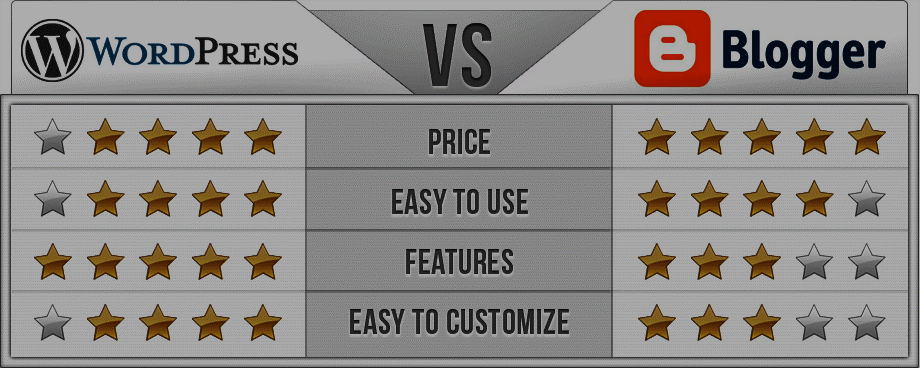 Final Verdict
Creating a unique and beautiful blog at the simplest way is easy and free in Blogger. On the other hand, WordPress delivers a whole new level of digital transformation of your brand. Getting start with blogger is easy breezy. But WordPress will require you to be at least a little bit tech savvy. Blogger is completely free, while WordPress comes up at a different pricing. Yet, a self-hosted WordPress site should not cost more. In terms of flexibility, the Blogger performance lacks the amplitude. WordPress is open source and it could be customize and the functions could be enhance by using plug ins and themes written in PHP. In terms of advertisement, SEO and plugins, blogger is no match of WordPress. So, have you been in need of a secured solution for your site, try WordPress. Don't you want that much complexities? Go for WordPress and it is one of the easiest ways available to increase brand awareness. And spread a positive breeze into the air.