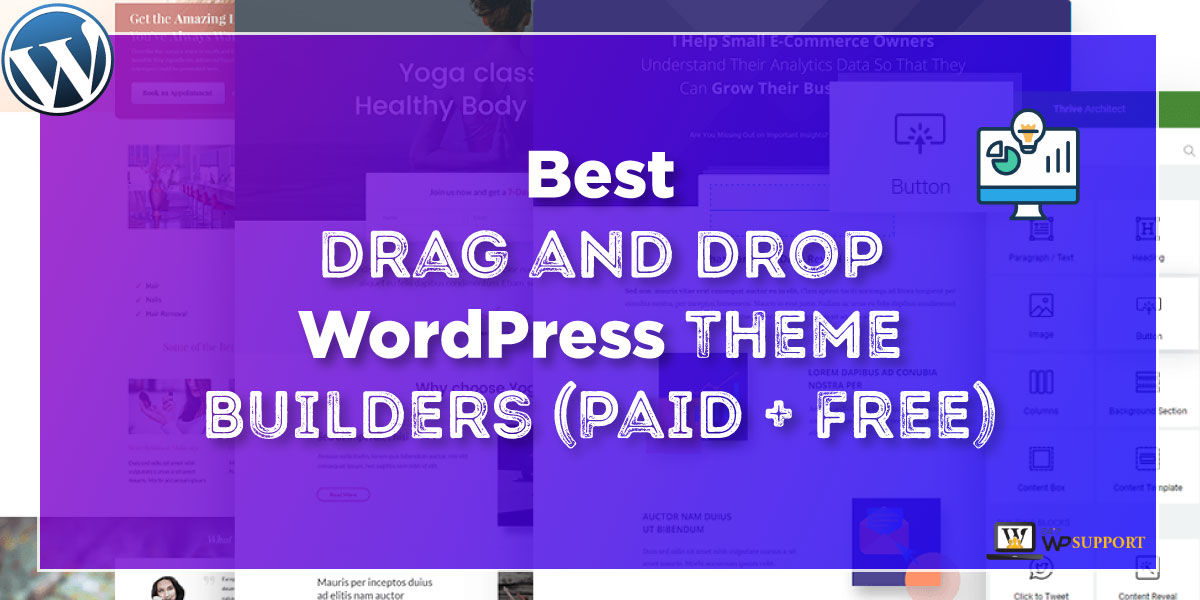 Best Drag and Drop WordPress Theme Builders (Paid + Free)
Last updated on August 11th, 2021 at 06:43 am
With the advancement of technology creating websites has become easier than before and particularly because of the drag and drop WordPress Theme builders. People who have less or no knowledge about programming or cannot afford to hire a web developer can now create websites without any trouble because of these WordPress theme Builders.
Drag and Drop tool is an excellent function that enables website admins to create a website just by dragging and dropping some themes elements into a canvas which includes the core layout of the page.
With the help of this feature, you would not have to build the WordPress pages manually, instead, with this feature you can design and create them faster with the help of any open-source WordPress page builder. Are you thinking what does actually a page builder do and how can they be helpful? First, let us understand what exactly does it mean.
What is a Page Builder and how are they helpful?
WordPress Page Builders enable you to build, customize and edit the website presentation without using any code. When people begin writing blogs, initially they find it hard to customize and edit their WordPress page Layouts. This is where the drag and drop WordPress theme builders come into pictures. People love using them because –
They are easy to use
No coding required
Flexibility
Excellent design output
Beginner-friendly
Getting assistance is easy
Find the best WordPress theme builder software for your website
WordPress themes along with drag and drop feature let you change and set any aspect on your website and that too very quickly. The best thing is that you can get an online presence even when you do not know programming or coding. Thus, if you are planning the same and want to create your own website without taking the help of a professional developer, then here are the best Drag and Drop WordPress themes for you-
This theme builder comes in both free and premium versions. Its premium version starts from $49 for one website and goes up to $199 for unlimited websites. It offers you with great features and is very user-friendly. It is really simple to edit the width and height of the sections as per your requirements. You can adjust the column to the top, bottom or center.
It provides you with a simple and intuitive surface that lets you edit all the pages and posts on the website through the drag and drop method. With this theme you would be able to customize the layout of your website entirely which comprises positioning columns and contents, modifying section dimensions and resizing columns. Other additional features that Elementor provides are-
No coding skills needed
Vast library to select design elements from
Compatible with all WordPress themes
Custom post type friendly
Drag and drop options
Comes with pre-designed templates and widgets
There are a lot of features that this theme builder offers. It has a lot of add-on features that would make work easier and simple for you which would save a bundle of money and time. Thus, if you are looking for something that helps you in editing your website quickly and offers you handy tools for the under-construction page, landing page, and maintenance mode, then this is the one for you.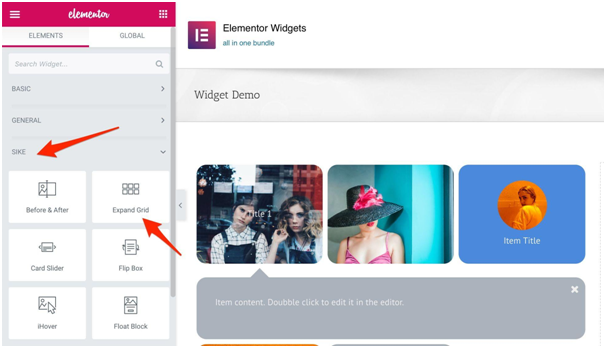 This is one theme that would fit all your requirements and you can make any sort of website easily with the help of Themify Builder. It provides you access to leverage the power of the page builder the maximum by designing for and backend both of the WordPress sites.
It also benefits you by providing you more than 40 ready-made layouts or also helps you in enabling you to import a custom layout for quick prototyping. It comes with all the features that are expected from a good page builder such as import and export, copy, and paste or undo and redo functionality.
Other remarkable features of this drag and drop WordPress theme builder is-
Provides more than 60 animation effects
SEO Friendly
Responsive design
Integrated with Google Fonts
Infinite posts
Background Video Slider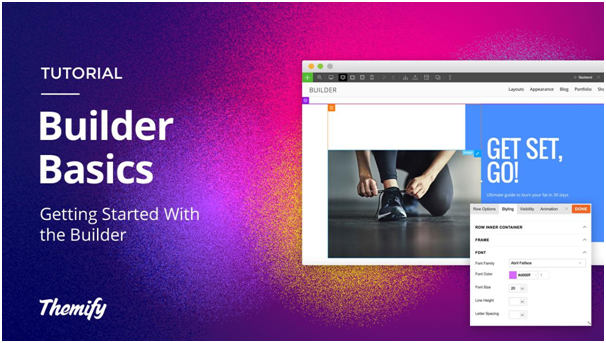 The reason why you should opt for this WordPress Page Builder is that its free version comprises of so many features that you would get on other page builders by taking a premium version. Plus, Themify comes with demo export and also supports extensive customization.
It is a theme plus combo which is very easy to use and comes with more than 20-page templates. It integrates remarkably well with renowned plugins such as WooCommerce to cater to all sorts of e-commerce websites. Beaver Builder is a robust open-source WordPress Page Builder for people who are looking for something creative yet simple.
It comes in both free and premium version, but it is comparatively more expensive than other page builders, for the premium version you have to pay $99 for an unlimited number of websites. Still, if you check the stats then you would see that more than 5,00,000 WordPress websites are built with Beaver Builder.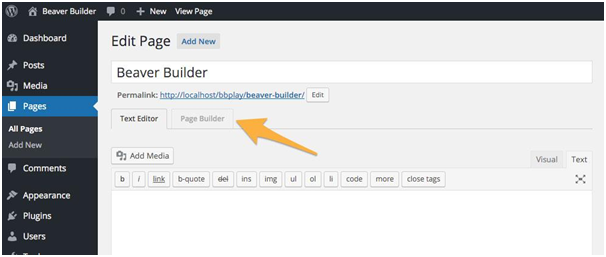 This theme builder offers you with front end drag and drop interface that would provide you with full control over the page layouts. Other unique features that it gives are-
SEO optimized
Developer friendly
Integrated with WooCommerce
Offers more than 20-page templates
Live frontend editing and preview
Excellent support
Import/Export feature
This was about the features but there are some more reasons why we should use this page builder, the first reason is that the live, front-end editing works in real-time. Another reason is that you would get loads of drag and drop modules which include text editors, photos, calls to action, pricing tables and much more.
It is one of the best-selling themes because of its functionalities and excellent features that it provides. According to experts, this theme was particularly created based on the recommendations from experts in SEO, top online marketers, local marketing and other areas.
This theme provides you with a new layout tab with the help of this feature you will be able to see all your content in one simple view. Plus, it would also make moving, deleting and editing the content is simple for you. A different feature that would attract you is that it offers a black mode, which goes easy on your eyes as it would not strain your eyes and you could work longer.
Some of the other amazing characteristics of this theme builder are-
Navigation options
Inline editing
Custom Fonts
Streamlined settings
Responsive and retina ready
Endlessly Customizable.
Want more reasons why you should go for this theme are that it provides you with-
Cornerstone front end drag and drop page builder
30 premium plugins including support
Round the clock support
Reliable as they give you more than 100,00, searchable forum posts, articles and answers about all the elements of using products
This theme is said to be one of the best WordPress themes as it can be used to create any sort of website. This theme builder is crafted extraordinarily well, is flexible and boasts its solid framework. Divi comes with such tools that give you full control of the structure and design of the site. This is a handy builder which makes it trouble-free for anyone who wishes to create dynamic websites.
Its drag and drop site designer which lets the users build themes and layouts. This theme offers you with end number of layout possibilities and that can be used for any theme by using its 46 content modules. The best thing about it is that there are no constraints on customization of the builder elements as it assures that the users can build an elegant and professional-looking website in just a few minutes.
Some more magnificent features that if offers are-
Supports parallax and video backgrounds
Numerous navigation options
Fully responsive
More than 40 website elements
Tasteful icons, fonts and color options
A useful selection of content modules
Why opt for this open-source WordPress Page Builder? Some of the reasons are that it is powered by a fast and intuitive frontend editor. Also, it offers you with lots of customization options that are available in live preview in the Theme Customizer.
It is a free WordPress page builder that was recently launched in the year 2018, yet has established itself well in the market. It has been reported that it took a lot of years in research and development before delivering this perfect theme. This page builder is an expert in frontend editing that enables you to watch the alterations that you have made live in front of your eyes.
The design of this theme builder is simple and elegant which makes it easy and fast for you to understand it, even if you have never used any kind of page builder before. The interesting thing about this WordPress theme builder is that its library enables you to save your content as work as many times as you wish.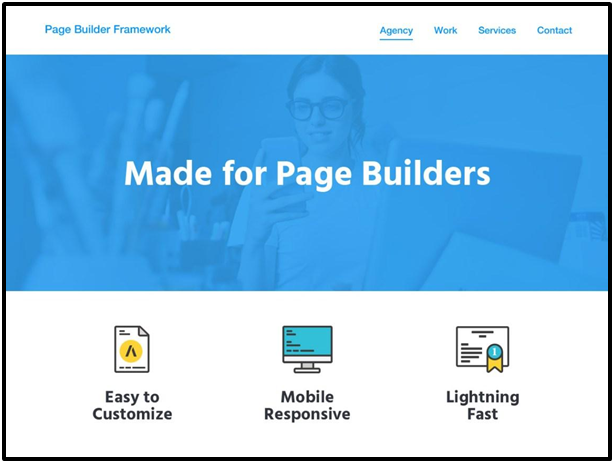 Want to know some more features of this theme? Here they are-
Create a page with a single click with the help of drag and drop feature
Offers readymade layout pack
Comes with pre-designed blocks which help reducing work
Comes in free and Pro both versions
The reason why you should use this WordPress Theme Builder is that it aims at frontend editing to give all its users a great visual of their work. Next thing is that its drag and drop functionality enables you to use its blocks, add-ons, and layouts to move and manage them across any page.
It is a multi-purpose, highly responsive WordPress theme builder software that helps the users in designing their pages frontend and backend by making use of the drag and drop page builder. We can also say it is the most selling and wanted WordPress theme till now. Some of the things that you would adore about Total are its live customizations, lightweight, unlimited color options, and whatnot.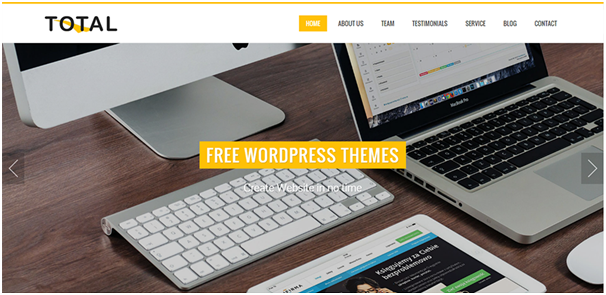 This theme is so overwhelming that they guarantee an amazing experience every time you use it. Drag and drop feature comes with this theme which is powered by Visual Composer that makes creating the websites simple and fast. Another feature that you might get fascinated with is that it also integrates well with WooCommerce, which means that you can without any trouble creating your online store with this theme builder.
Other interesting features of Total are-
SEO Friendly
Support custom post types
Optimized for speed
Highly Responsive
Lightweight
Live Theme customization
There are many reasons to choose this theme builder such as it comes with more than 100-page building elements, custom footer, and header builder; also there are a few premium plugins that come along with it. The next thing that you should know about it is that it provides RTL support and is translation ready plus it is compatible with numerous free plugins.
This theme builder is made by the creators of WP Bakery and has a very strong team behind it. In fact, it is one of the renowned drag and drop theme builder for WordPress and you would be amazed to know that it has more than 70,000 active installations. It is a user-friendly and theme which comes packed with loads of intermediate and advanced features that all of you would love.
It lets the users create the website that they have dreamt of for with the help of intuitive drag and drop editor. The good news is that for using Visual Composer you do not need any programming or coding knowledge, you can create your website easily even if you are using a theme builder for the first time.
Some of its ravishing features are-
Multilingual ready
Coves with more than 100 predefined layouts
Provides over 40 grid design templates
Dedicated and professional support team
Fully responsive designs
Provides with both frontend and backend visual editors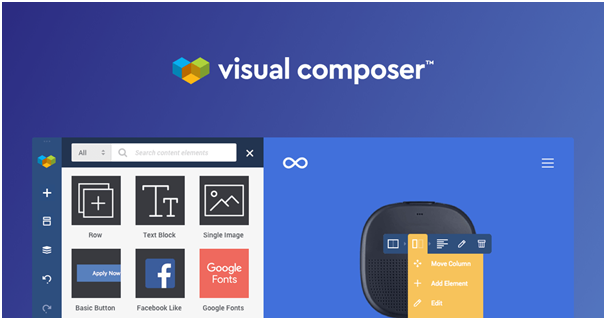 Why should you opt for the Visual composer? Firstly, no coding is needed when you work with it, secondly, it comes with a tree view option in which switches your builder into a layered interface somewhat like Sketch Layers. Lastly, its drag and drop editor helps you in moving and managing layouts across the page.
It is an elegant and brilliantly designed theme that enables you to build an attention-seeking website. This theme builder is clean, flexible and is very easy to set up with predefined content. It provides you with dozens of features and variations; it is heavily optimized and provides you with excellent support. It comes with numerous template designs, is highly responsive, lightweight and fully optimized for speed.
It runs smoothly on all types of mobile devices, hence all the target visitors would be able to access your website irrespective of any device they use. People also prefer using it because it integrates well with WooCommerce which makes it easier for them to set up an online store. You would be glad to know that Enfold has an increasing number of excellent easy to use features, some of them are-
Responsive Layout
Excellent Support
Easy setup
Best drag and drop editor
Retina Ready
Great documentation and video tutorials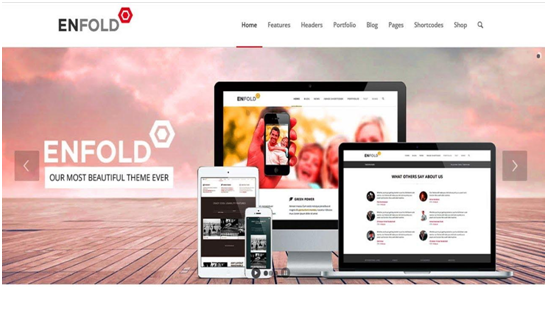 USP of Enfold:
It has a great admin area which is very powerful and beginner-friendly
Without any programming knowledge, you can build your website without any trouble
It comes with functional and interactive theme features like galleries, slideshows, tabs, and toggles that would benefit you in highlighting your products and services.
It is one of the best open-source WordPress page builders as it offers you a straightforward and intuitive content creation interface that allows the users to build grid-based page content which is mobile optimized. It has both free and pro versions, the chargeable version starts from $29 but the good thing is that you can download the SiteOrigin widget bundle without paying anything and you need not give your email address for that.
It is an easy drag and drop system that uses grid-based technology and also integration with third-party widgets. This page builder works well with all every theme and also allows the users to employ their favorite widgets. The widget offers comprise of headlines, image grids, modules for Google maps, price tablets and much more. Page Builder provides you with other advanced features which are-
Live Front Editing
Highly Responsive Design
Generates exact code in the backend
Intuitive interface
Works with every WordPress theme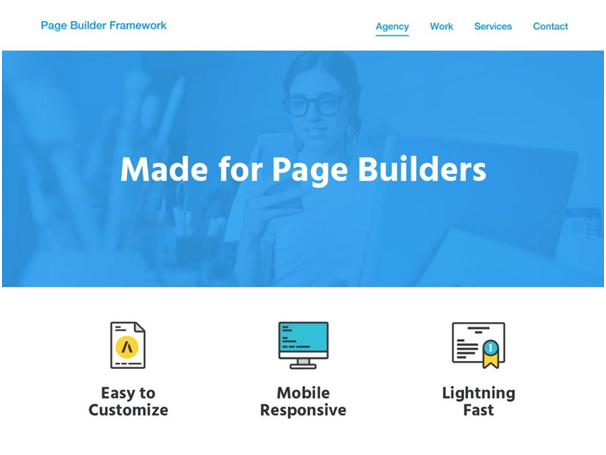 This is an excellent theme which many people are using because it offers a backend and frontend, live page builder. It also comes with a simple and sleek toolbar which is very simple to understand and it comes with loads of widgets for free.
Wrapping Up
After reading this article, you must have made your mind about which one to choose as every WordPress theme provides you with different features and aspects. Before making the decision, one should compare all the theme builders in terms of price, features, style and look you want for your website.
Hopefully, this article must have helped you in minimizing the options and make a wise decision depending upon your budget, experience, and features you want. We have more articles coming for you, so stay tuned and in the meanwhile create the best website for your users.