5 Most Effective WordPress MLS Plugins
Last updated on June 13th, 2023 at 07:29 am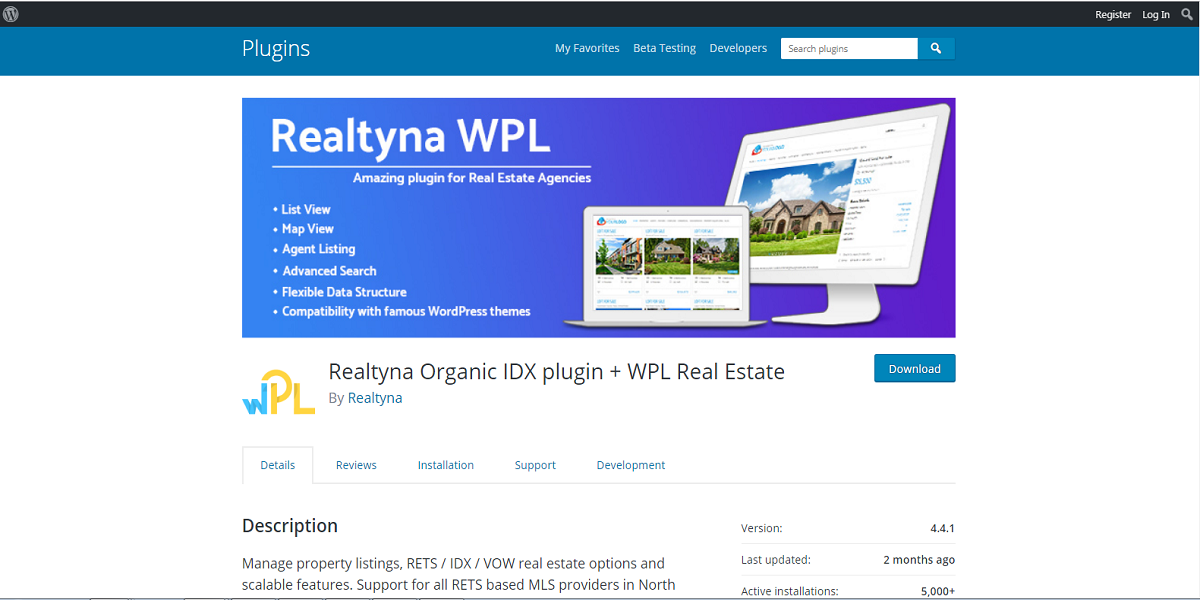 Features
The IDX MLS plugin features a fully responsive design, making it ideal for use in any device irrespective of its resolution.
Furthermore, this MLS plugin features a flexible, extendable, and scalable design that helps in creating real estate websites or portals.
Consequently, this MLS plugin is fully customizable and provides you with full control over your site contents as well as plugins.
The Realtyna organic IDX MLS plugin is compatible with various WPL including Divi, Avada, X Theme, and Bridge among others.
Nonetheless, this MLS plugin features a translation-ready design, making it ideal for the CMS. With this feature, you can easily set your web to your most preferred language.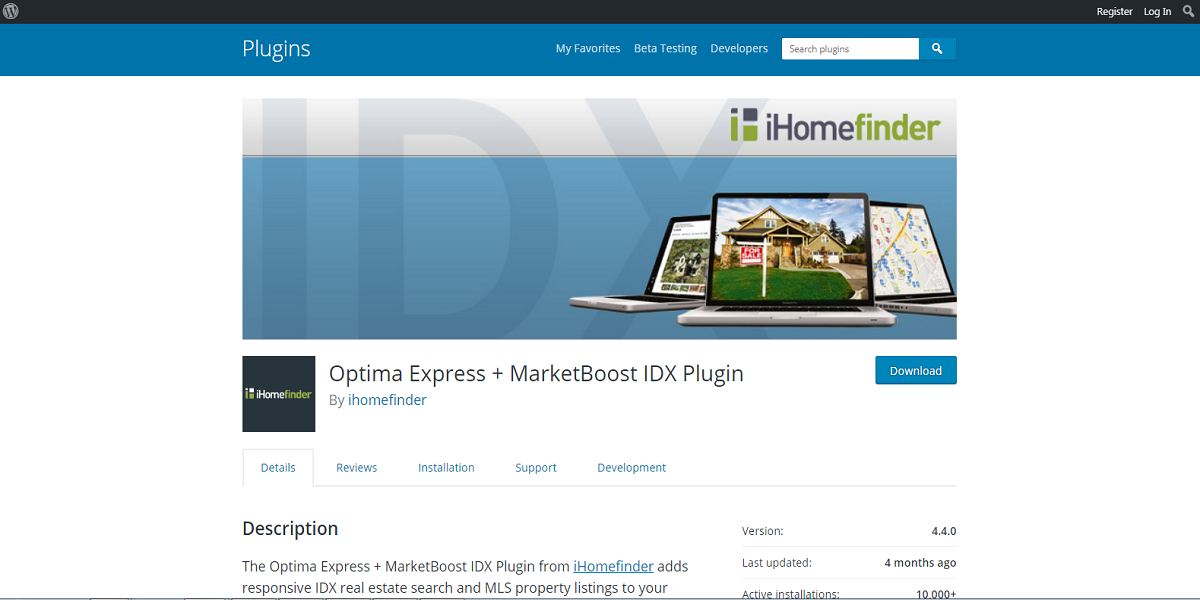 Features
This IDX MLS plugin features a responsive design which is capable of operating on small resolution devices such as phones as well as big resolution devices such as desktops.
Furthermore, the IDX real estate search is fully responsive, and there is MLS property listing to your website including branded drip emails with open, active and sold listings.
With the market boost, you will be able to receive a local market report to your drip emails and WordPress site as well.
IDX is an industry standard which helps in displaying all of the MLS property listings on the real estate professional website. This feature is only available for the members of MLS for the listing to be displayed by IDX on your website.
Available in this MLS plugin is a portal that has quality drip emails which help in keeping your clients updated on the open, active and sold listings.
Consequently, this MLS plugin features various shortcodes with collections of widgets which helps in searching quickly within your widget area.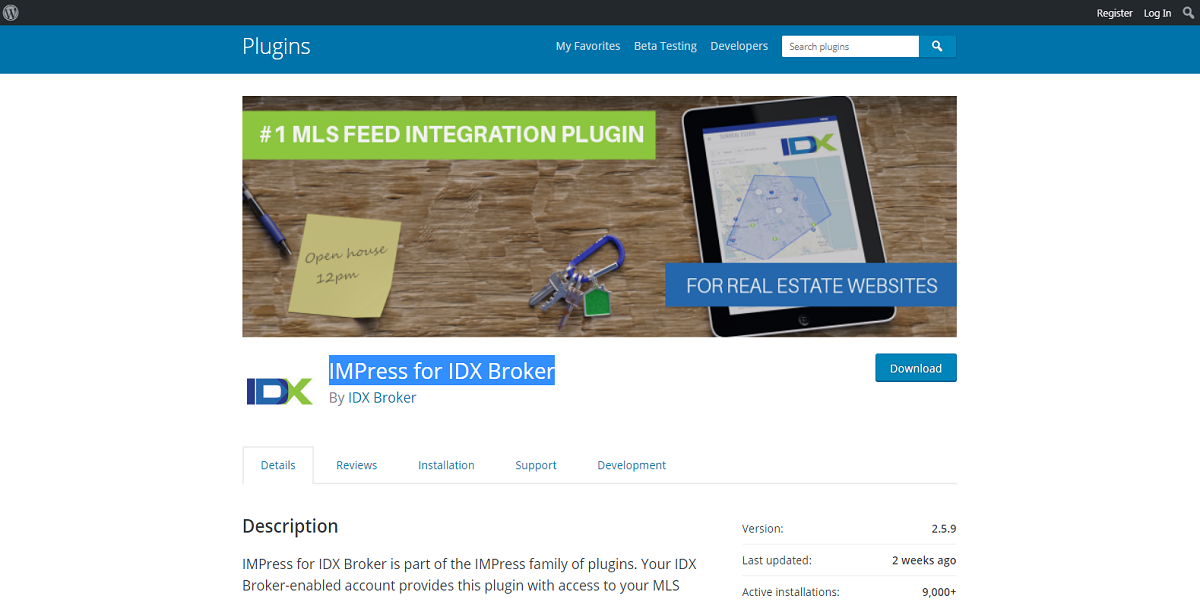 Features
With the IDX broker MLS plugin you can easily edit any widget, and without reloading the page, the changes will be made automatically.
Availability of the lead management interface helps in seeing and managing your leads within the dashboard of your WordPress without the need of browsing between windows.
 All templates and widgets in this MLS plugin are fully responsive when using with a responsive theme making it easy to open and operate with small resolution devices such as phones.
You can easily add to your home page an omnibar search widget. This will help users to search by cities, postal codes, address, the country as well as listing ID.
There are various shortcodes available in this MLS plugin making it easy to use and operate. You can easily add new widgets to posts and ages that features built-in shortcodes.
The IMPress MLS plugin features a design with powerful lead capture. This feature helps with generating new leads.
You can easily combine the IMPress listing with this MLS plugin to assist in importing all your IDX property to your WordPress without going through tedious data entry or even wasting time.
For the best SEO results and high traffic from the search engine, the IMPress plugin links to pages on your website which includes the IDX broker custom subdomain, and it allows multiple URL results for each search engine query.
The IMPress for IDX broker plugin features a map search widget that can be readily available on any page on your domain.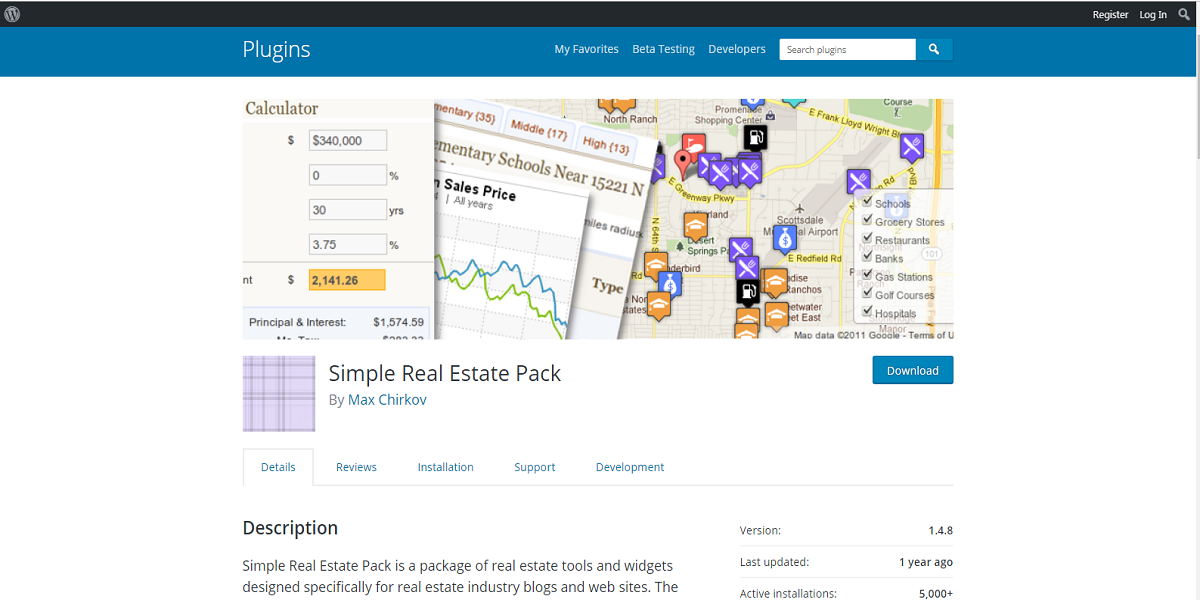 Features
The simple real estate pack WordPress plugin features several calculators such as Mortgage calculator, affordability calculator, and the closing costs estimator.
You can easily search for schools with the use of the simple real estate pack WordPress plugin since it features shortcode widget which helps with providing lists of schools within the selected region.
With the use of this WordPress plugin, you can quickly know the market trends as well as statistical graphs or charts via the use of ALTOS research.
You can easily access Google map with this WordPress plugin, and you can view grocery stores, gas stations, restaurants, golf courses as well as hospitals which are available within a three-mile radius of your primary marker.
Furthermore, simple real estate pack plugin can function as the Great Real Estate plugin extension via the Neighborhood profile option. This feature will help in mapping banks, golf courses, restaurant, local grocery and hospitals that are within a three-mile radius of the property. Nonetheless, it includes property location, rating via Yelp API, financial tools, statistical charts, and contact information.
The simple real estate pack plugin features an easy to use API for the third party widget incorporation into neighborhood profile.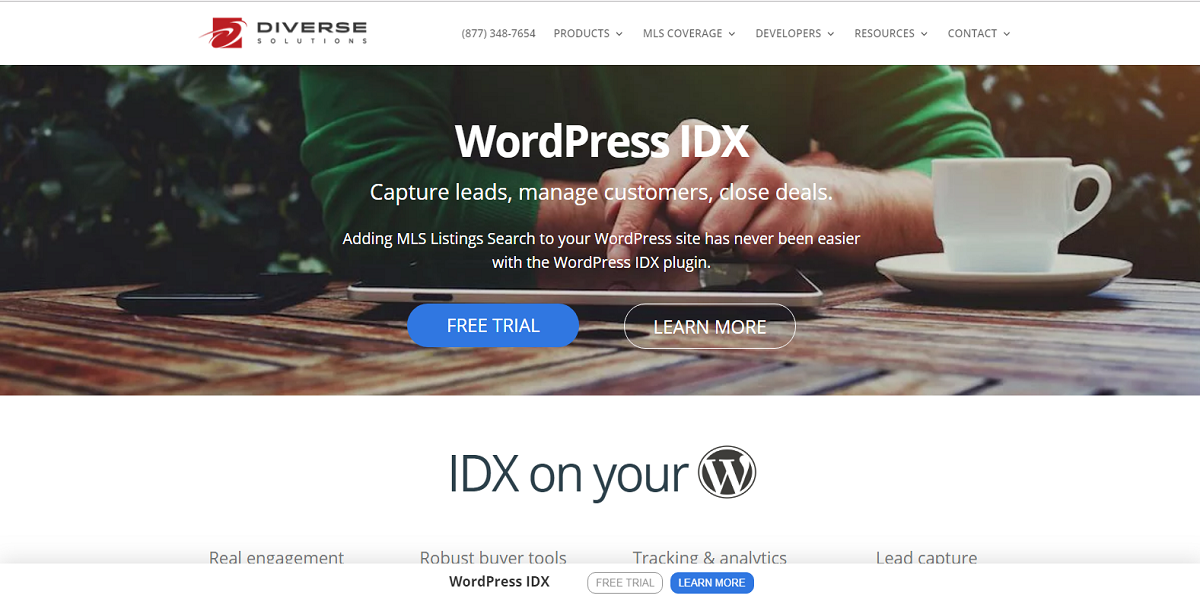 Features
Installing this WordPress plugin is easy, and the installation is done in the existing WordPress admin; it only takes less than 30 seconds to install.
The WordPress IDX plugin is fully customizable, and you can turn your users into leads with the forced registration option, and you will decide on when they will have to register to your IDX.
On your domain, all the IDX listing data is live which helps in boosting your site of indexable listing content.
Consequently, this WordPress plugin features a Google map with custom URL pages and listing widgets using Google map to display results.
This WordPress theme is SEO optimized whereby pages for every community, individual listing and cities are optimized for the search engine indexing and crawling.
You can easily filter through listings while using link structure tools to create a custom result pages.
You can choose on any city, tracts, ZIP codes or community you would like to crawl on your website by the use of Google XML.
Furthermore, you can use heading and meta tags to showcase the areas you specialize in and the list of domains you are targeting.
For you to generate organic web traffic from the long tail searches, consider using the descriptive titles for page listing.
All of the listing content will appear inline; seamlessly it is integrated with all the content you write on your posts or pages.
Which MLS Plugins Do You Like?
Need help in Plugin Selection or Plugin Issue? We are available 24/7 by Phone or Chat.