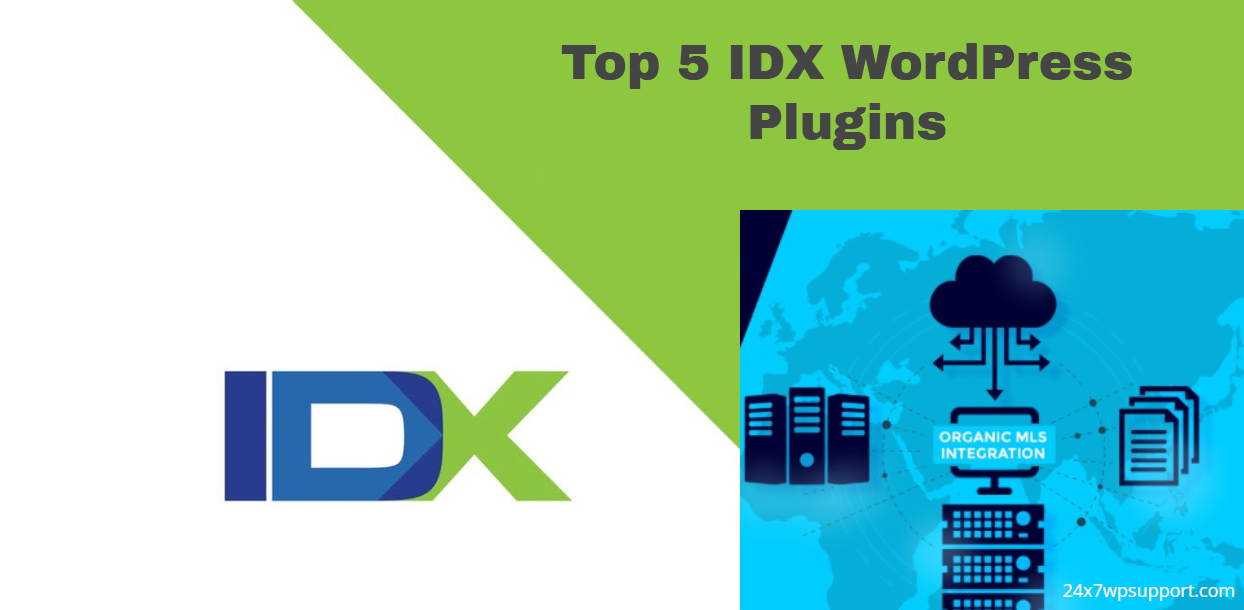 Top 5 IDX WordPress Plugins
Last updated on August 22nd, 2023 at 07:00 am
IDX is the acronym for internet data exchange. The plugins are web design in the real estate industry. There are different IDX WordPress plugins, which you can choose. In this article, we are going to review the top five IDX WordPress plugins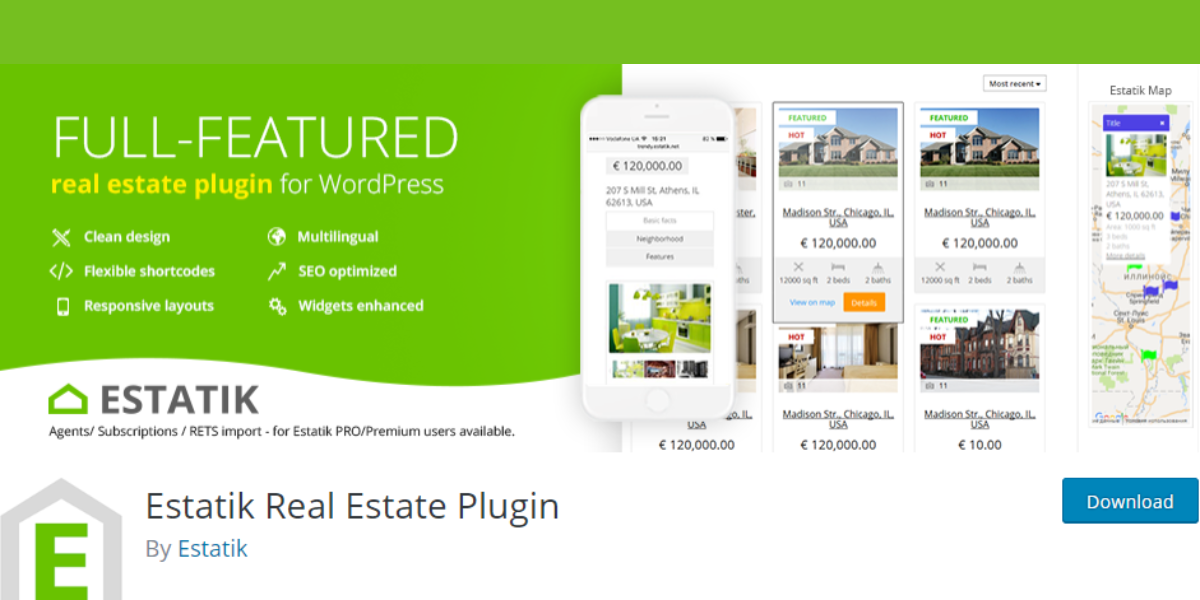 This plugin is the best option for real estate listings. It is the top choice because it is easy and simple to use. It makes it easy to add a listing to your WordPress website. The plugin has advanced features needed by beginner designers and advanced users. It has important features such as:
Google maps support
Photo gallery
The social media sharing feature
Property search widget
Multi-language support feature
Perhaps, the most important feature is the field builder. This property makes it easy for listings to be added. Furthermore, it uses autocomplete Ajax search feature. It is possible to sort out your listings according to their popularity, date, as well as the price.
The greatest feature of this product is that it makes for clean web design and responsive layout. Another outstanding feature is the customizable fields.
There are at least two types of Estatik plugins available. The plugin is free to use. There is also the advanced Estatik pro option. You can upgrade to this form and enjoy the advanced features such as the front end submissions, agents, white label, subscriptions, and several other advanced features. The free version can offer you everything you want.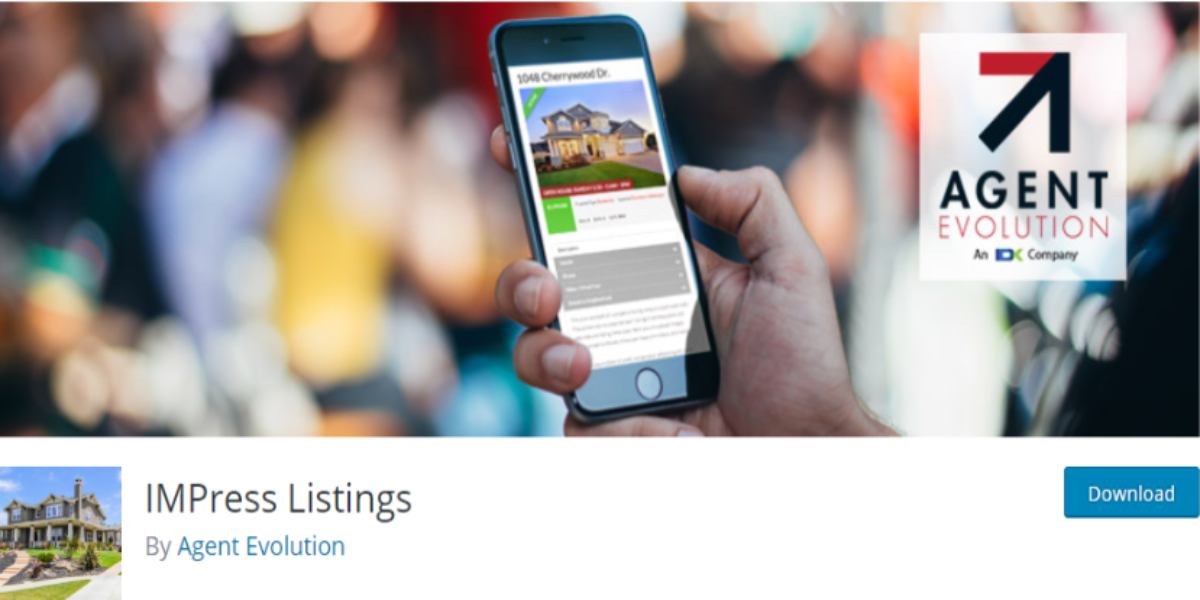 This is another wonderful WordPress plugin for those in the real estate business. It is easy to use particularly for beginners. Anybody can use it. Even advanced users will find this plugin flexible and fun. It offers you those wonderful tools that you require to build the best real estate website.
The most interesting thing about this plugin is that it is compatible with different WordPress themes, and it is responsive to mobile devices. If you have plenty of information or listings to add to the site, this plugin actually makes that possible for you. Listings will appear the way you want such as single listings or grid layout and so on. It can list images and if you have video support, you can list it as well. The display is such that web visitors will get all the necessary information they want from your site without stress.
It does not only support IDX integration. It makes possible for its users to import listings from the MLS. Most importantly, it has a contact form, where your clients can supply their contact information for future business deals.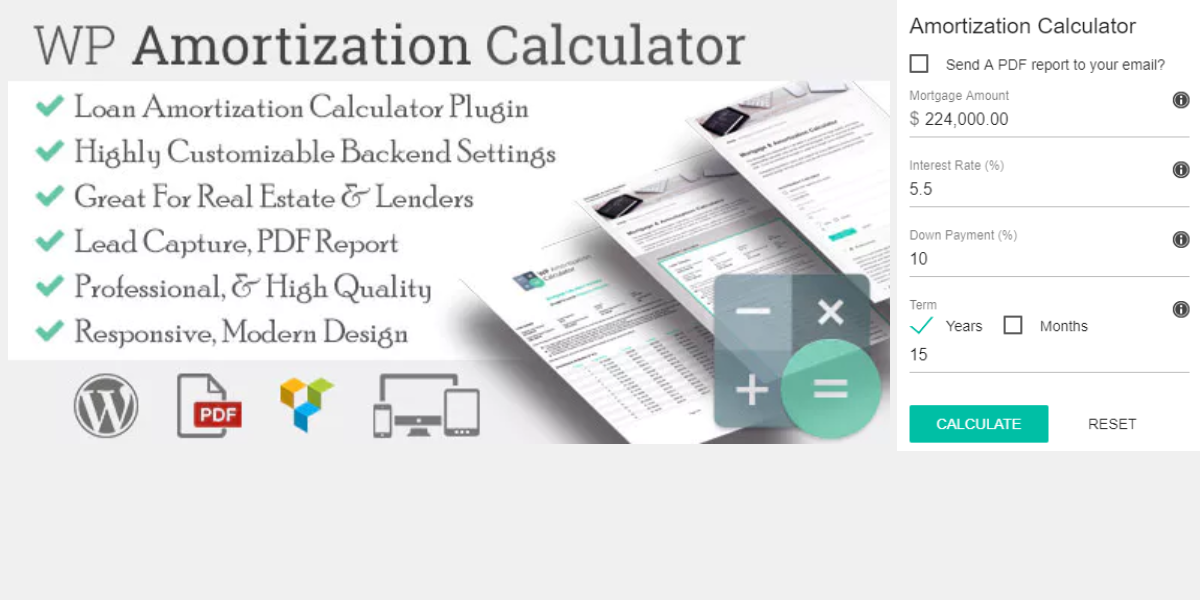 This model is used to calculate mortgage loans, as well as various financing options on the internet. It can perform more than ordinary mortgage calculators. This is a premium plugin, as you can see from its fantastic features.
The plugin comes with the most important website features, especially those that can serve the real estate business owners very well. Some of the features it contains include real estate listings, lead capture tools, as well as customized property pages, and agent's portals. It makes for email notifications and other important features.
In addition, the plugin makes it easy for you to utilize currency symbols. You can add other things to the site through the drag and drop feature. With this, you can insert the amortization calculator to any place of your choice.
Furthermore, there is the customization widget that you can include in the widget area of the website. This plugin contains everything you want, and it is meant for professionals.
Easy Property Listing is yet another wonderful IDX plugin and it is highly recommended. It facilitates WordPress site design. This simplifies the process for you without changing the themes and without disturbing the code. The plugin is perfect for beginners because it is easy to use. You can list your properties without difficulties.
It is a mobile friendly plugin, and you can display your property in a grid layout. If you want, it can display in a single layout. The system can support MLS, Jupix, as well as REAXML and so on. Furthermore, it provides multiple language translation. You can add other useful information to your website. This plugin makes them possible. You can just customize your site in minutes when you use choose this plugin.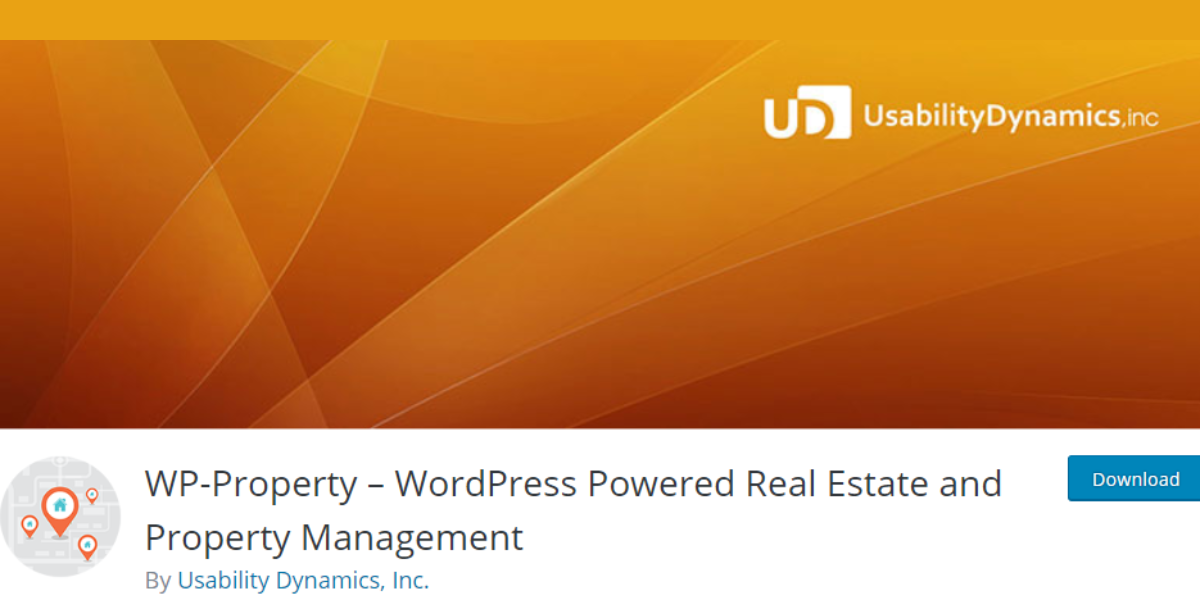 The last recommendation is the WP property plugin. This contains everything you want. The interface is user-friendly, because of that, you can add more items to your listings, and you can customize your listings as well.
It is possible to add other useful information about your properties such as bathrooms, room and so on. In addition, you can display your information about your properties. It offers free themes as well.
It comes with most fascinating features like search features, google map feature, feature listing and so on. The most important thing is that it makes for multi-language display and so on. This is a wonderful plugin and it is free to use.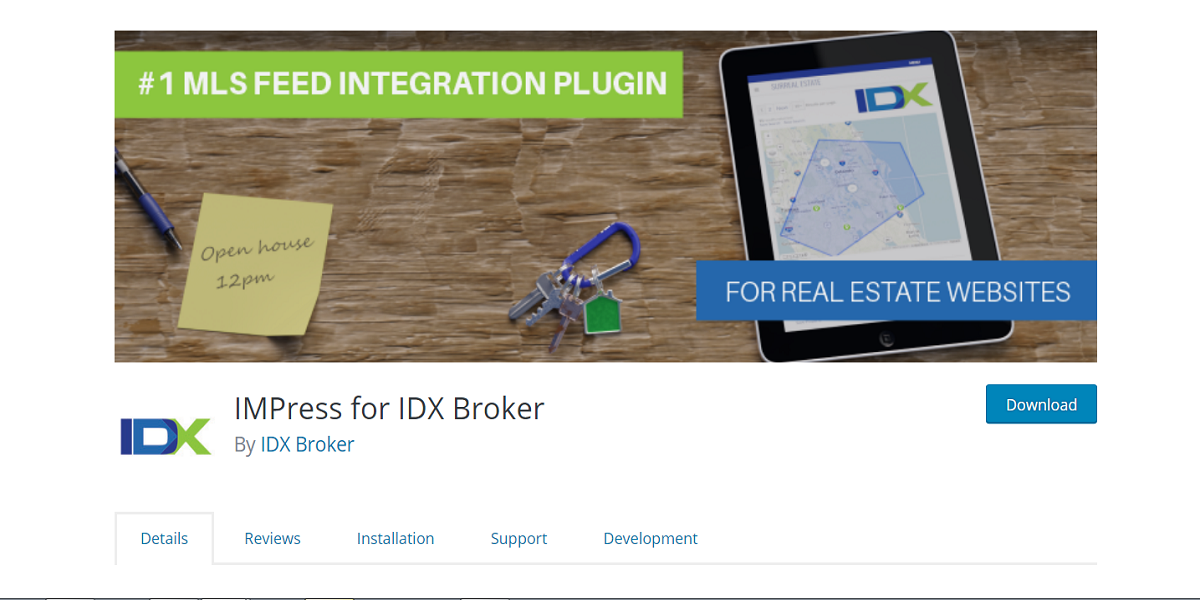 This is the best IDX WordPress plugin. This plugin is mostly used by many people due to its affordability. This plugin contains robust features, easy to understand, and use. It also provides scalability which is going to help the user to measure each and every step. the most simple feature in this plugin is to add a listing and listing maps to any type of website which is very straightforward. As we already told about this plugin that it is low cost but apart from that also so have many ways of adding MLS listing to their website. This is a paid plugin.
The user who wants to buy this again must pay a certain amount on the basis of the month. This plugin provides a robust property that helps in searching geographical mapping. It also contains an additional feature that is going to Tu you available through any third-party integration, for example, CRM like line Dax, follow-up boss, wise agent, etc.
IMPress WordPress plugin also does Facebook page Integration and email responder like a bot. It also helps lead generation and management systems. It contains 10 different CRM integration which can connect simultaneously.IMPress is also provided customer service support on chat, phone, and email support. these all support are available on weekdays only from 9 a.m. to 5:00 p.m. users mostly like this plugin for giving outstanding customer service.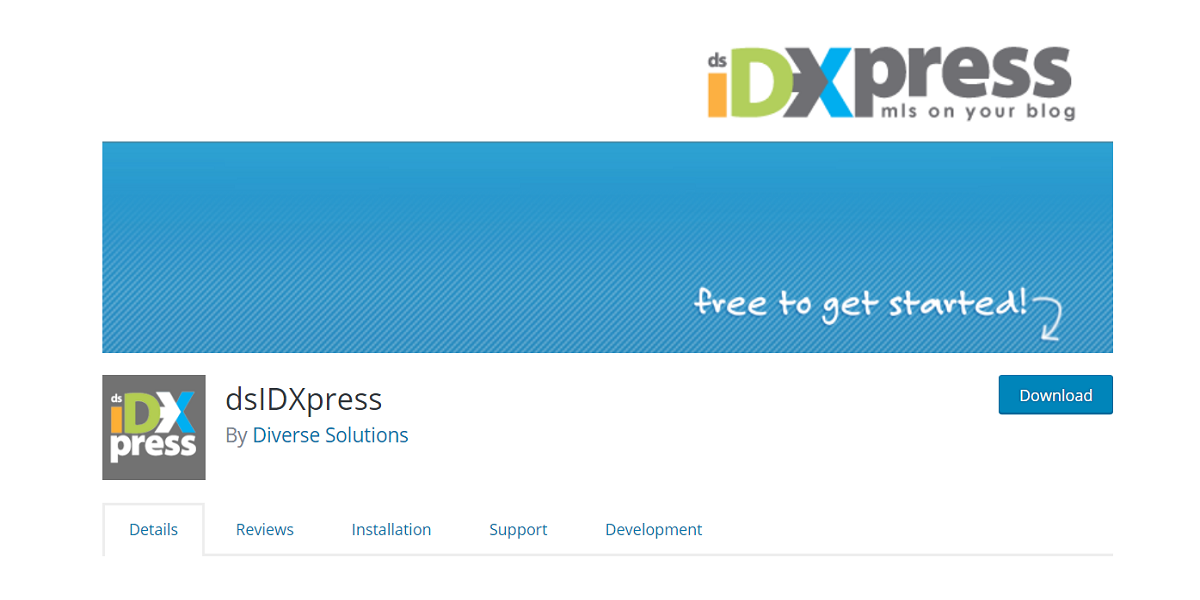 DslDxpress is again an IDX WordPress plugin. Which is designed in such a way that a non-technical user can easily install and access all features of the DslDxpress plugin. Users can buy this plugin on the basis of two more that is the basic mode and the Pro mode. Both modes are different in price listing. Users must have to pay a certain amount of money per month.
The basic plan for mode contains shortcodes, widgets, and neighborhood pages. Pro plan or mode contains all basic plan or mode features but apart from that, it will contain lead capture, CRM, and mobile-friendly.
DslDxpress plugin also provides customer service via email, phone, and chat. Reply of the customer will be reverted back on weekdays. The timing of customer service is from 7:00 a.m. to 4:00 p.m. Facebook chat is also available for customer service support. In this plugin, robust customer service and customization are missing. The biggest issue faced by the user is poor customer service support.
Which IDX plugin Do You Like?
Need help in Plugin Selection or Plugin Issue? We are available 24/7 by Phone or Chat.