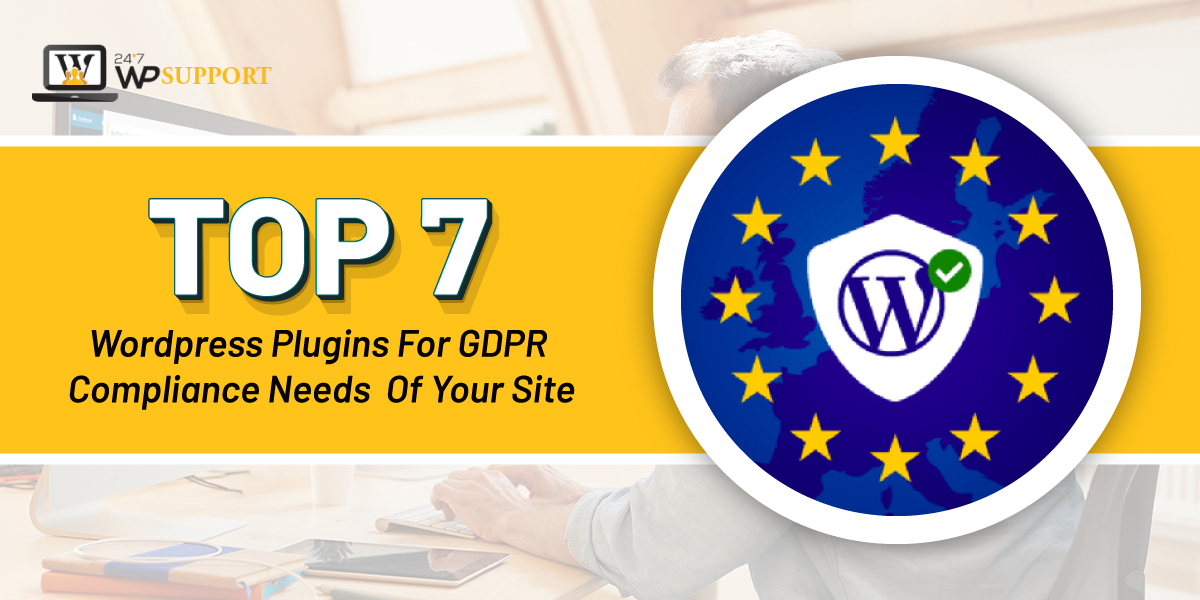 Top 7 WordPress Plugins for GDPR Compliance Needs of your Site
Last updated on February 4th, 2022 at 01:00 pm
General Data Protection Regulation or GDPR are regulations aiming at consistent consumer protection and their personal data across European nations. The regulations are applicable on all websites across the world for data collection of individuals in the European Union.
Companies failing to meet the requirements bear heavy fines and penalties. The regulations comprise some of the major data protection and privacy regulations such as –
Taking consent of the visitors' for data processing. Generally, websites use cookie consent notices to take consent of the visitors'.
Provide notifications of data breach
Collected data anonymously for protecting e-privacy
There are a number of GDPR Compliance Plugins which can help you with your website's alignment according to the set standards for avoiding heavy fines which could be applied because of violating e-privacy rules. WordPress support experts can help you align your site to these standards faster, but if you want to do it on your own, that's not impossible either.
In this article, you'll learn about the best GDPR plugins which can be used for websites. So let's get started with exploring privacy policy statements and Cookie consent management.
Privacy policy statement: What is it?
It is a legal GDPR requirement created to ensure that people have the necessary details of their personal data processing. Moreover, it also benefits organizations in many ways.
Privacy policies featuring GDPR Compliance Plugins facilitate individuals with a documented proof for their data processing activities. Plus, it also helps them in justifying their processing in case a complaint is lodged with the supervisory authority.
GDPR procedures and policies also help businesses because it helps in proving that they have the right data security measures.
The policy notice under the GDPR helps specify the processing purpose. Moreover, the statement also enables the individuals to describe their legitimate interests for data collection. In case an organization relies on consent it is important to state that the consent is entitled to withdrawal at any time.
It is important to be noted that there are specific sets of rules for processing personal data categories. You should mention the details of personal data processing and the methods that will be used for transferring it to third parties.
Cookie consent management
The GDPR needs a website for collecting user's personal data once their consent is received for specific use. Websites with GDPR Compliance Plugins should comply with the following requirements for user consent –
It is important to take user consent before and after cookie activation (not applicable for whitelisted cookies).
Users should be given the flexibility of activating some cookies and shouldn't be forced to give their consent.
Consent shouldn't be forced. Users should be encouraged to give free consent.
Consents should be withdrawn easily.
Consents should be stored securely as legal documentation.
It is important to renew the consent annually. However, it is recommended to renew the consent under national data protection guidelines once every 6 months. Make sure to check the local data protection guidelines of your state for compliance.
Best WP GDPR plugins
There are wide selections of plugins that can be used for GDPR compliance. They come with GDPR friendly options for ensuring that the website works as per the law. Listed below are top WP GDPR plugins that can be used for the purpose –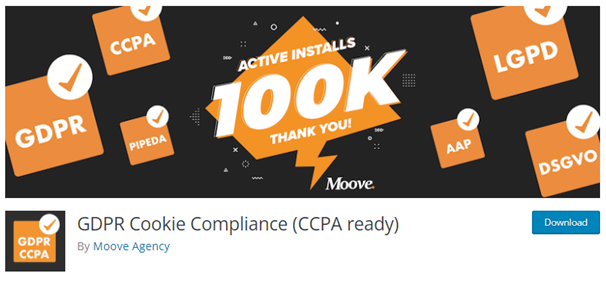 This GDPR plugin website is used for complying with the rules and regulations regarding cookies usage. It helps in adding a cookie consent bar to the site that users inform about cookies usage while allowing them to give their consent. Plus, it also helps sites in installing cookies according to consent users. With this plugin users also have the option for reversing their consent.
Moreover, it is compatible with a number of major plugins such as Polylang, WPML, qTranslate, etc. It can also be used with cache plugins like Litespeed Cache, WP Rocket, WP Fastest Cache, and W3TC.
Major features
Notification for the display of cookie, like widget, popup, and banner
Banner customization for matching with the website theme
Managing cookies list
Displaying cookies audit on the platform with the help of shortcode
Option of recording consent on a specific time delay after loading of the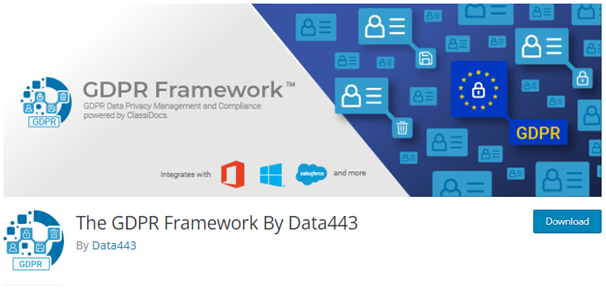 GDPR regulations involve complex and large laws. Every member nation requires ratification into its own language and legislation. Resultantly, managing the laws is cumbersome for users.
The GDPR Framework plugin comes with a site owners' guide for helping individuals understand and learn the requirements. It is one of those GDPR Compliance Plugins that give an elegant and simple interface for handling Data Subject Access Requests. Hence, administrators aren't required to handle GDPR law problems.
Major Features
Enabling DSAR on a single page. It is an ideal plugin for individuals who don't have an account that can automatically delete, view, and export personal data.
Plugin configuration for automatically anonymizing or deleting personal info or sending a notification. It can be done by the admins manually as well.
Withdrawing, tracking, and managing consent
Generating a Privacy Policy template compatible with GDPR for the site
Using wizard installation for getting started quickly
Reporting on data related items within the installation of WordPress
Reducing staff time efforts significantly with DSARs
Allows big organizations to consolidate and summarize DSAR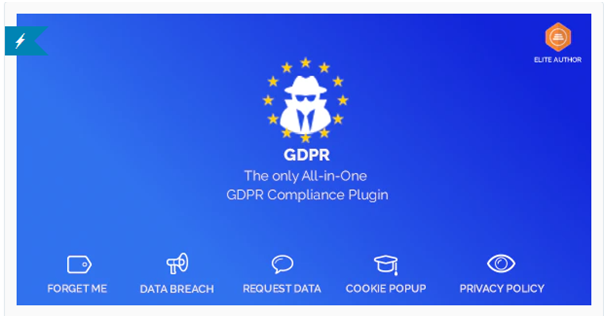 WordPress GDPR and CCPA is an All-in-One plugin that includes all the tools and features for making a GDPR compliant website. It is one of the most popular GDPR Compliance Plugins supporting third-party plugins integration. The plugin includes Google Analytics, WooCommerce, Mailster, Contact Form 7, and Facebook Pixels. Also, it's compatible with PHP 5.6, WordPress 3.8.1, and WordPress Multilingual Plugin.
Major features
Request rectification and archive data functions
Media Credits, Popup, and Digital Millennium Copyright Act
Privacy Policy Updating notification through Emails
Data Breach email Notifications
Forget me and Contact Data Protection features
Cookie Popup
Newsletter Unsubscribe and Comprehensive Documentation
Requesting Data Archive
Newsletter Unsubscribe
Contact DPO
Data Rectification
Privacy Policy Update Emails
Imprint
DMCA
Media Credits
Can be integrated easily with Mailster, Facebook Pixel, Google Tag Manager, WooCommerce, Flamingo DB, Custom Integration, Google Adwords, BuddyPress, Contact Form 7, Google Analytics, and Hot Jar.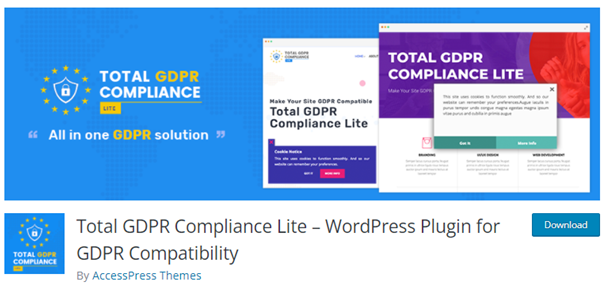 Total GDPR Compliance Lite helps in ensuring GDPR compatibility with only one plugin. The best part is that this plugin is easy to configure. It is meant for assisting users with automation through multiple steps through various services from a single platform. The plugin is incorporated with the GDPR regulations and laws so that they comply with the European Union.
However, like other GDPR Compliance Plugins, this one too doesn't ensure 100% GDPR laws compliance but it will take you one step closer to your obligations falling under the regulations of GDPR.
Major Features
Built according to GDPR Compliance Law of the European Union
Multiple Layouts for the display of cookie – Popup, Bar, and Floating layout
Different and beautiful templates – users can choose from over 5 templates
Unlimited customized cookie template
Excellent options for layouts placement
Cookie Notice Preview
Display Pages Cookie on every page and Home page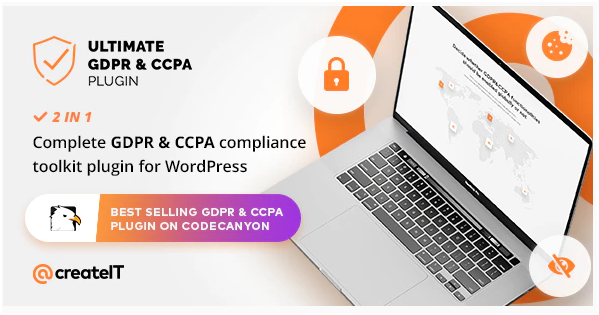 The WordPress Ultimate GDPR Compliance Toolkit feature with an advanced cookie scanner allows the users to know what type of cookies the website uses. Plus, it also helps them in learning about the details of the cookies used on the site. It's an ultimate Toolkit and an all-inclusive plugin that is capable of making the site GDPR compliant automatically.
With this plugin in use, you can also provide details of data protection rights specified for the users. It also allows them to add consent boxes to the form featured on the site. Additionally, this plugin also helps in blocking cookies if the users don't give consent. It also gives them access to exporting their records.
Besides, the plugin allows encryption of user data while facilitating the users with unique identification name use. Its One-click cookie detector is ideal for discovering the cookies that a website uses.
Moreover, the plugin comes in different global languages and can be integrated with WordPress add-ons such as gravity form, WooCommerce, BuddyPress, MailChimp, etc.
Major features
Provision for dedicated form enabling users to learn about the personal data which is stored in the database.
The plugin is capable of generating a consent box for dedicated cookies and blocking the cookies unless the users grant consent
Dedicated forms provision allowing user requests to delete personal data.
Its features allow users to send emails to global users for altering them in case of a data breach.
Configuration of privacy terms and conditions unless user consent is received. Pseudonymization of user data which is stored in the site's database.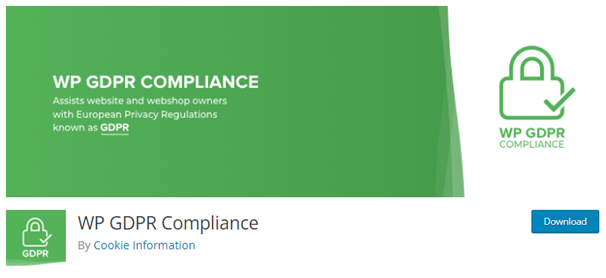 The plugin is used for assisting webshop and website owners in complying with GDPR European privacy regulations. However, plugin activation doesn't guarantee that the website complies fully with the rules of the GDPR. It is one of the most reliable GDPR Compliance Plugins enforcing the 'absolute consent' of users on the site. You can set tick boxes as well with this plugin in use.
The plugin also supports prominent plugins like WordPress Comments, WooCommerce, and Contact Form 7 so that the users' consent can be received for data policies and terms across the entire. It can be easily integrated with the WordPress add-ons as well as gravity.
Major features
The 'Forget me' feature allows the users to remove user data and info from the website.
It also has a Contact DPO feature which allows individuals to include contact DPO.
The plugin can be used for filling data-related queries. The form is then sent to DPO (Data Privacy Officer).
Its Data breach notification feature allows data users to notify data breaches.
Additional features – newsletter unsubscribing, cookie popup consent, and request data archive.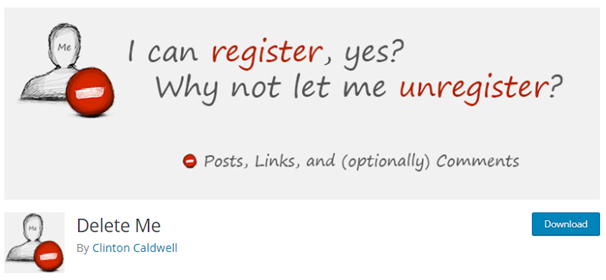 Delete Me GDPR compliance plugin allows users to register their account on the site. Plus, it also allows them to delete the user profile automatically. It helps them in controlling their hands and ensures proper registration.
The plugin is capable of deleting user's comments, posts, and links after the user confirms cookies usage. Detailed info can be displayed with screen confirmation for altering users about data protection. The administrator is required to specify the details using Javascript confirmation. Delete me plugin is ideal for placing users on the website's homepage after deletion by default.
Major features
The plugin is capable of selecting a specific set of roles for WordPress for allowing the users for deleting personal data while specifying attributes of the deleted link.
Disabling and enabling Javascript shortcode for sending email notifications when the users deactivate the cookies.
The plugin is efficient in providing network activation for a single site through a multisite platform. It facilitates users with user data deletion from a single location in the whole network.
Users that delete their account are notified through this plugin. But they are required to provide passwords (for users) to confirm their identity.
The plugin also comes with an option of enabling or disabling the delete link given on the "Your Profile" page.
It allows the website administrators to select the roles on the site platform so that users can have the advantage of deleting themselves.
It's a multisite WordPress plugin allowing users to enable the "Network Wide" feature for deleting a user/s from the multisite network. It also comes with a disabling feature for deleting individuals from the site.
Endnote
Most of the GDPR Compliance Plugins are updated from time to time to ensure GDPR rules compliance. The updates are also important to keep the sites relevant according to the EU's data privacy rules and laws. It isn't easy to comply with the rules but a good plugin makes it easy for companies to accept the change. Plus, users also get better options to store and manage user data collected through their site.
Hire WordPress Support professionals for GDPR Compliance enablement of your website or e-commerce store.