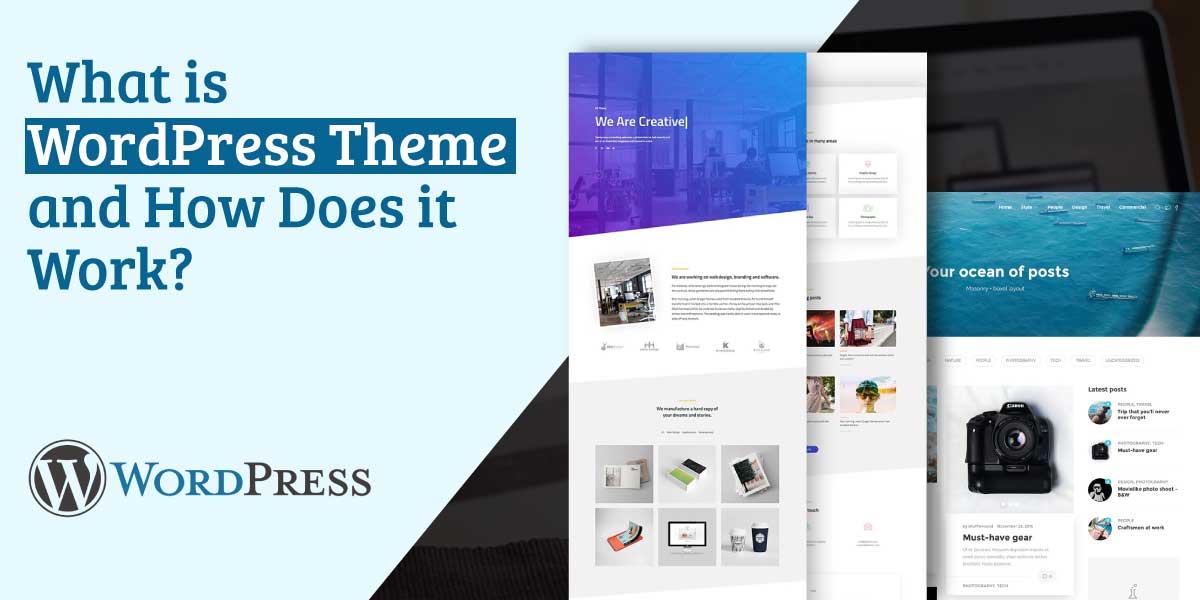 What is WordPress Theme and How Does it Work?
Last updated on September 23rd, 2021 at 12:38 pm
If you are in the business market, then you have probably heard of WordPress. However, the average consumer out there in the world may have never heard the name. There are a lot of things that WordPress offers that the average business person may not realize. This article will help explain WordPress, how it works, its coding languages and software, the WordPress theme clubs, and other important information needed to know. In this ever-present pervasive technological age and society in which we live, we get bogged down with just living life. We need a way to express ourselves. WordPress allows the average consumer and business person the venue to create, share and show the world who they are by uniquely building their own website. But WordPress is not just about building websites. They also offer the ability to build blogs, domains, e-commerce businesses, and self-hosted solutions. WordPress offers themes, plugins, and Google apps to help you get started.
Building a new website, blog or e-commerce online requires a lot of hard work, intuitive ideas, and passion for the business you will be creating. WordPress just gives you the tools and resources to get you started with the ideas that you have already given birth to. With WordPress you will begin to see your dreams of your website, blog or e-commerce business come to life.
What is the pricing for WordPress ?
Wordpress is very inexpensive when it comes to getting your dreams of building your own blog, website, or e-commerce business. The price for blogs is 3 dollars, for your own personal website is 5 dollars and for the premium for entrepreneurs and other freelancers, it is 8 dollars. WordPress bills you once per month for these services. With these low prices, WordPress is certainly one of the most inexpensive places to begin your blog, website, e-commerce business, or co-hosting solutions domain.
Building Your Blog With WordPress
If you are an extreme blogger who is interested in building your own blog, then WordPress is the right place for you. WordPress allows you to brand your own blog, while removing any wordpress advertisement. The blog will be yours alone with the professional help of wordpress behind you.
Building Your Own Personal Website
Every business, whether new or old needs a creative and information website to reach the world and its massive market place. WordPress allows you to build your own personal website, remove the wordpress logo and let you begin to sell in the marketplace. There is no one like WordPress when it comes to helping you to create, share and sell in the open e-commerce market. Give your dreams the boost they need to make them a reality with WordPress.
Building a Unique Website With the Ability to Monetize
Wordpress offers the premium listing with advanced design tools, CSS editing, ample spacing for video and audio. WordPress offers the business owner the ability to monetize their site enabling the ability to make money from their sales.
What are WordPress Themes ?
Wordpress offers different themes to help you get your business started. The are many themes that will help to give you the ideas to get started in helping to build a website to build your business. Some of the themes include:Twenty Nineteen, Business, Photo Blog and others. WordPress offers more than two hundred seventy five themes to help you build your dream blog, website or e-commerce business. They also offer assistance with feature, layout, column, subject and style. Anything that is needed to build your best and most innovative website or blog is given at WordPress.
WordPress Coding Language
Wordpress uses 4 different coding languages to help you build your dream blog, website or e-commerce sites. They include: two declarative languages HTML and CSS and two programming languages JavaScript and PHP.
WordPress Theme Clubs
Many developers with multiple websites, blogs or e-commerce businesses prefer WordPress Theme Clubs. These are done under the premier package and allows the buyer to purchase multiple themes under one package instead of buying individual themes. This gives that developer the ability to do themes for more than one business at a time.
WordPress offers customer support as well should you need it. With their innovative website that allows you to create, share and sell your products online WordPress is the one stop shop that you need to get started with building your business online. With WordPress offering deep discounts on co-host solutions with pricing from 3 dollars for bloggers, 5 dollars for personal websites and 8 dollars monthly for entrepreneurs who want an e-commerce business online, WordPress is one of the best deals around for getting your site to the world. WordPress gives you everything you need to build a fan base if you are an artist, singer or musician. You can also open a store, start a blog or design a portfolio. Whatever your business, WordPress is here to help you in getting started.
In today's revolutionizing society, it is important to have your name or brand out there. As a new business or existing business seeking to grow, there is no better way than WordPress to help you in doing this. WordPress makes it easier to help you with all of the little and big things that are needed to help you build a powerful website. The WordPress themes are steadily growing with a large number of websites using WordPress as a CMS.
As with anything do your homework. Do your research with this article and the WordPress website to see what it can do for you. Wordprress offers customer support twenty four hours seven days per week. The WordPress customer support are called Happiness Engineers and are there to answer any questions that you may have. They help you with getting started and with every stage until completion. Using WordPress just makes sense. Whether you are an experienced design developer or a beginner who has never built a website, blog or e-commerce business before, the Happy Engineers customer support will always be there for you twenty four hours per day, seven days per week to make sure that you are more than satisfied.