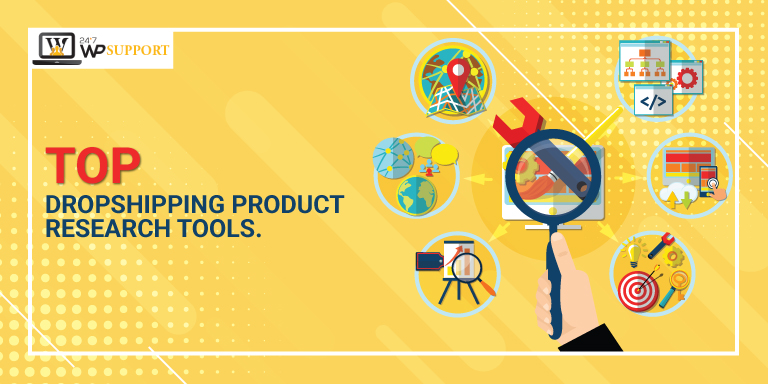 Top Dropshipping Product Research Tools for 2023
Are you in search of comprehensive Dropshipping product research tools? If so, read ahead!!
We come across many stories of ordinary sellers who turned their fortune. Some sold their products on leading online platforms like Amazon, eBay, etc., while some opted for Ad campaigns.
Success is not simply straightforward in online business. Go for any online business strategy and it will be trickier. It may seem easy but sometimes things can be a roller-coaster. Adroit WordPress and WooCommerce support can help you to deliver innovative solutions for trickier situations. It is best to hire them.
Dropshipping is an efficient strategy for beginners and small entrepreneurs who are stepping into online business.
Yes, it is true that dropshipping product research tools do not provide extensive solutions. It still has plenty of factors.
Top Dropshipping Product Research Tools for 2023
1. Sell The Trend
This Dropshipping product research tool is quite new in the market. And this tool is really doing great.
Sell the Trend employs AI algorithms to display what's trending in e-commerce stores.
The outstanding feature of Sell The Trend:-
Engagement rating calculator
Explorers
Video ad creator
You get some amazing training videos from Sell The Trend.
Price: It will cost you $39.97 per month. You will also get extra 2 bonus months for no charges in the yearly plan.
2. AliExpress Dropshipping Center
AliExpress Dropshipping Center is an efficient product research tool that can give you immense support. AliExpress Dropshipping Center offers the best insight into products that are top-selling.
With this Dropshipping product research tool, you can check products that are in high demand with their different metrics.
Price: You can use this Dropshipping product research tool for free, but you have to sign up for an AliExpress account.
3. Ecomhunt
Ecomhunt is again the best dropshipping product research tool that crafts successful products. It has different subscription tiers for accessing the product's database to sell. You get limited access to the free list. It is a well-researched dropshipping product research tool.
Ecomhunt offers tracker sessions for products.
With its tracker sessions for products, you can figure out how products are performing. You will get training guides, blogs, and webinars with this dropshipping product research tool.
The outstanding feature of Ecomhunt:-
Product Description/ images
RRP, margins, costs, and profits
Social media engagement ideas
Reviews
Audience and targeting ideas
Current Ads and Facebook Ads ideas
Saturation Inspector
Analytics
Price: You get limited database access in the free plan. Whereas, the paid package starts at $23.
4. FindNiche
FindNiche is a great Dropshipping product tool. This tool has specific product categories such as:-
Bestsellers
Finding Niches
Finding Suppliers
Trending products
It has a Spy and Store Search tool that can assist to find the competitors and give sales statistics analysis.
Price: Pricing starts at $9 per month.
5. Thieve.co
You just need to sign up to Thieve and can check out some amazing products from leading brands like AliExpress. This tool accumulates the data as per the actions of buyers to develop a product list with high profitability. It allows the development of product imagery for the supplier side.
Price: You can use Thieve.co for free but to use premium features you need to opt for their package. It starts at $29 per month.
6. Niche Scraper
It is a SaaS-based dropshipping product research tool. It allows dropping shippers to search for trending products to sell in their WooCommerce store. Niche Scraper identifies the data from similar stores to figure out the product that is best-selling.
It is best to make product research achievable.
Price: This tool is available for free. For premium features, the basic plan starts at $49 per month.
7. AliShark
Yousef Khalidi is the founder of AliShark. He has added another space to dropshipping.
AliShark, an effective dropshipping product research tool is really advanced. It will allow you to figure out the right products for dropshipping.
AliShark generates continuous product live results with each product's exhaustive report.
The outstanding feature of AliShark
Live stats
Product information
ePacket
Quick view on sales
Total order numbers
Reviews
Cost
Sales History
Top countries where the product was sold
List of top drop shippers
Price: It will cost you $20 per month