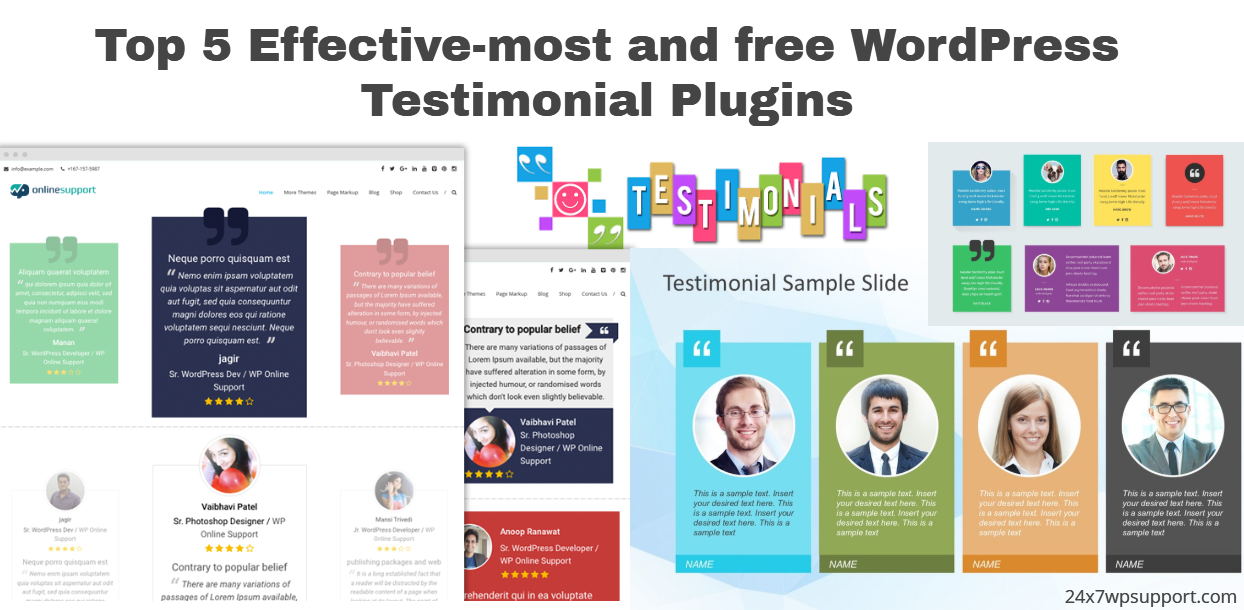 Top 5 Effective-most and Free WordPress Testimonial Plugins
Last updated on September 28th, 2021 at 01:41 pm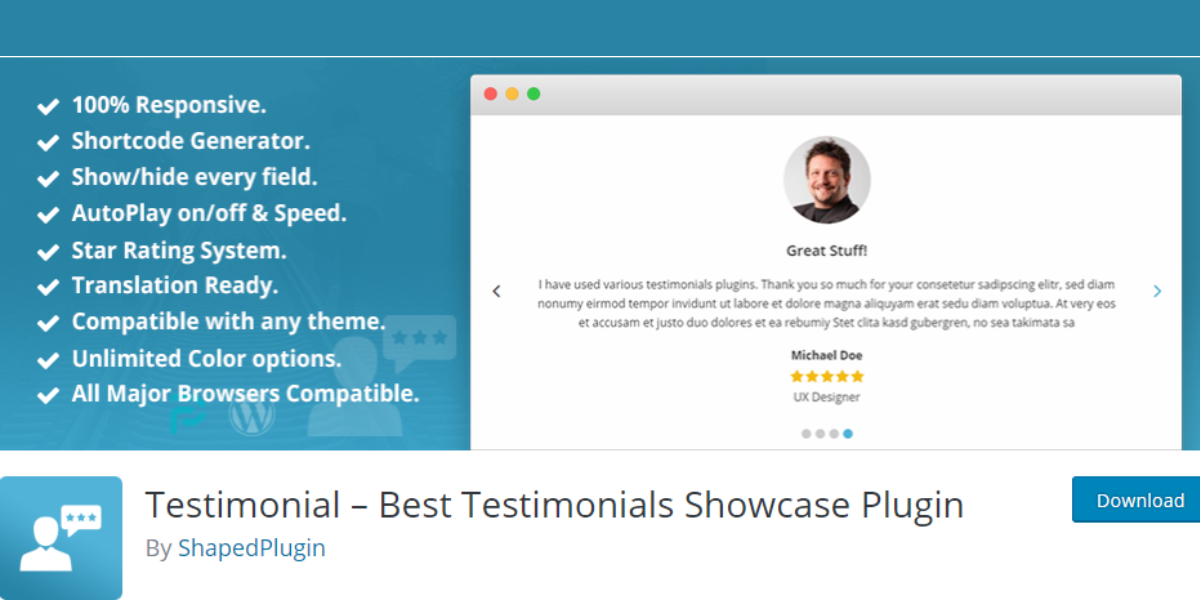 Description
It is the best WordPress Testimonial plugin with its purpose being to display quotes, reviews or testimonials in numerous ways on any widget or page. This WordPress plugin has the easiest Shortcode Generator settings panels which assist you in building unique and impressive testimonials. Furthermore, you get to present with modifiable styles and responsive designs on your site.
Showcasing testimonials effectively on your site is vital because it allows your potential customers to collect are searching for recent testimonials, and with Testimonial Pro, you get to do both.
The necessary input fields available include Reviewer name, Reviewer Position or Identity, Image, Rating star, Tagline or Testimonial title, and Testimonial content or Review message
Features
Allows you to either show or hide the section title, star rating, reviewer name, testimonial title and review message.
It makes use of a star rating system.
It is lightweight, minimalist and beautiful thus making it mobile friendly and fully responsive.
Styling and customizing this

WordPress plugin

is easy, and every field comes with an endless color option.
The testimonial is RTL ready, Widget ready, allows the addition of countless testimonials.
It also is compatible with any theme and supports all the modern browsers, such as Safari, Chrome, Firefox among others.
It comes with a Shortcode Generator via an intuitive admin UI.
Allows you to control the speed of the slider pagination as well as an infinite loop for the slider.
It supports more than one slider on every page.
It is translation ready with qTranslate-x, WPGlobus, Google Language Translator, GTranslate, Polyang, and WPML.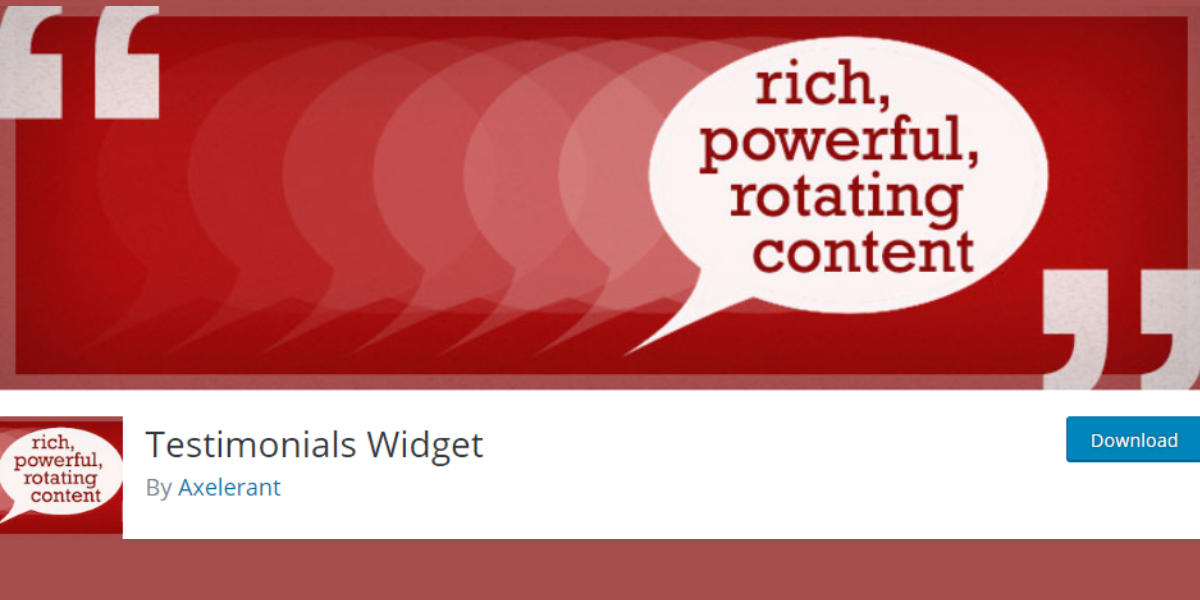 Description
With this testimonial plugin, you get to randomly list or slide selected quotes, portfolios, text or reviews with videos or images on your WordPress website. Additionally, you can input Testimonials content via shortcode, widgets o theme functions with the tag selections and category having various display options, like specific or random ordering.
Features
It has a simple style which allows easy theme adaptation.
Usually, this WordPress plugin is shortcode and widget ready.
Allows random display, video slideshows, and a responsive image slideshow.
Also, this testimonial plugin enables you to slide video, text, and images together responsively.
Slide text which is helpful in the rotation of testimonials.
Compatible with shortcode thus you can slide content which is rendered using shortcodes, for instance, Gravity Forms and WordPress Galleries.
Comes WordPress Multilingual enable WPML.
Also, it features adjustable animation speed as well as an admin interface of editing, adding and managing testimonials.
It is WordPress multisite compatible and permits automatic linking of URL fields and email via company or author fields.
Simple to configure Previous and Next page indicators.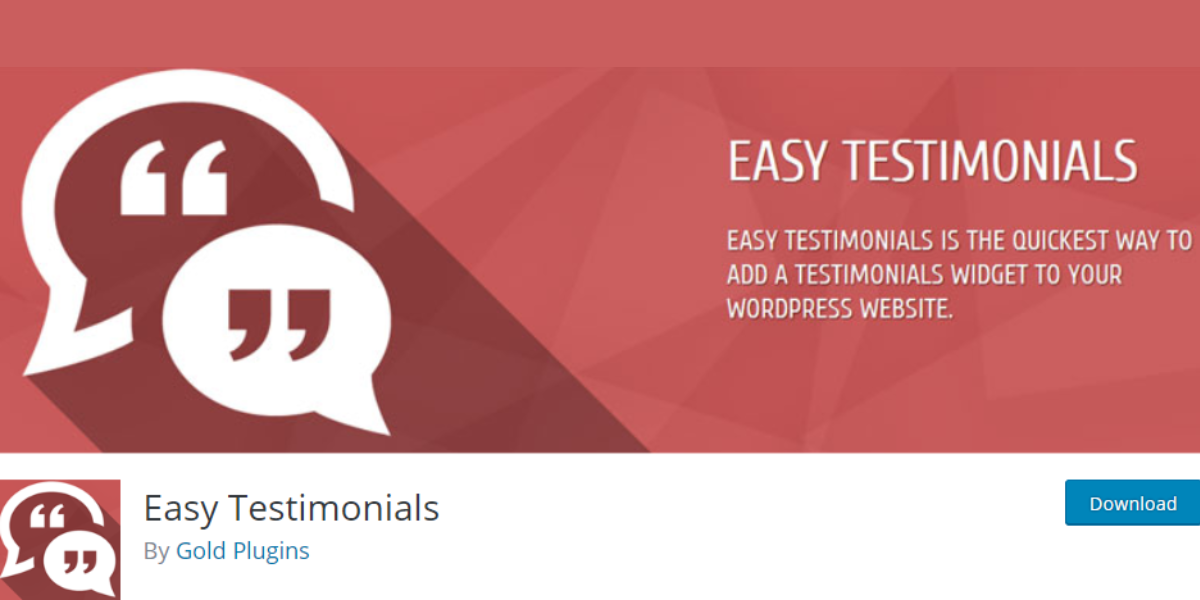 Description
Available in this testimonial plugin are updates for both Gutenburg and WordPress 5, and also comprises five custom Gutenberg blocks while still seamlessly working with the new Gutenberg editor.
This WordPress plugin enables the addition of Testimonials to the sidebar by users, either embedded to testimonials into a Page or Post using a shortcode or as a widget. Moreover, Easy Testimonials permits you to display a slideshow of Testimonials anywhere on your site, insert a list of testimonials or output a random testimonial. These testimonials support images, thereby making it easy to add the photo of a testimonial author quickly. Because each testimonial uses schema.org compliant JSON-LD markup, they always correctly appear in the search results.
Features
The advanced testimonial import wizard supports various types o files, and this includes CSV and Excel.
It comes with advanced transitions including flipping, scrolling and tiling testimonials.
Despite being simple to use, Easy Testimonials is extremely customize-able to suit your specific preference.
Supports the display of custom excerpt testimonials which draw the attention of your site's visitors to your testimonial archive.
It is compatible with numerous third-party plugins, themes, and services such as WooCommerce, Visual Composer, Genesis, and Avada, therefore, offering users the best possible experience.
Allows the addition of images to your testimonials to make it stand out from the rest.
Because it easily displays testimonials using the five new developed blocks which offer you the Gutenberg experience.
There is a broad option of fonts to choose from, and this includes Google web fonts, sizes, and colors.
Has over 100 professionally designed themes for displaying on the front end.
Creating a CSV of your testimonials using the testimonial exporter is easy.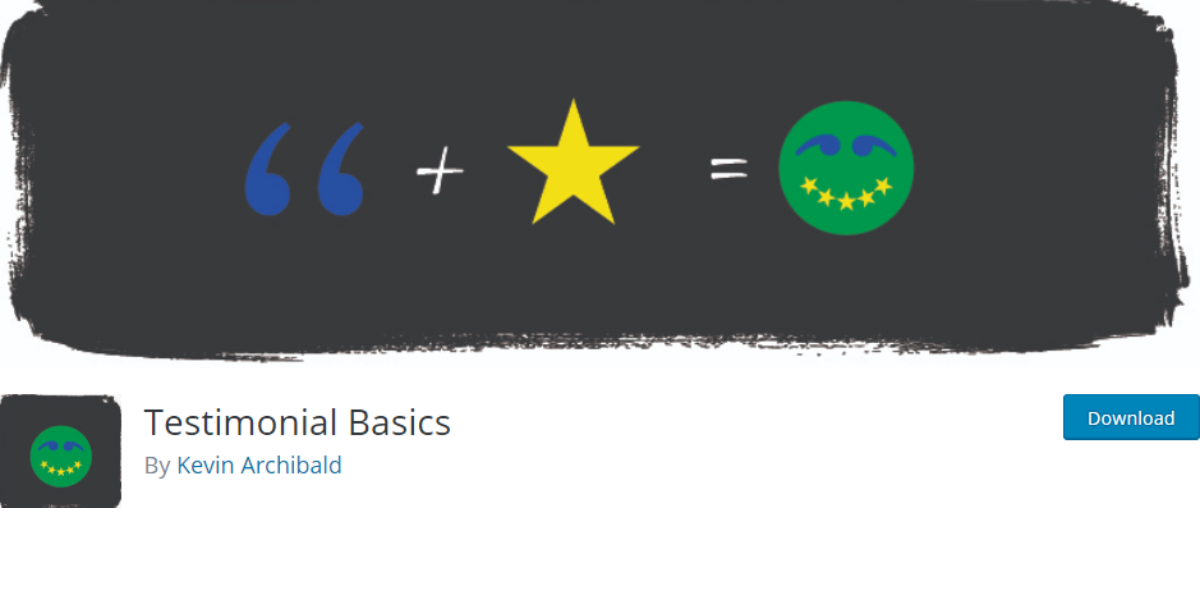 Features
Uses excerpts, sliders, and a five-star rating system as well as two extra customizable fields of input.
It is translation ready to four languages, that is, Spanish. French, German and Dutch.
Comes with six designs for widgets and four layouts for content display plus the option to display the content in either the widget or content areas.
Has an optional GDPR opt-in button for the submission of testimonials and an optional GDPR link on each testimonial which allows users to request the removal of a specific testimonial.
While in the admin panel, it is simple to approve and edit a testimonial plus offer assistance in the admin panels.
Allows you to either restore or backup testimonials.
Available to use are nine web friendly fonts as well as an in-built black and white or color captcha that now includes reCaptcha.
It is RTL compatible.
Testimonial, email, and author are all required fields.
Separately groups testimonials for display.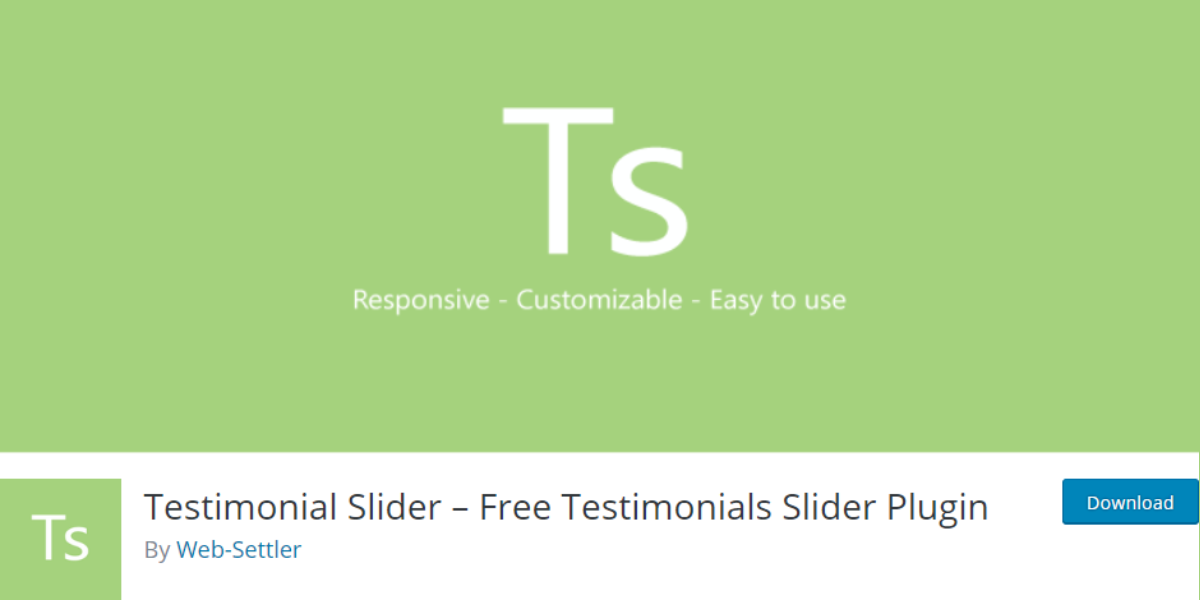 Description
Setting up this testimonial plugin is simple, and it showcases all your testimonials in a modern and beautiful slider. Consequently, Testimonial Slider improves the overall user experience of your users as well as your site's appearance, while still being entirely free.
Furthermore, this WordPress plugin is built with a touch for mobile gadgets and displays all your blog's recent testimonials using a beautiful slider. No coding experience is needed to operate this testimonial plugin while remaining responsive and lightweight.
Features
It comes integrated with a testimonial list view and a testimonial slider.
The Premium version features a five slider testimonial layout, front end submission form and a testimonial list view.
It also filters testimonials according to category and is widget supported.
The testimonial slider is fully modifiable and has a responsive touch.
You can add, edit or delete testimonials and also customize the colors of the testimonial slider.
Has pre-designed layouts for both the testimonial list and testimonial slider.
Included are free updates and fast support.
Consists of a mouse draggable testimonial slider.
You have the option to choose which testimonials should show on the testimonial slider and then order them according to date or popularity.
AP custom testimonial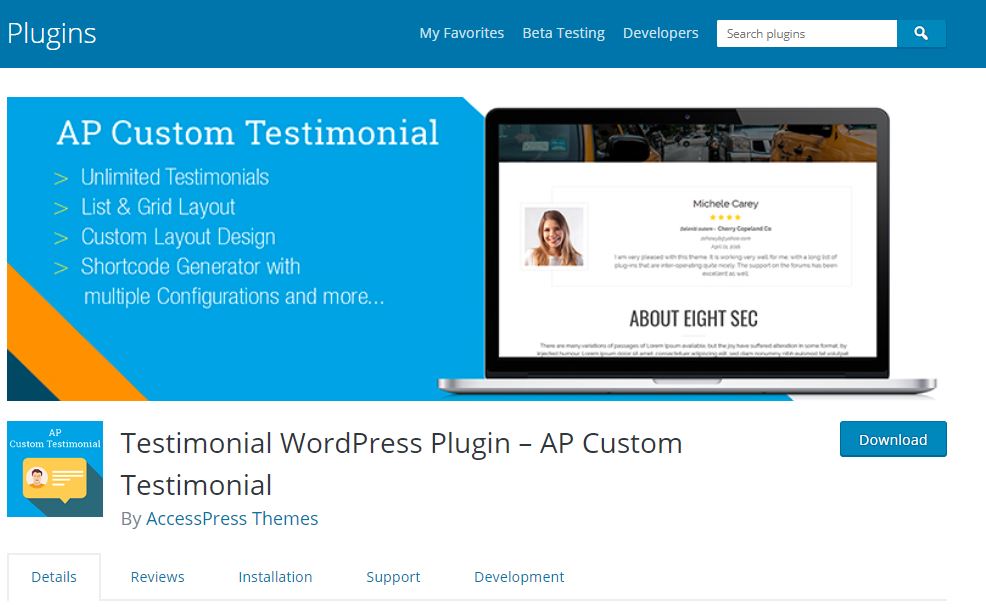 Features
AP custom testimonial is a WordPress plugin that has been created by accesspress themes.
The current version for this login is version 1.4.4. this plugin is updated on the regular basis the last update has been done on this plugin is 4 weeks ago. The active installation presents it more than 6k with 3.8 or higher star rating out of 5.
For using basic for free version user only get 5 free available template design but accessing 2 premium version user will get more than 12 template design.
It contains a simple setting with multiple usabilities.
It has its own dynamic shortcodes monitor user can generate with an additional option.
It is highly responsive and easily fit into small devices.
This plugin is fully customised user can customise its design according to their needs.
Slider control option is also present with all layouts.
User will get 11 social media link to add in this blog in it.
It has a huge number of list to add custom testimonials.
This plugin also contains a separate submission form for review form with the multi-configuration testimonial.
If a user wants all feature than user must pay a certain amount per month to activate its all-powerful feature.
Testimonial rotator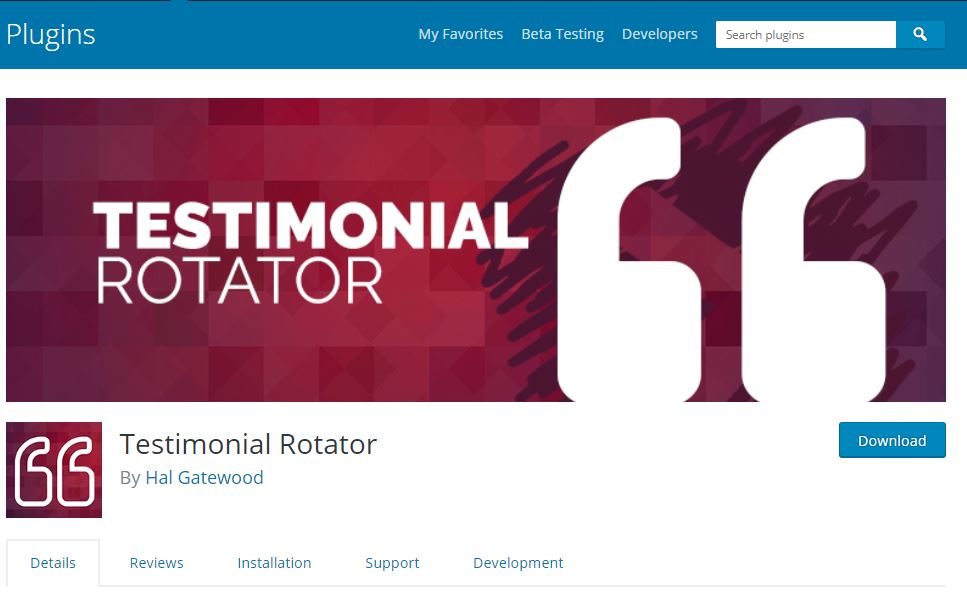 Features
Testimonial rotator is the most popular WordPress plugin. It is created by HAL Gatewood.
This plugin has more than 60k plus active installation and the latest version is 3.0.3 according to this version the last update has been done 2 weeks ago.
Admin can change all rotator setting in its on panel.
Multiple rotators have been added to its testimonials.
This plugin has to be released with a lot of or abundant feature which help to customise all templates by the user.
With the help of this plugin, the user can also display all testimonials on post and pages of the website.
This all can be done with the help of generating a shortcode.
After all this feature this plugin also supports star rating which is very beneficial from the product point of view.
The user wants to activate all features of this plugin than the user must spend some amount of money to buy its legal licence to use.
Testimonial widget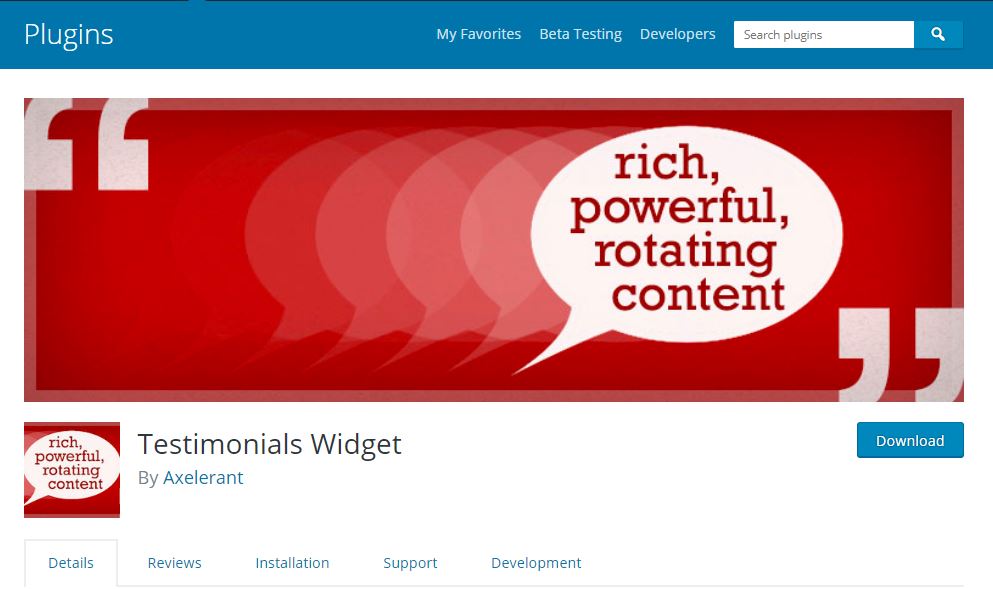 Features
Testimonial widget is a WordPress plugin that is used for doing randomly slide or list selected portfolios.

This plugin has more than 30k active installations. The last date of this plugin has been released in December 2019. And an updated version of this plugin is 3.5.1.

This plugin contains three types of transitions these are as given Carousel,Fade,Slide,transition

It can also felt route slide show content of the WordPress

It is also compatible with all type of shortcodes.
It has its regular or normal display
Theme adaptation is very simple as similar to its style.
According to its simple style, it is also so highly responsive on the slide show.
Not only slideshow it is also highly responsive on text, video and images type of content.
Its slide text is always useful for rotating testimonials. And slide video is used for doing slideshow with videos.
if the user wants to use its all feature then the user must pay a certain amount of money for its legal licence.
Which Testimonial Plugin Do You Like?
Need help in Plugin Selection or Plugin Issue? We are available 24/7 by Phone or Chat.