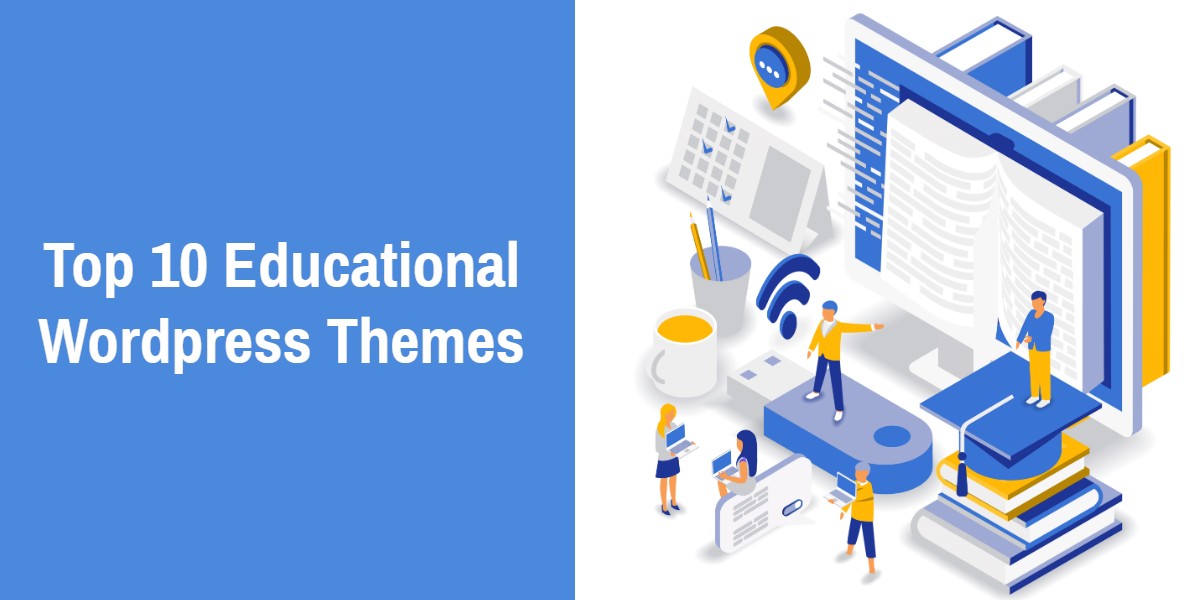 Top 10 Educational WordPress Themes In 2022
Last updated on February 4th, 2022 at 01:02 pm
With the ever growing educational environment drastically changing every day, you're definitely going to need a theme for your WordPress site that can easily manage everything you may need it to. Whether it be a means of organizing online tutorials, to post secondary resources, and everything in between, multiple themes are readily available for us. For your convenience, we've put together a top ten list, which goes in depth to provide you with an all access pass to choosing the best theme for you. Stick with us, as this guide is about to be your best friend.
1. WPLMS Learning Management System for WordPress
Creatively built on BuddyPress, this theme is perhaps the only ever WordPress LMS system to have its very own mobile app. Boasting an impressive range of tools and resources, the theme has always been know to be more of a complete eLearning suite than just some regular WordPress education theme.
WPLMS allows you to create your very own courses and actually sell them online. Prominent examples being Lynda.com, Udemy.com and even Coursera.com. Hundreds of companies that maintain close to a million users trust WPLMS, as their reputation always gives off a robust and flexible vibe. WPLMS has even been used by Fortune 500 companies!
Now, if you're wondering whether or not this theme is right for you, perhaps take note of the following. This theme is suitable for Corporate training's, Coaching centers, College, Academy, MOOC platforms and of course Educational Training Centers. Do you fit into this category? If so, feel free to visit any of the links below to try out, and when you're ready, to by the theme.
2. MasterStudy – Education LMS WordPress Theme for eLearning and Online Courses
With an excellent range of features, including absolutely phenomenal lesson pages, a messaging system, quizzes and results, course announcements, and so much more, it's no surprise that MasterStudy has made our list. Not only does their massive range of features impress us, but their extremely powerful administrative panel takes the wow factor above and beyond.
MasteryStudy has always been known to customers as a theme with an insanely user friendly interface. It's not often that such a comprehensive and advanced theme can be used by anyone, regardless of web developmental skills. Whether you're an expert programmer trying to design an all inclusive educational resource bank, or a newbie looking to get with the times, MasterStudy has got you covered.
MasterStudy, as already proven, has numerous features that anyone can use, however, for the more tech savvy among us, they've gone all out and have provided even more advanced features. The features include, a customer visual composer, multilingual capabilities, translation capabilities, and so much more. Why not try out MasterStudy today?
3. LMS Educational WordPress Theme – eLearning WP
LMS is a competitor among this list due to its incredibly powerful and intuitive system. They provide easy access in regards to creating numerous courses and quizzes, alongside lessons and tutorials that have been optimized for most positive user experience going. The courses you create can either be provided for free to users, or they can be made premium. Remember! Not all have to be free, and not all have to be premium, it's surprising how often this fact is ignored.
LMS has a reputation for being extremely customizable and useful, and based off of user experience, it's been reported that students absolutely adore this theme. What better way to get students to learn than to do it creatively with a modern day twist. Create your very own online school today, with LMS.
4. EduLMS – WP Learning Management System Theme
EduLMS is a learning management system known for its simple yet customizable theme that attracts non stop users due to its nonstop style. You can make it your very own through custom menus and even customizations to the very theme itself. No website using EduLMS is the same as another! For those who want to branch out into the world on their own limb, EduLMS is for you.
With an amazingly easy to use platform, EduLMS is perhaps one the best ways out there to create your own courses, lessons, tutorials and even tests and quizzes. Anyone can use this theme, whether your a beginner or an expert, everyone is welcome!
Last but not least, EduLMS' compatibility in regards to SEO is outstanding and top if its class. The theme is fully compatible with all of the latest SEO techniques and has been known to boost user visits and subscriptions like crazy. Why not give it a shot today?
Click HERE to buy now or to try their live preview.
5. Education WordPress Theme
Education WordPress made this top 10 list due to how flexible their content really is. Education WordPress has been used for online schools hosting university content, and get this, other times, they've been used to host kindergarten content. It's not very often that you see an educational theme with that much capability.
Based off of user reviewers, Education WordPress can be deemed one of the best out there in terms of its user interface. Never before has it been so easy for a complete beginner to develop an entire site dedicated to education.
To top off the marvelous things about Education WordPress, they maintain the following massive list of features. A visual composer, data portability, pixel perfection, SEO optimization, and so much more. Why not try out Education WordPress today? You won't be disappointed.
6. EduPro – Professional WordPress Education Theme
Perhaps one of the best WordPress education themes out there, EduPro is designed for university and college students. EduPro takes a modern day approach to learning by using interactive and user friendly designs that have been created by only the most in tune people. EduPro has everything you may ever need to get your online school bouncing, and if anything that's an understatement.
Just recently, EduPro incorporated a ton of huge premium features that you can actually use for free. No extra charge. Isn't that great?
In terms of customization, EduPro offers dozens of unique homepages, and quite frankly has some of the most modern looking designs going. Give EduPro a try today, it's doubtful you'll be disappointed. Whether your a newbie or an expert, EduPro welcomes everyone.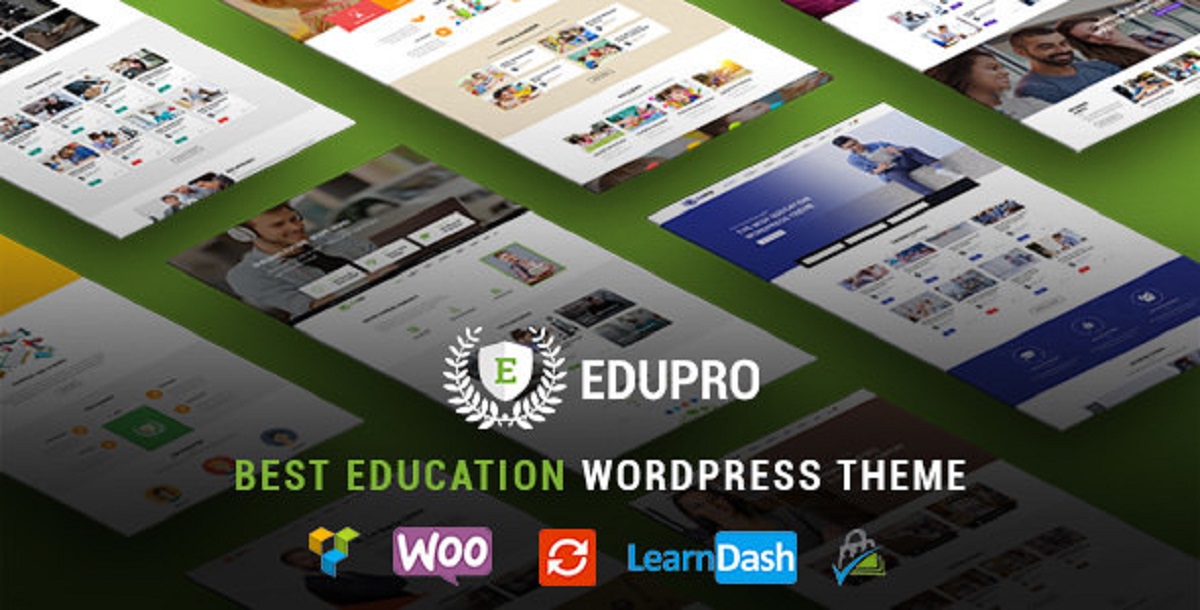 Click HERE to buy now or to try out their live preview!
7. Skilled | School Education Courses WordPress Theme
Whether you're a new web developer or a prestigious expert, Skilled welcomes all. They allow clients to create, publish and of course sell courses online. The types of courses range far and wide, and work to distinguish each student's learning style effectively.
Boasting an excellent "Sensei" plugin, creating online material for your students could not be any easier.
In regards to payments, no other theme compares. Skilled WordPress theme allows for users to pay by course, or to finance them depending on the student's economic status. Once again, Skilled welcomes all. It doesn't matter what skill level you are, how much money you have, or whether or not you're tech savvy, Skilled works for everyone! Come take a look!
8. Invent – Education Course College WordPress Theme
Designed to meet every need that a college or university student might need, Invent should surprise no one in terms of it being on this list. Invent is a theme built for education that carries with it a new flare of style, one that's welcoming, but also unique and stunning.
Invent boasts that all of their content is excellent quality due to extensive research studies done of educational facilities around the globe. It doesn't get much better than that folks.
Invent is rated among the top educational themes, and frankly, they deserve it. The theme is so rich in content and features that nobody should feel like they're missing anything at all. Although this theme is for the more advanced web developer, it makes up for it by offering countless features and pros. Feel free to try it out today!
9. Lincoln – Education Material Design WordPress Theme
Lincoln is perhaps one of the most interesting themes on this list, for it is as unique as it is awesome, and let me tell you, it's pretty awesome. This educational theme is obviously best known for their online schools, along with their user friendly interface and an all access pass to everything you need to know about creating courses and tests. Although, users still do have the option to create business websites and digital agencies due to Lincoln's extremely flexible nature.
On Lincoln, you can create courses so easily they'll be done before you have any time to blink! Okay, perhaps that's a bit of an exaggeration, but you know what I mean! Lincoln is as fine tuned as it gets, and the user reviews behind this theme prove it. Why not give it a try?
10. University | Education Responsive WordPress Theme
Unlike others among this list, University takes a more elegant approach to learning. Their theme is customizable, easy to navigate, and most of all, clear. They're known for creating an incredibly stress free environment. One that web developers can strive for greatness within. Featuring online courses, team events, galleries, and so much more, there really isn't any other way to go if you're looking for calm, peace and tranquility. University is a stressful time for students, and professors too, so why not help them out? Take a trip with this educational theme, your students will thank you.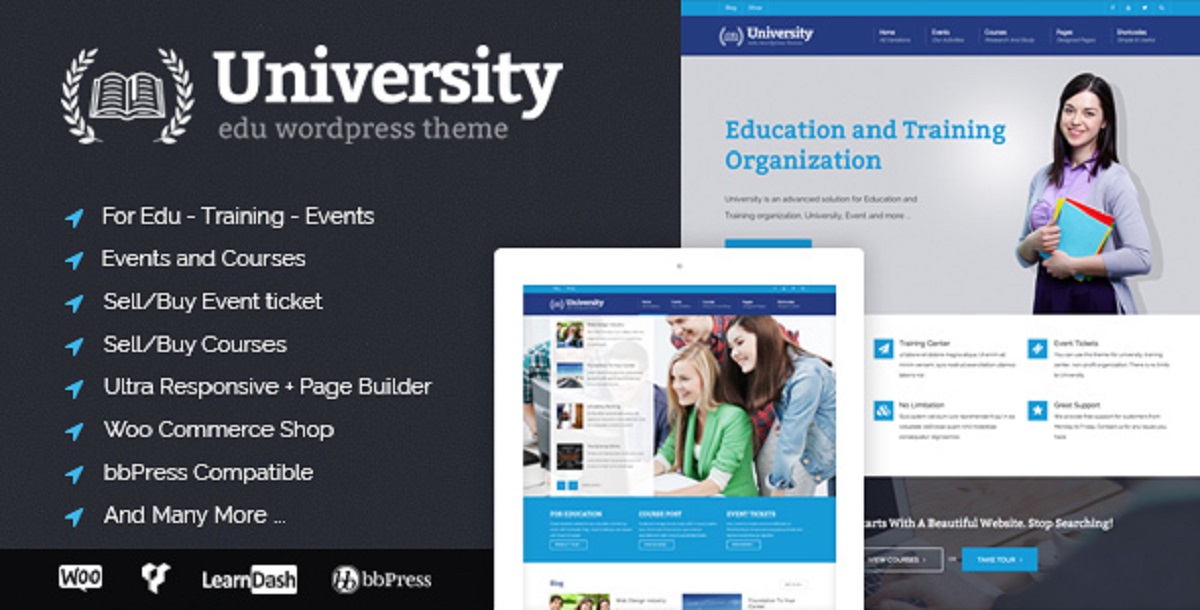 Which Educational Theme Do You Like ?
Need help in Theme Selection or Theme Issue? We are available 24/7 by Phone or Chat.