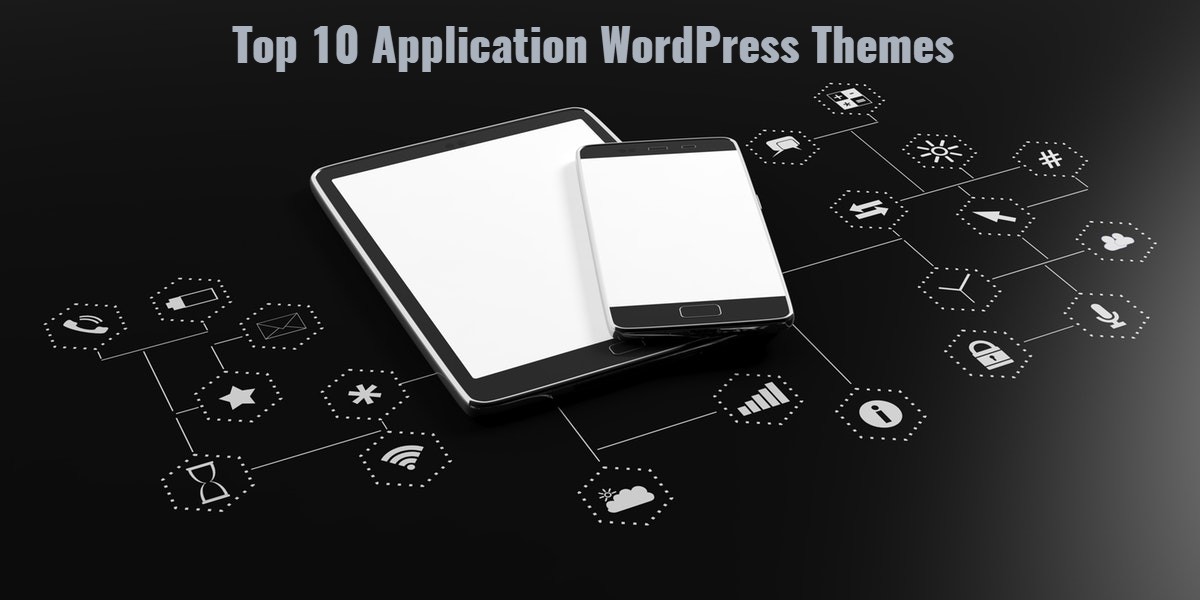 Top Most Application WordPress Themes
Last updated on May 17th, 2022 at 06:41 am
As the world around us becomes more and more reliant on technology, and less on paper, it's extremely important that content developers utilize the appropriate resources when trying to get their application or website out to the public. Fortunately for those of you that have absolutely no idea what themes are good, and which themes are great, we've created an in-depth top 10 list that's about to be your best friend.
TheGem – Creative Multi-Purpose Theme
TheGem is going to be one of the most impressive on this list, simply due to its versatile nature and welcoming user interface. Not to mention that the theme is ridiculously responsive and allows clients to build any website they can dream of. Your imagination is the limit.
App, SaaS & Software Startup Tech Theme – Stratus
Featuring premium designs for today's modern tech startups, along with an effortless setup process, Stratus takes the number two spot on this list with ease. Designed for more advanced web developers, but still accessible and usable for new amateur developers, Stratus is a titan among its class.
Stratus maintains a live drag and drop builder process, making it efficient and extremely easy to use. The customization that goes along with this tool is extremely useful, and based off of the user reviews in regards to this theme, the users love it.
Massive Dynamic – WordPress Website Builder
Massive Dynamic is perhaps one of the cheaper options on this list. However, the price point does not reflect the quality. Massive Dynamic stands for providing excellent content and an extremely affordable price. Their theme is responsive, widget ready and maintains a constant high resolution. Something that other themes struggle with.
Massive Dynamic includes various ThemeForest files, such as PHP files, CSS files, and JS files. The theme is designed to be compatible and ready for anything. Why not give it a try?
Fusion – Mobile App Landing WordPress Theme
Featuring delicately crafted designs, and a user interface that couldn't possibly be more friendly, Fusion is an obvious choice for this list. The theme creator's goal is to eventually add every feature possible, and that makes this theme stand out from the rest. Far too often are creators tunnel sighted. They focus on one aspect of their theme and all others go out the window.
In terms of the creation of this theme, hundreds of real app landing pages were analyzed and studies. This ensures users that Fusion content is perhaps the best of the best. Give it a try!
Appdev – Mobile App Showcase WordPress Theme
Featuring easy parallax backgrounds and an amazingly responsive design, Appdev is perhaps one of the most popular application themes among this list. They have single page as well as multi page options and each selection has dozens of sub options.
A demo XML is included within the theme, and all PSD files are layered. To top off this virtually perfect theme, Appdev features a beautiful smart lava-lamp menu. Check this one out, you really won't be disappointed. It's no surprise that this is one of the most popular items on this list.
Appica 2 – WordPress App Showcase Theme
Constantly updated, user friendly, support ready and excellent content. Four principles that the developers of Appica 2 stand by. This theme, unlike others, is specifically designed for people who use their phones more than tablets or computers. However, the theme is still readily available to use if you're a laptop or Mac or tablet user.
The layout of this theme is incredibly responsive, and widget compatibility is intense and almost bliss like in the sense that there are just so many options. You cannot go wrong with this theme if you're in need of a beautiful app showcase theme, pointed towards mobile users.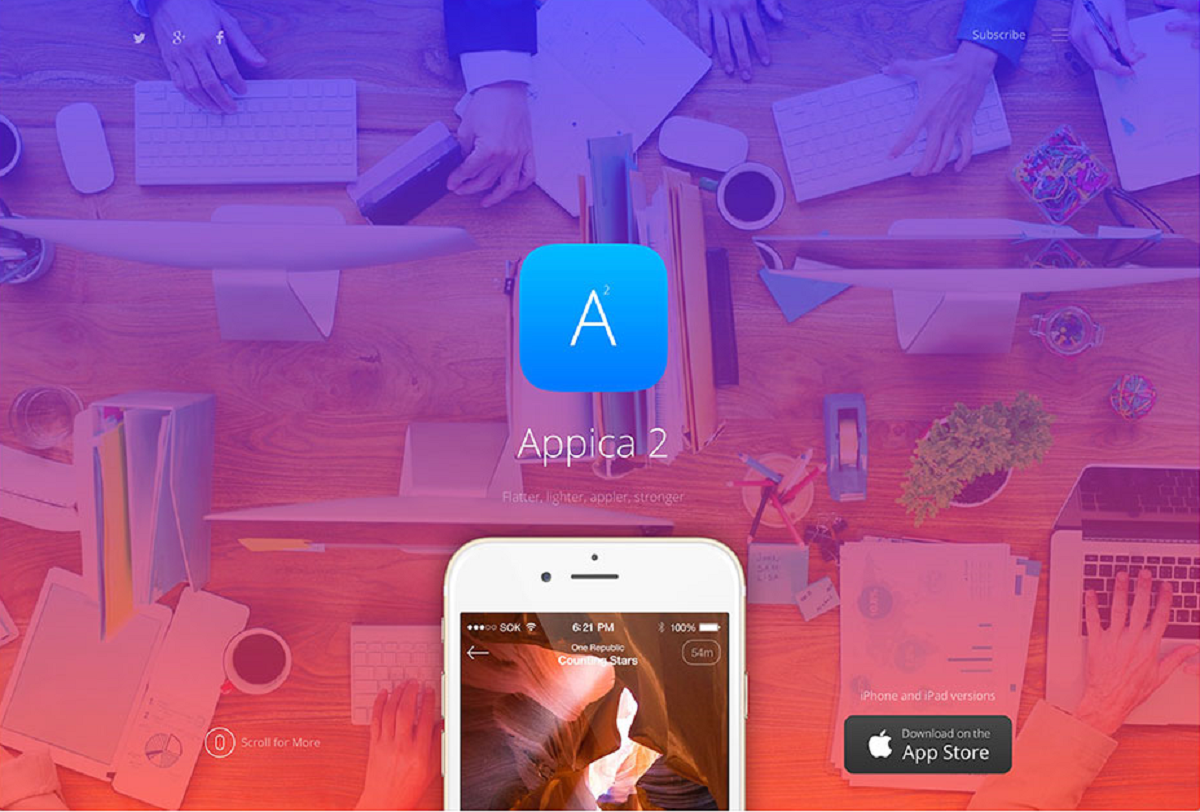 Sorry the item is not available for dwonload or preview.
Landy – Clean & Sleek Landing Page Theme
Like the title of this listing states, Landy is clean, sleek and of course extremely user friendly. The user reviews for this theme are constantly stating that the theme is beautiful and easy to use. Landy has been designed for anyone, from beginners to experts and everyone in between. Their support system is wonderful, and their customer support always obtains a five star rating.
The responsiveness of the theme is constantly boasted about by Landy's developers and of course Landy's users. Quicker than most other themes in its category, Landy is almost certainly a competitor that belongs on this top 10 list.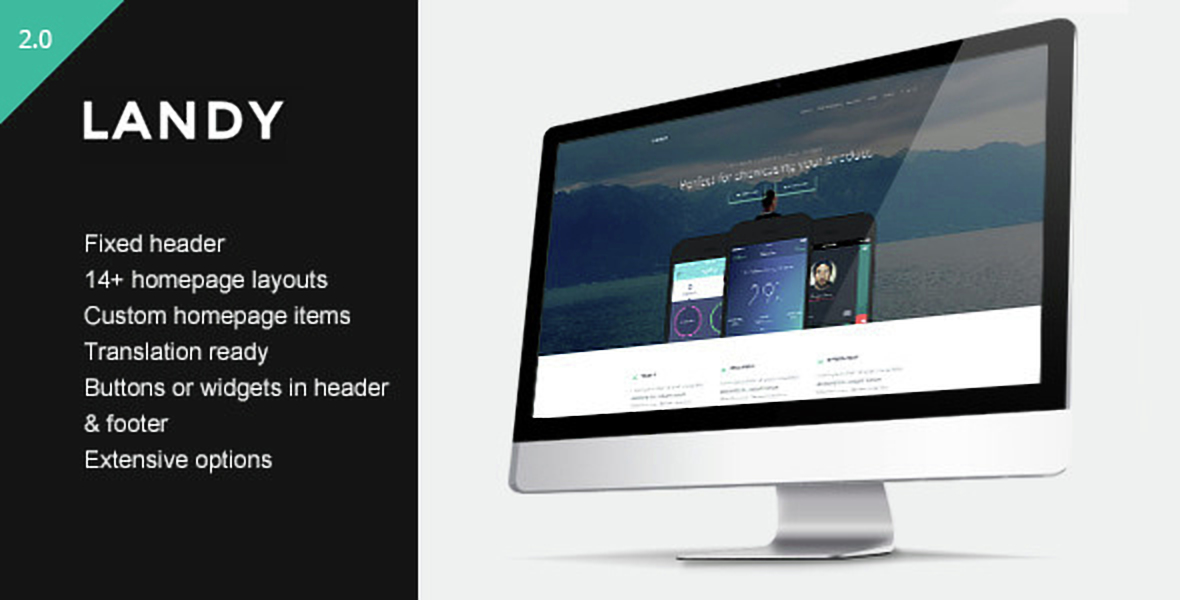 Click now or to try the live preview.
Apley – A Mobile Application Landing Page | Technology
Apley is perhaps one of the most elusive on this list. Elusive in the sense that they're constantly updating the theme and it's features. They believe in creating an environment for users that is constantly changing, in order to keep users interested, as well as reflect the natural order of today's society.
Featuring user friendly controls and options, an excellent support team along with excellent customer service, and a compatibility rating among the stars, Apley is perhaps one of the most user satisfying themes going. Why not give it a try? We doubt you'll be disappointed.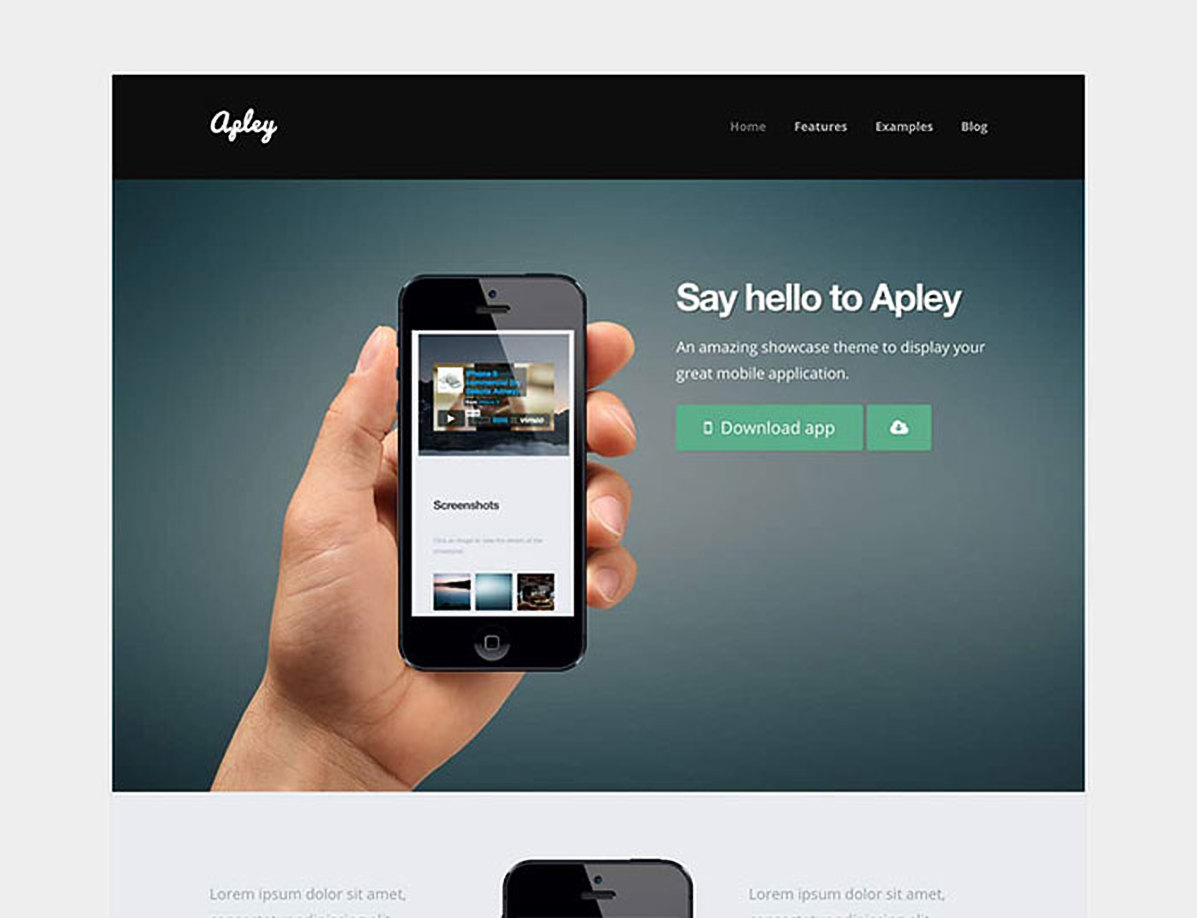 Sorry the item is not available for dwonload or preview.
Mobera | Premium App Showcase WordPress Theme
The developers behind Mobera stand for multiple concepts and ideas, however, perhaps their main insight and goal in regards to the world of WordPress users, is that they satisfy the most demanding of customers. Mobera is compatible with google, allowing for easy use of all google tools. Items such as maps, contacts, documents, and the majority of the others. Not to mention that over a hundred google fonts can be used by Mobera users as the compatibility is just that good. Problems with fonts is more common than you may think. Why not try out this app showcase theme today? Who knows, it may just be perfect for you.
AppStack – One Page App Theme
Last but not least, AppStack is a single page theme designed as a landing platform for your mobile applications. Designed for beginner developers and somewhat experienced web developers, this theme is as accessible as it is user friendly. The user reviews behind this theme are excellent, especially due to its price. Although not the cheapest on this list, AppStack does no harm with its low prices. Plenty of customers thank for it.
Featuring an easy layout creator, that allows for users to build a website fast and efficiently, AppStack could not be any easier to use. The flexibility of the theme provides nonstop creativity as you can customize as much as you want. The only limit is your imagination, as so carefully put by dozens of AppStack reviews. Check it out today, you may find that your users will thank you.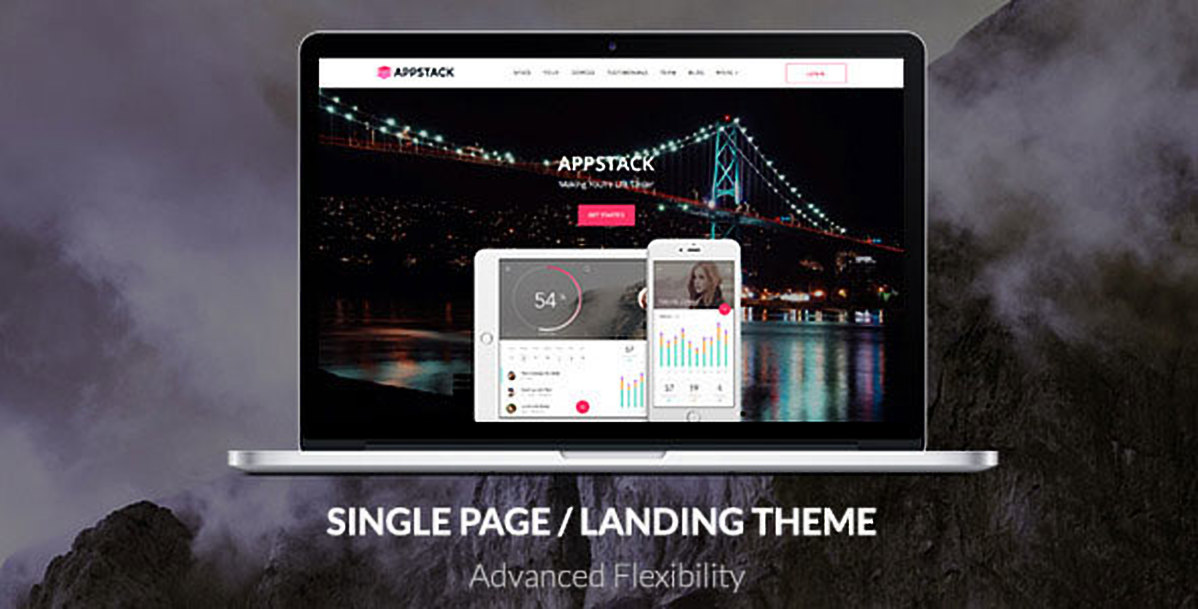 Click HERE to buy now or to try out their live preview right now!
Hopefully, this in-depth top 10 list in regards to application themes helped you find which theme was right for you. Although there are hundreds of good themes, this list boasts only the best. Before buying any of the above themes, ensure you check out their live preview. In order to make your customers and users happy, your website and blog must be happy as well. What better way to make something inhuman interact so much more easily than with a phenomenal theme? Once you choose, your users will thank you, and then perhaps you'll thank us. Good luck!
Venture Theme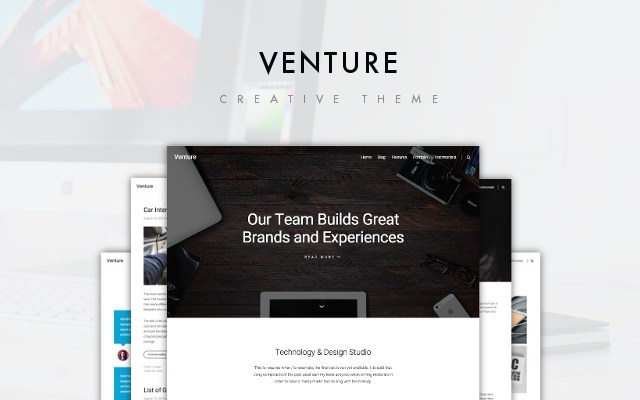 Venture Is a wordpress theme that has been designed and created for the niche of converting a normal WordPress website into a mobile application. This theme has been created or designed by the Wpzoom organization. Now let's discuss in short its features step by step given below. Steam contains a highly advanced options panel so that any user easily customize every detail according to their requirements.
The complete theme automatically adapts any screen size and screen resolution. It has a dynamic home page builder which contains various types of widgetized. These are going to help the user to customize their structure with custom coding present in WPZOOM widgets.
There is a visual composer which contains various types of color and fonts users can choose according to the theme design. With the help of a custom home page, the user can automatically add any order on deleting it. Each type of Widget having unique and it was completely developed for the venture theme only.
This theme is not available in the basic free version with complete features. If any user wants to use its complete feature then the user needs to pay a certain amount of money to the organization. After that organization will give an active license or activation key with complete online documentation.
Pinboard Theme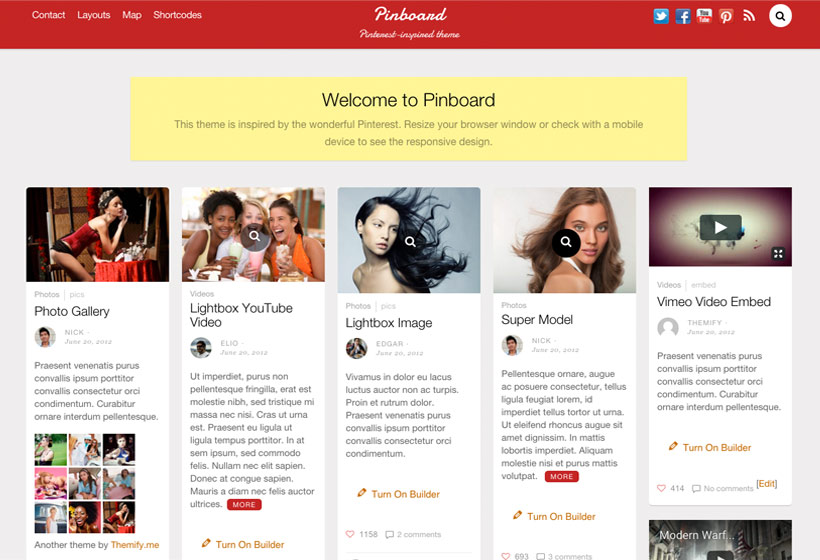 Pinboard Is a wordpress theme. Developers take a lot of time to design and create this theme which is going to convert a normal WordPress website into a mobile phone application. This Theme has been designed and created by the Themify organization. It doesn't matter to any user visiting which type of screen of the gadget because the complete theme has a responsive layout. And also contain an infinite scroll and there are several pages loaded one by one continuously without refreshing the current URL.
The same contains multiple grid layout users can choose any one layout according to their requirement. Users can use this theme to post various types of media in any format. The same having an awesome framework ok with that and drag and drop builder also present. Users can import demos with a single click.
This theme is not available for basic or a free version. If any user wants to use this theme you need to pay a certain amount of money after that the organization will provide an active legal license to the user with complete online documentation.
Intact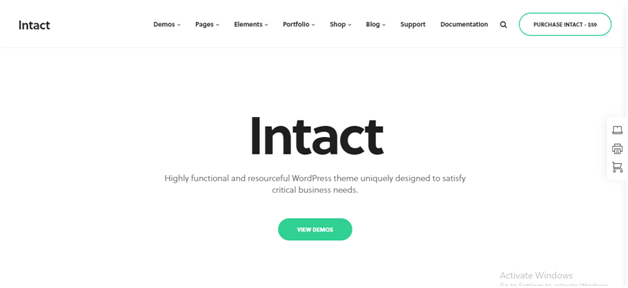 This application WordPress theme gives a one-click installation. This denotes all its tools, features, and features can be installed with a click. You do not have to do the installation of different software and plugins to use this theme.
You will get everything in the initial download itself. It has some amazing themes including a smart admin panel, Revolution Slider plugin, etc. This will allow you to do the customization of your site.
Intact is highly translatable. This means you can translate any language without employing any external tool.
Hence, best to reach broader audiences and grow your business.
MyApp
MyApp has a visual composer. It will alter your images and text by deleting the existing content.
You can even add your own content. For this, you do not have to experiment and delete the module.
Note:-
Ensure that you update elements using the business information.
It has a colour customizer. This customizer will show you the changes that you made to your website in real-time.
App Mojo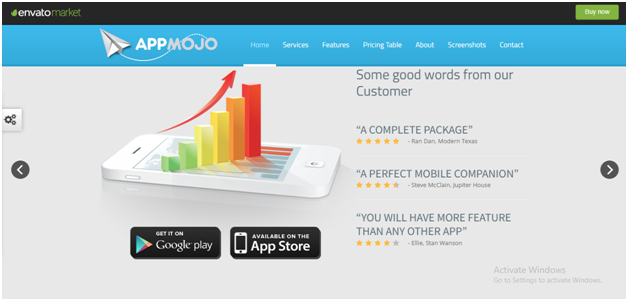 It is a landing page theme. App Mojo does not have all the features and page layouts.
This application's WordPress theme has a visual shortcode builder. You can create tables, buttons, etc.
It also has features like typography management. Here you can upload and change fonts. You can change the size, colours, etc., from the admin panel.
Divi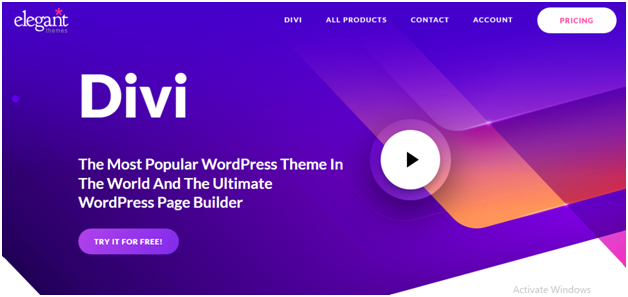 Divi has an ultimate page builder plugin. You can experiment with its visual page builder. It is flexible and you can customize your site from the front end. It provides multiple text styling, visual effects, design elements, etc.
This application WordPress theme enables to import design. You can import it from the library of ready-to-go layouts. The designs are specifically built for apps, start-ups, etc. The designs of Divi are modern and colourful. This is what your want to showcase your app.
It has its own page builder plugin- Divi Builder. This builder offers a range of modules.
Divi also allows you to change your pages to the previous version. You can test and trial numerous design variations.
Agency Pro
A professional WordPress theme that is specifically designed for software and mobile apps. This is developed on the best Genesis Theme framework. It makes this WordPress theme robust and powerful.
This application WordPress theme has the layout in fullscreen. It has features like an image slider, custom logo, call to action button, etc.
Agency Pro comes with multiple custom page templates and six layout options.
CleanApp
This is a fantastic application WordPress theme that is specifically designed for software websites and apps. You can display the testimonials, screenshots, and app features. You can display them on your homepage.
It has unlimited backgrounds, editable categories, Google Maps, etc. You can even engage your user using an animated scrolling effect.
iTheme 2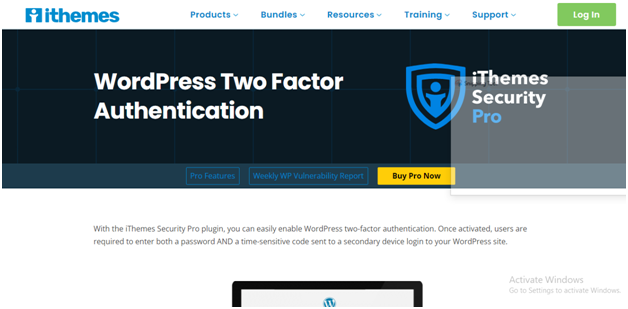 A stunning application WordPress theme that comes in a complete package. On the homepage, it has a completely customizable featured content slider. You can use this to display your software and apps.
iTheme 2 includes custom footer text, header menu, etc. This application WordPress theme has social media widget. Hence, you can add social icons to your website's header.
Metro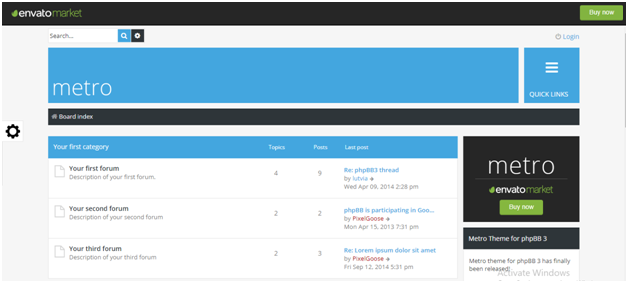 Metro is a magazine-style, black and white application WordPress theme. It is an ingenious application WordPress theme that has four homepage widget areas. This application WordPress theme also has six options for the layout. It is eCommerce friendly. So, if you have an eCommerce store, you should not think about any other application WordPress theme.
Which Application Theme Do You Like ?
Need help in Theme Selection or Theme Issue? We are available 24/7 by Phone or Chat.