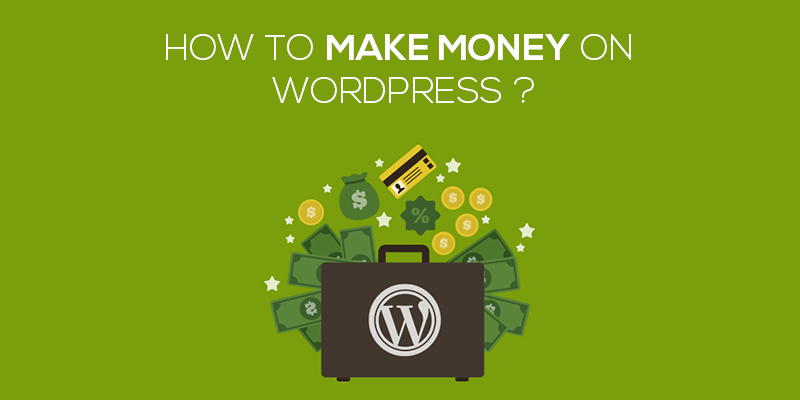 How To Make Money on WordPress
Last updated on September 28th, 2021 at 09:52 am
Starting your online journey with WordPress or have been blogging on the platform for years, you would definitely want to monetize your efforts and generate money. While there are plenty of ways to earn money online, channelizing it through the WordPress platform is both easy and convenient.
WordPress offers a range of features, tools, and plugins, giving users the ease to build eye-catching blogging sites and use it to drive traffic. And this is just one way to earn money WordPress. As a matter of fact, there are thousands more. All you need to do is, know about the different ways, study them and pick the one that served your purpose best.
Now, this again is a hefty task. Often, we commit mistakes figuring out what to do. Doing first things first, let's start with assessing who you are and what opportunities are ahead if you apply your skill over WordPress.
Writer? Can you write articles or draft posts over the WordPress site?
Marketer? Can you sell products over WordPress?
Developer? Can you design and develop themes or plugin for WordPress?
Photographer? Can you click awe-inspiring images and flood your website?
Designer? Can you customize a website adding elegant graphical design?
What do you think? Which category do you fall in? The best way to invest your time and money is by assessing your skills or the domain that you are aware of and then move ahead with creating a website or business for it on WordPress. Leveraging on the skill that you already possess is a way of making things better for you. The better you are in a particular field, the higher is the likelihood of earning from it.
Even if you cannot relate to any of the above, you can always start fresh. You can learn to write articles or take up a marketer course or build a WooCommerce site and hire experts to take care of your business.
Apparently, there are endless opportunities. All you need to do is take a head start and cash on any one of them to start earning through WordPress.
With that being said, one thing that still remains unanswered is why would you want to earn through WordPress or when?
Why You Do Need To Earn Money through WordPress?
This is a million-dollar question. Why on earth would you feel the need to adopt WordPress as a medium to earn money?
Start With Zero Investment
While this might sound aberrant, the fact that WordPress is easy to use and freely available, it gives individuals the ease to start their business without posing the risk the losing. WordPress is free to use the website and if you, plan to start with the WordPress.com domain, you will not require paying even a penny to start earning.
You can always upgrade your package or migrate to the self-hosted website, as a starter you can try your luck with the non-paid version of WordPress.
Doesn't Have Time, Need Money?
Another thing that advocates on earning through WordPress is the ease and flexibility offered by the platform. The website can perform all of the maintenance and monitoring tasks. For students or part-timers, that do not have much time, earning through WordPress is the best way.
Running A Blog And Have Excellent Traffic
It might so happen that you have been running a WordPress blog for quite some time and the traffic generated at your website is also satisfactory. In this case, you might want to turn this into money and so, adopting measures to monetize your blog might fascinate you.
Whatever be the reason, you can always take the leap and start earning through WordPress or significantly through a WordPress blog.
How to Earn Via WordPress Blogs?
Wondering how to turn from a blogger to a money-maker? Well, this article is specifically designed for you or people like you who wish to take their blogging career a step ahead and earn through them.
Without wasting much time, let's start with the step-by-step process:
Process in a nutshell:
The first step towards earning through WordPress site, to create your personal blog. You can create an account on WordPress with the domain wordpress.com, select a theme and start writing your first blog.
Next, you need to establish a significant yet helpful substance.
Now, get off your blog and start looking for pursuers.
Initiate conversations with your readers, build a rapport and embed trust with all that visit your website.
Add several streams of income within your website to start gaining profit from every reader that visits your website.
Easy, right?
Theoretically, yes! Practically, no!
While it might sound a quick fix and only a matter of steps, before you start earning through a WordPress blog, creating a post, gathering substance and driving traffic is a difficult, arduous and cumbersome task.
You might be a beginner, not aware of how content marketing works and the fact that there are thousands of other bloggers, successfully running a blog, yours might fail to sustain the competition. We suggest you to first excel the art of content writing and then move ahead with your online blog.
Once, you have gained all of the abilities needed to successfully run a blog, you can then associate your blog with means and measures to generate profit. Two ways you can monetize your WordPress website:
a) Affiliate Marketing: Here you can promote the goods or services of other businesses on your website. Every time a user is directed to the website with the link posted on your blog, you are entitled to receive a fair percentage of the amount. Remember, you should link only legit sites and not the ones linked to gambling, pornography, etc.
b) WordAds: Displaying ads on your blog and earn from them is another way of earning through a WordPress blog. You would need to apply for the same to drive monetary benefits.
Final Word
There is no perfect time to start your business or to start earning, take the leap and get your hands working on it today. WordPress is a bed for opportunities; all you need to do is embrace the right one.