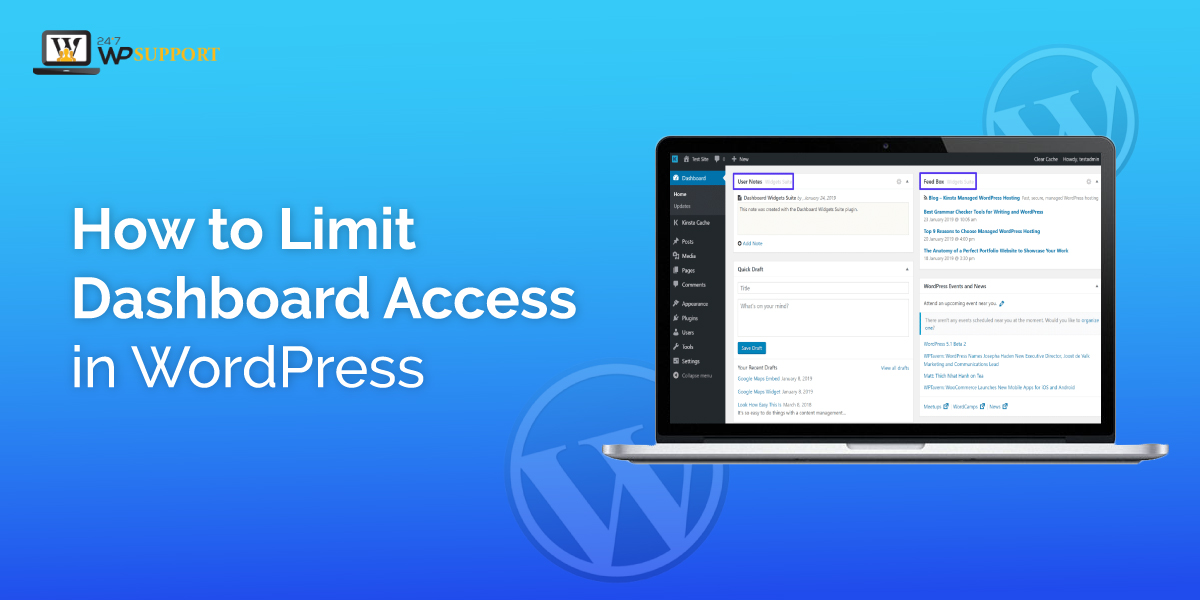 How to Limit Dashboard Access in WordPress
Last updated on September 29th, 2021 at 11:04 am
As we know that WordPress dashboard is a complete control panel of admin to the entire website. WordPress dashboard user can manage all things related to WordPress websites such as updating and installing new plugins setting up a complete theme of wordpress website and many more things.
In other words, we can see that the WordPress dashboard is a key where complete Kingdom lives and it's up to the admin who can allow access to that Kingdom.
If any user who wants to
What is the reason behind limiting dashboard access?
This is our suggestion to all WordPress users that the admin should give access to the WordPress dashboard to that user only if they trust them. If you are running a blog website with multiple writers then used to provide them access to editor or contributors. But do not provide access to subscribers. As the name suggests that subscribers are those users only see the public posts. User can also provide admin access to the dashboard and also apply some privacy that other admin what can see or not see in the dashboard of WordPress.we are going to discuss all these things in this article in a detailed format so read this article carefully and follow all the steps which are given below.
Limiting dashboard access in WordPress
For this process, users need to install and activate the remove dashboard plugin. For that user need to follow all the basic steps to install and activate remove dashboard access plugin after that user can follow all the steps which are given below.
How to setup Remove Dashboard Access plugin in WordPress website?
After successfully installing and activating the remove dashboard access plugin users need to follow these steps which are given below.
User can see a context menu which is present on the left side of the screen. This context menu contains a lot of options in it.

Now in this context menu users need to click on the setting options after that is a context menu appear in front of the user.

That sub-context menu user needs to click on the

dashboard access

option.

A new screen appears in front of the user. As you can see in the image given below.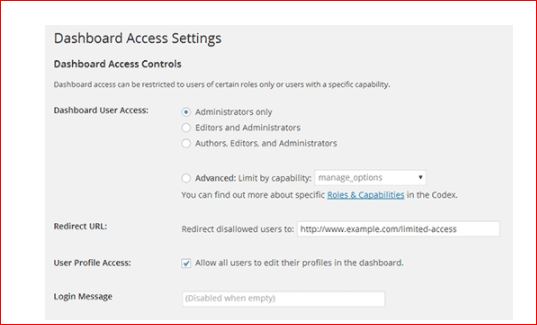 Now users can easily choose particular roles for particular users.
Users do not forget to click on the Save option after providing specific roles for the particular user.
Users can provide all these roles such as editor, author, administrator, contributor, and many more.
According to roles that have been specified to the authors. Users can provide specific capabilities to all authors. Here capability means admin provides a particular role to a particular author for specified roles to all authors.  After that admin needs to redirect all users to disallow the user to any page of your website then you need to redirect the URL. However, if any admin wants to check the profile of the user then the admin must click on the box. After selecting this box automatically disable the URL redirect feature. Once the user is satisfied then you must click on the save changes button.
Admins want to place privacy to some users or the admin wants to protect their admin area of wordpress dashboard. They can simply do this so the user needs to follow the steps which are given below. For that uses just simply go to plugin and install and activate hide unnecessary item plugin. after that users need to set up this plugin according to their requirement. Hide unnecessary item plugin is ready to use.
How is the user going to protect the wordpress admin directory with .htaccess?
This is the different way how we can save our wordpress admin directory binding different types of layers of password protection. In this method going to enter our admin panel then wordpress will ask for username and password. There will be a different type of password has been created for a different type of roles. This is our suggestion to the admin that if you are the admin of your wordpress website then you make sure that there will be a limited number of users who use this method.
We suppose that your query has been resolved after reading this article. If you face any query after reading this article then comment on your query below. Our expert team always ready to report your query as soon as possible so that you do not face any difficulty regarding anything.