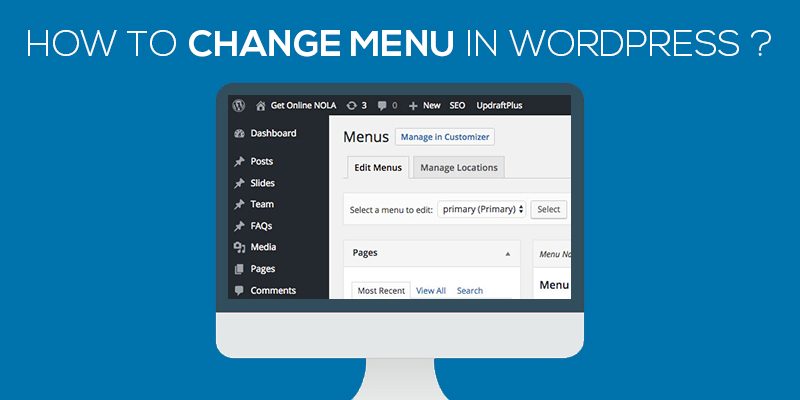 How To Change Menu In WordPress
Last updated on August 11th, 2021 at 07:05 am
The fact that you are here, we suppose that you already have a WordPress website running. But, it is not sufficient enough to grab visitors' attention, let alone convert them to long-time customers, right?
Let's do a dry run!
A well-designed WordPress website
Significant plugins for improved functionality
Alluring themes to attract users
SEO strategies optimized
It seems everything is updated. With everything rising high, the bounce rate too is also scaling upwards. So, what's wrong?
Why is that your website's bounce rate is so high, even when you have all elements right?
Have you given a thought about the navigation menu? Like, is your website guiding the users perfectly? Or, do you find room for error?
Odds are, your WordPress website lacks a significant menu. This is the reason that even though your website witnesses decent traffic, it fails to retain them or convert them.
But what is this navigation system or a WordPress menu?
WordPress Menus
WordPress menus or specifically the navigation system of your WordPress website is a map that guides the visitors to reach where they desire to. It is the list of items displayed in the most significant manner acting as the staircase to accessing different elements of the website.
Why Do You Need WordPress Menus?
The above suggests that if your website lacks an efficient menu system, users visiting your website wood wander around, only to find nothing and leave the website. In fact, it might also happen that they switch to one of your competitor's websites, benefitting them. Of course, you wouldn't want this to happen. What should you do?
You are well aware of the solution. In case, you find creating menus a difficult task, don't worry we got your back. Walk down the article to uncover the steps to create a WordPress menu.
Before that, let's see a few things that you need to follow while creating WordPress menus.
Tips for Creating Effective WordPress Menus
Keep it short and simple: The only reason why we are creating menus for the website is to ease the task of your visitors. If you embed complexity in the menus created, what good would it do?
Do not stuff unnecessary pages or links in the menus
Add links that users are more likely to look for
Links to custom pages such as the About, Contact Us, Product Pages, etc.
Do not forget to add Sitemap: As much as this help web crawlers index your page, it is beneficial when users squander a lot of time, looking for something on the website. Another advantage of having a Sitemap is to help users get rid of the page not found errors.
Set up the location of the menus at several locations. The simple analogy here is to give users the ease to access links as and when they want and at any place, they can. Sidebar, headers, and footers are the best location to place the menus.
And finally, the search bar. Often, it might so happen that after embedding all you need, users still cannot get everything and this is where a search bar becomes handy. Make sure have one while creating menus.
All good? Let's move ahead to see how can we create WordPress menus
How to create WordPress menus?
WordPress has an excellent menu manager the gives WordPress admin the ease to create and manage menus. You can also integrate dropdown menus using the drag and drop WordPress menu manager
To start, we first login to the WordPress admin dashboard. Enter the desired credentials to finally log in the website.
Scroll to the left side of the dashboard and then click on Appearances and then menus.
A new window pops up and this is the Edit menu screen.
Write a name on the tab and then move ahead to simply create menus in WordPress.
There is an array of things you can do here. Add pages, custom links, and categories, in a way structuring the WordPress website.
To the right bottom of the screen, you will menu settings. Here, you can alter or modify the location of the menus and also add top-level pages in a click.
After you are done with all of the above, click on add to the menu and then save to update the changes.
See, it is so simple!