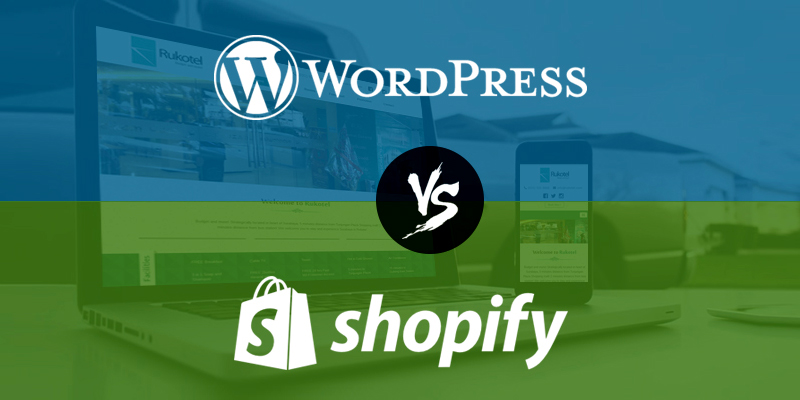 Difference Between WordPress vs Shopify
Last updated on August 11th, 2021 at 06:17 am
As every brand has a different personality, whether it is negative or positive. And it will reach much deeper when we will be talking business. A properly craft website with engaging content and design could assist you to scheme a complete brand identity and to integrate with the ongoing brand strategy with WordPress or Shopify builder.
WordPress and Shopify, both are prove digital transformation platforms for accelerating business growth. While using anyone among those two, you will be able to see whole new dimension of online marketing and online presence. They both act astoundingly and deliver top-notch services, when it comes to building top-quality website that could keep the visitors engaged. In terms of converting leads to the businesses and possibilities to the profits, both of these platforms are capable of delivering easy to use platform and the content management system has been made better than any time before.
A preface to WordPress and Shopify
Shopify is a Canadian company specialize in E-commerce. Its headquarter being in Ottawa, it runs a business of repute since 2004. Over 6,00,000 merchants use this e-commerce trading platform and its revenue was over 55 billion in September, 2017. There is a good storyline behind the development of Shopify. A developer named Lutke at first built the framework of Shopify and it was built on Ruby. Then, he used this platform for building the Snowdevil's online store.
Later, the platform was launch as Shopify by the Snowdevil owners. Right now, it is very popular as an ecommerce store and it involves retail as well as individual stores.
WordPress basically is an excellent content management system and it has been developed to ease the process of site management. However, it is also possible to extend the functionality of a plain and simple WordPress site by many folds using a wide range of plug ins and themes. WordPress can develop different kind of sites ranging from a plain blog to a corporate ecommerce site. It is not similar to Shopify in terms of functionality. While Shopify is solely focus onto the ecommerce platform, WordPress delivers a divergence and dynamicity.
Shopify site builder features
Shopify is completely an ecommerce platform and a hosted site in Shopify will receive free site builder tool. It will also come up with unlimited number of products as well as unlimited file storage. Yet, there is nothing literally called as unlimited. However, it includes an excellent "Buy Button" option. This particular feature lets the user buy the products from any where and any time. Even it is possible to make the purchase from being in Facebook, Pinterest, Tumblr, blog sites etc. However, the buy button will come up with the lite plan of Shopify.
If you are interested in invasive marketing campaigns like email marketing, the Shopify will let you create a landing page pretty quickly. The main difference between other ecommerce platforms and it lies in its tons of built in features. As it is not possible for any platform to accommodate all the requirements of the owners. The Shopify just took a page from the Android, Apple and Facebook and started the App store. While looking at the whole picture with an Eagle's eye view, we must have to admit that it is the most seamless, integrated and convenient ecommerce store.
For running an online business and raising brand awareness in the most efficacious way. It offers every lucrative feature that you may need to run a web business of repute. Yet, there is a great downside of this excellent trading platform. New sites will receive custom subdomain in it and this particular fact alone is emphasizing the brand value of it. But what will be of your brand when Shopify will not be around? Is not it making your business completely depended upon Shopify? For this particular reason, we never recommend Shopify as a good ecommerce platform.
It may have all of the tools and built in extensions. Yet it lacks the major thing that every online business needs to grow. It will never let you become independent. On the other hand, WordPress sites are completely independent and you can do whatever you want to do with the hosting and domain name. This ultimately improves the brand awareness significantly. And it helps to make your brand standalone instead being a part of Shopify.
WordPress site builder features
In terms of website development, WordPress is an allrounder. What could not it do? Ranging from a simple blog to a complicated eCommerce site. Everything could be accomplished with ultimate ease and effortlessness while using WordPress. WordPress may not be built specially for eCommerce. Yet it has tons of plug ins, which could let your site act as an eCommerce store. In addition, eCommerce themes are available for WordPress. So, there is basically no need to depend on Shopify at all. Just like tumblr, Shopify provides a subdomain to the eCommerce store. How could you increase your brand awareness without even being able to host your own domain name? While using WordPress, try using the Woo-commerce for lots of cool features specially designed for eCommerce sites.
Final verdict
Shopify is solely an eCommerce platform and it does not have the capability to host a normal site. In addition, it provides tons of built-in features for the maintenance of eCommerce. Whether you are a small business owner or a retail seller, you could try Shopify. Right now, it holds over 6,00,000 merchants and the total amount of revenue was around 55 billion during last September. For any small eCommerce business or store, Shopify could prove to be handy. Yet, it provides the only a subdomain for the store owners, large scale shops usually develop their sites in WooCommerce or Joomla.
For a small online business, it is okay to go along with Shopify. But it is not suitable for enriching and enhancing brand awareness for a large-scale eCommerce site.