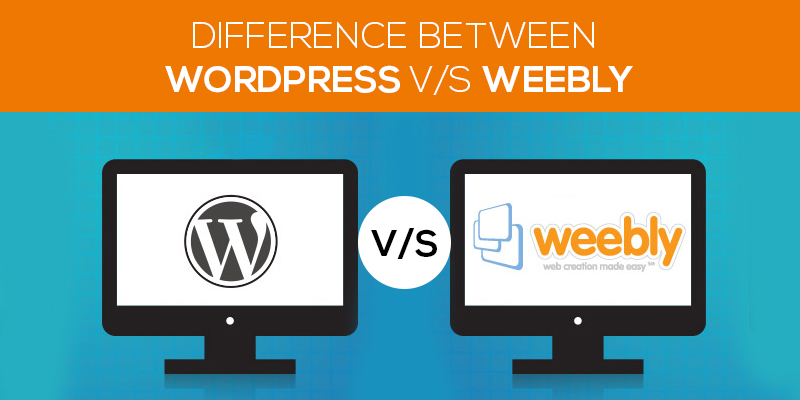 Difference Between WordPress V/s Weebly
Last updated on August 11th, 2021 at 06:19 am
The digital transformation of a business could start at any time, yet the question will be burning underneath, which platform are you going to use, when there are a whole bunch of CMS and site management systems available? WordPress and Weebly, both are renowned for their easy to use content management system and effortless handling of technical matter of facts. Now, you may start to ask which one should you ask for between those two?
In terms of increasing traffic and customer conversion, there could not have been any alternative to an easy to use content management solution that will take less time and money and provide a superior result. The perpendicular projection of your online marketing could fix to a better height, only if you could choose the right site management system. However, here we are going to enlighten the inside stories and technical facts of WordPress and Weebly. After understanding the scope, opportunities, risks and possibilities, you would be able to choose one easily on your own.
Weebly site builder
Weebly is one of the popular-most site builders and over 40 million of sites are built in Weebly. It is basically based on a template-based system and it has over 50 pre-built designs to choose from for creating the site. It also consists of a simple drag and drop editor. Most probably, Weebly is the simplest way to start a blog, a corporate website or an online store. Yet, the problem will be arising when you will look for more design templates.
As it comes up with limited number of design templates and there is no way of extending the limit unless Weebly itself adds a new design template into its collection, it will be very difficult to be creative. However, Weebly is perfect for small business owners and starters, yet you may need to switch to another platform when you site grows bigger. Weebly has its headquarter in San Francisco and it has an immense level of popularity because of its simplicity.
WordPress site builder
There is nothing new to add to the reputation of WordPress that it has already set. It has over 100 million of users worldwide and it is the most used content management system. Even if it is one of the simplest platform to build up a site, yet, you may face difficulties about plug ins and theme support. In comparison to Weebly and other content management system, WordPress delivers the best, simplest and most user-friendly atmosphere to create contents at the cheapest price. WordPress site builder is basically the admixture of power and simplicity in the web.
Weebly VS WordPress at a glance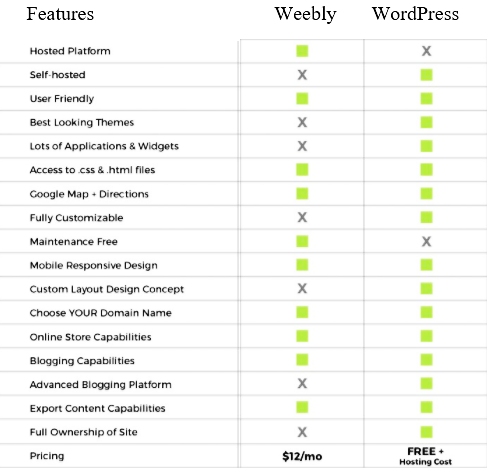 Weebly VS WordPress services
The Weebly service is perfect for a small business, website, blog or ecommerce store. Being one of the easiest platform to build up a website effortlessly. It does not require any kind of coding knowledge and all you need to do is to use a very simple to use drag and drop platform. Pre-set elements of the page can be adjust any time you want. And the elements will be automatically set up into the column and rows.
However, you may think that there can be a lack of customization option. As far as we are comparing Weebly to other site builders like blogger. No element will be felt as half-baked and there will be plenty of customization options. Still, if you are going to compare it WordPress, Weebly is no match for it. Furthermore, there is no type of technical knowledge and maintenance required in the building process of a Weebly site. Weebly's official technical team takes care of the maintenance.
Yet, the WordPress technical community is really huge and its support will definitely impress you. In accession, WordPress offers a lot more tools as well as flexibility. It means that you will be able to get the freedom to highly customize your site in any way you want. In accession, it is possible to extend the functionality of the WordPress site that is not available in Weebly. Yet, Weebly offers access to a place called app center that offers new apps to add a little bit of new functionality to the website. However, it is no match for the plug in support of WordPress. It might have been a way to keep your site clean and focused, nothing more or nothing less.
On the other hand, WordPress delivers a lot of customization options and a huge catalogue of themes to choose from. The plug ins and themes might have been the determinants of the success of your WordPress site. If you could choose them carefully. In addition, you have to understand that you are adding functionality to your website through using this plug ins. And you should never use two plug ins with same functionality. As it can cause one of the very few bugs that a WordPress site owner may face. WordPress requires a little bit of technical knowledge. You also have to install the WordPress in your server before starting to use it.
However, WordPress could have been cost effective too, if you could host it to a cheaper spot. WordPress.com offers free hosting, but your site will act as a subdomain. On the other hand, the WordPress.org will provide free domain or you do not need a domain name to host a site in WordPress.org (your IP address will show as the site address unless you set it otherwise), yet you have to purchase the hosting.
Final Verdict
Weebly is excellent for beginners and small sites as well as business owners. Furthermore, it comes up with a lot of deals for the users. That may come in handy when the sites grow larger. Yet, it is always recommended to choose WordPress for a larger business. As it improves the impression and adds an eccentric brand value. Moreover, WordPress lets you perform a lot of staffs that would allow you to design a site look like as if it was built in Joomla. Still, if you want to avoid the costs of hiring a professional for site maintenance, go for Weebly. On the other side of the coin, you will get every bit of customization at a cheaper rate and hosting for negligible pricing in WordPress. But you may need to take help from WordPress professionals from time to time.