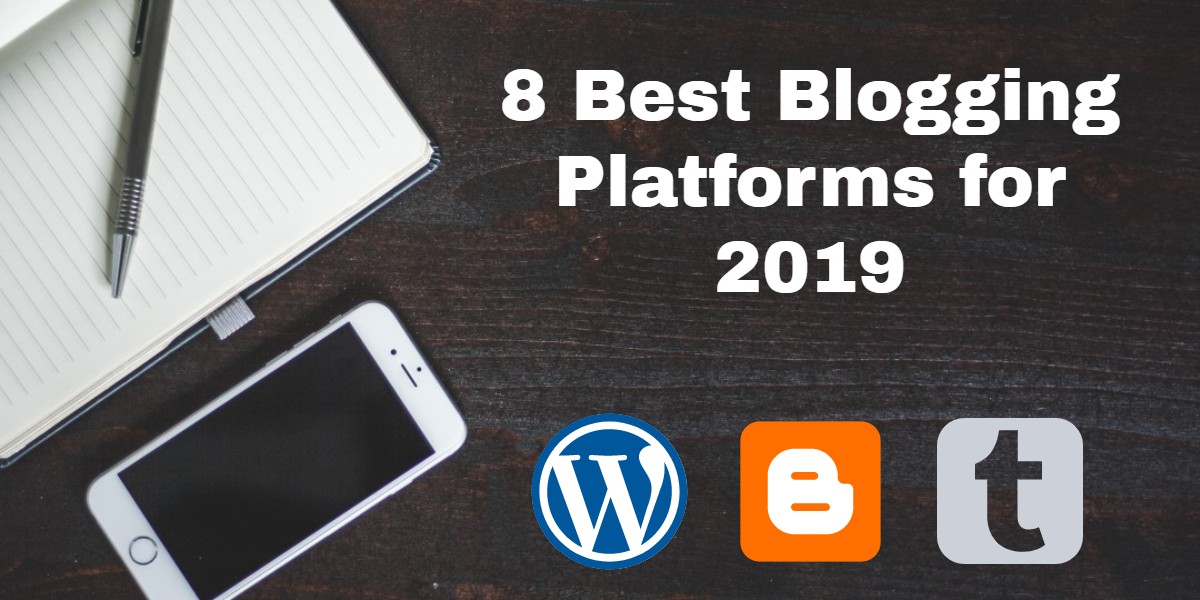 Latest Best Blogging Platforms
Last updated on May 9th, 2022 at 11:22 am
These days anyone can start a blog. And because blogging gives people a way to share their thoughts, connect with others, and make money online, it's no wonder there are a whopping 31.2 million bloggers in the United States alone – right now.
The great thing about blogging is that getting started is really easy. And there is definitely no shortage of blogging platforms available that cater to beginners.
But sometimes, having so much choice, actually makes things harder, especially if you're just starting out and don't know which platform to use.
So, how do you decide which blogging platform is right for you? Do you scour the internet, reading everything you can, and hope to find some clarity at the end of it all?
Of course not. That would take forever and would probably leave you more confused than when you started.
Instead, you check out this roundup of the very best blogging platforms in the market. Here you'll find feature sets, pros and cons, and price points so you can make a quick decision and get started with more important things, like launching your blog.
What to Look for in a Blogging Platform
When it comes to choosing the right blogging platform, you'll want to know what to look for first.
Here are some things to look for in a blogging platform when just starting out:
Ease of Use: your blogging platform should be easy to set up, have a low learning curve, and require zero coding or technical knowledge to use.
Customization Options: the amount of creative freedom you have in terms of design and functionality will depend on the platform you use. Some blogging platforms are flexible and allow you to customize every element on your blog, while others are more constrained.
Monetization: many people start blogs with the intention of monetizing it at some point. Not all blogging platforms allow things like affiliate marketing, ads, or

eCommerce shop creation

.
Scalability: as your blog becomes more popular, it will likely see more daily site traffic. The platform you choose needs to be scalable (meaning it can handle growth without sacrificing the user experience).
Price: as with everything in life, price plays a role when it comes to choosing a blogging platform. Think about how much money you have to invest as you look through the options. Some blogging platforms are free to use, while others will require a substantial budget.
The Difference Between Self-Hosted and Host Blogs
One more thing to understand before checking out our list of the best blogging platforms around is the concept of self-hosted versus hosted blogs.
Self-Hosted Blogging Platform
A self-hosted blog lives on its very own server. In other words, a website hosting company stores your blog's files and data for you on their servers in exchange for a monthly fee.
With web hosting, you have to install your blogging platform onto your website. The hosting company usually performs this for you using one-click installation tools. You own all the content on your site and have more freedom in terms of customization, functionality, and monetization.
Hosted Blogging Platforms
Ahosted blogging platform stores your blog's files and data for you. You do not have to pay for separate web hosting, because it's all done for you. Sometimes hosted blogging platforms are free of charge, and others are premium services that just make your life easier by hosting everything for you.
That said, hosted blogging platforms usually come with limited features (you have to pay for advanced features) and you do not own the content that you publish. This means that at any time, the blogging platform you're using can shut your blog down. You are also limited in terms of monetization options.
The type of blogging platform you choose – self-hosted or hosted – will depend on a variety of factors. So, let's check out the best blogging platforms around and help you make a decision.
The Top Blogging Platforms to Power Your Blog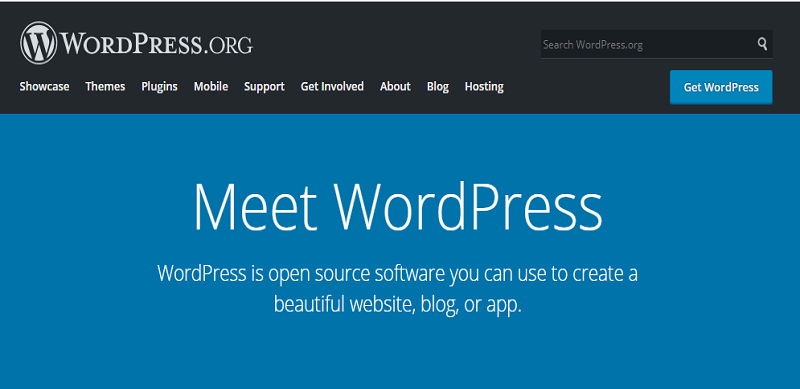 WordPress is the world's leading blogging software. It powers 34% of all websites in the world and continues to increase in popularity. It's an open-source solution and the software is free to use. Not to mention, you own all your site's data and have complete control over the design and functionality of your blog.
It's a self-hosted blogging platform, meaning you will have to invest in WordPress web hosting to get your blog up and running. Luckily, there are several high-quality hosting providers available to help install WordPress on your website using setup wizards and one-click installation tools.
You can monetize your self-hosted WordPress blog in any way you see fit. For example, sell ad space, get into affiliate marketing, or even create a paid membership, directory, or online forum to complement your blog content. And if you want, you can even start an eCommerce shop and sell physical or digital products to customers with ease.
Pros
Easy to set up thanks to web hosts that guide you through the process
Complete control over every element of your site, meaning there are endless customization options
Huge community supporting WordPress users of all levels
Freedom to monetize your blog in any way you want
Thousands of free and premium WordPress themes and plugins to extend the design and functionality of your blog
WordPress core is SEO optimized, which helps with search rankings
Easily change web hosts if you want
Built-in text editor makes adding blog content to your site a cinch
Cons
Managing and customizing your own website takes practice
You have to handle backups, site security, and site maintenance on your own
You have to pay for web hosting
Price
The WordPress software is free to use. However, you'll have to register a domain name (your website's URL), which costs about $15/year. You will also have to pay for web hosting, which varies depending on the company you choose and features you need.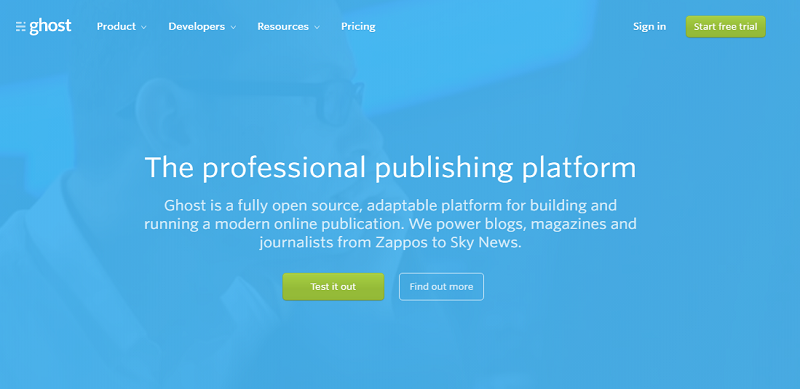 Ghost is a minimalist, open-source blogging platform that focuses entirely on publishing blog content – and nothing else. It's a hosted platform that only takes a few clicks to set up yourself. And thanks to the modern, clean interface, writing and publishing your blog posts is easy and fast.
This unique blogging platform is limited when it comes to extending the design and functionality of your blog. That said, it's written in JavaScript so you know your blog will always load blazing fast for readers.
Pros
Built-in SEO including semantic markup, permalinks, XML sitemaps, canonical tags and automatic meta data
Fully managed: install, updates, backups, optimizations, and site security handled for you
Blogging-first platform
Built-in social features for a broader audience reach
Blazing fast for a great user experience
Simple, clutter-freeinterface
Can use markdown or HTML to write posts
Cons
You can't create an online business or eCommerce site
Customizing with native apps can be tough
Limited customization thanks to minimal number of themes
Self-hosted version not supported by all hosts
Price
Ghost plans start at $29/month and increase to $79 and $199 per month for additional monthly views, staff users, CDN services, and priority support.
If you choose the free, self-hosted Ghost platform, you'll have to pay for web hosting and a domain name separately.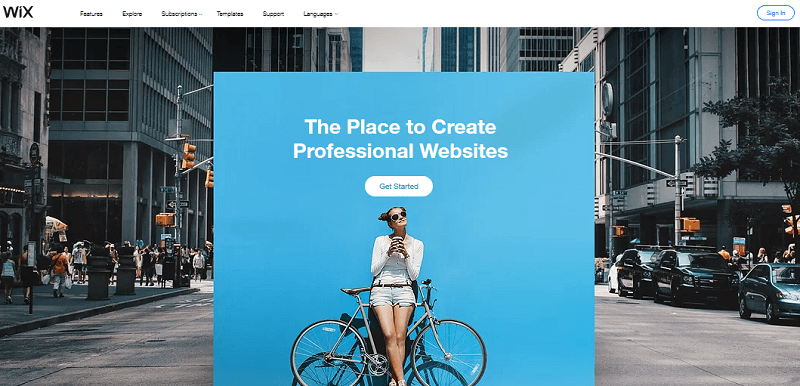 Wix is a hosted, cloud-based blogging platform that also caters to other website types. Hosting over 150 million users across 190 countries, Wix has built itself a solid reputation for small businesses looking to generate revenue, publish valuable bog content, and make money online.
It comes with built-in business tools to help you automate your workflow and grow your business. For example, enjoy the drag and drop tools for faster site building, proprietary logo creator, built-in video maker, and the Wix Blog section for publishing content.
Pros
Tons of great built-in templates (500+) for designing your blog
Setup is quick and easy for beginners
Drag and drop design
Free and paid plans allow use of third-party applications
99.9% uptime and advanced security monitoring
Cons
Free Wix plan is very basic and shows Wix branding and ads
The focus of Wix is building a standard website, not necessarily a blog
You cannot change templates once you choose one
eCommerce features only accessible on higher paid plans
Not SEO friendly when compared to other blogging platforms
Price
The Wix blogging platform is free to use. There are however paid plans starting at $13/month if you want things like a custom domain name, increased bandwidth and storage, an ad-free website, and more.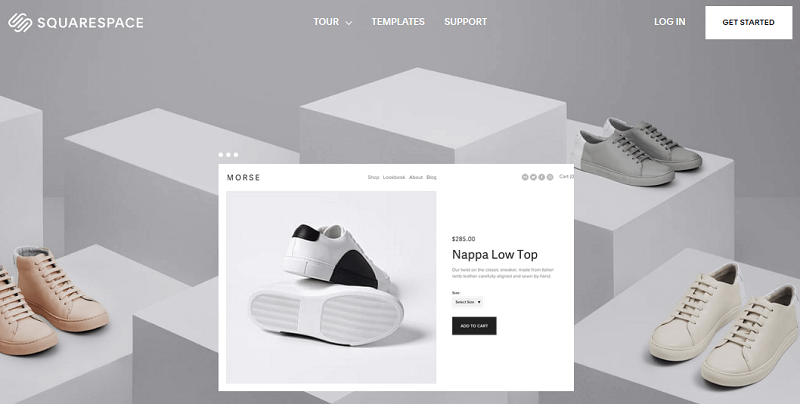 Squarespace is one of the best blogging platforms out there thanks to its stunning style, simple to use interface, and drag and drop capability. It's not only beautiful, it's also reliable and affordable. And it's the perfect solution for those looking for a more hands-off approach. If you want to strictly focus on publishing killer content, and want everything else handled for you from customization to site maintenance, Squarespace is the blogging platform for you.
Unlike many hosted platforms, Squarespace goes beyond blog creation and gives users the option to create full-fledged online businesses/stores. It also comes with SSL certificates and CDN services, which many hosted platforms don't offer their customers.It's safe to say that Squarespace is the only hosted blogging platform that comes close to the power of the self-hosted WordPress platform.
Pros
Great for those that aren't tech-savvy and beginners starting their first blog
Can run just a blog or a full-fledged online business/store
Hosting and other services such as CDN, security, and uptime performed for you
Built-in SEO optimizations and features
Squarespace has a community forum for when you need help
Free trial to see if you like the platform
Markdown, social sharing, commenting, and podcast supportBuilt-in email marketing tools
Cons
Limited feature set makes extending the functionality and design difficult
Plugin and theme support not that great (may require coding knowledge)
Template customization limited (though out-of-the-box may be easier)
Limited third-party integrations, which can stunt business growth
Page creation limits mean you'll have to pay more to build more
More expensive than other blogging platform options
Price
After your 30-day free trial, Squarespace plans start at $12/month and increase to $18, $26, and $40 per month for advanced features like eCommerce functionality and web analytics.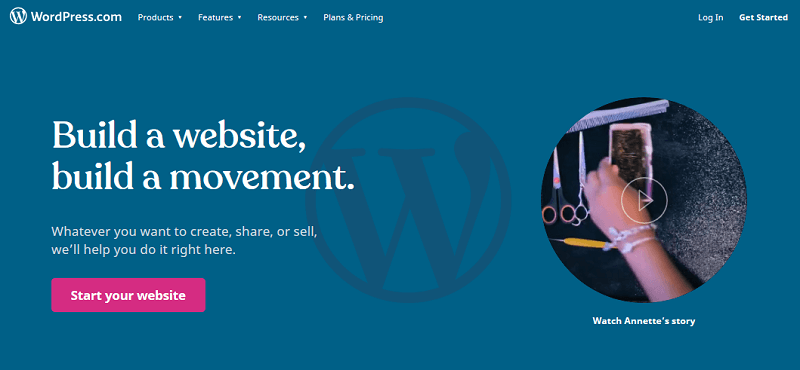 WordPress.com, not to be confused with the self-hosted WordPress.org platform, is a fully hosted blogging platform brought to you by the company Automattic.
It was started in 2005 and gives people a simple way to start a free blog. It comes with far less design and functionality options than its self-hosted counterpart, but is a great solution for those that want to test the WordPress CMS or simply don't need advanced features.
That said, if you want features such as access to premium WordPress themes and plugins, the ability to create an online store, or a custom domain name that does not have wordpress.com added the end, you can invest in a premium plan.
Pros
No setup required, just launch and go
Completely free blogging platform, or at the very least cheap if you invest in some add-on services
Easily drag and drop images into posts and pages, as well as embed video and audio
Let WordPress.com handle all site maintenance like hosting, security, and technical issues
Perfect for those that don't want to monetize their blog
Cons
Limited functionality and design because you cannot use custom themes or plugins
WordPress.com will display their ads on your blog
You do not control your blog, meaning you can be deleted if the company decides you're violating their terms of service
Not ideal for those wanting to run their blogs into an online business
Your domain will have WordPress branding
Hard to earn revenue (even paid plans that allow ads are revenue sharing)
For added features and functionality you have to pay for the expensive premium plan
Price
It's free to use unless you want to unlock additional features like a custom domain name, premium themes and plugins, analytics, and eCommerce functionality. Paid plans start at a modest $3/month.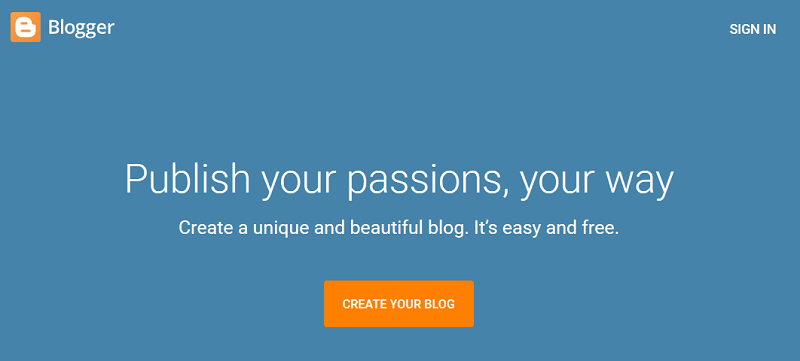 Blogger is one of the oldest blogging services around, having originally launched in 1999 by Pyra Labs. Then, in 2003, Google acquired the service as we now know it. Blogger gives people a simple and quick way to get a blog up and running, and requires nothing more than a Google account.
When you get set up with a hosted Blogger blog, you'll have a domain name with the blogspot.com ending. That said, you can always link you blog to an existing domain or subdomain so your site visitors don't know you're using the free service. Adding to that, Google's Blogger platform comes with Google AdSense built right in, so you can earn money by using some of your blog's retail space for relevant ads your readers will enjoy.
Pros
Blogger is free to use
No need for technical skills to get started or maintain your blog
Protected by Google's robust and secure platform for the ultimate in reliability
Integrates with your existing Google account and is hosted by Google
Gives you the ability to edit HTML (not often seen with free blogging platforms)
Cons
No upgrade options, even if your blog following grows
There are not many templates available
No eCommerce functionality
New features and updates are not seen very often
You do not own you blog, meaning Google can suspend or cancel your blog at any time
Google has a reputation for abandoning projects, which means you might lose your work at a moment's notice
It's difficult to migrate your Blogger account to another blogging platform without having to redo much of the work
Price
Blogger is free to use, though you can purchase and register your own domain name and link it to your blog to get rid of the blogspot.com subdomain.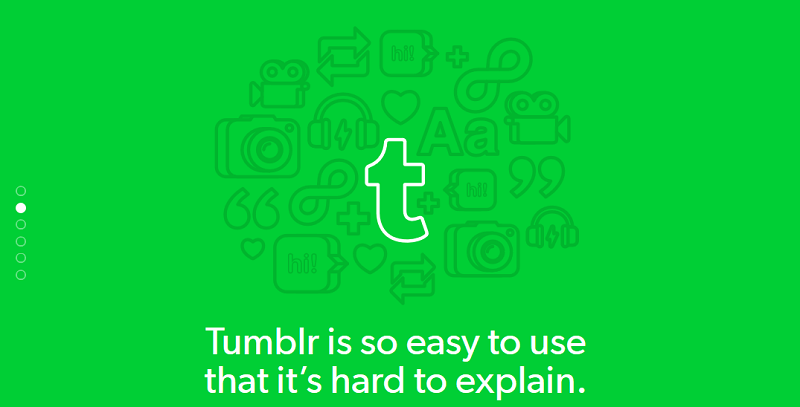 Tumblr, owned by Yahoo (acquired for $1.1 billion in 2014), is a non-traditional, hosted blogging platform centered around social networking features like reblogging, blog following, and built-in sharing tools. Unlike most blogs that allow people to leave threaded comments on a blog post, Tumblr reblogs a blog to a commentor's own blog for others to see. This is how other Tumblr users discover new content and get to know other bloggers.
With 474 million blogs full of anything you can think of, Tumblr gives people an easy way to write about whatever they want and for a tight-knit community of like-minded people.
Pros
Very easy to set up and use
Integrated social media elements, making it unique from other blogging platforms
Centers around building a strong community
Built-in tools for people to contact you
Image heavy so people that love social networks like Instagram will fit right in
Reblogging gives you a chance to curate content rather than continue to create original content
Queuing up reblogs keeps your blog active, even if you're not active
Cons
Limited feature set that cannot be extended as your blog following increases
Themes designed for Tumblr do not have additional features
Backing up your blog or migrating to a new platform is difficult to do
Yahoo has been inconsistent in how they manage the platform
Non-traditional blogging style might not fit your needs
No ability to monetize with ads or run an eCommerce shop
Price
It's 100% free to use Tumblr.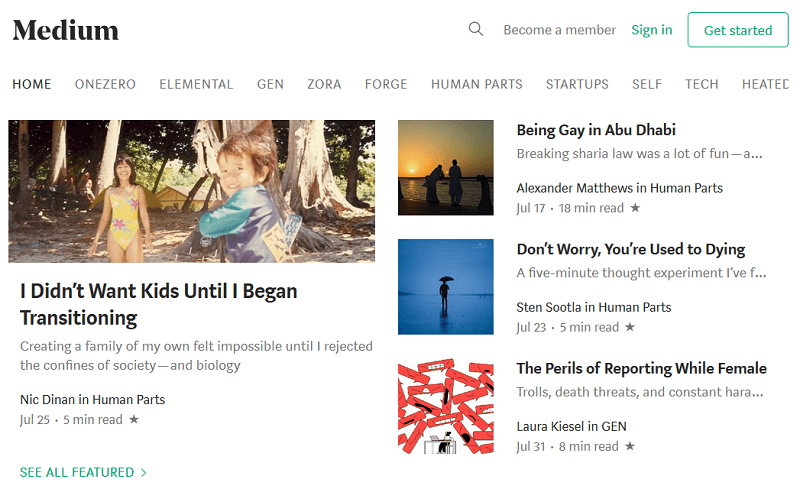 Medium, launched in 2012, is full of writers, bloggers, journalists, and experts all looking to share their thoughts with others trying to do the same thing. This is not the kind of blogging platform for those wanting to start an online business or eCommerce shop. In fact, with Medium, the only way to make any money is to sign up for the Partner Program and get paid based on the popularity of your posts.
When you blog on Medium, you have access to an already existing audience base. This means you don't have to worry about drawing people to your content. You only have to worry about writing something worthwhile for people to read. That said, Medium works like a profile page in which you receive a medium.com/@yourname domain, rather than a custom or even branded website domain.
Pros
No setup required thanks to existing platform and no need for any coding or technical skills
Reach an existing online community sharing your interests
No need to design a website, just focus on publishing blog content
Completely free to use
Designed with blogging-first in mind
This distinctive blogging platform makes it appealing to serious bloggers that don't want to deal with creating a website
Easily embed third-party content from places such as YouTube, Instagram, and SoundCloud
Cons
Limited design makes creating a standout brand tough
No monetization options
Medium owns the audience, so if you stop blogging and lose all your followers
You cannot have you own domain name, rather it's a profile page you publish content on
No upgrade options available
Price
It's free to use the Medium blogging platform.
WordPress with Hostinger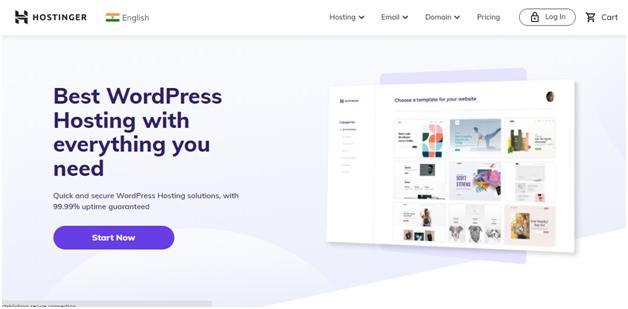 WordPress is a prominent blogging platform. WordPress with Hostinger owns a place in this list because it is the best price to set up simply. You can develop a WordPress website with just a few clicks with Hostinger.
This Content Management System is customizable. It is open source. Hence, you can create plugins, widgets, and other tools for the customization of WordPress blogs. Therefore, the best choice is to develop any type of blog you prefer.
This CMS platform is blogger friendly with ample SEO features. To develop your own website, you need to purchase the web hosting and domain name. Finally, you can set up the account.
Hostinger is the most managed host for WordPress. Most WordPress users run servers that have only WordPress websites on them. It gives allowance to the Hostinger to configure the servers for the WordPress performance & security.
Pros
You do not have to do any extra labour for Hostinger.
You can enjoy blogging on the safest & fastest WordPress website by singing simply with Hostinger.
Hostinger is not that pricey.
Another added perk of using Hostinger is the 365/24/7 support through live chat.
Cons
You have to pay extra to create additional email people and websites from your professional address.
A bit of a steep learning curve
Price
As said, price wise it is very low. You can start with $1.99 per month. In this plan, you-
Can use the domain name for free in the initial year.
Develop up to hundred different sites
Create up to a hundred email accounts that are tied to the domain.
LinkedIn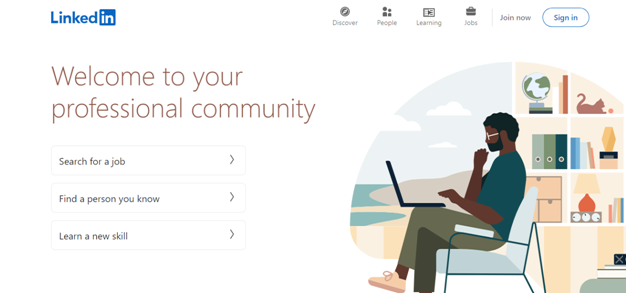 Many audiences are highly active on their profile. They frequently share articles and thoughts via their LinkedIn feed.
LinkedIn is the best social network platform. This platform gives you a built-in audience for your business. You will also get business experts of all stripes from tech, marketing, finance, etc.
It is a great channel for industrial experts. Hence, the best space to access your prospects and get quick feedback on your posts. This is a great opportunity to share your thought leadership in front of your potential customers, recruiters, etc.
You can leave great influence in proportion to your network size. The more effort you take to publish the post, the more followers and connection request you can attract.
This platform has sets of expectations and ready-made culture. Hence, the best business platform for every business blogger. You must create share-worthy and compelling content to attract your audience. LinkedIn employs an intuitive Gutenberg-style editor.
Please Note:-
The LinkedIn folks are high-earners. Most of them are C-Suite executives. They are industry shakers and movers who believe in maintaining long-lasting relationships and innovation. They would be willing to pay great to the right business who will help them to reach there.
Pros
Ready-made traffic
Get ranked in Google quickly
Gain trust and build credibility instantly
Built-in analytics
Cons
No intuitive way to access an archive of past posts
The article will only be live in the Activity feed
Blogging Platform Comparison Chart
| | WordPress.org | Ghost | Wix | Squarespace | WordPress.com | Blogger | Tumblr | Medium |
| --- | --- | --- | --- | --- | --- | --- | --- | --- |
| Cost | Free (web hosting costs will vary) | Starts at $29/month | Free and paid plans (starting at $13/month) | Starts at $12/month | Free (with premium add-on services) | Free | Free | Free |
| Custom Domain | Yes, not included | Yes | Yes (with a paid plan) | Yes | Yes (with a paid plan) | Yes (link to custom domain) | Yes (link to custom domain) | No |
| Plugins | Yes (native and third-party) | Yes | Yes (called apps) | Yes (requires adding code to site) | Yes (widgets) | No | No | No |
| Themes/Templates | Yes (native and third-party) | Yes (native only) | Yes (native templates only) | Yes (native only) | Yes | Yes | Yes | No |
| Ease of Use | 9.4/10 | 9/10 | 9/10 | 9.4/10 | 9.2/10 | 9/10 | 9.7/10 | 10/10 |
| SEO Optimization | Yes (including third-party plugins) | Yes | Yes | Yes | Yes | Yes | Yes | Yes |
| Hosting Included | No | Yes (self-hosted version is available) | Yes | Yes | Yes | Yes | Yes | Yes |
| Monetization | Yes | Yes (custom code for ads) | Yes | Yes | Yes (paid plans only) | Yes (Google AdSense built-in) | No | Yes (only through Partner Program) |
What's the Verdict?
In the end, we feel that self-hosted WordPress.org is the best blogging platform available in the market today. It is flexible enough for those that want to customize their blog to look and act a certain way, is easy enough that even a beginner can figure it out, and is affordable for any sized budget.
And if you need a reliable WordPress hosting company, as well as a place to purchase and register a new domain name for your budding blog, check out the hosting services we provide at 24×7 WP Support. We provide automatic backups, site security, one-click staging environments, and the scalability you need to grow your blog with ease. Not to mention, we can help you search for the perfect domain name for your blog, purchase it, and get your blog up and running in no time.
Which blogging platform do you use for your blog? Is there one you feel should be added to the list? We would love to hear all about it in the comments below!