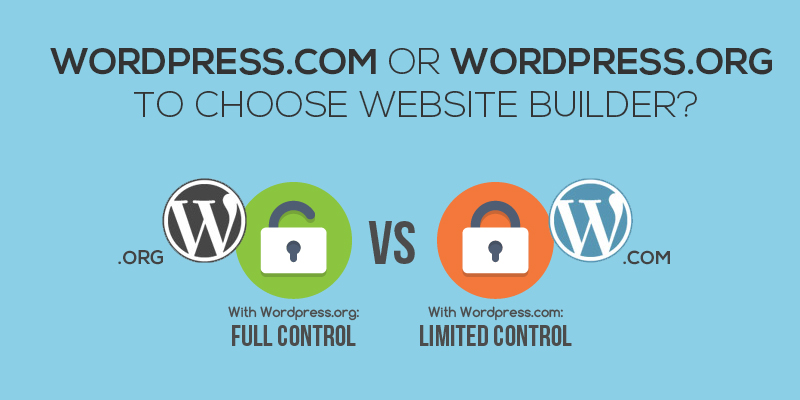 WordPress.com Or WordPress.org to Choose Website Builder
Last updated on August 11th, 2021 at 06:10 am
WordPress Website Builder
Probably, the WordPress website and content management system is the most evolutionary approach that the web has seen in the last decade. As a thorough design is at the core of every digitally successful solutions, WordPress is based on PHP and MySQL to deliver the easiest way to manage a website. Focus on WordPress website builder.
As strategy and planning for a business are not everything and a lot of staff has to be done on and off the go as well as on and off the stores, what could you do to maximize your web influence without investing much time? WordPress.com and WordPress.org, both of these platforms are hand-crafted precisely over the building blocks of PHP and MySQL to turn your website management as simple as cutting the crops in the seasons of the corns.
Although, there are very few differences among them, in terms of significance, people usually emphasize the WordPress.org sites. Furthermore, the WordPress.org sites come up with cost-effective packs and a whole lot of free themes as well as plug-ins.
WordPress.com VS WordPress.org
It is a real possibility that you will remain unsure about which site may suit your requirement. It is tough and confusing, yet, let us proceed step-by-step. At first, I am going to let you know what a site builder is. If you are truly committed to know what site builder is, then I will have to say it is nothing but a platform based on core codes for building sites to decrease complications. This site builders are browser based and they can perform online site development. In addition, they also come up with multiple in-built design tools and plug ins. All of these in combination help you to complete your entire website.
Very often, people are mistaken about the differences between WordPress.com and WordPress.org and they become confused about the name. It is widely observe that people are thinking that both of them are same.
In simple words, if I have to explain the differences between them. I should say that both of them are founded by WordPress, whilst WordPress.com is managed for profit generation and WordPress.org is a non-profit entity. WordPress.org has the core code and it is open source. Later WordPress.com was established on the foundation of WordPress.org for profit generation. Let us look at the differences between those.
Key Differences between WordPress.org and WordPress.com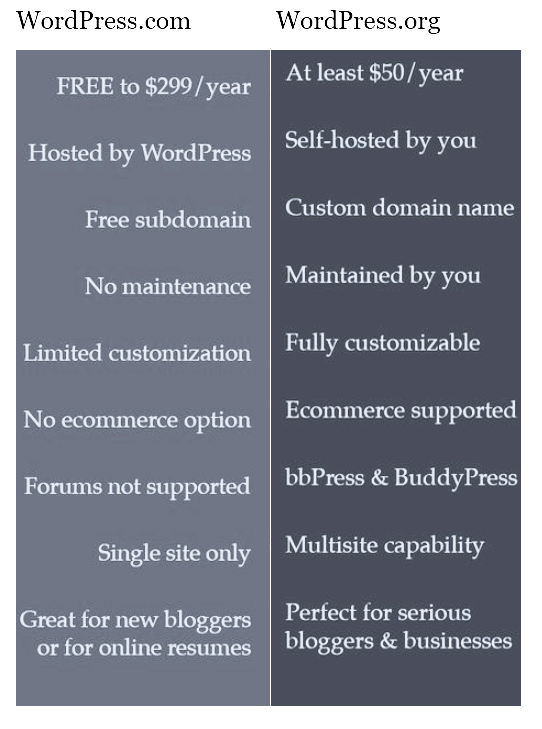 Feature-wise difference between the WordPress.com and WordPress.org
If we have to cautiously look at the major feature-wise differences between the WordPress.com and WordPress.org, hosting should be the major difference you might consider. In addition, the pricing could also play a significant role. Also, the availability of free plug ins and themes should be key considerations.
In WordPress.com, it will host the site itself and the pricing would definitely be an important matter of fact. The pricing is more in WordPress.com and it offers only free subdomain. The blog or website with WordPress.com subdomain will look like the following:
abc.wordpress.com. On the other hand, since WordPress.org is a blogging and website service and it uses the very personal code of WordPress.org on which WordPress is based on. You can get a unique address for yourself while using the WordPress.org. You just need to download and install the WordPress platform into your web server and the process is very easy. If you do not like to handle the technical aspects, feel free to contact any WordPress professional. In accession, the WordPress community is very large and you could find solution of any problem in the forums.
Cutting to the chase, WordPress.com is also free, yet you do not own the blog. In the long run, WordPress.com may not be suitable as it can stop your site anytime it wants. Even without any prior notice, your website might get ban, if it could violate any WordPress policy. If your intention is to make money and gain real-time awareness and traffic from the site, it is not recommend to use the WordPress.com. On the other hand, the WordPress.org is completely free and it makes you the owner of the website. In the wordPress.org sites, you could have place any kind of ads and monetized the site. In addition, you can also be able to sell it whoever you wish. With WordPress.org, there is very little things you cannot do and the site completely belongs to you.
If you look closely at the features, you will find out that WordPress.com is excellent for the starters. On the other hand, you will require a decent level of technical expertise to handle a WordPress.org site. WordPress.com offers free hosting and WordPress.org does not. In terms of content, you own the contents when being in WordPress.org, but you do not own the contents whenever you are in WordPress.com. WordPress.com comes with a limited level of customization feature. On the other hand, when you own the openry-source core code of WordPress.org, the sky is the limit in terms of customization.
It also comes up with unlimited designs as well as capabilities. SEO is not going to help you that much whilst being in the WordPress.com. On the contrary, the WordPress.org is perfect for SEO of any site. WordPress.org also allows you to build a site in .org, but WordPress.com will not allow you to build a site in .com and you need to purchase the domain name, yet the hosting is free. While being at WordPress.org, you need to purchase the hosting. Otherwise, you can host your site in your own server.
Final Verdict
If we are calling a spade a spade, there is much more casualty related to a WordPress.com site and there are a lot more vital things to do when we are talking about WordPress.org. Whether it is thriving marketing policy, search engine optimization and setting up a good ecommerce site. WordPress.org should always get the highest priority.