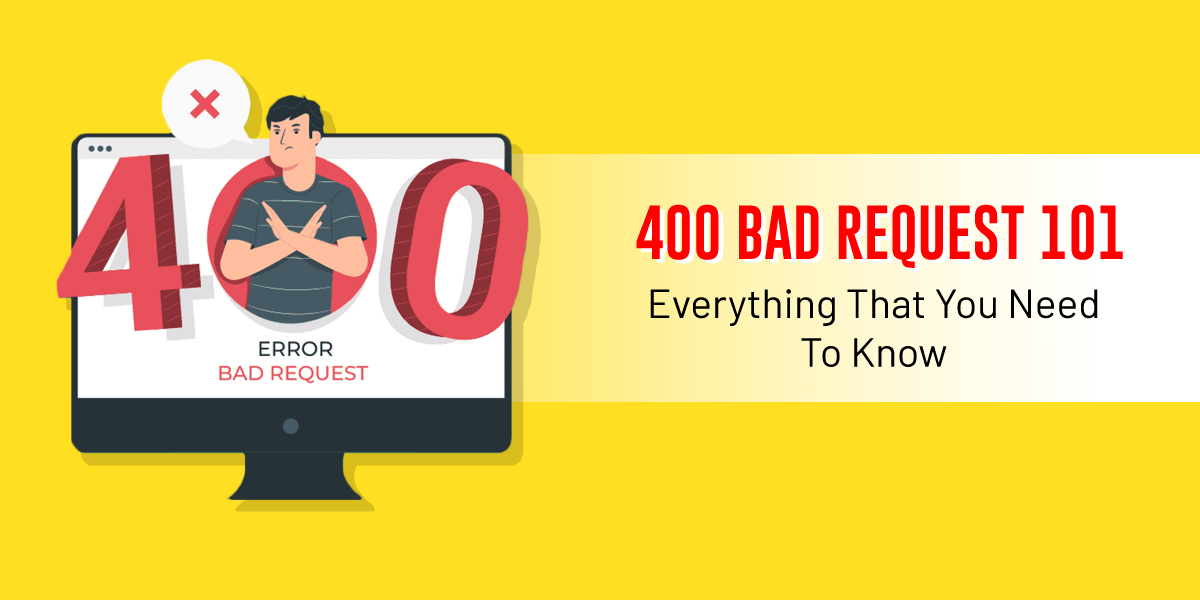 400 Bad Request 101 – Everything That You Need To Know
Last updated on August 11th, 2021 at 07:09 am
Seeing "400 Bad Request" on your screen when you badly need to access one website is annoying. This error is as omnipresent as grass and can show up without any prior notice.
But, the great news is that handling this uninvited guest is an easy job. In this post, we are going to give the game away about this error and tell you some workable ways to deal with it. So, stay tuned.
400 Bad Request – Know the Culprit First
Before we talk about the ways to tame this error, let's be its friend and know what it means.
Often knows as 400 error or HTTP error 400, 400 Bad Request is a type of HTTP status code and is perceived by the server and indicates that the request, made by the user, is either corrupt or wrong, and the server can't make sense out of it. Once in a blue moon, this error can also occur by a server only.
This error has nothing to do with the device and browser used and one can occur any time. Let's have a look at the real-time occurrence of this error.
400 Bad Error Request In Chrome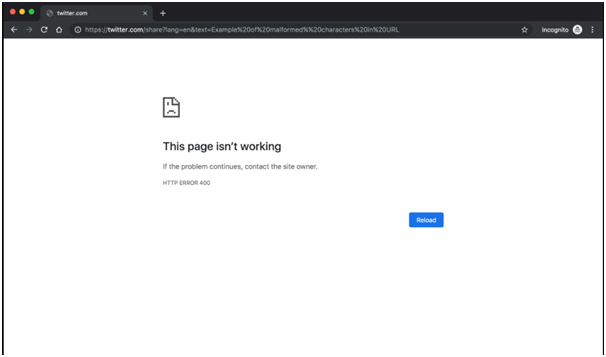 400 Bad Request Error In Microsoft Edge
400 Bad Request Error In Firefox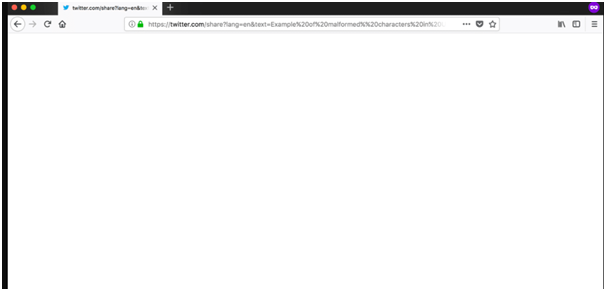 Now that the meaning of this error is clear, let's figure out the reasons behind it.
This error is quite notorious and can come into being for various reasons out of which, we have bought the key causes for you.
Incorrectly typed URL
You're in a hurry to visit a website and typed the URL wrongly. Boom! This error will pop up on your window. Besides, entering a malformed syntax or a URL featuring illegal or wrong characters will also lead to this error.
Browser Cache & Cookies those are corrupt
Even if you're diligent to type the URL, this error can still bother you because there are some corrupted files present in the browser cache or cookies of which you're unaware.
Out of sync stored DNS data
Another major cause of this error is improper or out-of-sync DNS data storage with the registered DNS information.
The file is too large
If you face this error when you're trying to upload a file to a website then the probable reason could be excess file size. You must understand that the upload requests come with restrictions and if you exceed that limit, your server will lose its sanity and show up with this error.
Server-side issues
In rare cases, server-side errors can trigger this error. It could be a server glitch, an operational issue with the server, or any unspecified temporary issues. If this error occurs while you're connecting to a third-party website, then it's something that is not in your hands.
Getting Rid of 400 Bad Request Error - Tried and Tested Ways
It's evident that the HTTP 400 bad request error is stubborn and can show up anytime. Once it occurs, you end up getting frustrated as it won't go on its own. You have to make an effort.
To make sure your efforts are not going into vain and you're doing it correctly, we have come up with some viable solutions to fix the HTTP status 400 bad request error.
Double-check the URL
Mostly, entering the wrong URL is what gave birth to this error. So, before you roll up your sleeves to try your hands on tedious and technical solutions to fix the error 400 bad requests, just double-check the URL.
Figure out whether or not there are any unwanted numbers or characters added to it. Look for the same in the domain name as well. Doing so can be a piece of cake when the URL and domain name is short and easy to understand.
If the URLs are too long, better to take the help of an online URL encoder to spot any errors.
There are many online URL encoders freely available and are of great help. Enter the corrected URL or domain name and try accessing the website. If it's working, it's great for you. If not, it's time to do some hard work.
Let the DNS flushed out
We have already quoted above that the out-of-sync DNS server data can cause Venmo HTTP 400 bad requests. Hence, you must try to clear the DNS cache to fix this error. Take a note that DNS data is stored in the OS of your device, not on the browser.
Clean out the browser cache and cookies
A website needs the support of tons of files like JavaScript, HTML, and CSS for proper support. These files are saved in the form of cache and cookies. And once these files are corrupted, error 400 bad requests are bound to happen. So, you must try clearing the browser cache and cookies stored on your system.
Gladly, this is a very easy solution. Just click on the three dots icon on the right-hand corner of the screen, go to More Tools, and access Clear Browsing Data. In this section, check the Cached images and files box and select the Clear data option and remove the browser cache.
Know the size of the file and update it
If this error only occurs when you're uploading the file to a website then you need to check the file size as per the website's requirements. The easiest way to check this is to upload a smaller file first. If it has been uploaded successfully then try to bring the desired file size near to that of the size of the file which was uploaded successfully.
In the "Edit" section, there is an option to resize the file. It works for images, Word, and Excel files. For audio and video files, there are tons of online tools to compress these files.
Uninstall the browser extensions
If an HTTP 400 bad request error occurs in a specific browser then a malfunctioned browser extension, activated on that browser, can be a possible reason. Try disabling the browser extension for a while and check whether or not it makes a difference.
Try restarting the system
If nothing works, you can try your luck by restarting the system and other linked equipment like routers and modems. It has been witnessed that in rare cases, this error happens because of the temporary glitch in the device and network connection, and shutting down all of them for a while can resolve the error.
Contact the hosting company
Sometimes, all the things, from the client-side can be perfectly fine and still HTTP status 400 bad requests can occur. This is where you need to contact your hosting company – the reason being – some server-side issues can also cause this error.
The hosting company will look into the existing issues and find solutions. This is your last rescue resort.
Ending Notes
400 bad requests don't discriminate and spare anyone. This error is so stubborn that it won't let you access the targeted website. So, you have to find viable solutions to fix it.
The good news is handling this error is easy as most of the solutions, mentioned above, are easy to bring into action. No specific technical knowledge is required.
In case your website has multiple pages that show 400 bad request Error, you may hire support experts from 24x7wpsupport to get things corrected in the least amount of time so that your visitors do not suffer. Don't let this error bother you anymore.