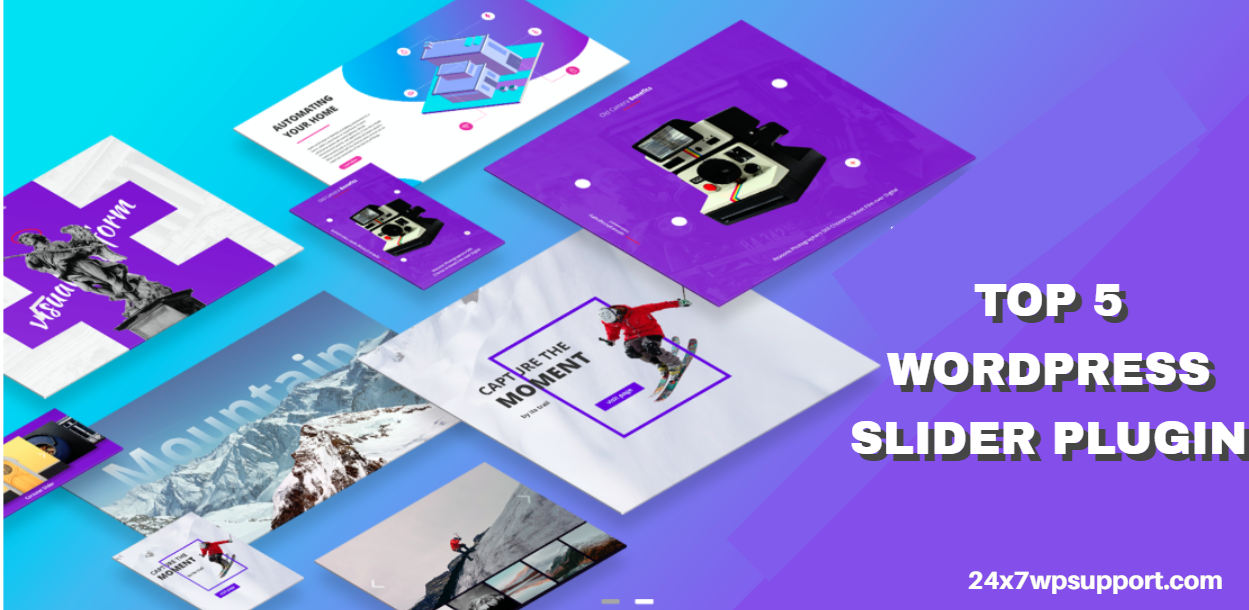 Top 5 WordPress Slider Plugins
Last updated on September 8th, 2023 at 04:58 am
WordPress slider plugins are one of the great innovations introduced so far. Even though, web users and WordPress developers equally share a love-hate relationship with WordPress sliders. Still, it is one of the best mediums to highlight your featured content and display it stylishly.
The best thing is that you can make important announcements and grab the attention of your users/ visitors.
What is WordPress Slider Plugin?
It is a type of add-on. With it, you can add plenty of images to your website. You can display them in the sliding gallery.
You can display large images with transition effects. With it, you can showcase the best images without making any trouble with the page load times.
There are plenty of add-ons to using the image sliders. They include:-
Highlight special offers and discounts
Show testimonials and reviews
Display the portfolio
Show numerous pictures of the same product
Attain attention to a specific range of products, and many more.
How can you choose perfect WordPress Slider plugins?
Sliders are the best medium to share information. You can share your stories in a bite-sized snipped. Since it offers visual appeal. Hence, it is quick to digest the content given on the slider.
Sliders may slow down the speed of your business website. Hence, massive destruction of mobile user experience. It can even cause compatibility issues.
There are 3 aspects that you must look at while looking for slider plugins:
Responsive: You should choose a slider that can automatically fit into any screen size.
Ease-of-use: They must be easy and quick to create. If you employ a complicated builder, there are chances you will miss essential things. The reason is that you will take more time to use the slider plugin.
Speed: These plugins are heavy in nature. Hence, it will increase the load time of the page. Speed is an important perspective in terms of user experience, SEO, and the overall functioning of the website.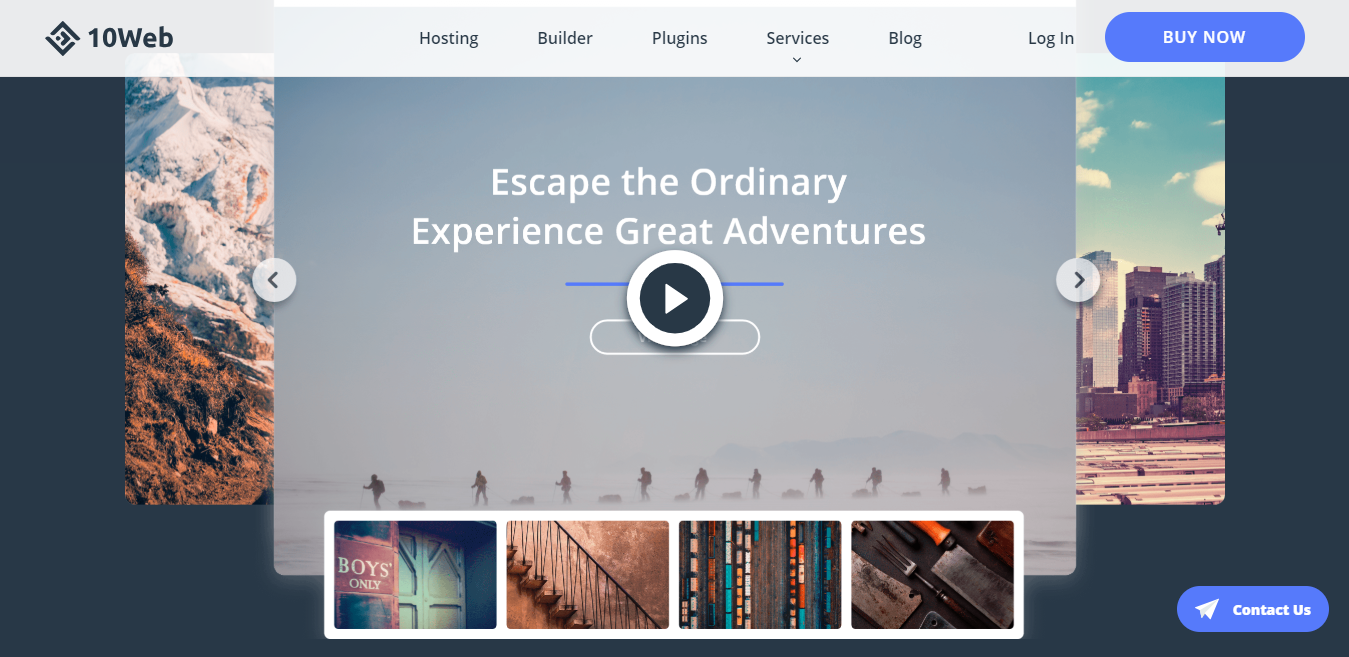 This is a highly versatile solution that enables you to incorporate fast loading, high-responsive and SEO-friendly sliders to your theme headers, posts, website pages, and other locations. It provides support to both the videos and the images on the slides.
What's more? It also allows you to enhance the quality of the content by adding some transition effects. On the whole, the slider guarantees awesome user-engagements, better user experience, and the ability to distinguish and differentiate between the various effects.
The slider works on all kinds of devices and screen sizes. For this reason, it negates the need to acquire separate and different appliances for the sake of showcasing the visual effects. Did we mention that the image quality it generates is also impeccable?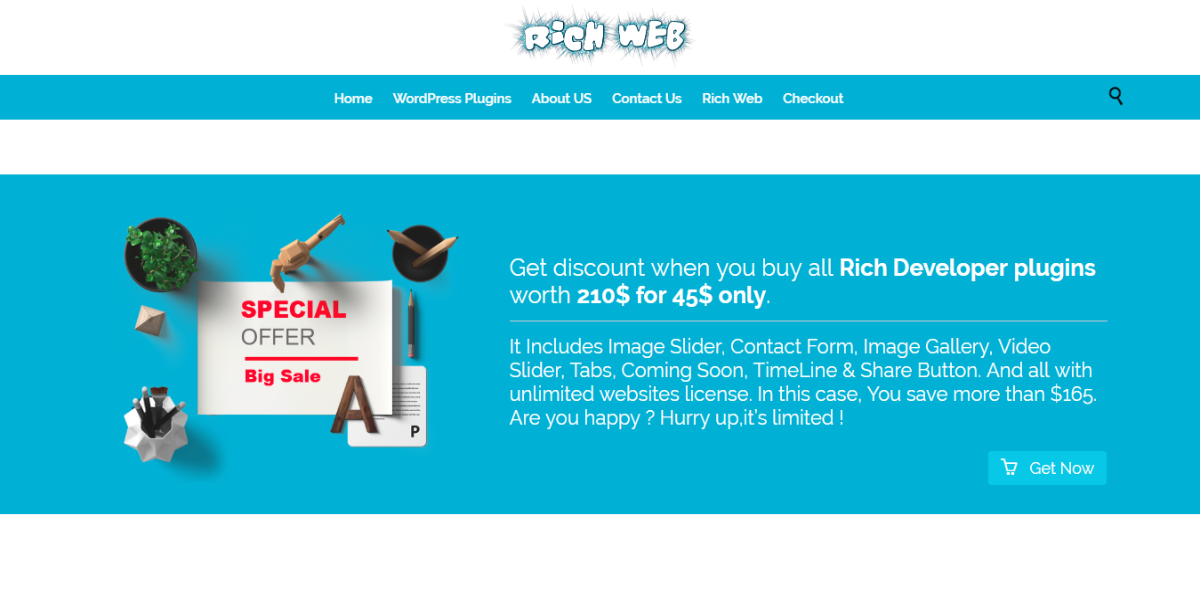 Perhaps no other slider allows you to incorporate as many extra pieces of information as this one. With this slider, it is possible to add pictures, pages, posts, and in-template files. Moreover, you can also embed some titles, links, and descriptions to existing images by use of it.
You will have to possess some great skill to be able to handle it though. That is because it is operable by means of a shortcode. Some knowledge of programming is, by all means, necessary if there is any hope of making the most out of it.
In all, the slider is fully responsive, provides support to multiple layouts, starts automatically, undergoes smooth transitions, and allows you to attach numerous instances on a given page at a time. This is the slider of choice for those presentations that are generally top-notch.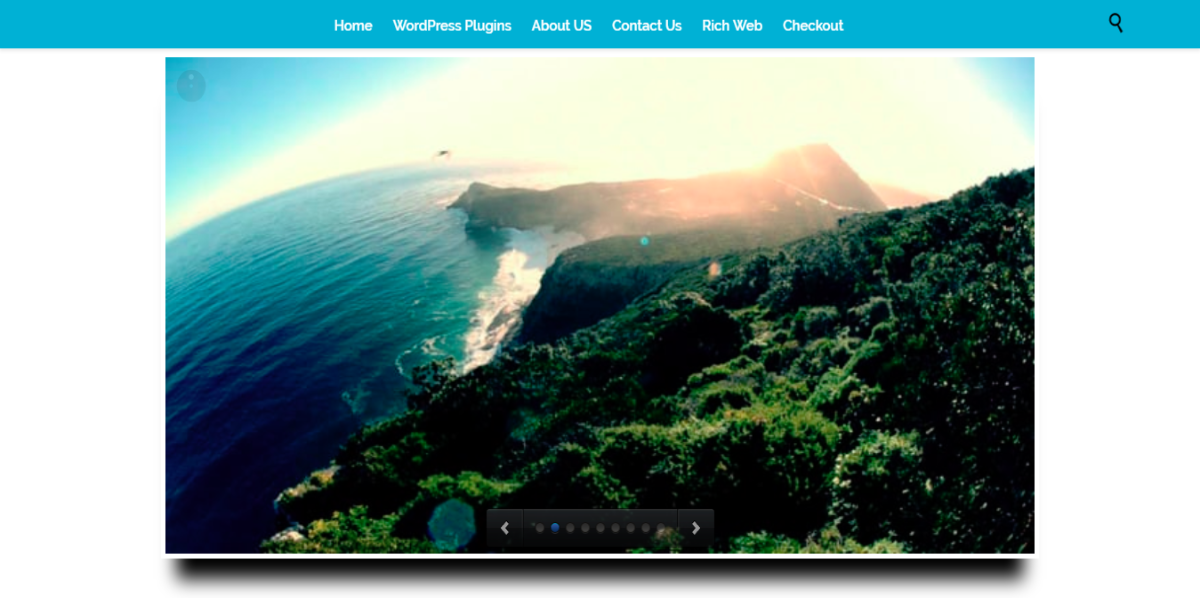 As the name suggests, the video slider is one which allows you to embed great videos on your WordPress page. Unlike most other similar sliders, this one requires no prior programming skills at all. You just have to follow the laid down pieces of instructions to have your way.
The videos it generates and plugs in are generally very responsive, works on any mobile gadget, incorporates some thumbnails for added information, makes room for a smooth transition and showcases extremely tiny details well.
Regardless of your operating system or browser of choice, you may count on this slider plugin to be of help to you. It is indeed optimized for Internet Explorer, Opera, Safari, Chrome, Firefox, Android, iPad, and the iPhone.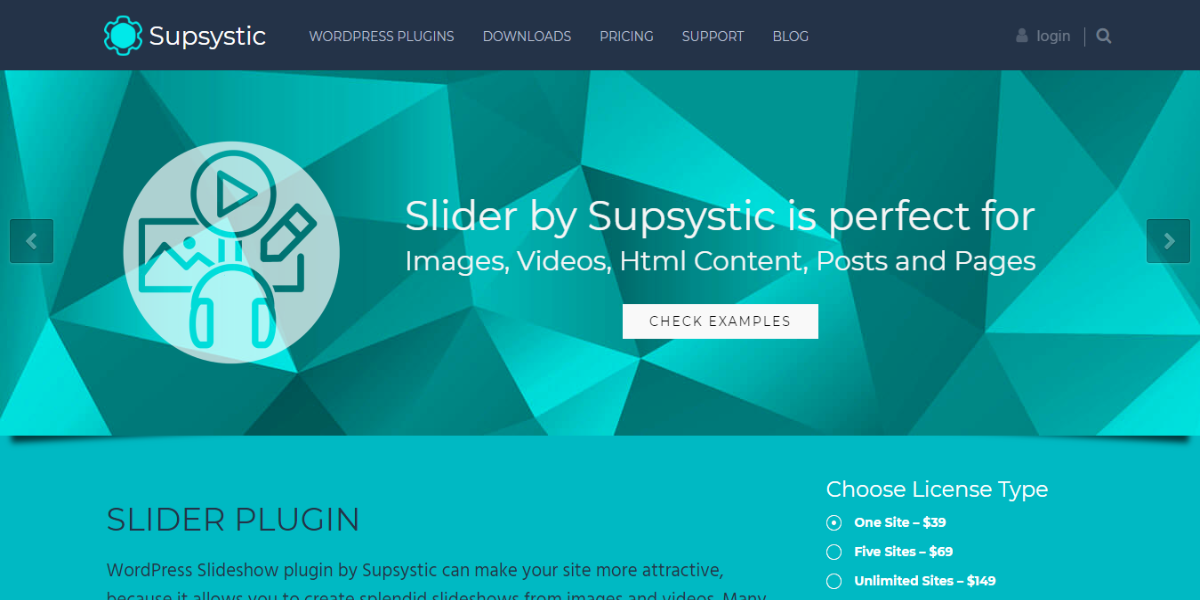 This is yet another great way of generating stunning images and videos without necessarily possessing any programming skills. The plugin is fully-responsive and also operates well on any mobile device. This is a good starting point if you lack any skill or expertise.
In all, the slider is highly responsive, generates stunning slideshow themes, has an easy-to-use slider builder interface, allows for the addition of extra slider using a shortcode, customizes captions and links for the image slide, and so on.
Given its cheap nature and the fact that it brings along more benefits, this slider is, on the whole, a valuable purchase. You spend less yet obtain so much more in return by placing your bet on it.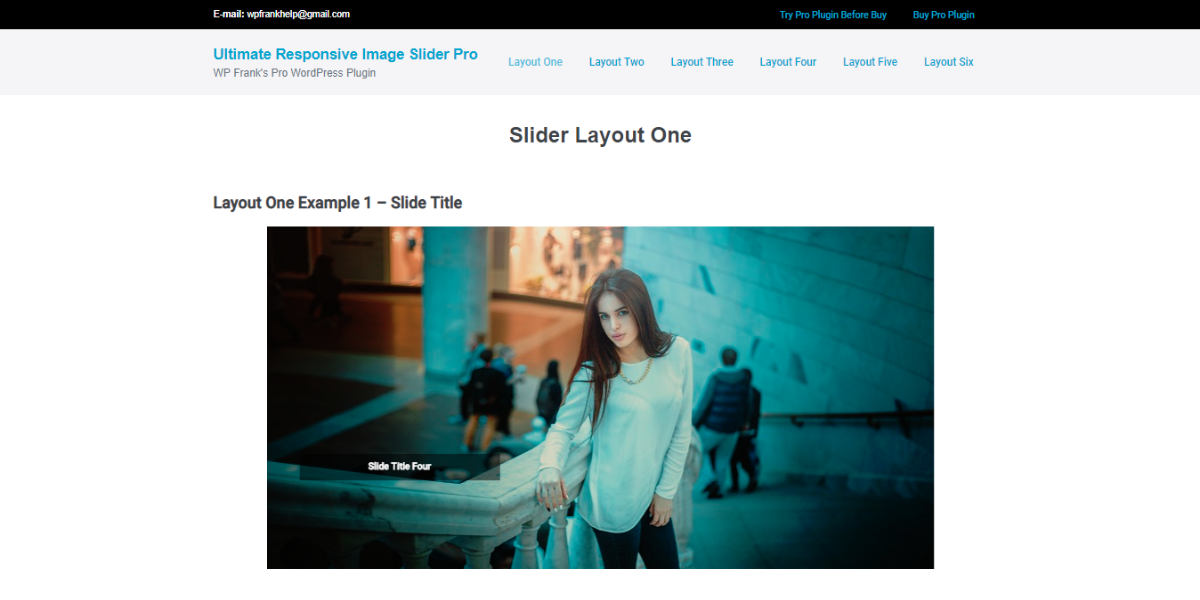 Lastly, comes the ultimate responsive image slider. This is more than an ordinary slider. It also acts as a reservoir for images and videos courtesy of its built-in gallery. These images and videos act as templates which you may use for future editing tasks and purposes.
With this slider, it is possible for you to publish unlimited sliders on your blog or WordPress page. Over and above this, you will also be able to enjoy a breathtaking aura on your site. The reason behind this is that the images are accompanied by great frames and background themes.
Further constituting a vital part of this slider is the fact that it allows for the customization of images to achieve some desired end results. You may, for instance, adjust the height and width appropriately, auto-play the slides, navigate the buttons, and attach the slide thumbnails, among others.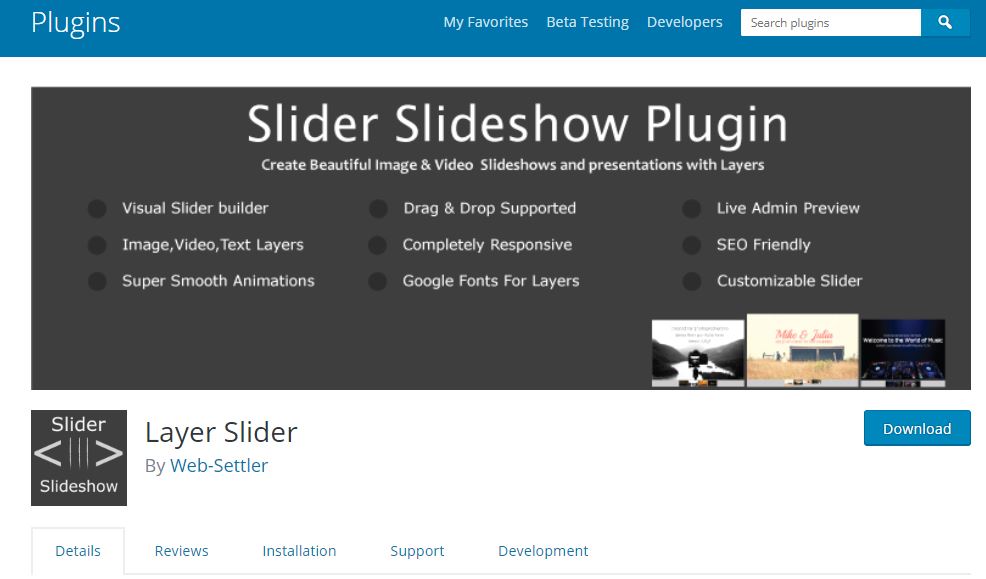 The layer slider plugin is a WordPress plugin that is used to show sliding content in a WordPress website. It is a premium plugin that is used to show multipurpose animation platforms. Also, show the collective slider image slideshow which is present in the gallery. This plugin has been most liked and downloaded by the user in 2020.
This plugin attracts users by its effect on landing pages and it also provides animated pages block. A complete website has been designed in layer slider 6.
They are various great features embedded in this plugin less discussed one by one. It has a new animation engine with mind-blowing effects. Everything that has been kept in this plugin is fully animated it contains more than 203 define slide transitions and parallax all are in 3D.
Users can also set all animation in loop random and in cycle property. Slide Leo designer focuses on user experience and usability. They provide dragon drop and visual editor through which user can undo cut copy paste and all features that an Adobe creative cloud contains has been present in this WordPress plugin. It also provides premium sliders template so that users can use anything any template according to their use.
It has dynamic content from WordPress posts and pages a user can use it to stretch out any content dynamically from the post and pages and build an auto-update news content slider. It is highly responsive so that all templates can easily fit on all devices. It gives optimization performance compatibility and is compatible with all browsers.
Regularly new update has been released by the layer slider WordPress plugin so that all customers should get a new and updated version of everything and feel a better experience. if the user wants to use a complete feature of the layer slider WordPress plugin then the user must spend a certain amount of money to activate or get its completely legal license.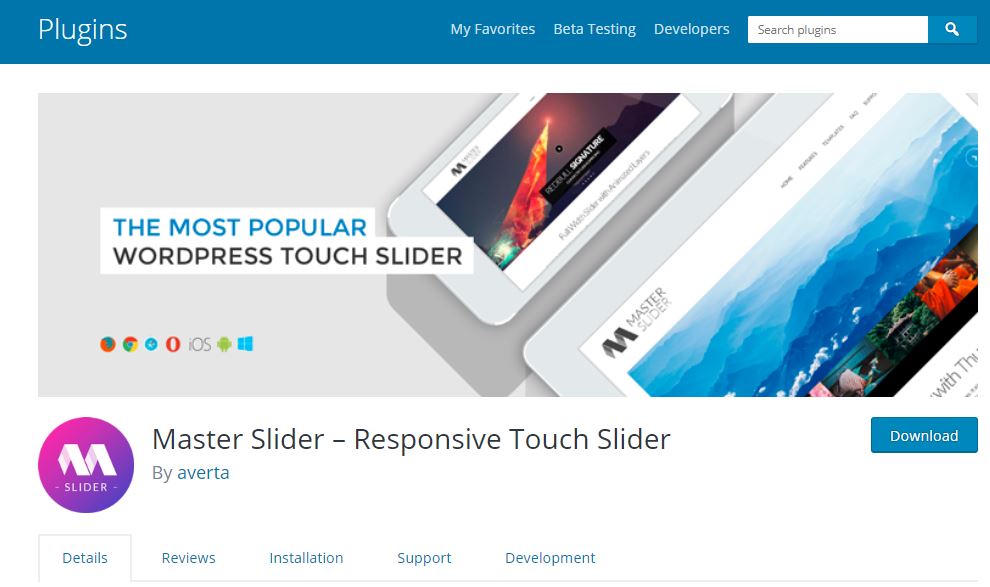 The master slider is a WordPress plugin it is also known as a layer slider WordPress plugin. It is a premium WordPress plugin that contains all premium images and content sliders with supersoft hardware accelerator transitions. It also has your swipe gestures this is a unique feature that user does not experience this feature in any WordPress plugin. This slider is highly responsive and its graphical user interface is so friendly.
Due to this slider can work on all types of devices. with the help of the slider, the user can add any type of HTML content like text, images, etc. All types of HTML content can be added in the form of layers. providing simplicity to the user they also give 80 plus slider samples for use. In the slider, the user will get everything such as hotspots, thumbnails, video support, and a variety of all animated effects. If a user wants to use all its feature then the user must pay a certain amount of money to buy its legal license with complete features.

This WordPress slider plugin has a great reputation in the community of WordPress. Its responsive slider makes it a star. It has powerful features with easy-to-use solutions for business websites and personal blogs.
It offers great support for image slider and video & has a drag-and-drop builder. The responsive design of this slider is just great. This plugin can automatically resize the sliders for desktops, smartphones, or tablets.
The improved performance and security of the Soliloquy plugin attract users every day. The Soliloquy team has some of WordPress's lead developers. They are best to audit the codebase.
Smart Slider 3 is an intuitive plugin with unique workflows. With the editor dashboard, it is very easy to build sliders with real-time previews using drag and drop.
Smart Slider 3 has great compatibility with WordPress. This includes posts, widgets, shortcodes, and Media Library.
There are five factors on which each slider item is layered. They are:-
Additional video from YouTube
Custom text
Image
Extra button
Header title
The codebase scripts at the backend are by default-optimized. These can be adapted to SEO standards. You can add background images. For this, you need to choose custom filler modes. They are "stretch" or "fill screen".
You can set up the slides to display your content automatically. You can even enable manual browsing. We will recommend you check for compatibility using autoplay features.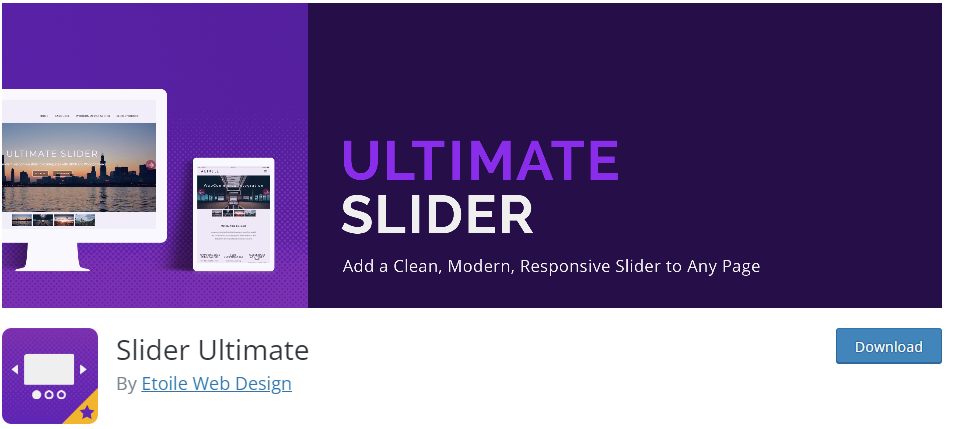 An esteemed WordPress slider that was introduced by Etoile Web Design. It has impeccable qualities of design. Hence, this WordPress plugin has captivated the heart and souls of prominent bloggers.
As soon as you add Slider Ultimate, you can insert clean and smooth sliders. You can implement it anywhere on the website. It employs shortcodes. This will help you to insert the slides from any location virtually. You can add this to the posts or pages of your WordPress website.
You can create unlimited slides for each slider. It is easy to build sliders (category-based). This WordPress plugin will easily integrate with the Ultimate Product Catalog and WooCommerce.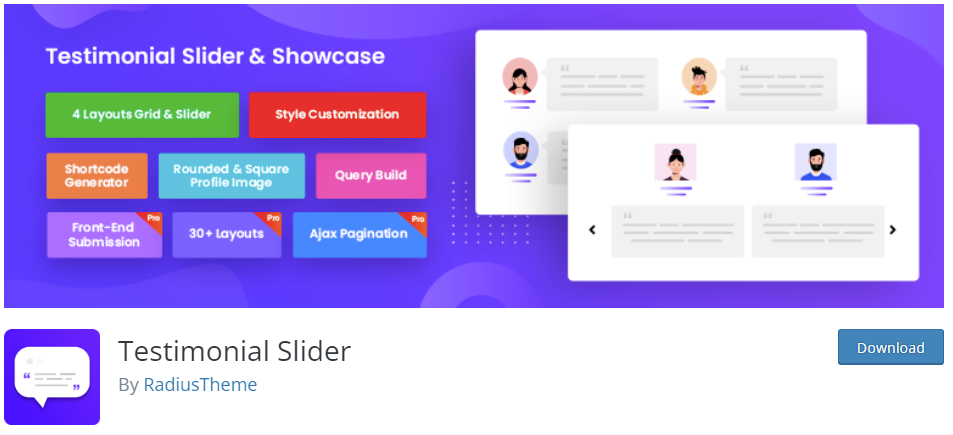 Testimonial Slider has got a range of slider types. With this WordPress Slider plugin, you can add customer reviews and feedback within the layout of the slider.
You cannot add these sliders at the top of your web page. But, you can use it somewhere else on the page within the area of the homepage. Most themes of WordPress support the complete functionality of plugins such as WPBakery Page Builder.
Nowadays, buyers seriously take reviews. With this slider, you get the privilege to edit the reviews of your customer as separate reviews. You can edit or delete the testimonial as per your requirement.
The accessibility of input data for each review has the following:-
A website address
A business name
A name
A photo
The description input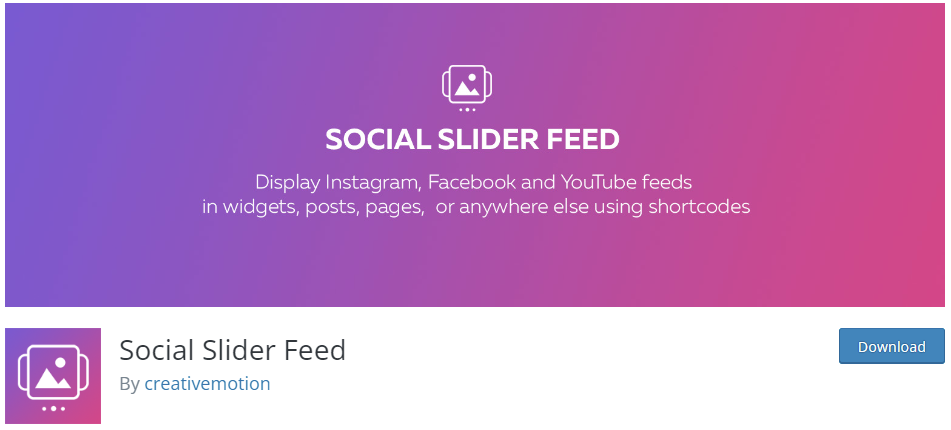 Like any other social platform, Instagram can help you build a brand image. Instagram can help you to build a business within a fraction of a second.
Some businesses think that Facebook draws maximum traffic. But, you should not miss any opportunity from wherein you can get visits.
This WordPress slider offers you a smooth widget. You can add these widgets to the blog. Instagram Slider Widget can help you grab images from any profile (public) or add hashtags.
You can automatically download all the images that are on your WordPress site. This WordPress slider has got slight variations from the Standard WordPress slider.
Do not just prepare and publish some plain text in your next blog. To make the blog more interactive and likely to elicit positive responses, be sure to incorporate some slides. Simply skim the list above and pick the one which appeals more to your emotions and unique circumstance.
Which Slider plugin Do You Like?
Need help in Plugin Selection or Plugin Issue? We are available 24/7 by Phone or Chat.