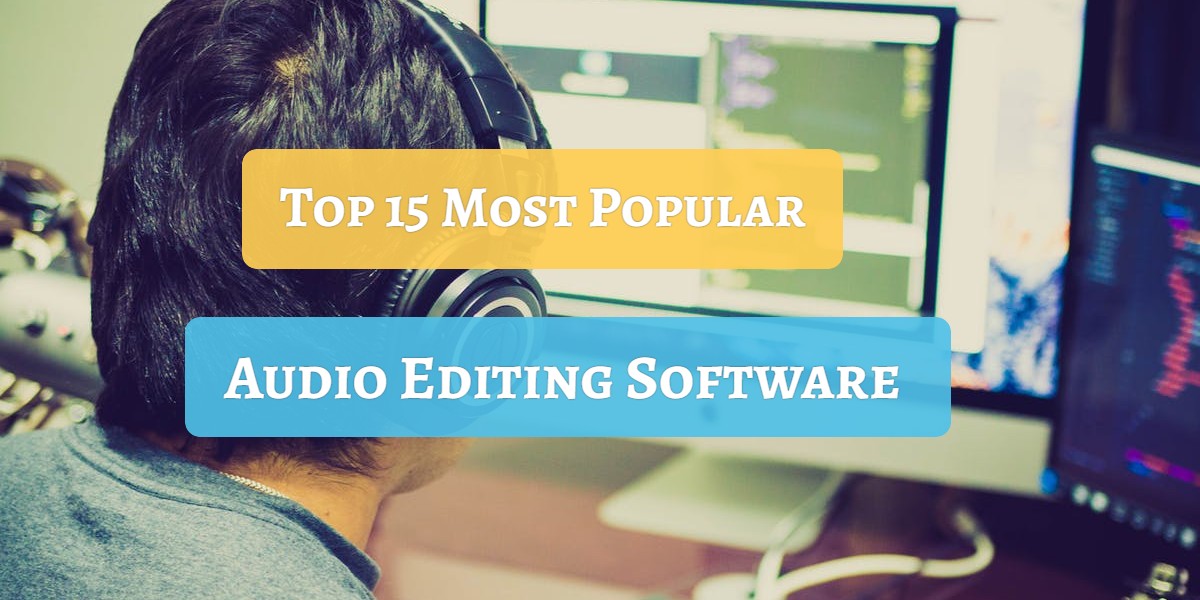 Top 15 Most Popular Audio Editing Software 2019
Audio editing is one of the most fascinating professions out there. There is so much you can do with today's technology. Not only is this technology used in music, but dubbing, film scoring, and other endeavors. Here are the 15 best audio editing programs you can use.
1. Adobe Audition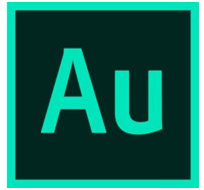 Adobe Audition is part of the Adobe suite which is one of the best audio editing software suites in the world. It has great strengths when it comes to editing and effects. It is a comprehensive audio editor that you won't need any plug-ins or additions for.
It is expensive but itself, however, if you get the entire adobe suite, it's worth it. That being said, you are still stuck with a subscription model, and no one-time purchases.
Pros
Great audio restoration capability
Available on both Mac and Windows
Useful visualization tools
Great export quality
Cons
Lacks MIDI supports
Only available through monthly subscriptions
2. Logic Pro X

Logic X Pro is the audio editor companion to Final Cut Pro X. it's the Mac only program that you can use to edit audio. Like Final Cut Pro X, it's got a great roster of features. Like Final Cut Pro X, it is also very pricey. It comes in at around $199.99. It's also
Pros
Great value for money
Great array of bundled instruments and effects
Great UI
Cons
Mixer should have large meters and more flexibility like others
3. Audacity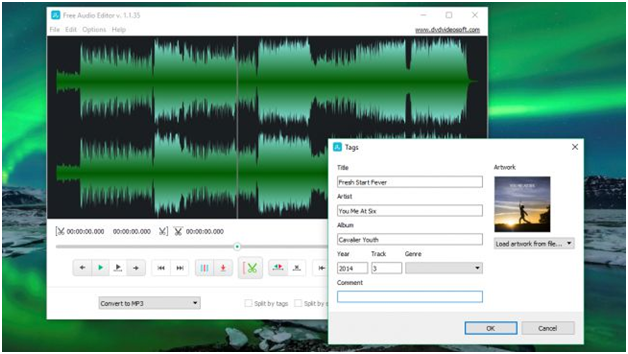 Audacity is well known among beginners and advanced audio editors. It's free, and filled with incredible controls. It's got a huge following for a reason. It's a powerful tool that has abilities to put paid products to shame. Nevertheless, it has such a great UI that it's approachable for beginners.
There are great built-in tools, an option for sound capture through a microphone, and options to stream audio from podcasts. Third party plug-ins just sweeten the deal. All in all, it's probably the best free audio editor that you'll find.
Pros
Great effects
Free
Incredible plug-in support
Advanced Editing Tools
Support for all major OS
Cons
It may not have the most sophisticated tools for high-end music producers. Aside from that, it's as close to perfect as free can get.
4. Reaper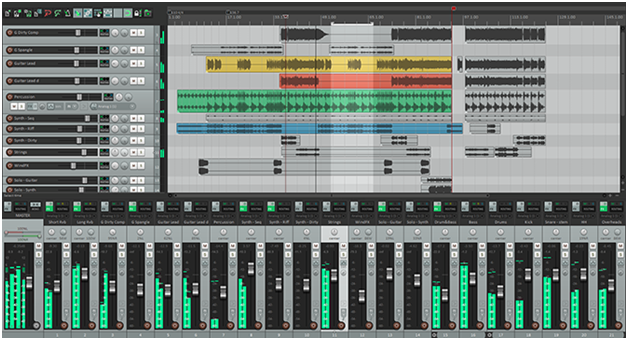 Reaper is one of the most respected programs among artists. It's probably the best audio editing software for musicians out there. It can give Audacity a run for its money. However, Reaper is just free to try with a trial period. It has a small fee to upgrade to the premium experience. That being said, the fee is worth it.
With Reaper, you can mix audio with MIDI and work on music for a full fledged film or video game. It's also compatible with MacOS, Windows and Linux, so you needn't worry about compatibility.
There is a caveat though. There are no built-in instruments for the programs or loops. Hence, if you're in to more EDM or hip hop, you'll have to search a bit for your beats.
Pros
Own VST library for professional grade audio effects
Great compatibility with all Desktop OS
Production quality for musicians is outstanding
Cons
No built-in instruments or loops.
5. Ocenaudio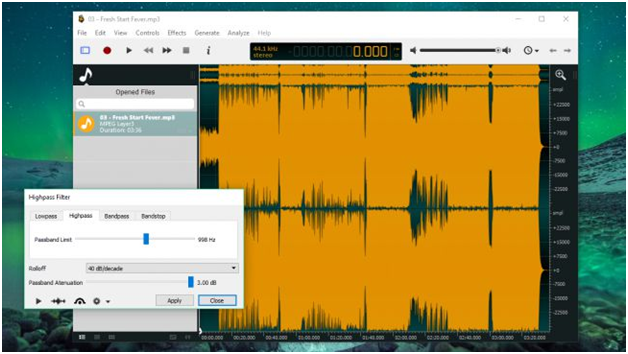 If you're looking for an audio editor that is powerful, and easy to use, then Ocenaudio is your best bet. It has a great UI, is easy to use, and has a great selection of filters. It's also compatible with all major OS. Hence, there's nothing really stopping you from creating on it.
There is a great range of effects and plug-ins available, and there's an option to export your compositions as ringtones. That being said, some music makers may just find the UI a little too sparse. That's why most people still regard Audacity as the best audio editing program. It's got the best balance for everything.
However, Ocenaudio is free and no less capable. Hence, it's a great investment.
Pros
Clean interface, intuitive UI
Great filters built-in to the program
Free
Cons
No effect stacking
Sparse UI compared to Audacity
6. FL Studio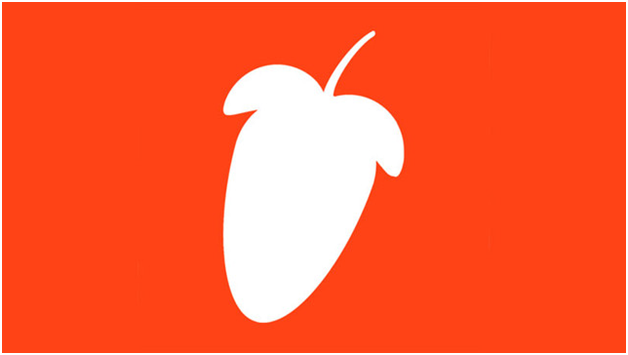 The best part about FL Studio is that you'll get lifetime updates once you purchase it. The worst part about it is the fee. If you're going to pay $300 for something, it better be good. However, that shouldn't take away from its impressive lineup of options. True, it requires some powerful hardware to run, but the investment is worth it.
Its latest update has made the UI scalable and added support for 4K. There is also a built-in multi-monitor and multi-touch user interface.
Pros
Supports 4K
Multi-monitor and Multi-touch support built in
Has brilliant MIDI based composition tools
Automation clips are easy to manipulate through the touch interface
Free lifetime updates
Cons
$299 price tag
Inflexible audio recording
Manually assignment of instrument tracks to mixer channels makes the process difficult
Sound library isn't the biggest
No notation editor
7. Ableton Live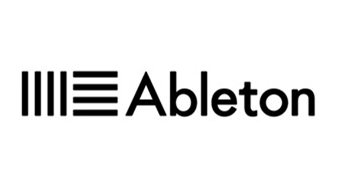 Ableton Live is all about live performances. It exceeds expectations when used to record live acts and mix tracks. Its intuitive approach for clip based music track building. It does however; lack a few key options such as track comping and notation view. There isn't even a tool for pitch correction. These tools come in handy when fine tuning recording faults with the equipment or smoothing out audio.
The fact that there are about 3 different versions that you can buy, doesn't make the product any more appealing. However, the investment is worth it at the end. The final version gives you 70 GB worth of sounds and great audio effects.
Pros
Fast navigations
Powerful automation
The suite version contains a lot of sample material to work with
Wavetable synth sounds excellent
Clip-based live performance and composition workflow
Cons
No tracking comping at all
No notation view
Lack of pitch correction
Several paid versions with diminishing returns
8. Cubase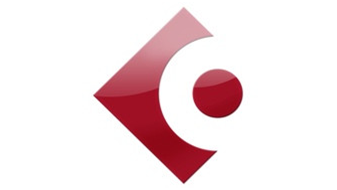 This is one of the originals that is still selling. It first appeared in the 80s on the Atari ST before coming to the Mac and PCs. Cubase Pro is a great audio editing program which is suited for MIDI compositions. It has great virtual synthesizers and is one of the smoothest programs in its category. Its post-production capabilities are great for the price. The mix console is also not bad.
Pros
Comprehensive editing tools
Automation support
Great plug-ins
Powerful mixers
Stability
Cons
Expensive
Dongle-based hardware copy protection
9. Hindenburg Journalist Pro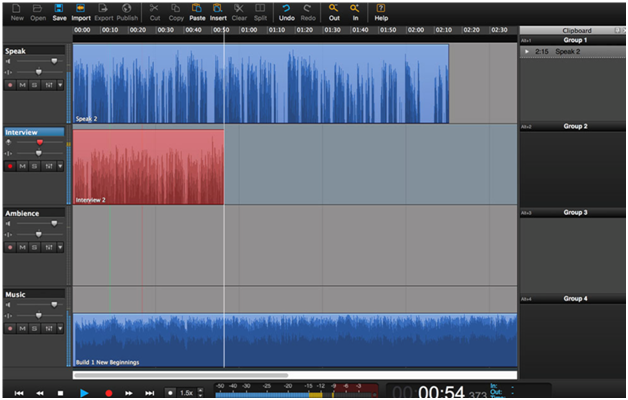 The Hindenburg Journalist is for journalists that want to edit interviews. It's a multi-track audio editor which is aimed at professionals. You can record directly on to the app or load it from a storage device. It's great for cutting together podcasts, interviews, etc. It has great automation tools which can handle the technical aspects of production for you.
The standout feature of the app is the way it handles levels. Hindenburg automatically increases or decreases the volume of the track with loudness standards today.
Pros
Great automations
Great options to cut together podcasts and interviews
Clipboard function provides four groups to divide your sound clips in to
Cons
$95 price
Not built for music editing
10. Amadeus Pro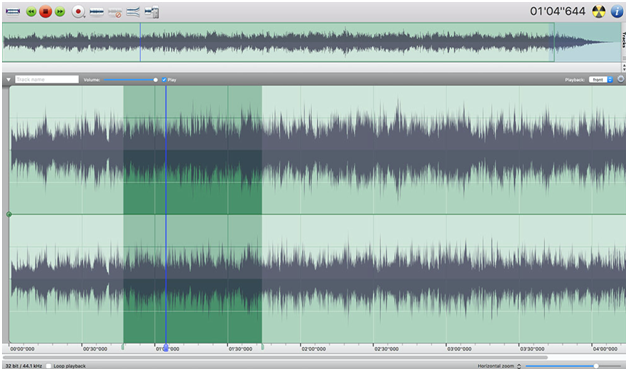 This is a very ambitious audio editing program. It describes itself as the "Swiss army knife of sound editing". Now that's a bold claim. However, Amadeus Pro backs up that claim pretty well. It focuses on user friendliness and has an attractive UI to boot. It has the basic operations down like playback controls, the record button and a few multi-track functions. However, other advanced functions are hidden in the menu bar, or accessed through a shortcut.
There is even a tool called Repair Center which automatically scans your file for imperfections and fixes them. The repair segment can be previewed before you apply the final effects too. It is priced at $60.
Pros
Repair Center
Great UI; user friendly
Cons
Only for MacOS
Pricey compared to Audacity and other alternatives
11. Fission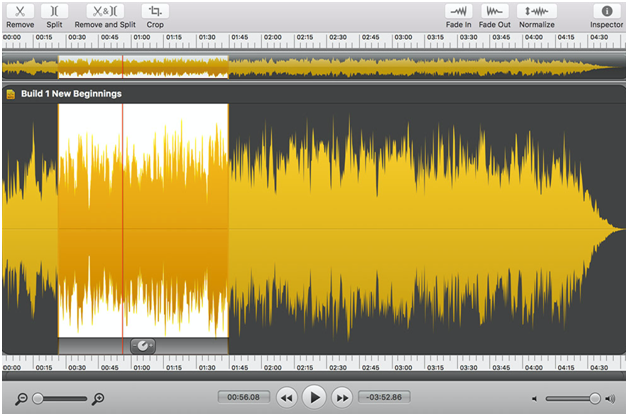 Just from the screenshot you can see how clean Fission's UI is. It's one of the most user friendly and intuitive programs on this list. However, it's just for quick edits, and it's just on the Mac. If you want to edit together audio files for a quick presentation, this is the one for you. If you're a music producer or a professional musician, this won't really be of help however.
Since it's only for MacOS, it has a UI that Mac users will be instantly familiar with. There is a pretty sizable roster of effects that you can use and there is also emphasis on lossless editing. There isn't any multi-track recording however.
Pros
Great UI
UI mirrors MacOS desktop
Batch processor for converting MPC or AAC files
Cons
Lacks support for multi-track editing
Only for MacOS
Has limited functionality; only good for quick edits
12. TwistedWave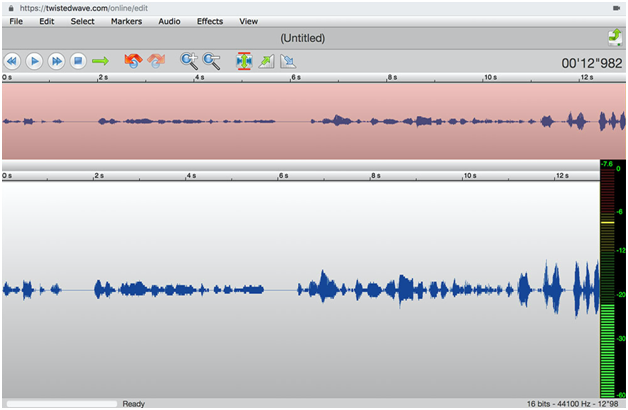 If you have a bare bones computer and you want to get in to audio editing, TwistedWave is for you. It is best used as a cloud based tool however. It is a pretty good editor for short clips. However, it can't go beyond five minute mono recordings. It can also only record 16 bit audio at 48 kHz. It's got an hour of online free storage however.
Anything further than that requires signing up for premium plans. That being said, the free suite has some pretty good effects on top of the editing options. If you have bare bones needs, this is the audio editor for you.
There is a Mac only version available as well, but it costs $79.90
Pros
Great web based audio editor
Free version gets you all the basic audio editing functions
Gives you an hour of online free storage
Cons
Limited support for editing functions
Subscription based model for stereo editing costs $5 a month
13. Hya-Wave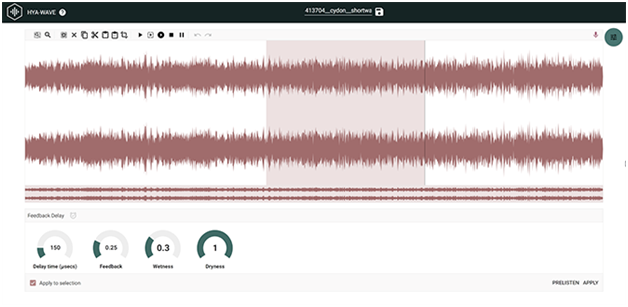 Hya-Wave is a stripped down audio editor, but it's still one of the best options for basic work. It is web based so there are no compatibility issues. There are also a lot of effects that can change sound. It can also work without an account; hence you can get to work immediately.
However, as it is so bare bones, there are no advanced options available. If you're looking to produce an album, this isn't the best option.
Pros
Great at basic functions
Works without an account on HTML5
Web based, so no compatibility issues
Cons
Not great for advanced audio editing
Limitations become apparent when advanced functionality is required
14. Soundation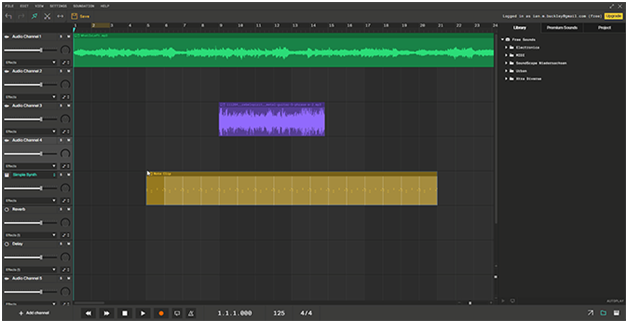 Soundation is incredible considering the fact that it's web-based. Despite its web based structure, it has options for multi-track editing. It even has enough options to qualify as a Digital Audio Workstation (DAW). It has options for MIDI instruments which make it viable for music production.
You can use this tool to create podcasts, music, great audio clips and general purpose work. The free version does limit the export video quality. However, getting the paid version for just $2 a month to $7 a month seems like a sound investment.
Pros
Free version takes care of most editing needs
Multi-track editing included despite the software being web based
Includes MIDI instruments for music production
Available on all major OS
Cons
Not as fully featured as other programs like Audacity
Paid version adds export quality upgrades but little else
15. Waveshop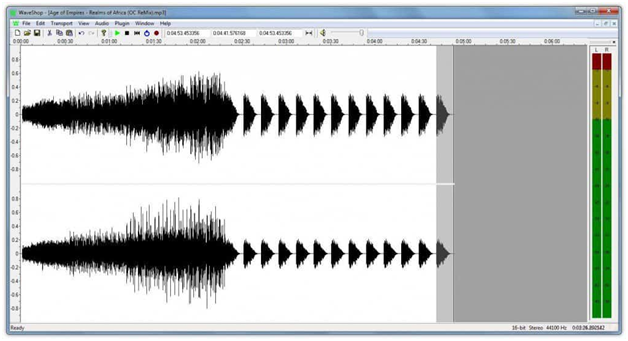 Waveshop does support multi-channel audio with up to 18 outputs. However, it's got one of the easiest UIs that you'll ever come across. That being said, it is only available for Windows. It is free and open source; hence you can keep expecting updates for it.
Pros
User friendly UI
Supports a plethora of audio formats
You can work with multiple files at once
Free and open source
Cons
Only available on Windows
No support for VST plug-ins
No support for loop points
Not only do these editing programs provide great functions for the price, but they have fair prices too. Most of them will give you exactly what you need to edit and produce audio for your videos or music.