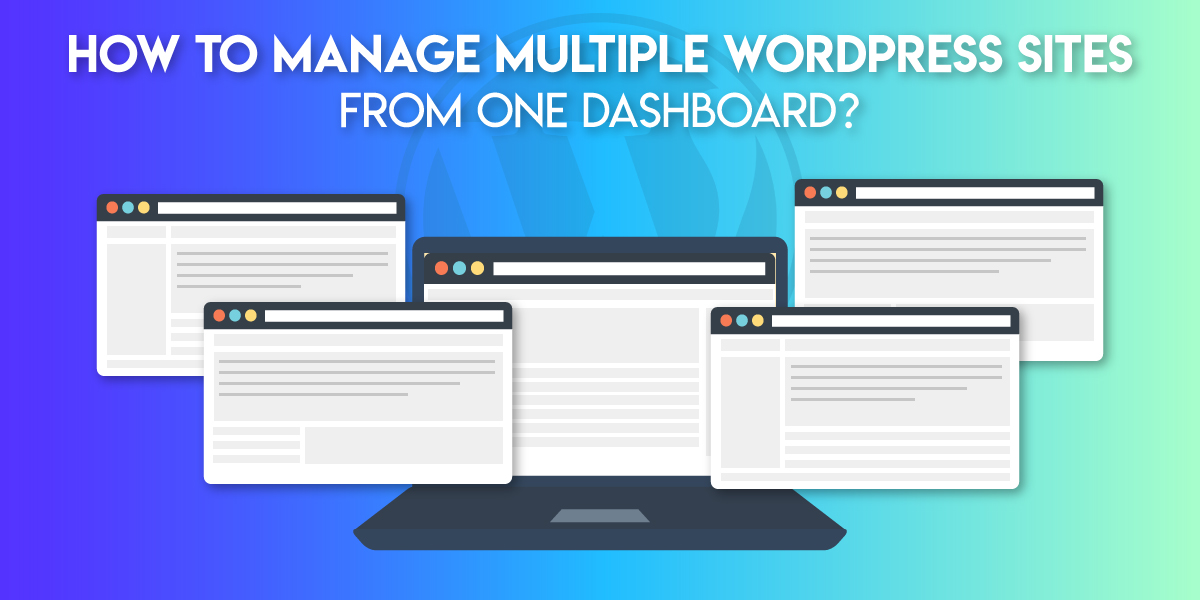 How to Manage Multiple WordPress Sites From One Dashboard?
Last updated on August 11th, 2021 at 05:21 am
Are you facing any issues to manage numerous WordPress websites that you own? If yes, then undoubtedly you might be looking for an easy way out to manage multiple websites. In this article, we will enlighten you about 10 best tools to manage multiple WordPress sites which will help you to carry out your routine tasks effortlessly. It will also let you focus on your productive work that too from one dashboard. What more can you expect?
We understand what you might be a daunting task to monitoring multiple websites and keeping them up to date as it is a very time-consuming process. These WordPress management tools will help you save a lot of time while keeping your plugins up to date and all your WordPress installs.
Why Use the WordPress Management Tool to Maintain Multiple WordPress websites?
WordPress management services and tools have made it effortless for its users to manage WPmultisite from a single dashboard.
Owning or managing multiple WordPress websites from one dashboard could perplex you. You already have an array of tasks needed to enhance the customer experience and managing multiple websites at the same time is not that easy.
WordPress management site tool facilities in making updates without having to log in to your site separately and also monitor each of your WordPress websites. It is always recommended to build a robust and scalable managed WordPress hosting a priority. You will be able to perform all the tasks smoothly which are mentioned below-
Monitor plugins and themes update across your site
Enable you to install themes and plugins easily to your website
Update WordPress software on all your websites swiftly without any hassle
Manage users, their comments, and various other WordPress options
Back up your WordPress site automatically and store all the data securely on an offsite location.
Before we proceed further and provide you with the information on choosing the best WordPress management tools, let's take a look and know about how to pick an ideal word press management tool as per your requirement.
How to Select the best WordPress Management Tool?
Many tools have similar features related to each other but before you opt for one, you should know the key aspects to consider before picking up the right WordPress management tool. It is elementary to manage the WP dashboard as you have it only one for all your WordPress websites. The key aspects are listed below-
Managing login details
Always ensure the ability to store login details from numerous sites so that you could access them efficiently.
User Management
Ensure how many users that tool could help you to manage and create users across different sites
Update Management
The tool you are opting for should be very efficient in managing updates to WordPress core, themes, and plugins.
Installation
It should allow you to install, enable, and disable the plugins or entire websites in case you need to shut it down for some reason.
Ease of Use
You need to decide what will work for you and what does not. As the user interface of the tools could be way too different from what is mentioned in the list.
Number of Websites
Another crucial factor before you hop on to the conclusion is to evaluate how many websites you are and will be managing in the near future. As many tools offer free services up to a certain number of sites and that might be enough for you if your websites to manage are limited.
It is best to concrete on these aspects before you jump on to any decision for opting multiple word press site tools. Certain other additional features may also be looked at such as site scans, up timing monitoring, backups, and many others.
Besides all these additional and key features, you should always finalize the tool based on your needs and requirements. For example- if you already have an anti-virus installed, you might not be bothered and want to buy the site scan feature as it also offers the same thing.
One thing is dead sure, without gauging and analyzing what is the core of your business, one cannot succeed!
If you work with content related websites that need to be updated regularly, you might want to go for the tool that can accommodate a central content location. Whereas, if you are operating static websites and focusing primarily only on the maintenance part, you would require to opt for a solution that helps you in managing all your updates, themes and plugins.
10 Best Tools to Manage Multiple WordPress Websites
Now, coming over to the significant part of informing you about the top 10 tools to manage multiple WordPress websites. They are as follows-
1) WP Remote
WP remote is one of the best tools for managing multiple WordPress sites for free. It is a simple way of managing updates on all your WordPress sites.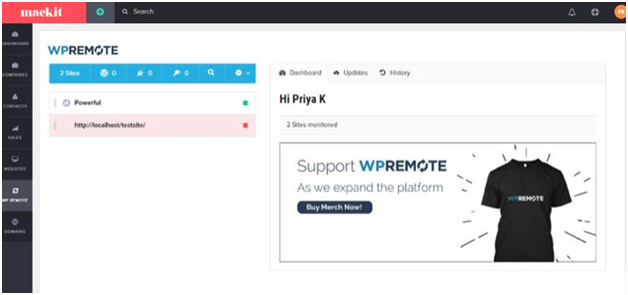 Although it does not have extensive features but still compared to many other free tools it could be a perfect choice as it includes-
Easy installation of WordPress updates for core, themes, and plugins
Helps you create backups and store them on AWS or SFTP and download them to your PC with a single click
Composed of User-friendly interface
Download a snapshot of any site you manage
2) CMS Commander
It is another hosted solution along with the practical interface. CMS commander's dashboard resembles the native WordPress dashboard. It facilitates in accomplishing repetitive tasks hassle-free. It is very easy to build entirely a new WordPress website with pre-configured settings as well as create reusable templates.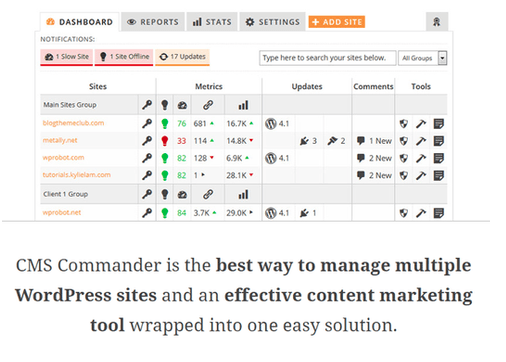 Unlike, WP Remote, this plugin is not free. You need to select their premium plans packages which have different price based on the number of websites you are managing. For example, its basic package starts from 12$ per month for 10 websites, and the other package goes up to 75$ per month for 200 websites.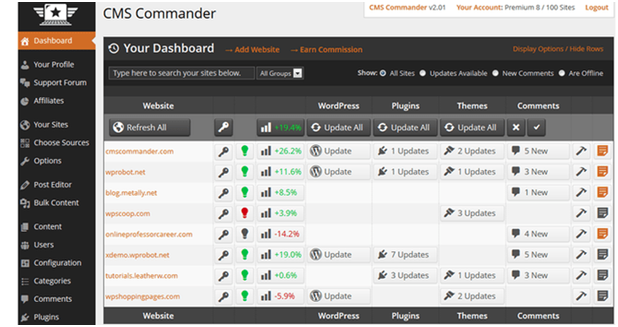 The best part of this tool is that it provides an overview of all your WordPress websites, which includes stats and notifications. This tool is also featured with two-factor authentication, offsite backup, updates, and restore with a single click. It also consists of a malware scanner and has built-in uptime monitoring.
Moreover, it is inclusive of-
Customizable backups allow you to include and exclude certain folders
Reporting of security scans of websites
Connect to Google webmaster account for centralizes stats
Backlink and page speed tracking on your dashboard
Cloning, maintenance mode, and database optimization
3) Manage WP
Manage WP is a freemium model that offers basic plugin features. However, it is inclusive of all the core features and additional features are featured into premium add ons. The best part of this tool is that it allows you to pay only for those features you use, which makes it a highly flexible pricing plugin.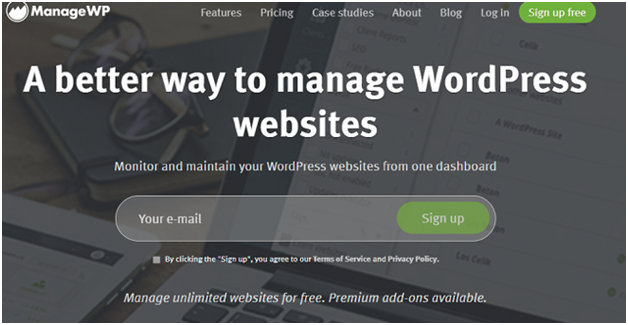 Some of the key features of this plugin include-
SEO optimized tool
Customizable maintenance mode
Migration, cloning, and real-time backup
Two-factor authorization for security
Google analytics integration
Enables you to create restore points and roll back updates by providing a safe updates option
Including site performance checks, store and track results into client's reports
4) Jetpack Manage
It is a robust tool that comes with exclusive and multiple WordPress site management features. Jetpack acts as a connector between WordPress.com servers and your WordPress website.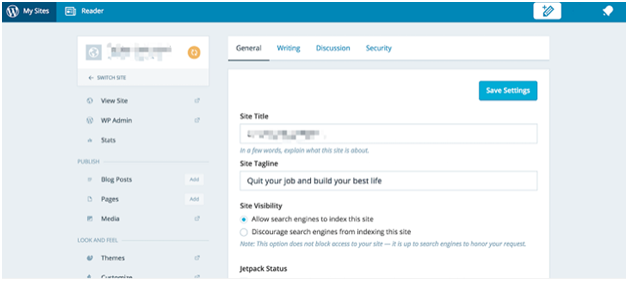 Even the free version of Jetpack allows you to manage your WordPress plugins and core updates across all your websites. It is also featured with basic brute force attack protection and downtime monitoring.
It is comprised of more than 35 plugins, one of them is Jetpack manage. Do you know that it lets you manage several WordPress websites?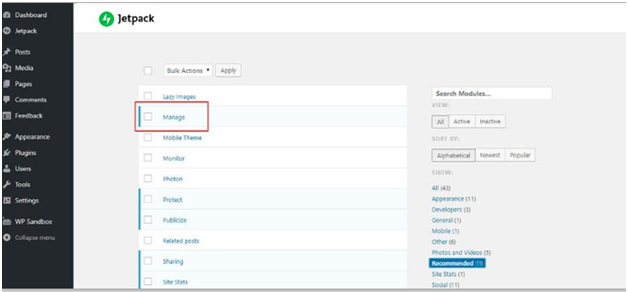 As shown above, the jetpack manage plugin needs to be active on all the websites and link them to your WordPress account. By doing this, you can easily update plugins selectively on different sites, switch between different sites, and view your site stats.
Its premium pricing plan starts at 39$ per year. Some of its key features are listed below-
Backups and uptime monitoring
Bulk WordPress posting
5) Main WP
Main WP is supported by paid add ons as it is a free open source WordPress management tool. It is designed as an admin plugin that can be installed on a separate WordPress website. Furthermore, to manage all the websites, you need to install the MainWP child plugin.
It is featured with an intuitive interface, backups, cloning, and the ability to update components with a single click, be it of any website. If you are using this plugin, you need not remember your login details as by simply clicking on the link inside MainWP, it will redirect you to the site and log you in automatically.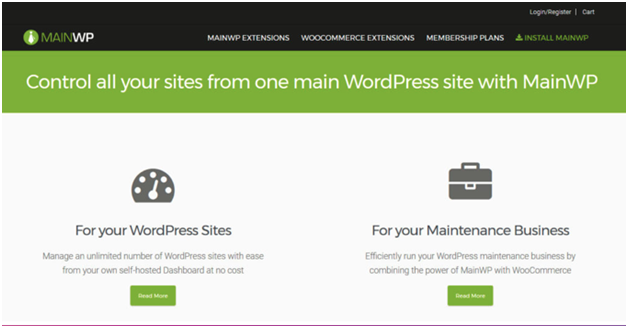 However, there are some extensions that you can buy separately or get them included in your membership plan which starts from 199.99$ per year. Its key features include-
Featured with extensions of several useful backup plugins such as UpdraftPlus
Easy update management and security scanner by Sucuri ensures safety
Facilitates uptime monitoring, user and content management
6) Infinite WP
It is one of the most powerful WordPress multisite management tools optimized for freelancers, developers, and even agencies. You can manage unlimited WordPress websites for free of cost. However, most of the functionality is locked in premium add ons.
This plugin does not allow any third party to have access to your data as it requires you to install the software on your server. Its dashboard offers a bird's eye view for its users of all their sites. This helps you to view details like updates, backups, WordPress version and many more.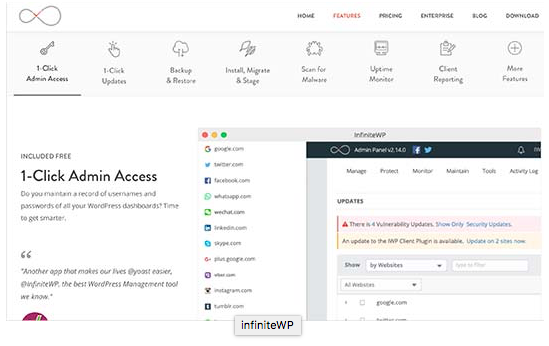 If you opt for its paid plan the annual package starts from 147$ for 10 websites and goes up to 647$ for the enterprise plan. Its key features are listed below-
Bulk installation of themes and
Instant backup and restore
One-click updates
One master login so that you will not have to log into individual sites
7) iThemes Sync
iThemes Sync comes with a free version that is limited to manage up to 10 websites. You can also manage the WordPress updates from a single dashboard. Moreover, the free version of this plugin allows you to install WordPress themes and plugins manually.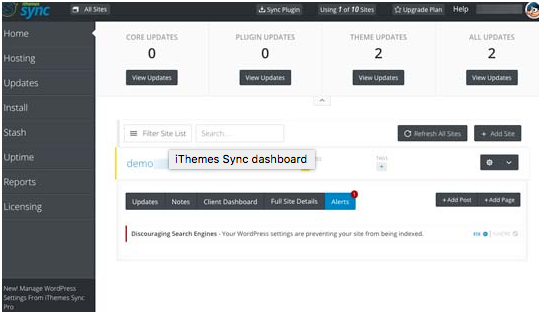 If you need to access more features like uptime monitoring, user management, security, client reports, integration with cloud storage and Google Search console, etc, you need to buy the paid plan of this plugin.
The premium plan starts from 111$ per year for managing 10 websites. Mentioned below are its key features-
User-friendly interface
Facilitates site management
8) iControlWP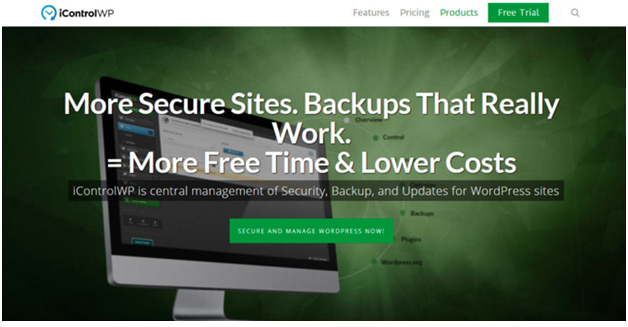 This tool facilitates connecting all your websites and includes some useful features like automatic updates for plugins and themes, malware scans, automatic backups, and bulk actions.
One of the best features of this tool is that you can create a test site to review the backup before the store if you need to restore a site from backup. It also allows you to manage updates and comment manually.
Its basic plan starts from 15$ per month up to 10 websites. Some of its key features are as follows-
Inclusive of multi-factor authentication, IP address restriction, and site security scans
Restoring backups become very easy
9) Go Daddy Pro
GoDaddy Pro is a tool that allows you to integrate the plugins and themes to your WordPress management workflow. This tool can act similar to a client list manager as you can keep track of your client's activities and the services they procure through you. Moreover, you can manage your WordPress clients through GoDaddy pro.
It is free to sign up. However, if you are looking for some more features, you might want to opt for a premium plan which starts from 127$ per year for 10 websites. Some of its key features are mentioned below-
Pay you a commission for each client purchased hosting
Performance and security are managed and monitored
One-click updates, cloning, migration, and automatic backups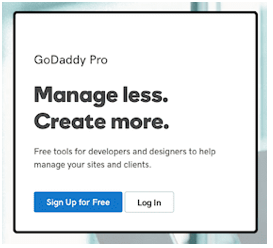 10) WP Pipeline
Just like all the tools mentioned above, this is also one of the tools used to manage several WordPress websites efficiently. It offers easy backups and makes updates task easier for all the themes and plugins installed from wordpress.org.
The not so good part about this plugin is that you do not get any free trial before you install this. However, they offer a money-back guarantee until 30 days. Its subscription starts from 97$ per year for accessing unlimited WordPress websites. Its key features are listed below-
Ability to create entire new blogs, group websites, and user management
Manage and deploy WordPress plugins and themes
Intuitive interface for easy site management
Which Is The Best Way to Manage Multiple WordPress websites?
It entirely depends upon your requirements, needs, the purpose of using, and willingness to spend. There can't be a single tool that meets the requisites of every WordPress site user/manager/developer.
However based on our article, if you have a limited number of websites, you can go for WP Remote or Manage WP. But if you have numerous websites and you are looking for more flexibility, features, and ease of use, you might want to go for CMS commander or InfiniteWP.
Summing Up
All the above-mentioned tools that we have mentioned in this blog are cited after completely evaluating all the perspectives. One of the recommendations that we would like to give to all users is that always test the tools before buying. This will brief you and let you know the entirety of that tool.
We hope that this guide will help you find out the best tools used to manage multiple WordPress websites. For any further doubts or questions regarding this topic, you can comment in the drop-down section.
Happy Managing WordPress Sites!