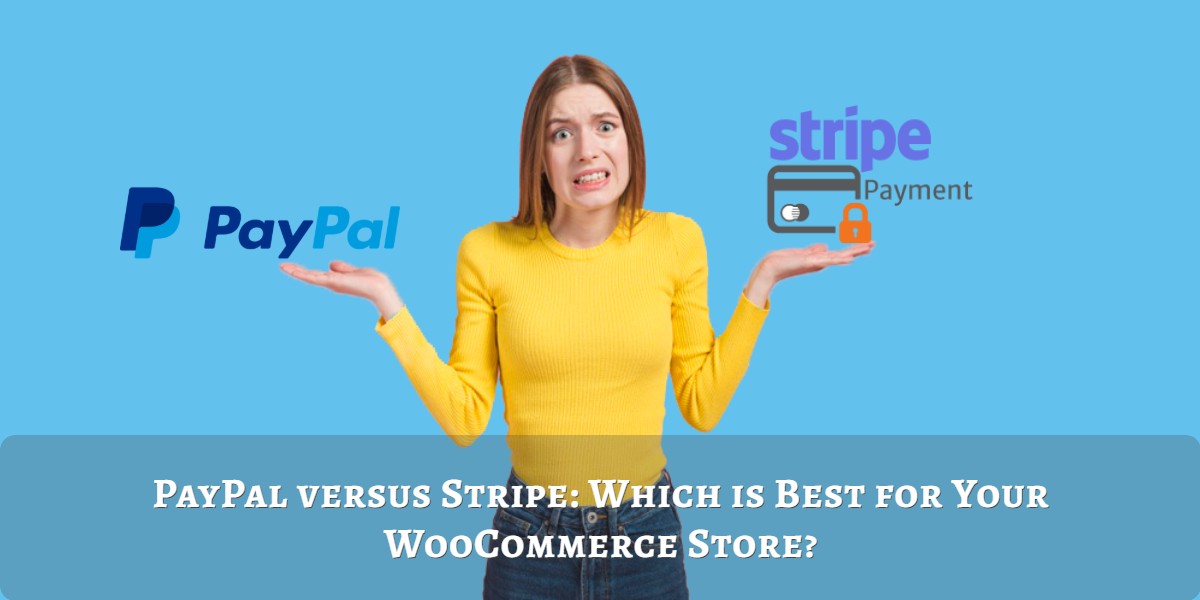 PayPal versus Stripe Which is Best for Your WooCommerce Store
Last updated on August 11th, 2021 at 05:51 am
Starting an eCommerce shop is an exciting way to make money online. And with so many resources available these days, even those with limited technical skills can easily get an eCommerce shop up and running within minutes.
In fact, if you're using the WordPress content management system, and the free WooCommerce plugin, building an online store take nothing more than a few clicks here and there.
That said, there's more to setting up shop than starting a website and selling products and services to customers. For example, you have to consider things like web hosting, overall design, functionality, product inventory, marketing, and of course, online payment processing.
Luckily, there are plenty of payment gateways to choose from that you can use in your WooCommerce store to collect payments from customers. And two of the most reliable, and well-known ones are PayPal and Stripe.
PayPal and Stripe make processing online payments a cinch for both online shop owners and their customers. Yet, while they have comparable features, the truth is, one of them is actually a slightyl better solution for WooCommerce stores looking to scale.
That's why today we're going to compare PayPal and Stripe so you can see for yourself and make the best payment gateway decision for your online business.
What is a Payment Gateway?
Payment gateways act as the middleman between online businesses and financial institutions. They help authorize and accept payments made by customers so that business owners get the money for the goods and services they sell.
The entire process that plays out when a customer makes a payment on a website for a product or service can be kind of confusing. But here's the general breakdown:
The customer places an order in your eCommerce shop
The customer places an order in your eCommerce shop
Your web server captures the information and sends it to the payment gateway you use
The payment gateway then sends the information to the bank, credit card company, or other financial institution to finalize the payment
The financial institution confirms the payment and sends the fund to you, the online shop owner
Of course, payment gateways are not the only way you can accept payments from customers. You can always invoice customers via email, accept a mailed in check, or even have your customers come in to your physical store to complete payment.
That said, payment gateways make payment processing simple and secure. In fact, reliable payment gateways are designed to protect you, the information being submitted and processed, and your customers.
Why Use PayPal or Stripe Payment Gateways?
There are tons of payment gateways available for online retailers to use. For example, Authorize.Net, Braintree (owned by PayPal), and 2Checkout are some that come to mind.
But PayPal and Stripe offer the most user-friendly experience for both shop owner and customer and are the most widely used. Plus, they are globally recognized, which is great for eCommerce site owners that want to build an international audience base.
According to data from Datanyze, PayPal represents 61.88% of the market, with Stripe following behind at 15.29%.

Adding to that, Stripe has come a long way in terms of value. In 2016, it was estimated that Stripe was worth $9 billion. Fast forward to within the last year, and you'll see that Stripe is now valued at an impressive $20 billion.
When it comes to choosing a payment gateway for your eCommerce shop, it's crucial you pick one that's reliable and well-known. And if you agree, you'll use either PayPal or Stripe for your online store.
But What About Just Using Both PayPal and Stripe?
You might be asking yourself why you can't just use both PayPal and Stripe on your WooCommerce site. After all, they're both internationally known brands, are simple to use, and provide the security both you and your customers expect when conducting online transactions.
While all of that is true, here are some of the downsides to using two (or more) payment gateways on your website:
You'll have to manage multiple vendors, contracts, and relationships
Defining pricing variables for products, services, and even shipping becomes difficult
You miss volume pricing discounts since payments are spread across multiple payment gateways
There are multiple accounts to reconcile, reports to monitor, and user accounts to administer
Processing refunds can be a pain
Integrating multiple payment gateways on your site is tough, especially for novice shop owners
WooCommerce site owners will have their own individual needs for their online stores. And some will require more than one payment gateway to help boost sales. But in general, it's best to stick with one, so you and your customers don't become overwhelmed.
So, let's take a look at the differences between PayPal and Stripe and help you decide which is better for your WooCommerce store.
1. Transaction Costs and Fees
One of the first things you should always consider as a WooCommerce shop owner is how much anything new you want to add to your shop is going to cost. And this applies to the payment gateway and transaction fees you'll be responsible for too.
After all, the point of running an online shop is to make money. The last thing you want to do is hand over all your earnings to the payment gateway that collects those payments for you.
PayPal Transaction Costs and Fees

PayPal has no signup, termination, or monthly fees. And when it comes to transaction fees, PayPal claims to have some of the most competitive
Sales Within the US: 2.9% + fixed fee based on currency per transaction.
Sales Outside the US: 4.4% + fixed fee based on currency received
PayPal also has a breakdown of transaction fees for things like charotable donations, micropayments, invoicing, virutal temrinal payments, add-on services, and more.
Plus, there are merchant fees for things like:
International sales
In-store purchases
Uncaptured authorizations
Card verification transactions
Refunds
American Express Card usage
Stripe Transaction Costs and Fees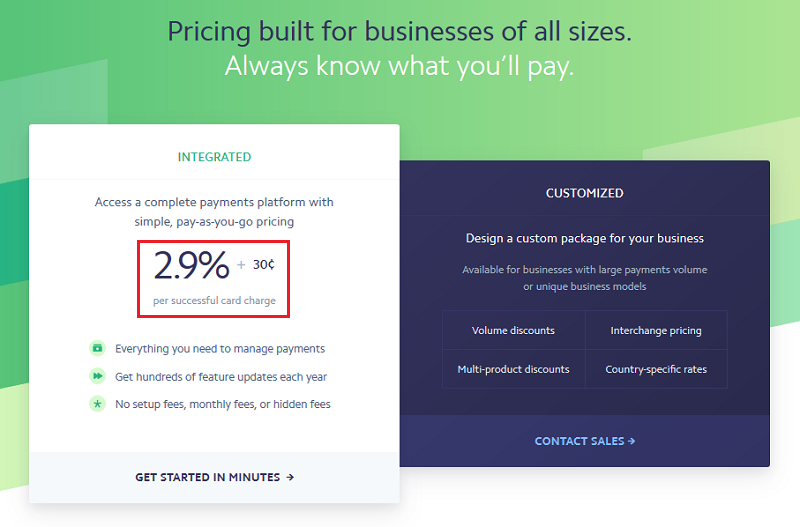 Stripe also has no signup fees, making it comparable to PayPal. In addition, the standard transaction fee is the same as PayPal, coming in at 2.9% + $0.30 per transaction.
That said, when it comes to international fees, Stripe charges a little less than PayPal, making is slightly more competitive.
Instead of charging 4.4% (plus a fixed amount) per transaction, Stripe tacks on an additional 1% per international transaction, making the final total 3.9% (plus the fixed fee).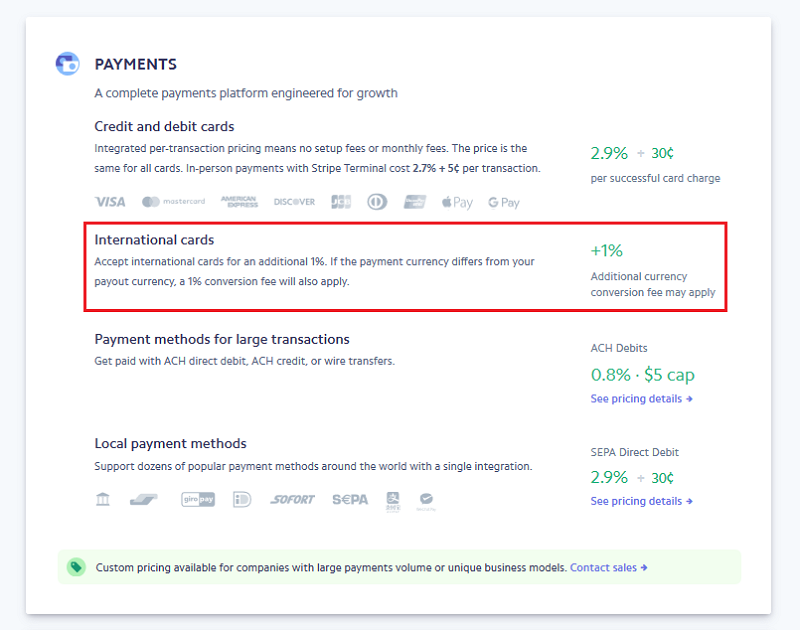 Stripe also has fees associated with things like:
Processing refunds
Billing or invoicing services
International credit card processing
Payment disputes
POS transactions
Winner: Stripe
In the end, both PayPal and Stripe offer competitive transaction costs and fees to WooCommerce shop owners that process local micropayments. That said, Stripe wins thanks to lower international transactions costs.
2. Supported Currencies
PayPal and Stripe are globally known payment processors. But that doesn't mean they are accepted everywhere. Let's see where PayPal and Stripe are accepted and the currencies they support.
PayPal Availability
PayPal is available in more than 200 countries and regions, including Africa, the Americas, Asia Pacific, and Europe.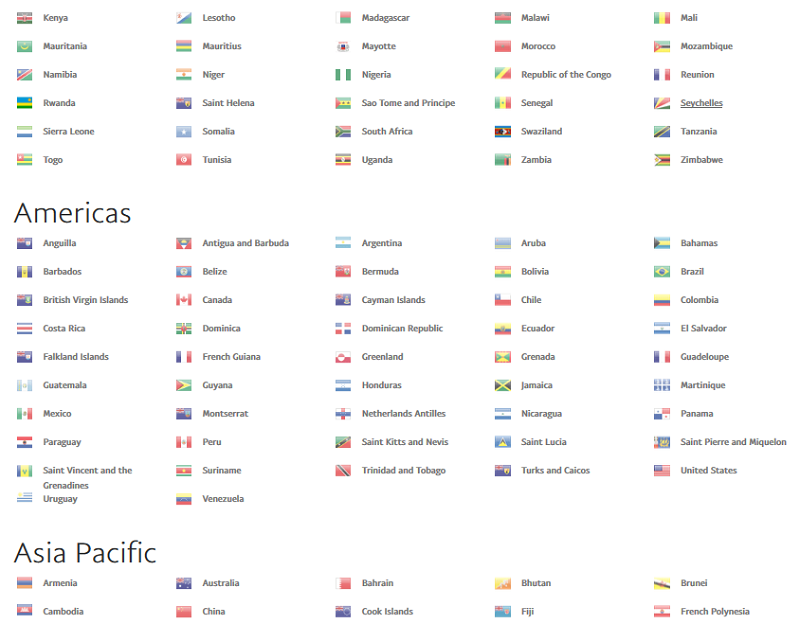 They also support 25 currencies, making it easy for your online business to open up shop and start collecting payments from people all over the world right away.
Stripe Availability
Stripe, on the other hand, does things in reverse. For example, Stripe is only available in 34 countries. Unfortunately, this has the potential to severely limit your WooCommerce shop's ability to grow globally.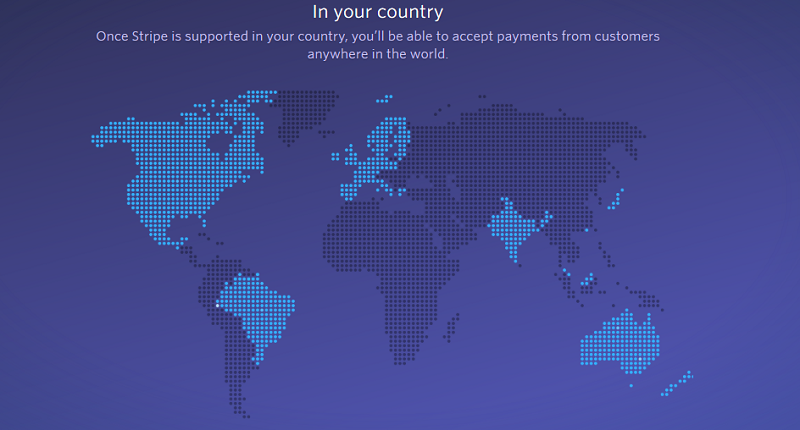 However, Stripe does offer a workaround. Using Stripe Atlas, you can easily incorporate a US company, set up a US bank account, and then start accepting Stripe payments from anywhere in the world.
And to top it off, Stripe supports over 135 different currencies, making the race to number one for PayPal and Stripe even tougher.
Winner: Tie
Ultimately, both PayPal and Stripe offer WooCommerce shop owners tons of variety when it comes to global availability. It really all comes down to what you need more, country availability or currency availability. That said, if you're a US-based company, it would be tough to defend PayPal as Stripe comes out the clear winner thanks to Stripe Atlas.
3. Payment Types
The types of payments you accept can make or break your annual revenue. People have different preferences when it comes to shopping online. And this includes the way in which they can pay.
PayPal Payment Types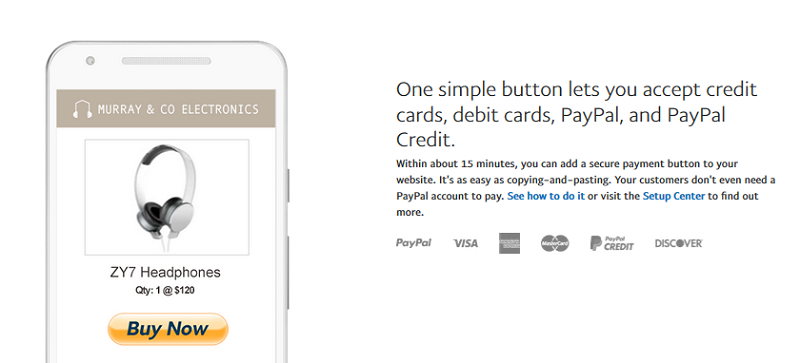 PayPal currently accepts online payments through the following methods:
PayPal
Credit cards
Debit cards
Venmo
eChecks
Credit cards via phone, fax, or mail (using Virtual Terminal)
Lastly, PayPal has a unique payment type – PayPal Credit – that extends a line of credit to anyone in the United States with a PayPal account (must be over the age of 18).
PayPal currently has over 286 million active users. That's a lot of people that potentially have access to PayPal Credit, which is exclusive to PayPal. And as you know, the more credit a user has, the more spending they're likely do in your WooCommerce shop.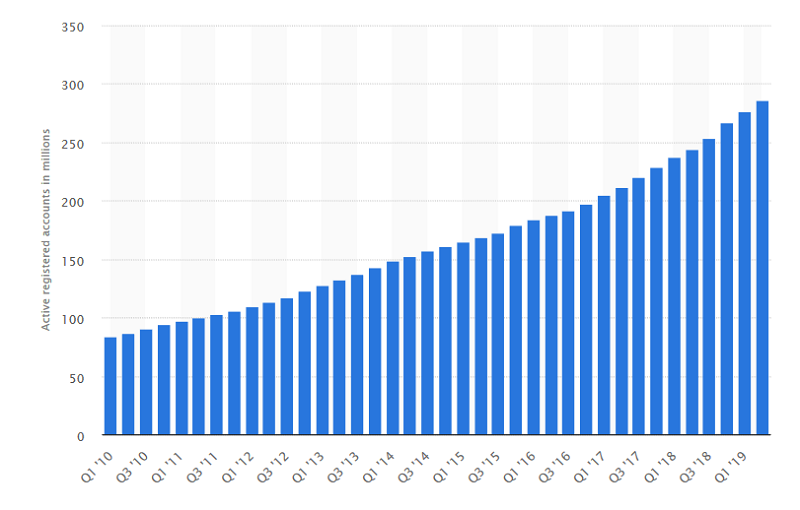 Keep in mind, not all payment types are available on all PayPal plans. If you're looking for a specific payment type, such as Venmo, make sure you do your research before you sign up for a PayPal plan.
Stripe Payment Types
Stripe accepts a lot more payment types than PayPal, including:
Credit cards
Debit cards
International cards
ACH direct debit
ACH credit
Wire transfers
In addition, Stripe accepts the following wallets: Alipay, Amex Express Checkout, Apple Pay, Google Pay, Microsoft Pay, Masterpass by Mastercard, Visa Checkout, and WeChat. This is especially important because Visa and Mastercard currently take up an impressive 80.1% of the card network.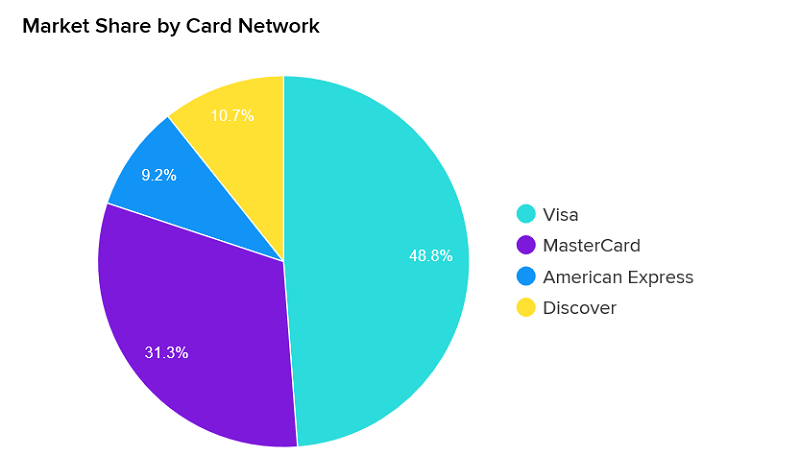 Winner: Tie
PayPal doesn't offer as many payment types as Stripe, however, their exclusive line of credit option is very appealing to boosting sales.
On the other hand, for global brands trying to cater to customers of all kinds, Stripe offers the most variety when it comes to payment types. You don't want someone to abandon your online shop because you don't offer the payment type they trust the most.
4. Customer Support
Customer support is not something WooCommerce shop owners can afford to be lax about. After all, if you need help with your payment gateway at any time, you should be able to rely on the customer support that's available to you. If you can't you risk losing out on sales.
PayPal Customer Support Options
PayPal offers their customers support on the following channels:
Online community forum
Email via PayPal account
Phone
Though the online forum is accessible 24/7, it's not the same as being able to reach out to official customer support representatives.
Even PayPal understands this, as they display a clear disclaimer that user-generated content may not be accurate, the country of origin may result in different answers, and that PayPal has the authority to reject or remove any forum content.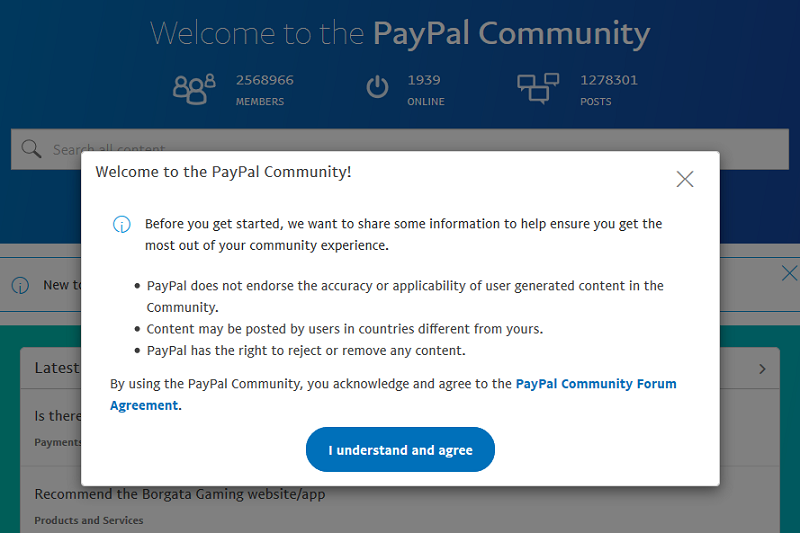 They even make you agree to these terms before continuing. Adding to that, PayPal's phone hours are limited (6:00 AM PT to 6:00 PM PT Monday through Sunday), which means if you have a problem outside business hours, you're out of luck.
Stripe Customer Support Options
Stripe offers customers the following customer support channels:
24/7 live chat, email, and phone
Freenode forum using #stripe
The customer support offered by Stripe is great for two reasons. First, being available 24/7 to help customers is not found everywhere, including at PayPal. This sets Stripe apart from the competition and gives online shop owners the peace of mind that if they ever encounter an issue, they'll have immediate access to help.
Second, offering live chat is something most online shoppers look for when they help. In fact, according to Invesp, 73% of customers find live chat to be the most satisfying way of communicating with a business. Adding to that, 77% of people won't make a purchase if there's no live chat support. This just goes to show how valuable this mode of customer support is for Stripe.
Winner: Stripe
Knowing you can contact customer support day and night, and using either email or live chat, puts Stripe well ahead of PayPal's support options.
5. Advanced Billing Options
When you're looking for the right payment gateway for your WooCommerce shop, it's important to make sure it does more than just accept simple one-off payments from people.
PayPal Billing
PayPal does more than accept one-time payments from customers shopping in your online store:
Multichannel Access: your customers can access PayPal and make a payment on the PayPal website, in your eCommerce shop, via a mobile app, in store, and even by phone or fax. Of course, additional hardware and plans are required to do some of this, but knowing the option to extend your online shop beyond the boundaries of your website is great.
Subscriptions: if you run a membership site of some sort, PayPal can accept recurring and automated payments from your customers.
Marketplace Compatibility: if there is more than one party involved in a transaction, PayPal Marketplace helps direct the payments collected to the right people.
Billing/Invoicing: you can create and send customized invoices to customers if you're okay with collecting payments at a later date.
Stripe Billing
Though Stripe centers around eCommerce functionality, they don't lack advanced billing options:
Subscriptions: just like PayPal, Stripe accepts recurring subscription payments from your customers. In fact, you can set up usage-based plans, tiered pricing, promotional plans, and trial periods. You can even customize billing frequencies in terms of daily, weekly, monthly, or even annual payments.
Marketplace Compatibility: using Stripe Connect, you can accept payments on your website and pay out to third-party companies as needed.
Billing/Invoicing: create custom invoices, upload a company logo, and even add/delete the form fields you need, so you can bill customers at a later date. You can even set the invoices to send out automatically, which saves you time and ensures you get paid.
Mobile UX: Stripe takes care to ensure your mobile users can easily pay for their purchase using your mobile eCommerce site or mobile app.
Winner: Tie
If you want to sell your products and service online and in person, PayPal offers the best advanced billing options. That said, if online sales are all you're looking to secure, Stripe offers more customization to meet your needs.
6. Where Payments Are Hosted
Both PayPal and Stripe handle online payments in different places on your website.
PayPal Payment Hosting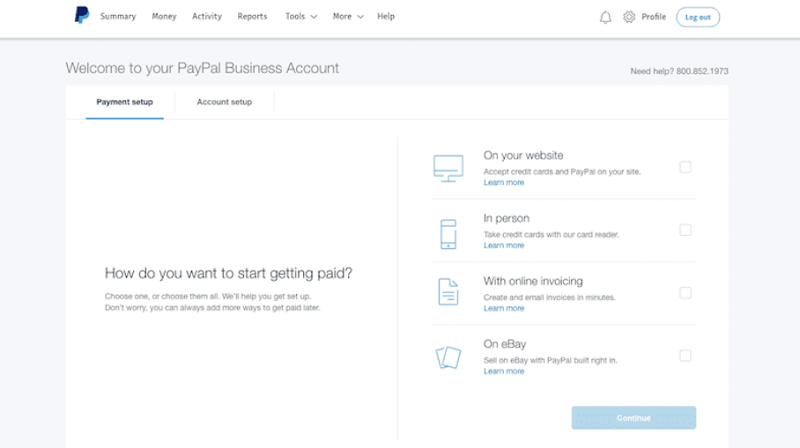 PayPal gives online shop owners three options when it comes to where payments are handled:
Express Checkout: put a PayPal button on your website that once clicked, direct customers to PayPal to complete their purchase.
PayPal Standard: embed a Payflow Link payment gateway on your website that is branded to and managed by PayPal.
Payments Pro: host a checkout page on your WooCommerce site using the Payflow Pro payment gateway.
Unfortunately, the PayPal checkout process requires multiple steps, which can be annoying to customers and cause cart abandonment:
Your customer adds a product to their cart
They navigate to the checkout page to complete the purchase
The customer clicks the PayPal button
Your customer logs into their PayPal account
After agreeing to pay using PayPal, the customer is then redirected back to your checkout page
The customer submits their order on your website to finalize the transaction
This multi-step process can hurt conversion rates, despite being a highly recognized way of paying for online goods and services.
Stripe Payment Hosting
Stripe only offers one payment hosting option. The checkout process for customers resides on your website on a dedicated webpage. Your customer simply enters a credit card number, hits submit, and is then directed to your thank you or follow up page (which you're able to customize).
Winner: Stripe
PayPal's multi-step checkout process can hurt your sales. In fact, according to Hick's law, the less steps a person has to follow, the more likely they are to follow through with their decision. Stripe gives people one task on one page to complete an online purchase, thus making it the better solution
7. Getting Paid
There's no sense researching the perfect payment gateway if you're not going to look into how you get paid when it processes an online payment for you.
The great thing about both PayPal and Stripe is that neither require you to have a merchant account. A merchant account is an account that collects the money from your customers' credit or debit card purchases. It then transfers those funds to your bank account within one to two business days.
But like we said, PayPal and Stripe don't require merchant accounts. All you need is an active bank account that you can connect to either payment processor.
With PayPal, payments made by customers in your eCommerce shop are typically transferred into your bank account within one business day, meaning you rarely have to wait to have your money. With Stripe, it can take up to two business days to receive your money.
Winner: PayPal
Though both payment gateways are the same when it comes to paying you after processing an online payment, PayPal wins because it delivers your money to your bank account faster than Stripe.
The Verdict: Which Payment Gateway is Best for Your WooCommerce Store?
Both the PayPal and Stripe payment gateways have a lot to offer WooCommerce site owners when it comes to collecting online payments. That said, Stripe does come away with more wins than PayPal.
So, if you're only looking to process micropayments on your website, and want to keep transaction fees low, definitely go with PayPal. They are a highly recognized payment gateway that people trust and are willing to use.
However, for anything else, the solid choice is Stripe. With competitive transaction fees, a seamless checkout process, stellar customer support, and quick delivery of funds into your bank account, you just can't go wrong with Stripe on your WooCommerce shop.
Are you having issues with your WooCommerce site and need some help? Get in touch with us at 24×7 WP Support. We offer free live chat or phone calls and can help you sort out whatever issues you have. Not to mention, our WordPress hosting plans come with all the features you'd expect from a high-quality web host, plus excusive WordPress, Jetpack, Yoast SEO, and of course WooCommerce, video tutorial access so you can build a stand out website that generates plenty of sales.