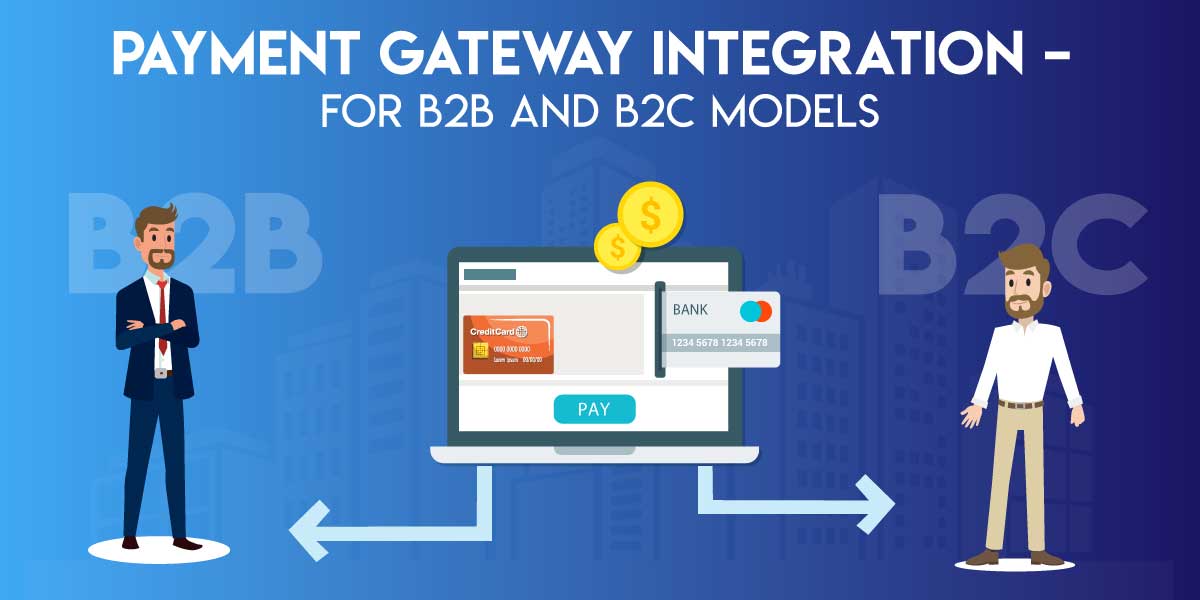 Payment Gateway Integration – For B2B and B2C Models
Last updated on August 10th, 2021 at 12:16 pm
No matter what business you are in or what all plugins you have added, you will always need to integrate payment gateway within your WooCommerce store. Of course, if you are in the business of selling products, you would reach a point where you have to collect money digitally or through virtual channels. Now, these channels have to be secured and reliable as a user trusts your brand with their data and if anything goes wrong, they are to blame you and your store for the mishap.
Meaning that a wrong payment gateway might account for poor value in the industry and this would dramatically, cause your online business to experience failure. A randomly chosen payment gateway might put you at the risk of losing customer data and open doors for intruders to invade the private space. Hence, you need to be very sure on which gateway you are about to integrate within your online store.
In case you aren't sure about which payment gateway to integrate, we have handpicked some of the popularly used gateways to streamline the process of accepting payments in a much more secure way.
Top Payment Gateway for WooCommerce Integration
Choosing a payment gateway for your woo-commerce store mandates doing your homework. It is important that the chosen gateway encompasses multiple payment options, with a debit cards and credit cards being a must. The fact that customers are more likely to purchase goods online on credit, not having the option for a credit card might cost you a potential customer. Scan through the features of the payment gateway before investing in one.
1. WooCommerce PayPal Integration
With more than 200 million active users, PayPal supports nearly 20 currencies and is one of the most popularly used platforms for making payments. WooCommerce PayPal integration is one way to take your online store to the next level with flexible payment options. The fact that PayPal already has huge community support, it voices to trust. Integrating your online store with PayPal payment gateway, your store customers will never doubt the security and payment reliability.
Where the WooCommerce PayPal Integration embeds the traditional form of payments, the acceptance extends its support to the other payment options such as Credit Card, UPI payment and PayPal cash. If you are planning to layer your payment through PayPal, there are multiple ways to do the same. One is the PayPal Checkout which enables smart payment buttons with a one-tap payment facility. It includes options of payment through PayPal, Venmo, PayPal credit and other local forms of payment. Next is the option of PayPal here that allows you to accept payment in-person. And finally, Braintree powered PayPal that is so single payment gateway system and allows the collection of payment majorly through debit and credit cards.
Features
Verifies information on customers' billing.
Fund verification of payments
It doesn't mandate the need for a merchant account.
Transaction fees aren't too high.
2. WooCommerce Stripe Integration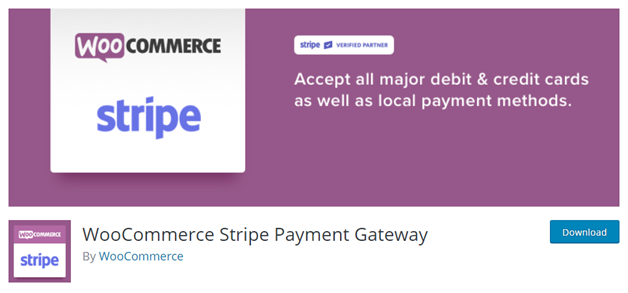 Third-party payment apps direct the customers to a different website and complete the entire payment process. While this might seem necessary, but what if I tell you that you can get over this transition and allow your customers to complete the payment process on your website itself. No more being directed for payment and then redirected for confirmation.
Yes, we are talking about the WooCommerce stripe integration.
The plugin gives customers the ease to initiate payments on the store page. This is proven to improve the conversion rate and reduce the overall rate of cart abandonment.
With WooCommerce stripe integration, detect fraud and protect the customer's data. Stripe happens to be one of the simplest forms of online payment and does not require any form of fees, transactional or set up. Even the store owners need not to pay any monthly fees for the integration of stripe payment gateway within your online store. There are more than 500 companies that are currently using Stripe as their payment gateway.
If you wondering how to integrate stripe with WooCommerce, you need not worry. All you need to do is scroll to the dashboard in your WordPress site. Click on Add Plugin and then type WooCommerce Stripe Payment Gateway to search. Once done, you can now install the plugin and activate it. No leaving the website or transferring a file, the answer for how to integrate strip with WooCommerce is simple and easy.
Features
One-click setup and installation
Accepts all kinds of payment method including debit and credit cards.
The integration extends support to Apple Pay, Google Pay, and other UPI payment
Has the option of 3D secure and detects fraud.
Provide support to recurring payments
The checkout process is PCI compliant supporting enhanced conversion.
3. WooCommerce Clover Integration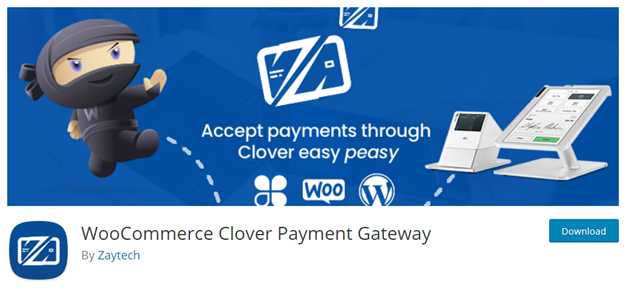 Another widely used payment gateway for WooCommerce integration is the clover WooCommerce integration. The integration allows the store personnel to use the clover pos for promoting the checkout process and accepting payments on the go. In order to accept payment through the clover app, you need to have a clover POS.
The WooCommerce clover integration creates an environment where the orders are placed on WooCommerce store and when the user is about to make a payment, it is notified on the clover pos and now the orders can be completed. It is just a matter of time and the payments are processed within a couple of minutes.
Setting up the clover payment gateway is not a tough process. All you need to do is install the gateway and hover to the payment settings in your WooCommerce store. Here, enter the given API key (you can get this API key by installing the Smart Online Order App, available under the More Tools option) and you are done.
The WooCommerce Clover Integration automates the printing of orders on clover pos from the WooCommerce store. While the clover integration does not charge you any transaction fees, you are entitled to pay $30 as monthly subscription charges. The app is totally secure and free from hidden costs. Both WooCommerce and clover work to better the selling and payment processing of online purchases and the clover WooCommerce integration takes this to another level.
Feature
Simple installation with gateway integration and activation.
Accept payments through the Clover POS and automate order printing.
It does not charge any transaction fees and has no hidden costs.
Accepts all forms of payments including debit and credit card.
4. WooCommerce Square Integration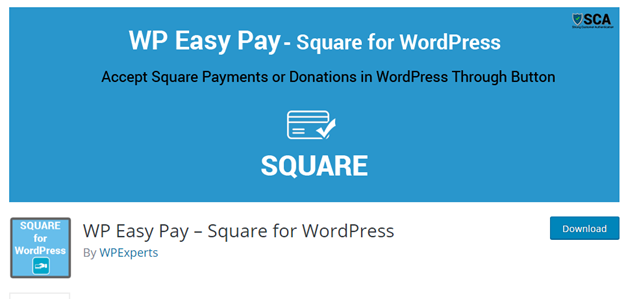 Popularly known as the POS, square is also a name in the gamut of online payment gateway. In case you have customers that are more likely to make a purchase through credit card, then WooCommerce square integration is the best fit for your online store payment gateway.
Apart from credit cards, the payment gateway also supports other payment portals including PayPal. The fact that Square is also a POS, you can integrate the system in your local store and collaborate the same with your online WooCommerce store. Unlike clover that charges a $30 monthly fee and no transaction fees, the square payment gateway does the opposite. Meaning that the integration would not charge any monthly fee to keep the service going, instead, the gateway charges 2.9% of the sale added with $0.30 for every purchase.
Now, considering that you are a medium scale company, such fees might not be economical. However, if your business has a greater profit margin, these rates are near nominal and you can move ahead with the WooCommerce square payment gateway integration. The setup of the square within your online store is not tough.
Features:
The checkout page of the square is PCI compliant.
Accept payment in multiple devices from across the globe.
Transaction authorized when customers opt for payment.
5. WooCommerce EDI Integration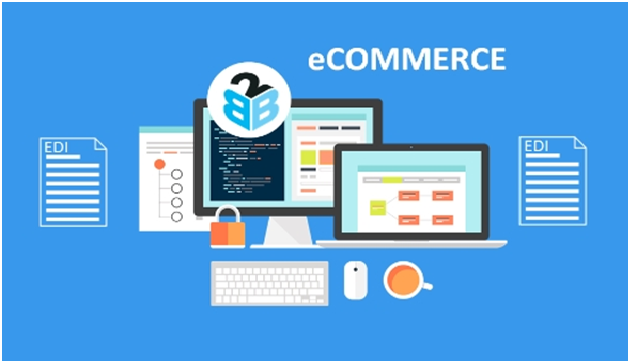 The last in our list is the WooCommerce EDI integration.
In case your online store is directed towards businesses or to be specific it is a b2b business, integrating EDI would serve your purpose best. EDI is a B2B gateway that streamlines major processes in managing orders and processing online payments. As a matter of fact, it is like WooCommerce is the trading partner of EDI and a provided API is used to connect the two. The WooCommerce EDI integration is done in a way that it can be used by future clients too.
Features:
The integration of EDI within your WooCommerce store help collaborate orders from the website and further, integrate them within the back-end ERP
Using the integration you can send orders from your online website to the Dropshipping vendor, 3PL, or Warehouse.
It allows you to update the site with tracking as well as shipping information
The integration would post inventory updates on your WooCommerce sites
The Final Word
These are the top five payment gateway options you can choose to integrate within the online store to streamline the payment processing and further embed a secured platform to initiate the same. Scan the different type of payment gateway based on the type of business, your customers, the choice of payment and the fee charged by each and choose the one that serves your purpose best.