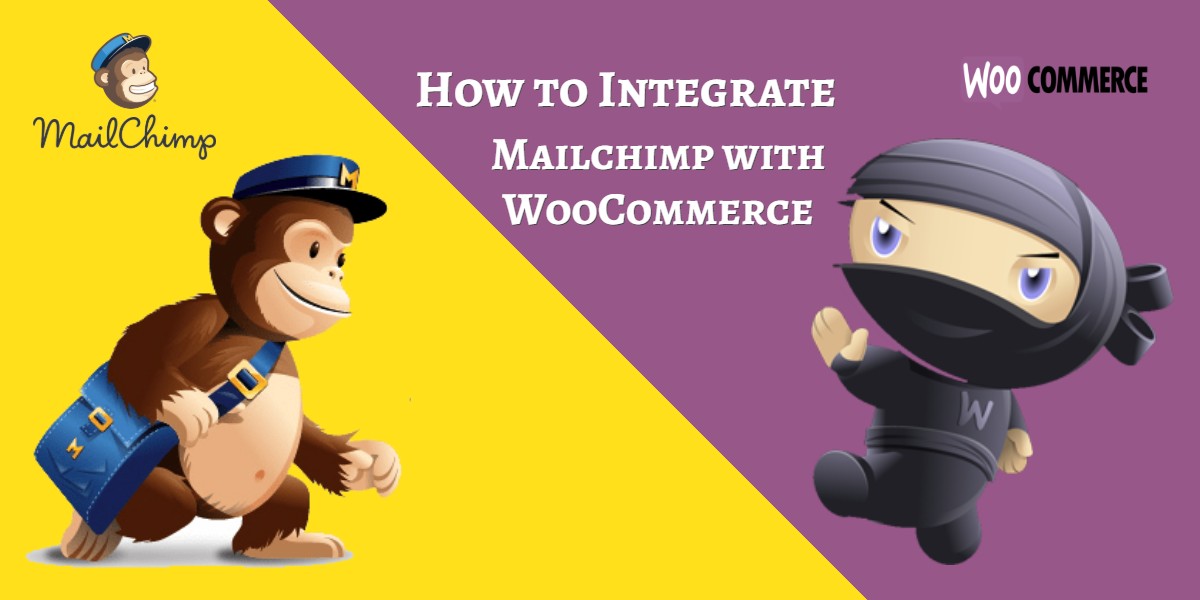 How to Integrate Mailchimp with WooCommerce
Last updated on August 10th, 2021 at 01:18 pm
What Is Mailchimp?

Mailchimp is a very popular email marketing tool. It's an all-in-one platform that is optimized for great usability and simplicity. The tool is designed for store owners, marketers, and even new startups, and it's a great platform that walks you through the various stages of email marketing campaigns. There are various benefits if you integrate Mailchimp with WooCommerce.
Why Should You Use MailChimp?
Its popularity is due to the great usability and effectiveness of its campaigns. Since Mailchimp gives you tutorials on how to initiate and complete email marketing campaigns, it is ideal for beginners. It has advanced tools and automation that make email marketing much easier. Here are a few reasons you should integrate Mailchimp with WooCommerce.
Benefits of MailChimp for WooCommerce Integration
One of the biggest advantages of Mailchimp is that it's free. Since Mailchimp and WooCommerce are designed by the same team, these programs are compatible with each other.
You can easily set up automated email campaigns through Mailchimp and initiate pop-up forms. You can also embed the pop-up forms in separate web pages to persuade visitors to subscribe to your services
There are even options to automatically add discount codes to email campaigns. There are options included for Instagram and Facebook ad campaigns as well. So you won't be neglecting the social media aspect of marketing either. Mailchimp for WooCommerce has it all.
Hence, if you integrate Mailchimp with WooCommerce, you will save time and effort.
How to Integrate Mailchimp with WooCommerce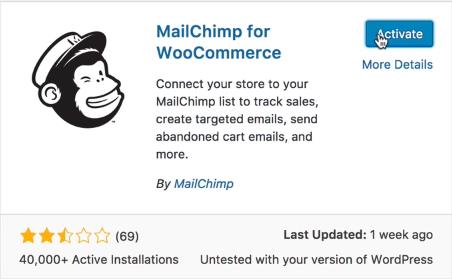 Pre-Installation Guidelines
There are a few things that you need to know before you woocommerce mailchimp integration plugin
You need to have the WooCommerce plug-in already installed and activated in WordPress beforehand.
WooCommerce's

minimum requirements

must be met on your device. This includes having PHP 7 or greater.
It's recommended that you use this plug-in in a staging environment before you mailchimp integration with woocommerce. Such

plug-ins

should give you an idea about staging environments.
Mailchimp for WooCommerce links the customer's first and last names, email addresses, and orders together.
If you use the Mailchimp order notifications automation, then you should disable the WooCommerce notifications. This avoids duplicate emails being sent to your clients. The order notifications require that you have Mailchimp for WooCommerce 1.0.9 installed or later.
Any pop-up forms and product retargeting emails require version 2.1.10 or later.
Those WooCommerce customers that haven't signed up for marketing emails will show as non-subscribed contacts. They can't be exported; though they can receive transactional emails and targeted with ad campaigns.
After the WooCommerce sync is complete, you can access the E-commerce features on Mailchimp.
Installation Guidelines
These installation guidelines should help you do a clean install to integrate woocommerce with mailchimp 
Download Plug-in
Install Plug-in
Make sure that you've installed the WooCommerce plug-in for WordPress before you proceed. It's essential to integrate Mailchimp with WooCommerce.
Log on to the WordPress admin page and click on the navigation panel on the left side. Click on the Plug-ins tab and choose "Add New".
Click on Upload Plugin.
Click on the Choose File option and choose the Zip file that you've downloaded to your computer. Then click Install Now.
Click Activate Plug-in after the install process is over.
You'll be redirected to the Settings page after this where you can enter your Mailchimp ID and Password. You can also configure your audience settings here.
Configure
The Installation isn't over yet. You have to configure Mailchimp for WooCommerce a little before the process is complete. If you leave this process unfinished, you won't fully integrate Mailchimp with WooCommerce. This entire configuration process is filled with tabs that will appear throughout.
When you're on the WooCommerce Dashboard, click on the Mailchimp icon.
Click on the "Connect" option on the Connect tab.
Enter your Mailchimp login details and log in.
Next, navigate to the Store Settings tab under the locale settings for the WooCommerce Store. Here, click "Next".
Under "Audience Defaults" choose the default settings that you want to assign to the audience and click "Next". Then you can choose a default name, email, subject line, reminder message, etc.
Then go to the "Audience Settings" tab and choose the audience for the WooCommerce store to connect to. You can also choose to auto-subscribe existing customers.
Finally, click "Start Sync" to sync with Mailchimp completely. The time it takes to sync all your data will depend on the data volume. So if it takes a few minutes, don't panic. You can "Force Resync" your information if you have any problems with the connection.
This will complete the process to woocommerce integration with mailchimp.
Troubleshooting Guidelines
Store Won't Sync with Mailchimp
The first option is to delete and re-install the plug-in. If that doesn't work, it could be these issues:
The minimum system requirements aren't being met. The Mailchimp plug-in for WooCommerce requires PHP 7 or higher. Make sure to update both WooCommerce and Mailchimp to the latest version to be safe.
The plug-in may conflict with other plug-ins or WordPress themes. You may need to switch themes in this case or deactivate all other plug-ins. You can learn more

here.
Duplicate Transaction Emails
Certain notification emails are sent by default. Mailchimp's order notifications automation option may be activated if you're sending duplicate emails. Disable that option so the duplicate emails cease.
Duplicate Store Connections
If you recently deleted and re-installed Mailchimp for WooCommerce, you may face this problem. If you see a duplicate store connection, you may have deleted the plug-in before deactivating it first. Repeat the disconnection and reconnection process. Don't skip any steps.
E-commerce Automation Not Sending
This is a classic case of the syncing process remaining unfinished. Check the "Connected Sites" page to ensure the sync is complete. This is the only way to woocommerce mailchimp integration woocommerce extension .
Customer Support
You can contact Mailchimp Support by clicking this link. Remember to include your WooCommerce System Status Report and screenshots of the Mailchimp for WooCommerce plug-in settings tab. Mailchimp makes sure that its customers always have the support they need to integrate Mailchimp with WooCommerce.
Update Guidelines
Mailchimp comes out with regular updates for its customers. These enable specific upgrades to ensure that you fully integrate Mailchimp with WooCommerce. If you want to stay up to date with these improvements, then you can follow these steps.
Log on to the WordPress Admin page.
Click on "Plug-ins" and go to "Installed Plug-ins". Go to the Mailchimp for WooCommerce plug-in.
If there is a notification for updates then click "Update Now". If there are no notifications, you can "Check for Updates".
After the update is complete you will have the latest version of Mailchimp for WooCommerce on your WordPress site. This is a key part to integrate Mailchimp with WooCommerce.
Features
Purchase and list data syncs completely
Marketing automation can remind customers about un-purchased items in their cart or ones they looked at. You can even win back lapsed customers and follow up with them after they've made purchases.
Product recommendations for customers
Segmentation of customers based on purchase history and frequency
Options to grow your audience and sell more products through social media ad campaigns on Facebook and Instagram
Embed pop-up forms which can convert your website visitors into subscribers
Discount codes can be added to your emails with a Promo Code content block.
If you integrate Mailchimp with WooCommerce it will serve as a great tool for novices and experts alike. It helps to automate a lot of marketing elements and introduces you to new ones. It also doesn't leave out key marketing avenues like social media. It's the complete package for marketers that want to expand their reach and for E-commerce experts who want to automate.