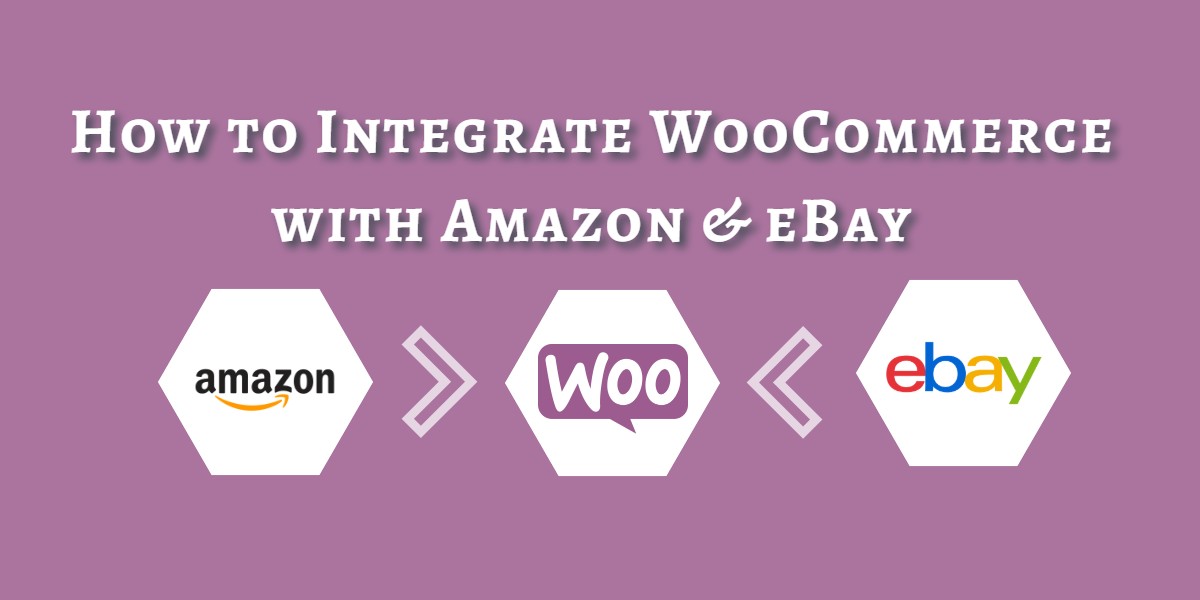 How to Integrate WooCommerce with Amazon and eBay
Last updated on August 11th, 2021 at 05:48 am

WooCommerce is one of the most popular e-commerce platforms on WordPress. It offers online businesses multiple options to minimize their costs, improve overall efficiency and achieve growth.
However, many business owners want enhanced visibility for selling their products. By accessing global marketplaces, such as Amazon and eBay, these businesses can sell more of their products and earn greater profits.
The Amazon and eBay Integration for WooCommerce extension by Codisto is WooCommerce's only official extension that supports integration to these global marketplaces. Online merchants use the extension to implement their multichannel strategy and reach out to millions of customers on Amazon and eBay. In this article, we will discuss how you can integrate WooCommerce with Amazon and eBay.
Setup and Configuration
To start off, you can download the extension at WooCommerce for free. Nevertheless, installation for the software requires you to pay a subscription fee. You can learn about the pricing of this fully featured multichannel solution at Codisto's website.
After downloading and installing the extension on your website, you need to sync your product catalog to the extension. The extension will take a few minutes to complete the sync, depending on the size of the catalog.
As soon as the sync is completed, the extension will give you a quick tour regarding how to use the tool effectively, and then you will be granted access to your first marketplace.
Next, you need to set "defaults" for pre-configuring listings. These settings help you to add new products to WooCommerce quickly. However, you must remember that both Amazon and eBay have different default options. Therefore, you must first choose which marketplace you are setting defaults for. Later, you can connect to another marketplace account to set defaults for it, as well.
1) Set Defaults
You can configure default settings for all categories in the following manner.
Price & Quantity
If you want to update WooCommerce and marketplace listings automatically, you need to configure default settings for 'Web Price.' You also have the option to increase/decrease the set rates in percentage (%) or value amounts in USD ($). Alternatively, you can also keep this value constant or round off the price if you want.
Similarly, the default setting for 'Web quantity' automatically updates the number of products from your inventory. This helps the Amazon and eBay Integration for WooCommerce extension to act as a complete Inventory Management system for your website.
Using the extension, you can live sync to your entire WooCommerce inventory and maintain the remaining quantity after each sale. You have the option to show the inventory amount at a fixed count or create a buffer value for the inventory. For instance, if you have set the buffer value as 3, the extension will then display the total value as 7 when it is 10. Similarly, you can also the select max quantity option, where the extension would show the set value as the remaining inventory unless the inventory drops below the set value.
Shipping & Returns
To set up shipping services for your website, you can add any of the multiple default shipping services available on WooCommerce. You can choose the shipping extension, according to the destination of the package.
However, to set up defaults for the return policy of your website, you have the option to include Amazon Fulfillment, or any other merchant fulfilled service.
Categories
eBay gives you the option to enable the 'auto-categorization' feature for its marketplace. It compares your listed products with similar products already on its platform and sets them to the most suitable category. Therefore, you don't have to categorize your products yourself.
However, the process takes time to categorize all your products automatically. In case you disable the auto-categorization, you'll have to set up every individual or product group manually in the Marketplace Listings.
Product identifiers
For advanced product identification, you need to set the field in WooCommerce that contains your UPC/EAN/ISBN data. This helps the extension to match your products with previous listings on the marketplace.
Listing Duration and Auto List
Listing Duration helps you set the duration of your listings on eBay whenever the items are enabled. Furthermore, the Auto List setting allows you to choose whether the new products added to WooCommerce are automatically listed on eBay with the previous default settings.
Orders
The Orders setting helps you decide whether to send orders from Amazon/eBay to WooCommerce automatically or not. You can also configure if auto-send is for all your products or only the ones the extension is handling.
Furthermore, you can also choose whether you receive the order once the customer has committed to buy or when you have in order pending. Both of these settings are helpful as the former relates to eBay, while the latter is for Amazon.
2) Configuring Marketplace Listings Grid
The Marketplace Listings Grid is a vital part of the Amazon and eBay Integration for WooCommerce extension. It is a spreadsheet-style interface for creating and editing marketplace listings instantly.
The feature is extremely flexible and offers a different configuration for either Amazon or eBay marketplace. Each row in the sheet represents a single product of your product catalog. On the other hand, each column in the sheet represents a separate field for your products.
On the left side, some columns are fixed, and they show details from your original product catalog in WooCommerce, along with the listing status of the marketplace tab you have selected. The right side of the header represents the marketplace settings and values. You can scroll the grid horizontally if you want to see additional settings.
3) How to List Products on Amazon and eBay Marketplaces
To enlist all your products, you can follow the steps below for each marketplace:
Amazon
First, you need to select the products you want to enlist on Amazon. You can do that by using check-boxes on the left of each product. Alternatively, you can apply filters to your selection criteria and select products belonging to that certain type.
After that, you need to ensure whether the marketplace settings on the right columns are set according to your preferences. However, to proceed, you must determine what kind of product you are selling on Amazon. After that, you can select either of the two following selection methods:
If you are selling products already listed on Amazon, you have to link the products with an existing Amazon Standard Identification Number (ASIN).
If you are selling a product new to the Amazon marketplace or your own branded product, you need to create a new ASIN for your listing.
The Amazon and eBay Integration extension uses product identifiers such as UPC/EAN/ISBN to match products in your catalog with existing listings on Amazon automatically. It does that by finding an ASIN for your products and links them to your WooCommerce store.
If you have created a unique listing for your products previously and they are on Amazon Seller Central, then the extension will match your SKU code with the one in Seller Central to retrieve the existing ASIN.
However, this only works for an SKU code that's enlisted on Seller Central. Therefore, it would not match SKU codes for products in the Amazon general category.
Nevertheless, when the extension finds a match, it will show the product's ASIN, and you can enable the listing from the Amazon status toggle button.
After that, you need to save the listing using the white Amazon save button on the top left. The flashing 'link' icon will turn blue when the listings are created successfully.
eBay
Publishing your product listings eBay is fairly straightforward. Just select the products you want to create listings for by selecting the checkboxes attached to their profiles. Like Amazon, you can apply filters to configure selection criteria instead of choosing each product individually.
However, if you want to link existing listings, you can sync them by visiting Link eBay Listings in the Additional Views section.
Next, double-check the marketplace settings on the right side columns. Follow that up by clicking 'Enable' and 'Save and Publish to eBay.' For some time, the icon will flash, but soon, it will turn blue when all of the listings have been created successfully.
Features & Benefits of Amazon and eBay Integration for WooCommerce
The Amazon and eBay Integration for WooCommerce offers extensive features and benefits.
Key Features
It helps you enlist your entire WooCommerce product catalog on global marketplaces, such as Amazon and eBay instantly.
The extension allows you to create new Amazon and eBay listings separately, in bulk, or in filtered groups.
You can link to your existing eBay and Amazon listings to matching products in your e-commerce catalog.
It offers the option to set different fulfillment rules, pricing, and product details for both Amazon and eBay listings.
It allows you to receive marketplace orders on your WooCommerce site.
You can sync pricing, orders, inventory, and product details in real-time.
It gives access to all global marketplaces supported by Amazon and eBay.
If you subscribe to Codisto XpressGrid, you can benefit from easy spreadsheet-style management for all your marketplace listings with the help of a single screen in WooCommerce.
The setup and installation of this extension are extremely easy; you can start using without having to migrate data or shifting to another platform.
Key Benefits
By integrating with global marketplaces such as Amazon and eBay, you can open new doors for your business and take it to another level.
Increase the Scope of Your Business
Amazon and eBay Integration give you direct access to over 40 global Amazon and eBay marketplaces. As a result, you can reach out to customers you never could before.
Bulk List
After connecting to your first marketplace and setting defaults for your website, it's fairly easy to enlist all your products. You can bulk-list the entire product catalog on Amazon or eBay in a few minutes.
Real-Time Inventory Management and More
The extension allows you to benefit from real-time inventory management. Even if you are selling your products on eBay and Amazon previously, you can now connect to your online store directly and manage all your products in real-time.
The extension updates the quantity of your inventory after every purchase on any of the marketplaces. Not only does this help you in implementing the multichannel approach more effectively, but it also provides a central reference for inventory and sales data. This helps you maintain accurate stock accounts and have uniform pricing on all your connected sales channels.
One Window Operation
The extension offers you a single view control of all your product sales on global marketplaces. By having centralized control over all operations, you can have a clear understanding of which operations need critical attention. Furthermore, since you have a clear view of all your multichannel approach, it's much easier to manage all the sales channels effectively.
Pricing and Free Trial
The Amazon and eBay for WooCommerce extension is free to download. Moreover, it's 30-day trial allows you to test the extension first-hand and experience the value it brings to your operations.
To see which plans suit you the best, you can view the pricing list issued by Codisto.
Suitability with Amazon Pay
The Amazon and eBay Integration extension also support payment processing services, such as Amazon Pay. Using the Amazon Pay service in sync with this extension will help you cater to purchases made on Amazon more effectively.
Furthermore, Amazon Pay opens various international payment options for local traders. Even if people are trading outside their own country, the payment gateway offers a safe and dependable channel for processing customer payments.
Suitability with WooCommerce Amazon Fulfillment
If you find it difficult to address returns for your orders, you can use the integration extension along with the WooCommerce Amazon Fulfillment. Moreover, the extension helps you to deliver all your orders through a single window.
The Amazon Fulfillment service will help you pick, pack, ship, and track every order you receive. However, the feature doesn't hijack all your operations but still gives your customers the option to choose the product shipping options they need.
You also have the option to toggle the product fulfillment for your entire product listing and save it for a single product setting. Since the extension is compatible with almost all regions worldwide, you can use this feature to sell products to any global Marketplace in Amazon.
You can use the extension to monitor the product delivery directly from your standard orders page. Sellers can also receive notifications depending on the status of their order shipment. These include notifications such as Shipment Created, Order Shipped, Order Tracking, and also sends notifications if the order fails to ship.
Amazon and eBay Integration for WooCommerce offers support for various other third-party extensions, which make your online selling experience as stress-free as possible. Overall, Integrate WooCommerce with Amazon and eBay is the perfect solution for accessing global markets and taking your business to the next level.