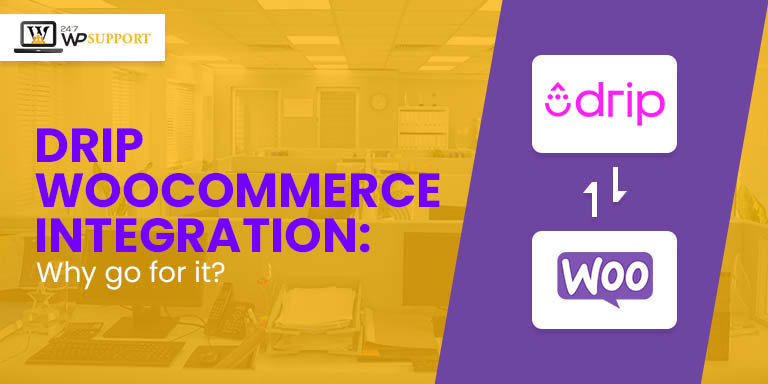 Drip WooCommerce Integration: Why go for it?
WooCommerce is an open-source free plugin that is designed for online businesses. This e-Commerce plugin can make things easier and simpler for your online business. It has built a new world for selling physical and digital goods online.
Using Drip to your WooCommerce store, you can connect all the data of your customers to the marketing channel. Similarly, there are many benefits of Drip WooCommerce integration.
What is Drip?
It is a sumptuous automation email marketing platform. With it, you can manage the perfect personalized strategies for email marketing. You can target your customers on what should they tap, navigate, or purchase from your store.
It helps you to target the audience using custom or pre-built segments that updates in real-time. Plenty of many pleading eCommerce brands worldwide are employing Drip. Using this exceptional tool, they are engaging with their customers using pre-built playbooks. This includes post-purchase, abandoned cart, and welcome series emails.
Why Drip WooCommerce integration?
You can use the data of your customer to offer a one-of-a-kind user experience with Drip WooCommerce integration. This will help you to grow your sales and build brand loyalty.
Luckily, there are plenty of tools that offer Drip Integrations for both email lists and websites:-
1. WPForms
WPForms is the best solution for Drip integration. Hence, you can easily connect your WooCommerce store to your Drip account simply. This beginner-friendly form builder can help you to add contact forms with minimal fuss.
This tool employs conditional logic forms to divide your Drip lists. The best solution to manage your WooCommerce store. Try Drip WooCommerce integration today!
2. Raffle Press
Another superlative plugin that provides Drip integration for WordPress websites. You can build contests and giveaways on your site with a few clicks.
3. SeedProd
It has the best Drip integration. This plugin has the drag and drop feature that enables users to make their own web page.
SeedProd is a simple, clean, and ready-to-use Interface. Before your website is published on the web, it gathers your emails with Drip. Hence, the best tool for Drip WooCommerce Integration.
4. OptinMonster
If you're looking for Drip Integration that can help you boost your online income, trust OptinMonster. It's a capable web conversion toolkit. It has the potential to turn your basic business into a profitable one.
Some of its features are:
Fullscreen mats
Popups like floating bars
What benefits you can enjoy with Drip WooCommerce integration?
With the help of Drip WooCommerce integration, you can record any sales events in the history of subscribers.
Drip WooCommerce integration can help to identify and update the lifetime value of the subscriber. You can know how much value these customers have made from all the orders.
Subscriber Tag
There are some people who are subscribers and some are customers. Not every subscriber is a customer! Hence, to identify which subscribers are actually customers, a tag can be given to customers using Drip WooCommerce Integration.
An extravagant WooCommerce support team can help you in the right direction. They can help you to get more from the resources and features of this integration without any glitches and errors.